by Ruth Harris
Why is cooking — often? usually? sometimes? — more appealing than writing?
*Even if you're only a halfway decent cook, just about everyone will eat and enjoy what you made — and tell you so.
* If you're only a halfway decent writer, no one will enjoy what you wrote — or will even read it. Much less offer a compliment.
*Even the most complicated recipe has a finite number of ingredients.
*Even what started out as the simplest novel requires what can feel like infinite rewriting/revising/research/facts/editing.
*Any recipe can be made and consumed within a day. Or at most, a couple of days if there's lots of marinating or other fancy pants prep required.
*Write a book in a day? LOFL.
*A meal will be cooked and consumed, usually in the same day.
*A book will take months/years/decades to write, edit, before it will get published. Much less promoted and publicized.
*Your roast chicken, potato gratin or molten chocolate cake turns out the same way every time.
*Writing a new book never turns out the same way as your previous books — or even the way you planned.
Words of wisdom.
From an old-time pulp writer who wrote hundreds (literally) of books, fiction and nonfiction. "Each one [book] is a pain in the ass. In a different way."
Still, he finished each one of his books, they got published, then he wrote the next one.
But what about you?
Why didn't you finish the d*mn book?
What went wrong? And who screwed up? (Answer: you.)
But why? You started with a good idea (you hope), and maybe even an outline.
Like many a romance or marriage started with starry eyes and high hopes, somehow, somewhere something went wrong and now that romance/marriage/book is yesterday's news.
Anne and I do not offer advice for the lovelorn (sorry about that), but about what about that book languishing on your computer, half-finished/half-baked/half-forgotten?
Occasionally pitifully bleating for attention.
Or else wilted, dejected, and defeated.
5 main reasons books don't get finished
You were just starting out and didn't know *how* to write a book.
You found out that "beginner's luck" is way up there in the major leagues of disinfo.
Not knowing what to do or how to fix the mess, you just gave up.
Maybe that great idea turned out to be no-so-great. Ie, you got to a certain point, looked into the abyss, and wondered: Now what?
The abyss didn't answer.
It didn't know what went wrong either because abysses aren't oracles. They're different. Besides, oracles tend to speak in riddles, so you'd be back where you started anyway.
You got distracted by a shiny new thing.
And didn't/couldn't finish that one, either.
Or you did finish it, but went on from there and forgot all about the late, unlamented unfinished book.
Maybe you're a pro and you've had a good career but *this one* is kicking your butt, and you can't figure out why.
What?
You think it doesn't happen?
Really?
You're at book umpty-ump in your successful series, and you've just plain run out of gas. The tank is empty and you're burned out.
Sometimes it's understandable.
As a well-known writer of a successful mystery series once told me: "I'm going to kill myself if I have to write another ______." (avec beaucoup x-rated expletives)
PS: she recovered and is still writing "another ________." She's happy, her publisher is happy, readers are happy.
Bottom line: She's a pro and pros know how to get the job done.
But what about you?
What went wrong?
Where did you get off the track?
When it's your first book or your hundredth, writers get lost before the cake gets baked.
There are — shall we say? — reasons.
Let's round up the usual suspects.
You lost focus.
*Reading a book by a writer you admire in your genre can get you back on track if your story has wandered too far from genre tropes the reader expects.
*Writing the blurb — remember to sell the sizzle! — will often help you refocus.
*Make a cover. Even a rough draft of a cover made in Canva or BookBrush can sometimes point out the missed route or the direction that needs to be followed.
Character issues.
Not the kind that requires a psychiatrist, although that can work, too. Especially in domestic suspense or a mystery/thriller.
Still, there are lots of reasons our characters can lead us astray. Here are a few approaches that can straighten out character problems (without having to send them to pricey therapy).
Too many? Even you have trouble keeping them straight? Just think about your poor, confused reader. Instead, call it character clutter and combine, delete, save them for another book.
Not enough? Your book will lack energy and conflict. The solution is obvious. Add a more interesting foil, sidekick or antagonist. You can choose from a range of options from horrible bosses to vicious exes, savvy friends or misfit-but-helpful neighbors. Just add someone who will up the complications, conflicts, and challenges.
Wrong name? This one is subjective but I've found that names matter. A lot. For example, if Betsy or Jack feel wimpy or boring to you, the fact is that at some point you won't be able to give his/her scenes reader appeal. The solution? give him/her a new name. Tamara? Athena? Entwhistle? Vladimir?
Do You Have The Right Character Ingredients? 
If changing the name isn't enough, why not change the gender? The senator in Code Name: MK-Ultra was originally a rich, handsome, distinguished man. He stopped the book (and me) cold. I whined, bitched, complained, drove myself crazy. Then out of the murk of my subconscious came Senator Chessie Tillman. She was short, dumpy, and dressed like a rag picker. She smoked like a chimney, drank like a fish, swore like a sailor. Had been married three times, each husband richer and more handsome than the one before. A roof-rattling orator and take-no-prisoners arm-twister, Chessie had mowed down men twice her size. And she zoomed me out of my funk to finish the book!
I chose the wrong senator. Have you chosen the wrong main character? Is s/he one who's stalled you out? Should the villain be the MC? Or vice versa? Will making the good guy/gal the bad guy/girl shake things up and get you off dead center?
Should the story be told by an unexpected character? Notes On A Scandal by Zoe Heller is the story of a high school teacher who is having sex with an under-age student. The story, though, is not told by the teacher or by the student. Instead, we see the scandalous event from the POV of another teacher — a lonely, bitter, predatory, spinster.
Has a secondary character taken over? Does Ashley Wilkes dominate Rhett Butler? Anne offers solid advice about how to put the troublesome secondary character into perspective.
Plots and Subplots.
Potholes or plot holes?
Subplots or B stories?
Perhaps some of the ideas here will help you analyze why and where you went wrong and steer you back to your main concept.
Cliffhangers add instant turn-the-page energy. Wield them wisely. Your reader will love you. Hate you for "making" them stay up past their bedtime. Will buy your next book.
Foreshadowing is another technique that will compel the reader to enter "just one more page" territory.
Foreshadowing can also help rescue a saggy middle in a half-baked book.
The B story. Just as secondary characters support/thwart your main character, a subplot — sometimes referred to as the B story — is subordinate to the main story, but runs parallel to it.
BTW, that subplot needs to have the same structure as your main plot: set up, heightening conflicts/challenges, leading to a solid ending.
Dialogue: It's not just blah blah blah.
Or, at least, it better not be.
"Hey, Jim. What's up?"
"Not much. Just took the dog to the groomer."
Please. You can — and should do better.
Nuclear engineer?
Hot stone massage therapist?
Trump voter?
Biden voter?
Backwoods mountain man?
Park Avenue socialite?
Tell me who's who without telling me. Here's where the skillful use of dialogue will get the job done without the need for preaching or info dumping. Or cramming in boring backstory that brings the forward motion of a book to a screeching halt.
Use dialogue to propel your plot forward, to add juicy conflict, to add steam to romantic scenes. To keep the reader turning the pages.
But: If your characters are talking too much, Indirect dialogue will come to the rescue.
Dialogue tags have become a no-no, but I disagree. Use them (or action beats) when there are more than 2 people in the scene so the poor reader knows who's saying what. Or when there's a lengthy exchange. I hate having to go back to the start of a dialogue block and count. Is this Entwhistle speaking? Or is it Tamara's turn?
Exception: if one character is speaking Spanish and the other is answering in Bulgarian. Google translate to the rescue. But you'd better check and be sure.
Same if ghetto lingo is employed by one speaker and scholarly Shakespearian by the other.
Embrace your inner Julia Child wannabe to get that half-baked book cooking again.
Just as you tinker with recipes — a bit more of this, a little less of that, a souçon of something else — to suit your taste, applying the same approach can work well for rescuing a half-baked book.
by Ruth Harris (@RuthHarrisBooks) April 24, 2022
What about you, scriveners. Do you have a half-baked book moldering in your book files? Have you ever tried one of Ruth's recipes to get that book cooking again? Why do you think your book ended up half-baked?
BOOK OF THE WEEK
Park Avenue Blondes
For fans of Nora Ephron—Women's Fiction Meets Cozy Mystery in the Big Apple.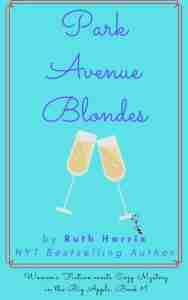 Available at Amazon, Kobo, GooglePlay, iBooks, and Nook
From a snooty charity gala to a blizzard at a Russian army barracks, fashion editor Blake Weston, and NYPD cop, Ralph Marino, her handsome, sexy husband, must work together to solve the murder of a Wall Street Midas.
But who did it?
Renay Porter, a Park Avenue Blonde with Walmart roots, says she wants a divorce from her super-rich husband, but wouldn't murder be easier — and more profitable?
Muffy Astor, a Park Avenue Blonde with a North Shore pedigree knows — and tells — everything about everyone. Or does she?
Cynthia Blair, a Park Avenue Blonde with oodles of money, knew her husband was a fortune hunter when she married him, but now she's stuck with him — and a Vuitton bag containing a blood-soaked shirt.
Can Blake's snark, brains, and pepper spray catch the killer? Or will she be the next victim? And what will Ralph say when she plays sleuth?
"A refreshing escape to the 1980s with two fun, smart and savvy globe-trotting women sleuths. Perfect entertainment!" —Anne R. Allen, author of the bestselling Camilla Randall Mysteries.
"This cozy mystery is a wry and witty romp through the NYC world of socialites, financiers, fashionistas, the publishing industry, and even a literary drug smuggler. A fun read!" —Debbie Burke, award-winning author of the Tawny Lindholm Thrillers with a Heart.