by Anne R. Allen
I blog often about an author's online presence and the importance of keeping your image squeaky clean, especially when you're starting a writing career. That image is sometimes called your "author persona."
Artists have always had personas—an image they project when they are in public. It may involve a way of dressing or a way of speaking, or subjects they like to talk about. It's what they present in interviews and personal appearances. Until the Internet age, authors didn't have to think about it much except at book launch time.
But in the age of social media (and Google) we are out there in public every day. It can be hard to remember we're always "on stage" out here in Cyberia, even while we're sitting home in our jammies. But we still need to be aware of our image at all times and make sure what we say and do resonates with our audience and supports our brand.
I don't mean to say you should wear a mask or play an inauthentic character online. Nobody likes a phony. Your persona should simply be your best self—yourself freshly showered and dressed for a public appearance as opposed to yourself on a Saturday morning in your sweats and bunny slippers.
What's the Difference Between Your Author Persona and Your Brand?
Your persona and brand are interdependent, but they're not the same thing. Your name is your brand—that's true—but it's not who you are.
"Stephen King" as a brand means a certain type of book: a gripping, spooky look at humanity's worst fears that takes you on a roller-coast ride of pure scary.
Stephen King's persona, however, is a wise, honorable elder of the artistic community with a sly sense of humor and compassion for his fellow writers. We know him as man who's still married to his college sweetheart and never "went Hollywood" or left his home state of Maine in spite of being one of the most successful authors of all time. He also plays rock and roll with the Rock Bottom Remainders for charity. He seems comfortable in his own skin.
Is Mr. King that wise, funny, confident artist in real, everyday life?
I have no idea. (Although we grew up within 50 miles of each other, we've never met.) But it doesn't matter. When he appears in public, he wears that mantle and puts on that persona, and that's how we know him.
A Consistent Author Persona Helps with Interviews, Public Appearances and Bios.
So why do you want a persona? Shouldn't you just be yourself?
You should be yourself. Your authentic self. Up to a point.
It's also important to avoid oversharing. You're not online for free therapy. You're here to sell books. Don't project anything in social media that's going to hurt your book sales. At least not with the name you use for writing.
Don't ask too much of your readers. They don't owe you anything because you've had a tough life. A majority of online readers say they're turned off by content that's too personal and "creepy." Readers want to see you as a professional, a creative, and a helpful, friendly person.
But they probably don't care all that much about your insecurities, anger, and pain, unless those insecurities, anger, and pain relate to your work. For example, nonfiction author Rachel Thompson's persona involves being a survivor of childhood sex abuse. That's because it's the subject of several of her books.  So even though she also writes about marketing, her childhood pain is something it's okay for her to talk about on social media. But if you're a budding Janet Evanovich or A. A. Milne, you probably don't want to talk about sex abuse as part of your author persona. Your audience won't care and will probably look for stuff in your writing that you didn't intend.
When you project a persona, you can be warm and real in your emotional connections with people, but you don't need to share intimate, personal details.
As I said in my post on how to protect yourself on social media in April,  when you project a persona, you want to behave online and at personal appearances as if you're at a Chamber of Commerce Mixer or a PTA meeting. You don't have to project the "you" that slumps on the couch when you're exhausted after a long work week, or you're having a tell-all girl's night with your besties and a couple-three of bottles of rosé. (Never drink and post!)
How to Establish an Author Persona Online
Get a professional looking headshot for all your social media. If you use several photos, make sure they look pretty much like the same person. The same person with clothes on. Beachy shots are fun but in a thumbnail they can show a lot of skin. Okay if you write erotica. Otherwise…not so much. You also don't want to post a photo of a baby or a pet. Unless you write from the point of view of a Scottish Terrier, that photo of dear little Bobbie the Bruce is not going to enhance your career as a dark thriller author.
Don't create multiple personas for different platforms. Choose one and go with it everywhere. (Unless you write in wildly different genres—and then you'll need to put each persona on each platform.)
Blogging. Having your own blog that you have total control over is the best way to establish your persona. Blog about the things your best self is interested in. For more on this, see my post on what an author should blog about. 
Be careful not to go "off brand." That doesn't mean you can't express yourself, but express a consistent self, or people will be turned off. SciFi author Chuck Wendig projects a powerful persona. He's a tough guy with a potty mouth and strong humanist opinions. If he suddenly started running Nazi rants, or substituted "my stars" and "Heavens to Betsy" for his usual expletives, he'd lose way more than he did when Marvel objected to his profanity-laced tweets. His persona is always consistent, whether you like it or not. And obviously his fans like it fine.
You May Already Project a Persona.
Introverts often develop a persona early in life that they put on—sort of like a suit of armor—in order to be with other humans, especially in a crowd. I certainly did.  My whole family has anxiety issues, and we moved a lot when I was a kid, so I was always having to present myself to a new group of people.
I had a frozen, deer-in-the-headlights reaction to my social anxiety, and that freeze could translate into the semblance of serenity.
I remember people in college talking about my "Madonna-like calm." One guy said I looked like "Some Delphic Sybil observing everybody with detachment."
That "calm" persona masked a terrified kid from the boonies who was standing on the outside looking in—hoping I looked as if I had a clue WTF was going on.
Luckily I got more confident in my later years and managed to project a friendlier, more scrutable persona. 🙂
You don't want to do what I did, which was manufacture a persona that was very different from how I really felt. The most useful personas are the ones that allow you to be your best self, comfortably—online and in person.
So how do you do that? Try listing what you do and don't want to project to your potential readers.
Make Lists to Define Your Author Persona.
If you're having trouble defining your persona, try making some lists.
1) Qualities you like most about yourself.
Are you a good listener? You can have a blog where you answer questions from readers.
Athletic? You might post pictures of you hiking on your last vacation, or running marathons. Post news about athletes in your sport.
Are you a country mouse who can talk about growing plants and tending animals?
An urban sophisticate? Take us to your favorite city haunts. Dress to impress.
2) What your family and friends most like about you.
It's okay to ask your family and friends what they think your persona is. You may be surprised at the answers.
What's your role in your family? Can you be that with your audience?
Have you always entertained with funny stories? Use humor to attract a following on social media.
Nobody to ask? Maybe you're a solitary artist. So…talk to the other loners out there.
3) What are your interests outside of writing?
Love to stay home and read? Share booky news on all your social media. Get in touch with your inner librarian.
Animal lover? Nothing like cute pet videos to bring people into your orbit.
TV addict? Chat about your favorite shows.
Serious sports fan? Draw in your fellow fans.
4) Which of your qualities will appeal to your target audience?
If you write middle grade fantasy, you might want to concentrate on your work with the local Renaissance Faire rather than your years as a Vegas stripper. (Although I have to admit that when I was a tween, I was fond of Sherry the Showgirl comics. 🙂  )
If you write dark, sexy thrillers, you'll want to project a different persona than if you're writing Christian children's picture books.
Are you likely to write in several genres? Find things that span genres, like love of pets or baking.
Keep all this in mind as you choose which of your qualities to emphasize.
5) List the limits on what you want people to know about you.
Do you want to talk about controversial subjects? I've advised authors not to talk about subjects that will alienate a chunk of your potential audience, but some authors do–and that works with their persona. Catherine Ryan Hyde is an advocate for equality, kindness, and human rights, which unfortunately are controversial these days. But Catherine is most famous for adding the phrase "Pay it Forward" to our language. People would be disappointed if she didn't take a stand on human rights. That's her persona.
What about your family? Do you want people to know about your kids and your spouse—or would you like to shield them from public scrutiny? A parenting blog can lure some readers, but might make you and your children feel vulnerable. Whether to bring them into your online life is entirely up to you. But you should make the decision early on whether you want "parent" to be part of your persona. You also might want to ask your kids. This piece on Medium this week tells how a 14 year old feels about being the subject of her mom's social media posts.
Be Yourself. On Purpose.
Ruth Harris has written several great posts on style. She often reminds us that style is being yourself. On purpose.
A persona should reflect your personal style and represent you at your most "style-ish."
by Anne R. Allen (@annerallen) May 12, 2019
What about you, scriveners? Do you feel you have an online author persona? Did you consciously choose to show some of your qualities and not others? Do you find having an author persona helps you interact online? 
BOOK OF THE WEEK
ONLY 99C/99p Countdown Sale!! 
HOW TO BE A WRITER IN THE E-AGE: A SELF-HELP GUIDE
co-authored with NYT 3-million-copy seller ,
only 99c/99P in the US and UK for five days
May 11th to May 17th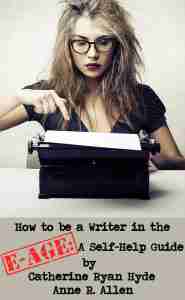 Friendly, down-to earth advice about how to navigate the treacherous waters of today's publishing world.  You'll see a lot of books out there about how to write, and a whole lot more that promise Kindle millions. But this book is different. It helps you establish a professional writing career in this time of rapid change—and answers the questions so many writers ask us.
OPPORTUNITY ALERTS
Ploughshares Emerging Writers Contest for unpublished writers. 3 prizes of $2,000 each and publication in Ploughshares and a consultation with the literary agency Aevitas. Poetry judge: Fatimah Asghar. Fiction judge: Ottessa Moshfegh, and nonfiction judge: Leslie Jamison. 3-5 pages of poetry or up to 6,000 words of fiction or nonfiction. $24 Entry Fee includes a subscription to Ploughshares. Deadline: May 15.
The Jeff Sharlet Memorial Award for Veterans. This creative writing contest for U.S. military veterans and active duty personnel is hosted by The Iowa Review and made possible by a gift from the family of Jeff Sharlet (1942–69), a Vietnam veteran and antiwar writer and activist. The contest is open to veterans and active duty personnel writing in any genre and about any subject matter. Prizes: First place: $1,000 plus publication in The Iowa Review. Second place: $750. Three runners-up: $500 each. NO FEE. Deadline: May 31, 2020.
BLACK ORCHID NOVELLA AWARD from the Nero Wolfe Pack. NO FEE. 15,000 to 20,000 words. Traditional mysteries only. No explicit sex or violence. Prize: $1,000 and publication in Alfred Hitchcock Mystery Magazine. Deadline May 31.
Katherine Anne Porter Prize for a collection of short fiction. $25 FEE. Prize is $1000 plus publication by the University of North Texas Press. 100-200 pages. Deadline June 30th.
The Moth Prize for short fiction.  €3,000 (approximately $3,380) and publication in the Moth. 2nd prize: a weeklong retreat in Missé, France, and a €250 travel stipend; 3rd prize: €1,000 and publication. Kit de Waal will judge. Up to 5,000 words. €15 (approximately $17) FEE. Deadline June 30
IWSG Anthology Contest 2019. NO FEE! Middle Grade Fantasy stories 3000-5000 words. Theme: Voyagers. Judges include well-known authors including Elizabeth S. Craig. Payment in royalties for the anthology, published by Freedom Fox Press. Deadline September 4th.
7 PUBLISHERS FOR MEMOIRS! You don't need an agent. From the good folks at Authors Publish
***
Featured image "The Green Mirror" by Guy Rose 1911