by Anne R. Allen
A lot of writers are talking about quitting Twitter and Facebook (and FB's subsidiary, Instagram) because social media has become a "cesspool."
I hear you. Politicians, celebrities, and their mindless minions use social media to trash-talk and stir up negativity and chaos. Plus scammers and sadistic trolls lie in wait to pounce on the innocent and vulnerable.
It's also terrifying how Facebook has been invading our privacy and offering us up as prey to enemy operatives, predatory advertisers, and malevolent click farmers.
On top of that, many marketing "experts" urge authors to waste precious writing time on pointless social media activity.
But giving up all social media because awful people are abusing it is like giving up your phone because of telemarketers and fake IRS scammers (who now make 50% of US phone calls.) Yeah, they are horrible. But there are ways to avoid them and you need your phone.
You also need social media.
Because that's where your readers are.
Of course it's possible to become a successful author without any social media at all. It's also possible to get hired for a corporate job if you write your resume on parchment and send it by carrier pigeon.
But your chances are a whole lot better if you do it the 21st century way.
Social media is still the most important tool for getting online visibility for your blog and books.
Thing is, most authors aren't using the tool efficiently. They're wasting a lot of time and energy and putting their privacy at more risk than necessary.
 1) Don't Try to Be Everywhere
You don't have to fritter away your time on all platforms. If you don't like one social media platform, then choose others. I don't do Instagram and I'm a failure at Pinterest (I'm better with words than images) so I concentrate on Twitter and Facebook, but you don't have to.
If you hate Twitter, it's okay to drop it, as Daniel Berkowitz said on Jane Friedman's blog this week. If you don't "get" a platform, you're wasting your time there, so let it go.
Choose the social media channel that gives you the most bang for your buck. Social media guru Chris Syme told us how in a blogpost on "Taming the Social Media Beast."
2) Educate Yourself about Scams
I get targeted every day by at least half a dozen "loverboys" on Facebook. They are the catfishing scammers, trolling for lonely women to con with smarmy love letters and tales of woe. (Their phony profiles usually have two first names and a picture of a white guy in uniform or on an oil rig.) They're always "widowed" and often "single dads."
Men get friend requests with fake profiles from the same scammers using photos of buxom young women.
There are organized crime rings in third world countries that have made an industry of this kind of catfishing. Don't fall for it. If you accept them as friends, they will immediately start sending inappropriate messages. First they ask "what's up," then they tell you you're beautiful/handsome and they're in love with you. Then they have a catastrophe and need money. None of this is real. They're just guys in a boiler room working from a script.
Unfriend, block and report them to Facebook.
Then there are the scammers who steal the identities of your friends so they can push phony investment schemes and fake charities on you via direct message. This happened to two friends of mine just this week.
If anything seems a little "off" it probably is. Check out my posts on scams that target writers and more scams. And remember to report abuse to Facebook. Unlike Amazon and Twitter, Facebook is quick to respond and take down phony profiles.
3) Take "Focus Time" Breaks and Limit Your Social Media Use
Taking week-long vacations from online activity is a great idea for anybody, and I think they really help when you need downtime or focus time for your writing. Studies show that taking breaks from social media improves quality of life. Just tell your peeps that you're on a personal writing retreat and you'll be back next week.
Social media is not a substitute for real live human interaction.  It doesn't fulfill your emotional needs like being with real people. It's like eating fat-free food–the kind that doesn't satisfy, so you keep eating more trying to get that satisfaction. (I'm speaking as a former Snackwells addict here.)
Also, people on social media can be phony and mean because they don't fear real-life consequences.
As marketing guru Rachel Thompson says, "When we interact in real life, our brains interpret non-verbal clues…Without those non-verbal clues, online communication fails to meet these emotional needs and is ripe to become tit for tat, back and forth, and mean-spirited."
If you find you're spending too much time on social media, start consciously budgeting your time. I find that taking scheduled breaks from writing to check FB and Twitter for 10 minute sessions works for me. Some writers like to set a timer. Others do their work on an old computer that's not hooked up to the Internet. And there are apps to block social media for a certain amount of time if you need an electronic coach to enforce it.
4) Avoid Politics and Religion
Unless your books are specifically concerned with politics or religion, it's best to avoid the subjects altogether. Otherwise, you're eliminating potential readers.
If you need to engage in dialogue on the subjects, don't do it wearing your author hat. Either use a pseudonym or  join closed groups where discussions are private. I know this is hard. I can't always resist. But I try to keep my input to emojis.
Putting politics or religion front and center can get you banned. A great writing blog I follow was impossible to share to FB for months because the blogger got put in "Facebook jail."  She'd put her political preference in her blog's tag and somebody on the other side saw it and reported her to Facebook as "abusive". It takes months to get in touch with anybody to dispute these things.
If somebody pushes unwanted opinions on you, all you have to do is mute them. You don't have to unfollow or unfriend. They don't even know they've been muted. (And this is not a "freedom of speech" issue. Social media is private property and not subject to the US 1st Amendment.)
If you find a snarknado of nasty comments on something you've posted, delete the post. The original post may be as non-controversial as a picture of a pet, but if somebody decides to make snarky political comments on it, there's no point in keeping it.
I'm not saying I don't get lured into dramas on occasion—it happened to me just this week—but afterward, I realized I'd wasted precious writing time on somebody who will never read a word I write. Bu-Bye.
We live in an era of polarizing extremism. Negativity seems to be everywhere. But it doesn't have to be on your page or in your news feed.
Arguing about hot-button issues online doesn't change anybody's opinion and takes time away from writing. Writing is why you're doing this in the first place, remember? Put that angry dialogue into a scene for your novel.
5) Tell Social Media It's Not the Boss of You
Just because the robots ask all those prying questions to "complete" your profile, doesn't mean you have to answer them. Only offer things that are of interest to your readers.  And whether you're on your "Friend" page or your "Like" page, don't have any illusions of privacy. Whatever you say there is like putting it on the evening news.
Present your author persona, not your whole self. You can be warm and real in your emotional connections with people, but you don't need to share intimate, personal details. Pretend you're at a Chamber of Commerce Mixer or a PTA meeting.
I'll be writing more about creating an author persona in the coming months.
6) Don't Imagine a Facebook "Friend" Page is Private.
If you want a private page for friends and family, make it a closed group. You still won't have much privacy, but your posts won't be as available to a mass audience. And your kids' photos won't be quite so available to pedophiles.
But neither your "Friend" page or your "Like" page is in any way private. It's a public bulletin board. Treat it that way.
Readers will want to friend you. Welcome them. That's why you're there–to be friendly to your readers and fans. Yes, Facebook only allows you 2000 friends, so as you get more popular, you'll have to steer them to your "Like" page.  But don't try to reserve your Friend page for personal friends and family and reject fans. You're negating your whole reason for being on social media as an author.
I once had a fellow writer "friend" me and I tried to "friend" her back to be polite. She replied with a snippy note saying her Friend page was for special people and I could go "like" her author page instead.
I didn't.
You don't want to spread ill will for no reason. Start a closed group for your IRL peeps. It's wiser and safer.
7) Forget Meaningless Number Games.
Why do you want 1000s of random people to say they "like" your Facebook author page? Because some number-obsessed marketer told you to?
Don't listen to them. They know nothing about selling books. Stop humiliating yourself begging for "likes".
"Likes" mean nothing if people don't actually like your work. Do you genuinely like that BDSM erotica writer's books and are you planning to visit her page often?  Trading likes is pointless if she's not interested in your cat cozy mysteries, and it will signal Facebook to fill your feed with some very unwelcome advertising.
Those "likes" mean nothing in terms of sales, and screw with your online presence and profile. (Last February I wrote a post on the importance of keeping your online presence squeaky clean.)
Also ignore people who say you should be adding 20 random Tweeps a day so you can amass half a million followers. Saying you must have 500,000 followers is like saying you should have a phone with the numbers of 500,000 strangers programmed into it. If they don't want to hear from you—what exactly is the point?
Here's the thing: you don't need a huge number of followers, friends, Tweeps or whatever unless you're selling advertising for your blog.
But an author blog is only about selling your books. The numbers game does not apply to us. All that matters is how many potential readers you're actually connecting with.
50 people who love your books and tell their friends about them are worth a whole lot more than 500,000 fake followers somebody bought from a click farm in Bangladesh.
8) Don't Use Social Media as a Direct Sales Tool
I hear lots of authors complain that social media is no good for selling books, and therefore a waste of time.
They're right on the first point, but not on the second.
Quitting social media because it doesn't sell books is like getting rid of your phone because it's not good for selling motorized wheelchairs to able-bodied strangers who are just sitting down to dinner. (Yeah. I get those calls all the time. 🙁 )
Social media isn't for direct sales. It's for connecting with people.
No matter what marketers say, endless "buy my book" Tweets, repeated quotes from your books, and a zillion book launch/ personal appearance/ street team Facebook pages do not sell books anymore.
If they ever did.
Your social media should be 20% marketing and 80% interesting, friendly stuff that's useful to your readers.
9) Don't Expect Your Email List to Do all Your Marketing
Okay, you're an established author. You have an email list that would make a newbie's eyes pop. But your list is finite. A whole lot of people accept the bribe of a free book in exchange for their email address with no intention of buying anything. These are people who never pay for books—they just troll for freebies. You won't ever sell them a thing.
Other readers have moved on. Last year they were totally into the steampunk you write, but this year they're crazy for Mythopoeia and fairy tale retellings. If you rely on that list as your only marketing tool, you will sell fewer and fewer books.
You need to be out there drawing in more readers. That mostly happens on social media.
10) Engaging with Others Doesn't mean Arguing
Sometimes when I share an article or blogpost with a rhetorical question in the title, some smarty pants tries to argue with me without reading the article.  Say, I Tweet a link to an article called. "How Much Sleep Do You Really Need?" Then smarty pants will comment or tweet that they sleep 25 minutes a night and they're healthy as 5 horses, so I'm a moron and a wimp.
I have no way of responding to these. That's when I hit the mute button.
These authors are shooting themselves in the foot as well as contributing to the cesspool. If you don't have time to read an article, don't comment on it. If you have an issue with it, go to the website and leave a comment there. Don't argue with the person who shared the link.
I know this seems like a no-brainer, but I'm amazed at how many people seem to be unclear on the concept of sharing links.
Even though you see a lot of snark on social media, you don't need to generate more.
What should you post to engage with people? Try sharing funny memes, Inspirational author quotes, and pet videos. I like to share grammar jokes and cat videos on my Friend page and helpful writing tips on my Author Like page.
Light, funny videos and positive stories will generate more sales in the long run than all those "book launch party" pages, pleas for Tweets, or those links to your buy page.
Here's a great quote from social media guru Kristin Lamb: "People can't connect emotionally to yet another article about how Barnes and Noble's stock is tanking. They CAN however connect to kittens, Sharknado, tales of missing socks, superheroes, kid stories, pet stories, and Grumpy Cat."
Social Media isn't All Trolls, Bots, and Mindless Marketers. It's Helpful if You Use it Right.
The big social media platforms are trying to clean up their act. Facebook has been working at policing hate speech and abusive behavior and even Twitter is working on new ways to enforce their rules. Twitter is proactively deleting offensive material now, instead of waiting for users to report. And in June they're introducing a new "hide replies" feature, so you can mute the snark.
So what is social media good for?
* Quick Communication with a Large Number of People. 
Example: When I was in despair trying to get my blog's Feedburner email program to work back when I was on Blogger, I Tweeted asking for help. Within minutes, I had several suggestions, plus a step-by-step guide for converting to a free MailChimp email service.
* Getting Up-to-the-Minute News from Anywhere on the Globe.
Example: During the recent rash of tornadoes in Alabama, the towns who used Twitter to get tornado warnings fared much better than towns who were less connected.
And when I wanted to know if my Alabama friends were okay, I went to #AlabamaTornado and found hundreds of real-time Tweets telling what neighborhoods had been hit.
This isn't directly related to your books, but it shows how Twitter can benefit you, even if it seems icky much of the time.
* Giving Your Friends a Shout-out (and Occasionally Yourself.)
Example: When I saw that a friend had been mentioned in Publishers Lunch, I Tweeted it, with an @ message to her. It was the first she'd heard of the PL mention, so it was a two-bird stone: I informed her of the good news and at the same time told a lot of people about her new business.
And yes, you can toot your own horn occasionally. You can certainly Tweet "my book was just nominated for a RITA" or  "I got a rave book review from Big Al."
But only do this a few times. Imagine you're phoning your friends with the good news, not cold-calling everybody in the phone book.
However, the most important Tweets might be for a friend's triumph. I remember when a Tweep posted a link with an @ message congratulating us on a big blog award. I thought: "what a nice thing for her to add a special Tweet to me. Who is she, again?" I visited her blog, was intrigued, and bought one of her books.
Yeah. That's how it works.
* Connecting with Readers and Colleagues. 
Example: Last month, my book The Author Blog hit the #1 spot on Amazon in Computers and Tech. I sold nearly 5000 books in two days. That was because I was invited to do a joint promotion with some heavy-hitter writers by K. M. Weiland. Why do I know Katie Weiland? Because we share each other's  blogposts a lot on Twitter. It's as simple as that.
Twitter may be full of trolls and cyber-feces, but it's also full of great people who can help your career. Be helpful and positive and you'll meet helpful and positive people.
* Sharing Information and Talking About It.
This can be anything from Tweeting a tsunami warning for your patch of coastline to links to your own newest blogpost or an article about a new TV show in your genre.
Example: I shared news about a new film with Benedict Cumberbatch. Several Tweeps connected in our fondness for his Sherlock Holmes. One turned out to be a mystery lover and picked up a copy of one of my mysteries.
* Announcing a Sale
Endless "buy my book" Tweets are just noise, but when you Tweet that a book is free or on sale, people notice. (But don't do it more than three times a day. And make sure it's in between other stuff.)
Example: When one of my books is on a countdown or other 99c special, I always announce it on Twitter toward the end of the countdown when sales are flagging. A couple of months ago, my sale Tweet got picked up by some of my chick lit writer friends and they sent a bunch of RTs. I sold twice as many books that day as I had on the first day of the sale.
You can Tweet other people's books, too—but only if you genuinely think your followers will like it.
Tweeting books you don't know anything about can seem "friendly" to your fellow authors, but it's not friendly to your Tweeps.
It can backfire if it's not a book you'd recommend to a real life friend. Somebody who writes violent thrillers has no business asking a writer of children's books or cozies for a Tweet. It's okay to say no. Especially since simply Tweeting book titles at strangers does not sell a lot of books anyway.
But exchanging information can make connections. It's those connections that will increase your visibility and sell books.
Yeah. That's how social media works. It's social.
***
by Anne R. Allen (@annerallen) April 21, 2019
What about you, scriveners? Are you thinking of leaving Twitter or Facebook? Have you left them already? Are you finding you can reach readers elsewhere? What alternative social media do you prefer? Have you figured out a way to use Pinterest or Instagram images to sell books? Have you found you can avoid the cesspoolyness of social media? 
Central Coasters! Let's Talk! An Afternoon with Central Coast Mystery Authors. Three Central Coast mystery authors, Anne R. Allen, Sue McGinty, and Victoria Heckman—with the help of Audible book narrator CS Perryess—will present an afternoon of reader's theater for mystery lovers. They'll be featuring scenes from their novels, which are mostly set on the Central Coast.  Anne will also lead a discussion of the perennial appeal of the mystery story and talk about its origins and ever-expanding subgenres.​ Friday, April 26th at 1:00 PM at the Cayucos Public Library.  
BOOK OF THE WEEK
No Place Like Home: Camilla Randall Comedy-Mystery #4
(But it can be read as a stand-alone)
SALE!! ONLY 99C! at all the Amazons
Until May 1st, 2019
Wealthy Doria Windsor is suddenly homeless and accused of a murder she didn't commit. But Camilla, with the help of a brave trio of homeless people, the adorable Mr. X, and a little dog named Toto, is determined to unmask the real killer and discover the dark secrets of Doria's deceased "financial wizard" husband before Doria is killed herself.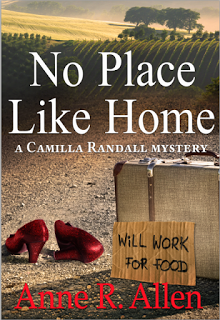 "A warp-speed, lighthearted comedy-mystery"…Abigail Padgett
"A fun, charming novel about the rich and less so" …Karen Doering
"A cross of dry British humor and American wackiness, and it all adds up to a fun read." …Deborah Bayles.
"It's comedy about a dark topic – homelessness – and it succeeds without ever descending into tasteless insensitivity, or tipping over into sentimentality."…Lucinda Elliot
And NO PLACE LIKE HOME IS ALSO  AN AUDIOBOOK!!
Narrated by award-winner C. S. Perryess and Anne R. Allen (as Camilla)
Nearly 8 hours of hilarious entertainment!Only $1.99 if you buy the Kindle ebook
OPPORTUNITY ALERTS
Tom Howard/John H. Reid Fiction & Essay Contest. $5000 in prizes. 6000 words max. All countries welcome. Sponsored by Duotrope and Winning Writers. $20 entry fee. Deadline April 30th
SEQUESTRUM EDITOR'S REPRINT AWARD  Fee: $15.  Prize: $200 and publication in Sequestrum for one previously published piece of fiction or nonfiction and one previously published piece of poetry. A minimum of one runner-up in each category will receive $25-$50 and publication. Maximum 12,000 words for prose and three poems. Deadline: April 30, 2019. 
Booksie First Chapter Contest. Prize $1000 plus a review and boost of your content of choice. Send the first chapter of a novel. (You don't need to have finished it) Entry fee $7.95. Deadline June 14th.
Don't let those published short stories stop working! Here are 25 Literary Magazines that will take reprints.
7 PUBLISHERS FOR MEMOIRS! You don't need an agent. From the good folks at Authors Publish