by Anne R. Allen
Here's more about the mistakes I made so you don't have to. If I had worked harder on these things instead of doggedly piling up wordcount without having a clue what I was doing, I'd have saved myself a lot of time and heartbreak on my road to publication.
1) Come Out of the Writing Closet
It seems half the people I meet are "working on a book." A lot of them have been working on that same book for years — even decades.
But they never show it to anybody.
Many of them also never read writing guides or blogs or magazine articles that might improve their writing skills. This is especially true of memoir and other nonfiction writers. They don't think they need to know about writing craft if they're writing nonfiction.
Nothing could be further from the truth. Nonfiction needs to be even more carefully structured than fiction — especially memoir. A simple chronology almost never makes for compelling reading. (For more on writing memoir, see my post on How to Write a Publishable Memoir.)
Then there are the writers who pile up files of half-finished stories and essays for years and never polish them or send them to potential publishers.
And I remember a writer who proudly told a Facebook group that he'd paid a vanity press to publish his book. But he'd never shown his writing to anybody. He wanted to know where he could find beta readers before he sent in his manuscript. Ack! (And of course, a vanity press is almost never a great way to publish a debut novel.)
I know why they do it. I was a "closeted writer" in my early writing years.
If you don't show your work to anybody, and don't compare it to anything in the marketplace, you can hang onto the fantasy that you're a fabulous self-taught genius who has so much talent you don't need to take a class or learn anything about writing craft.
Hey, you went to college. You've always got your nose in a book. Of course you know how to write.
Um, maybe not. You may love to drive, but that doesn't mean you can build a car.
If you hope to publish someday, spending years in a writer-closet will not work in your favor. You're setting yourself up for nasty disappointment and/or some serious scamming.
2) Develop Rhino Hide
One of the most important reasons to get out of that writer closet is to build up the soul-callouses a writer needs to succeed in this business.
I recommend that beginning writers join a critique group. A writing group can be a great way to learn the ropes without taking a bunch of expensive writing courses, and networking with other writers can help in your career. Often groups can improve your writing. Sometimes they can't.
But a very big benefit is that they'll help you toughen up and learn to process criticism.
Hey, if you're scared the people in that critique group might be hard on you? Wait until you read your reviews. Yes. You'll get bad reviews. All writers do. It's the dues you pay for membership in the published writers club.
I know it's all painful and crushing to your creative soul, but we have to learn to take this stuff with grace. Unfortunately, rhino hide is part of the job description. Ruth Harris wrote a great piece on growing that rhino skin.
3) Read Bestsellers, Especially in Your Genre
It's amazing how many people who want to be writers do not read. Try to talk to them about books that have sold in the past 5 years and they go blank, or get huffy and say, "I only read the classics." (Which they probably haven't opened since college.) I hear so many new writers say they don't read bestsellers because "they're all crap."
Which is usually followed by statements like:
"I've read Dickens, Virginia Woolf, Faulkner…and every word Vonnegut ever wrote. You seriously expect me to learn from reading books by some Kardashian's ghostwriter?"
The problem with that argument is that you can't enter the marketplace if you don't know what buyers are looking for. As brilliant as the novels of Virginia Woolf are, they're not bestsellers right now. And even if you are the reincarnation of William Faulkner, you're probably not going to attract a lot of 21st century readers writing lush, Southern Gothic prose. You need to learn how to write for the people buying books right now.
No, you don't have to read celebrity tell-alls. But you need to read voraciously in your chosen genre. And yes, literary fiction is a genre.
I once read a great piece of advice from an agent who said you should read the debut novels of top-selling authors in your genre. Don't only read the stuff superstars are putting out now they're famous. See what popular writers first created that allowed them to break into the business. Studying those will help you break in, too.
And beginning writers of nonfiction, I'm talking to you, too.
Many beginning writers don't even Google their subject to find out how many similar books are out there.
Even though nobody in your immediate circle may know what it's like to be married to a narcissist or care for a parent with dementia doesn't mean the books aren't there. (Amazon lists over fifty pages of books on narcissism and at least that many on Alzheimer's disease.)
I'm not saying you shouldn't write on these subjects — they are popular and most people need more education about them — but if you intend to publish, you need to know what's available so you can approach your subject in a fresh way.
4) Put Publishing on the Back Burner While You're Building Inventory
Agents say the biggest mistake beginning writers make is querying too soon. You may have an idea that looks great in a query. But if a request for pages brings a cringy manuscript that shows the writer lacks basic writing skills, the agent is frustrated, too.
An even bigger problem has arisen since the indie publishing revolution. Too many beginning writers are publishing and marketing before they're given themselves time to master the craft.
I can't tell you how many writers I've heard lamenting that fledgling first novel they self-published on Amazon, where it still sits, unpurchased and unread, with that sad, homemade cover.
Learn to write before you publish. Amazon isn't a kiddie playground. It's a real-world marketplace. And if you're going to develop a readership, you'll need more than one title. So make sure you have several manuscripts polished, critiqued, edited and polished again before you even think about publishing, whether you're going the indie or trad-pub route.
5) Ditch the Beginning Writers' Fantasies for Realistic Expectations
This is embarrassing, but I have to admit that after I signed with an agent for my first novel, I quit my day job and expected to be paying bills with an advance by the end of the year.
You guessed it: Did. Not. Happen.
The agent shopped it around, failed to sell it and dropped me. When I got the bad news, I hadn't even finished a first draft of a second book.
I was so devastated, I didn't write another word for several years. I had bought into the fantasy that all I had to do was sign with an agent, and I'd become a full-time author. That's the way it happens in the movies isn't it?
But not in real life. It takes a long, long time to become the kind of author who can quit their day job.
Very few authors make money on a first book.  When you hear about authors having huge successes with a "first novel," keep in mind it's their first published novel, and they've probably got many years' worth of practice novels in their files.
Write because you love it — because you can't help yourself — not because you're counting on becoming the next J.K. Rowling within the year.
If you need money right away, get a flexible part time gig like driving an Uber or working for Instacart. They can give you lots of ideas for that WIP, and keep a roof over your head.
Until you have at least five titles, you're not likely to make substantial money, whether you're traditionally published or indie.  Yes, it's been done, but those authors are the exception to the rule. Many of the big-earner indies have fifty or sixty books out there.
6) Think Outside the Book
Once I decided I wanted to have a writing career, I dove right into writing novels. I left short stories and poetry behind. People told me they were for amateurs. (And in those days, nobody wrote novellas because they were considered "unpublishable.")
That's because in the early 90s, most magazines had stopped publishing fiction. The only way to publish was to spend a lot of time researching the small, low-circulation literary magazines. Which of course could only afford to pay in copies.
The only way to find these magazines was to buy a pricey copy of Writer's Market along with the Directory of Little Magazines and Small Presses. The bottom line didn't look good to me. I figured: why should I spend more to buy the directories than I'd ever make getting short stories published?
Later I did subscribe to them and started placing a few stories, but by then I had already published my first novel.
I was short-sighted. If I'd had more publishing credits and contest wins, I would have found a publisher for my longer fiction faster. Getting into a prestigious magazine can make your career. Don't stop writing those short fiction and creative nonfiction pieces.
7) Learn to Weed Out Bad Advice
Last month a visitor to our critique group firmly maintained that writers should never use the word "which." I've heard a whole lot of stupid writing rules, but that's a new one on me.
There's the one that makes "was" taboo. I've written on the Was Police and another on Stupid Writing Rules.
This is the problem with workshops and critique groups, and why I say you can learn from them, but they can also do harm.  Sometimes groups develop their own weird rules and turn them into cultish dogma. Here's why you should avoid the writing rules police.
Although the right group or connection can provide you with the support and informed advice you need, don't try to please all of them. For one thing, they'll probably have wildly conflicting opinions. In the end, it's your book, so don't change anything only to please somebody else. There is no one right way to write a book.
Here's my post on why you should ignore most of the advice from your critique group.
Never take advice unless it resonates with you. If you get feedback and think, "I knew there was something wrong in that scene, but I never knew what it was" — then you've got a helpful critique.
If you feel like you've been sucker-punched and devalued, run. Not all groups are created equal.
Beware any dogmatic advice. Rules are made to be broken. And there are no hard-and-fast rules in writing. Only guidelines.
Before you change anything in your WIP on the advice of a critique or beta reader, ask yourself 1) Does this person know your genre? 2) Where does this "rule" come from? 3) Does this person have a bias or personal agenda? 4) Is the critiquer genuinely trying to improve your work, or are they showing off or bullying?
8) Get to Know Your Audience
Authors these days need to know who they're writing for. What will please readers of Margaret Atwood will bore the pants off a James Patterson fan, and a Nora Roberts reader will throw your book across the room if you've written a Paula Hawkins-type creepy, twisty ending.
New writers should ask themselves, "who am I writing for?" Don't think "everybody" because nobody can please all the people all of the time. If you're writing the kind of novel you like to read, then your audience is probably people like you. What do you like? Do you revel in those steamy sex scenes, or do those scenes feel a little cringy? Do you want to hear the details of the hero's vintage Camaro, or do your eyes glaze over with car talk? These are important details to pay attention to.
I find that joining social media groups for fans of TV shows, books, and films that I like gives me a picture of the kind of person who's likely to enjoy my books as well.
9) Don't Always Write with Publication in Mind
Not all writing needs to be for publication. Especially if your first writing effort is a memoir. Probably half of beginning writers start with a memoir. However, writing a memoir that can sell requires strong writing skills.
But forget that for now. Write what you want to say. Yes, it may just be "therapy writing" but you'll be exercising your writing muscles, so the time isn't wasted.
Later you can mine that therapy writing for scenes and characters. You will often find you have some publishable creative nonfiction essays buried in there. Publishing creative nonfiction can be lucrative. (Thinking outside the book really pays off for memoir writers.)
Don't be afraid to get the ideas in your head onto the page, whether or not you think they have an audience.
One of the big mistakes beginning writers make is writing thinly veiled memoir and calling it fiction in order to change names and spare people's feelings. But fiction has different rules, and believable fictional characters take on a life of their own. If you chain them to "real life" you may end up with wooden characters and unbelievable situations. (Even though that's "what really happened.")
If you want to write memoir, but you don't want the people in your life to read it, consider treating it as therapy writing — at least at first. Later, after it sits, you may see a way to novelize and shape it in a way that will please readers, not just express your raw emotions.
You don't want to end up with the dreaded "misery memoir" that self-rejects.
10) Learn How the Publishing Business Works
Learn the basics, or you're going to be a ripe target for scammers. If you don't know that agents are paid by commission — after they sell your book to a publisher —  you may fall for bogus, fee-charging agents.
And if you don't know that agents are not marketers, you may be taken in by the current scam where outfits calling themselves "literary agencies" try to get you to pay them for worthless marketing packages for your languishing self-published dud. (And if you're like one of our readers, they may even try to hard-sell you on a marketing package for a book written by somebody else with a similar name. 🙂 .)
You need to know that marketing a book that has failed in the marketplace is a waste of time and money. That's why you don't want to publish a book before its time.
And you need to know that publishers pay writers — not the other way around — or you're likely to be scammed by one of the 100s of overpriced vanity presses out there that pose as traditional publishers.
Scammers thrive on ignorance. Make sure you learn the rules of the game before you play.
by Anne R. Allen (@annerallen) July 10, 2022
What about you, scriveners? If you're a beginning writer, do you see anything here you need to work on? If you've been publishing for a while, do you recognize any of these things you should have done to get your career started more smoothly? 
BOOK OF THE WEEK
HOW TO BE A WRITER IN THE E-AGE: A SELF-HELP GUIDE
co-authored with NYT 3-million-copy seller, and author of Pay it Forward,
Available at all the Amazon Stores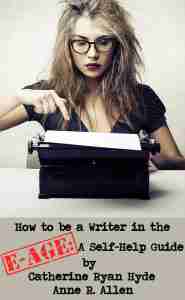 Friendly, down-to earth advice about how to navigate the treacherous waters of today's publishing world.  You'll see a lot of books out there about how to write, and a whole lot more that promise Kindle millions. But this book is different. It helps you establish a professional writing career in this time of rapid change — and answers the questions so many writers are asking. There's lots of advice on how to deal with criticism and learning what to use and what to ignore. 
"I loved this book! Catherine and Anne are hysterically funny as they present detailed and helpful information about their experiences in writing, publishing, blogging, and the emotional roller coaster ride of "being a writer." Together their writing style made me feel as if we were having a conversation in my living room every morning when I sat down with my coffee to get my daily dose of encouragement and education. This book is at the top of my "go to" pile when struggling as a "new" writer. Thank you Catherine and Anne!"...Bonnie McKeegan