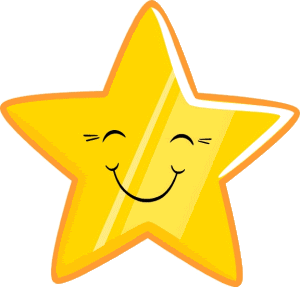 by Ruth Harris
What can we learn from authors who have gone from obscurity to success?
The Everyday Star
Are you dreaming of being a *superstar* like Stephen King or Nora Roberts?
Really?
Think about it. How realistic is it to imagine that you, too, can be SK or NR?
Do you have any idea of what, specifically, you would have to do to get into to the exalted SK/NR league from wherever you are right now?
Perhaps a bit of attitude adjustment might help.
Do you *really* have to be #1? The first, the best, the greatest?
What about just being an everyday star? Another star among other stars? A writer with a satisfying career or perhaps one with a spot somewhere on the bestseller list?
Do you know what it takes?
Do you know how other, everyday stars got there?
Elmore Leonard's rules for writers are well known. As are Stephen King's On Writing and Heinlein's rules.
Still other everyday stars have shared their routes from category romance fiction, "pieces of paper on the floor" and "a love for page turners" to a place on the bestseller list.
Each one started from zero.
Each one found a different route to success.
Each one encountered obstacles along the way.
Each one developed a unique pro mindset.
Not one gave up.
Not one said it was easy.
Not one doesn't work hard to make every book better than the one before.
Not one said s/he'd rather been doing something else.
Lawrence Block
Author of over one hundred books, he received the Grand Master Award from the Mystery Writers of America, Lawrence Block won four Edgar and Shamus Awards, and the Cartier Diamond Dagger from the Crime Writers Association of the United Kingdom.
In his memoir, A Writer Prepares (available in June), Lawrence Block remembers his beginnings at the notorious Scott Meredith literary agency in the late 1950's and 1960s writing reports offering advice to aspiring writers.
To study the market for crime fiction and mystery magazines popular at the time, "I bought every copy of Manhunt I could find, and sought out its imitators as well, digest-sized magazines with titles like Trapped, Guilty, Pursuit, Murder, Keyhole, Off-Beat, and Web. I put together a near-complete run of Manhunt along with dozens of copies of its fellows. And I read my way through just about every story."
As a follow-up, he ventured into the world of men's adventure magazines and wrote "nonfiction" articles sorted into three different categories, which he recalls as "Reinhard Heydrich, Blond Beast of the SS," "Grovers Corners — Sin City on the Wabash," and "Migrating Lemmings Ate My Feet."
From Nazi criminals, he branched out to what he refers to as "Classic Midcentury Erotica" using female pen names. He began with a cheapo paperback titled "The Strange Sisterhood of Madam Adista," followed by a more serious lesbian novel, eventually published as "Strange Are the Ways of Love."
Writing as Benjamin Morse, M.D., he wrote "Sexual Surrender in Women," and as John Warren Wells he produced "Tricks of the Trade: A Hooker's Handbook," inventing all the "case histories."
He used what he had learned writing commercial stories and articles to publish his Tanner novels of international intrigue. He would build from there to write many more books under his own name, including lighthearted capers about burglar Bernie Rhodenbarr, and ex-cop and recovering alcoholic Matt Scudder.
Barbara Delinsky
Her career began when, as a 34-year old stay-at-home mom in need of money, she read a newspaper article about three women writers. Having been kicked out of an honors English class in high school for being unable to keep up, she'd never thought of being a writer, but decided to give it a try.
The death of her mother when she was eight, "made me very self sufficient. I realized I was the master of my own fate. I think it was that feeling that allowed me to read that newspaper article about women writers and say I'm going to try this."
Within three months, she'd sold her first book—a Silhouette romance for $2,500 written on her college typewriter and published under a pen name. That first book was followed by other category romances—usually 55,000 to 60,000 words. There was a difference to Barbara's romances, though, that set them apart from the rest—they tended to be 80 percent romance, 20 percent something else.
When she moved into mainstream fiction, the 20 percent "something else" evolved and broadened, and allowed her to write about subjects of concern to women at greater depth.
With a gift for creating relatable characters, Barbara wrote about the intricacies of marriage, the challenges of parenting, and, the middle child of three sisters, the complexity of sibling relationships. Expanding to a broader scope, her books doubled in length and the 80-20 equation reversed and the "something else" prevailed.
Over 70 books later, with seventeen NYT bestsellers along the way and 30 million copies in print, the writing career that Barbara started on a college typewriter with category romances has developed into a library of respected, well-reviewed, bestselling women's fiction.
Barbara's own reading: "My own reading choices are usually new releases which show me what other writers are doing right now.
Barbara's secret: Post-Its. Everywhere.
John le Carre
How to work with your spouse — and stay married.
Le Carré's, son, Nick Cornwell, who writes as Nick Harkaway, recalls:  My father's "first report of my mother, Jane, long before I was born, was that she had rescued his novel A Small Town in Germany when it was literally in pieces on the floor. Some of my earliest memories are of him reading handwritten pages or typescript with annotations in black pen, sometimes physically cut and pasted in the days before computers, and her listening, absorbing, only occasionally responding, but always with immediate effect.
"It was easy to misunderstand her as just a typist — and many did — not only because she also typed everything, as he never learned how, but also because her interventions were made in private, before the text was ever seen by anyone else. I was witness to it as a child and then as a teenager, but by and large only they knew what passed between them and how much she reframed, adjusted, trained the novels as they grew.
"At each turn, fresh problems to be solved, fresh insights and flourishes of invention. And all along, at every step, was my mother, recalling the first moment of inspiration to refresh a tired passage, or asking whether a given phrase really reflected the intent she knew was behind it. She was never dramatic; she was ubiquitous and persisting throughout the body of work."
Le Carré had learned that, for a pro, the process of writing a book means putting the ego aside. When confronting a mess of pieces of paper on the floor—or a digital mess on your hard drive—the book comes first.
The right editor-collaborator, if you are lucky enough to find one, can make the crucial difference.
Harlan Coben
A poli sci major who played basketball in college, Harlan Coben never took a creative writing class. He originally planned to go into the family travel business — or else become a lawyer.
While still in college, he worked a summer job as a tour bus guide in Costa del Sol, Spain. When he returned home he decided to write a novel about that experience. "It was self-indulgent," he says. "I think that happens a lot with first novels, but it was a great learning experience."
Page turners like Marathon Man, and The Shining were a source of inspiration and motivation. "I just loved books that you could not put down, so I set out to try one—and that wasn't very good either."
Three more attempts fizzled, but on his fourth try, he wrote Play Dead, a thriller about a famous athlete who goes missing.
"I didn't know anybody. Didn't have an agent. Didn't have a publisher." Coben says. The only person he did know was a college friend who worked for a small publisher. "Hoping she would know an agent who could help, I sent her the manuscript and asked her what I should do with it."
She showed it around the office and the publisher made an offer—$1,500 advance and a contract for a second book.
Play Dead earned out, but sales were "super small. I didn't do any business that anybody noticed."
"I really started with the most modest ambitions as a writer. I never dreamed I'd make a living as a writer. I recommend that kind of ambition. If you realize one goal, then try for the next."
He kept writing, kept working to improve, developed his own style. "I'm self-taught. The best way to learn to write is to read."
Lou Gehrig
Wait!
Lou Gehrig's an old-time  (1923–1939) baseball player, one of the greatest in history. He played first base for the Yankees, set slugging records that lasted for decades, and was known for his durability—he was nicknamed "The Iron Horse."
What's he doing here?
Because we can learn from him.
Because Lou Gehrig had a pro mindset—
"I love to win, but I love to lose almost as much. I love the thrill of victory, and I also love the challenge of defeat."
See?
Every writer has had a different path to success, but almost all experienced:
Rejection.
Perseverance, aka hanging in without positive feedback and multiple disappointments.
The ability to make a lot of effort with little reward, thus laying the sturdy foundation for eventual, visible results/accomplishments
A determination to improve.
An eagerness to learn.
Modest early expectations.
Reading. Reading, and more reading.
Also: luck. Being in the right place at the right time.
Still, the point is you have to be there at the right place at the right time with something you're proud of.
Because, then, your dream of being a star can come true.
by Ruth Harris (@RuthHarrisBooks) June 27, 2021
What about you, scriveners? What path are you taking to success? Do you need fabulous fame and fortune, or will you be happier as an everyday star? 
BOOK OF THE WEEK
The Big Six-Oh by Ruth Harris
"Loved it! One ex-cop who doesn't want help solving a murder. One current wife whose help he needs to catch the killer. One couple meant for each other who fall in love all over again after decades of marriage. Funny, exciting and very romantic." —Reader Review
Blake Weston, is a smart, savvy, no BS former fashion editor. Her handsome, sexy husband, Ralph Marino, is a très James Bond ex-cop and head of security for an international media company.
When Blake buys a faux Chanel bag from a sidewalk vendor, the danger starts—but doesn't end—with a scary mugging in broad daylight. From there, it escalates to face-to-face encounters with a gun-toting jailbird, a lovelorn Afghan war lord, and a celeb chef in a red balconette bra.
Meanwhile, Ralph is about to hit the Big Six Oh! and he's not happy about it. Not that Blake is exactly thrilled. Especially now that she suspects Ralph might be cheating on her. Again.
Right when Blake and Ralph are forced to work together by his über-neurotic boss to bring down a deadly global counterfeiting ring—and save Ralph's job.
"Funny and charming and a delight to read! Really yummy. It is a rare author who can bring to the page such vivid and believable characters with so much sly wit and style." —Reader Review
"Perfect for those of us not looking for bubble gum chick lit. The relationship between savvy Blake Weston and her ex-cop husband Ralph Marino is realistic and down to earth. And yet the extraordinary circumstances they find themselves in kept me flipping the pages well past my allotted reading time. If you're looking for a wonderfully fast-paced read that will take your mind off whatever you're stressing about, Harris's The Big Six-Oh! will fit the bill." —Reader Review
Find the Big Six-Oh at these retailers
—