by Anne R. Allen
Anton Chekhov, the Russian playwright, also wrote short stories, essays and instructions for young writers. Probably his most famous writerly advice is this admonition:
"If in the first act you have hung a pistol on the wall, then in the following one it should be fired. Otherwise don't put it there."
In other words, remove everything that has no relevance to the story. If chapter one says your mild-mannered reporter heroine won a bunch of trophies for archery which she displays prominently alongside her handmade Mongolian horse longbow, she'd better darn well shoot an arrow before the story is done.
"Mood and Setting" Details vs. Chekhov's Gun
Yeah, but what if that longbow is there to show us what her apartment looks like? It's good to show her décor, because it gives an insight into her character, right?
It depends. Yes, we do want to use details to set tone and give depth to our characters. Ruth Harris told us all about that in her post on using details to create memorable characters.
But the key is how you stress those details when you first present them. If there's a whole paragraph about those archery trophies, or the characters have a conversation about the Mongolian horse longbow, you gotta shoot some arrows. But if there's just a cursory mention, "her apartment walls were decorated with an odd assortment of personal trophies and exotic weapons" then you can leave them on the wall.
So not every lampshade the author mentions has to show up two chapters later on the head of a drunken ex-boyfriend, but you need to be careful how much emphasis you put on that lampshade.
What about Red Herrings?
Wait just a goldern minute, sez you. I write mysteries. Mysteries need to have irrelevant clues and red herrings. Otherwise the story will be over before chapter seven.
This is true. But mystery writers need to manage their red herrings. If the deceased met his demise via arrow, probably shot by a Mongolian horse longbow, then Missy Mild-Mannered Reporter is going to look like a very viable subject to the local constabulary.
But of course she didn't do it because she's our hero, so the longbow and the trophies are red herrings.
But they still need to be "fired." Maybe not like Chekhov's gun, but they need to come back into the story and be reckoned with. Like maybe the real killer visited her apartment earlier when delivering pizza, then broke in to "borrow" the longbow in order to make Missy look like the murderous archer.
The Chekhov's Gun Rule Applies to Subplots
I've been running into this problem in a lot of fiction lately—both indie and traditionally published.
That's what inspired this post.
I sometimes find myself flipping through whole chapters that obviously have nothing to do with the main story. That's because the subplot isn't hooked in with the main plot. It's just hanging there, not doing anything.
The subplot becomes the unfired Chekhov's gun.
For instance, one mystery had the protagonist go through endless chapters of police academy training after the discovery of the body. The mysterious murder wasn't even mentioned for a good six chapters. I kept trying to figure out how her crush on a fellow aspiring policeperson was going to solve the mystery.
I finally realized it wasn't going to. None of the romance stuff had to do with the mystery. When I finally flipped through to a place where the main plot resumed, the hot fellow student didn't even make an appearance. He'd already gone off with a hotter fellow recruit.
It's fine to have a romance subplot in a mystery—in fact, that's my favorite kind. But the romance has to take place while some mystery-solving is going on. And hopefully it will provide some hindrances to the proceedings, and maybe some comic relief.
But if that romance doesn't "trigger" a new plot twist or reveal a clue, then it's an unfired gun on the wall. It's just hanging there, annoying your reader, who expects it to be relevant.
Naming a Character Creates a Chekhov's Gun.
Another "unfired Chekhov's gun" situation often comes up with the introduction of minor characters and "spear-carriers."
You don't want to introduce the pizza delivery guy by telling us how he got the nickname "Green Arrow" followed by two paragraphs about his archery expertise— unless he's going to reappear later in the story. And he'd better be doing something more archery-related than delivering another pie with extra pepperoni.
This is a common problem with newbie fiction. In creative writing courses we're taught to make every character vivid and alive. So every time you introduce a new character, no matter how minor, you want to make them memorable. You want to give them names and create great backstories for them.
Don't give into the urge, no matter what the creative writing teacher in your head is saying.
If the character is not going to reappear, or be involved with the plot or subplot, don't give him a name. Don't even give him a quirky outfit. Just call him "the pizza guy" or "the Uber driver" or "the barista."
A named character becomes a Chekhov's gun. The reader will expect that character to come back and do something explosive.
Beware Research-itis
A lot of unfired guns come from what I call research-itis. That's when the author did a heckuva lot of research and goldernit, they're going to tell you every single fact they dug up.
You'll get three chapters on the historical significance of the Mongolian Longbow…and how Genghis Kahn used a smaller bow…which in the 17th century was replaced by the Manchu bow… And how the Manchu bows have larger siyahs and the presence of prominent string bridges…
None of which has anything to do with the dead guy in the living room with the arrow in his back.
If the reader doesn't need to know it to solve the mystery and it's not a red herring, keep it to yourself.
Although a lot of that research will come in very handy for blogposts and newsletters when you're marketing the book, so don't delete all those research notes!
Beta Readers and Editors Can Take Chekhov's Gun Off the Wall
It's tough to weed out all those unfired guns in your own work. You're sure you absolutely need to tell us that our heroine won those trophies when she was on her college archery team where her nemesis, Renee Rensinger, once stole her glasses before a meet…and she found out she could shoot better without them and didn't need glasses after all, which was great because her glasses made her look so dorky and after she stopped wearing them, Jake Hawkins noticed her for the first time. Jake turned out to be a creep, but…
Your editor will tell you different. And eventually you will thank her for it.
So will your readers.
by Anne R. Allen (@AnneRAllen) October 6, 2019
What about you, scriveners? Have you ever left a Chekhov's gun on the wall? Are you annoyed when you find them in published books? What's the worst Chekhov's gun mistake you've found in fiction?
BOOK OF THE WEEK
SHERWOOD, LTD: Camilla Mystery #2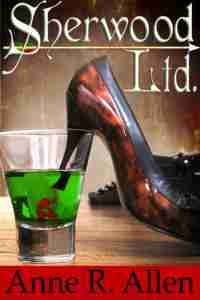 Suddenly-homeless American manners expert Camilla Randall becomes a 21st century Maid Marian—living rough near the real Sherwood Forest with a band of outlaw English erotica publishers—led by a charming, self-styled Robin Hood who unfortunately may intend to kill her.
When Camilla is invited to publish a book of her columns with UK publisher Peter Sherwood, she lands in a gritty criminal world—far from the Merrie Olde England she envisions. The staff are ex-cons and the erotica is kinky. Hungry and penniless, she camps in a Wendy House built from pallets of porn while battling an epic flood, a mendacious American Renfaire wench, and the mysterious killer who may be Peter himself.
Here's a great write-up of Sherwood, Ltd from Debra Eve at the Later Bloomer
Available in ebook from:
All Amazons GooglePlay Scribd Kobo Nook Smashwords
Available in paper from:
Exciting Event!
I'll be appearing with TV star Mara Purl and 3 other amazingly talented writer-actors on October 8th at the SLO Nightwriters meeting.
If you're in the San Luis Obispo area, check us out. Also check out the SLO Nightwriters, a fantastic organization.
OPPORTUNITY ALERTS
Sixfold Poetry and Story Contest. 2 prizes of $1,000 each and publication in Sixfold for a group of poems and a short story. Submit up to 5 poems (no more than 10 pages) or up to 20 pages of prose with a $5 entry fee by October 24.
The Tucson Festival of Books Prizes. 3 prizes of $1,000 each for poetry, fiction, and creative nonfiction. Winners can take part in a panel at the Tucson Festival of Books and attend a workshop on the University of Arizona campus in March 2020. Submit 5 poems, a short story, essay, or excerpt from a novel or memoir of up to 5,000 words. $20 fee. Deadline October 31.
The John Steinbeck Award. for short fiction. Fee $20 . Submit short fiction up to 5000 words. Prize $1000 plus publication in Reed Magazine. Deadline November 1.
DISQUIET LITERARY PRIZE $15 ENTRY FEE. For writing in any genre, by a writer who has not yet published more than one book. 3 winners will be published in Granta.com (fiction), NinthLetter.com (nonfiction) or The Common (poetry). Grand prize winner gets a full scholarship, accommodations, and travel stipend to attend the tenth annual DISQUIET International Literary Program in Lisbon (June 21 – July 3, 2020.) Deadline January 3, 2020.
7 PUBLISHERS FOR MEMOIRS! You don't need an agent. From the good folks at Authors Publish