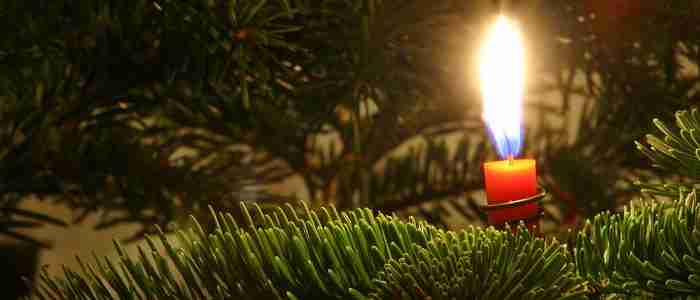 Muse time: shut out the noise and let your subconscious get into "the zone."
Ruth and Anne Want to Wish You All a Very Happy Holiday Season!
One of the most common themes we hear from new writers is fears that they're not "real writers," especially when friends and family ask when their "scribbling" is going to lead to a lucrative career.
You especially run into this stuff when you meet up with relatives and old friends at holiday time.
"How can it take 3 years to write a novel? My mom can type 60 words a minute," says your old high school friend. And of course your aunt wants to know: "When are you going to publish that thing? I've heard of this Author Solutions company that will publish a book for only $5000…."  And your spouse's uncle blurts out, just the way he did last year, "How long before you start making money with that stuff, pal?"
But hey, does anybody ask this kind of stuff from a person who's perfecting a golf swing? Or practicing a musical instrument?
Writing is not always about making money. And you don't have to be validated by money to call yourself a writer.
Some people in your life will even claim you're not even writing anything. Hey, your high school buddy saw you with your laptop at Starbucks and you were "just staring into space," he tells everybody.
Grrrr. Non-writers have no clue that you're doing some of your most intense writing work when you're not typing or holding a pen. That's when you're most likely to be communing with your muse. And without the muse, you don't have anything to write down.
You need to give yourself that "staring into space" muse time, even if nobody in your life has a clue what that's about.
Making "Muse Time"
What matters is the act of creating art out of words. If you write, you're a writer. Nobody needs to validate that but your muse.
And if you're lucky enough to get into the "zone" where the muse is with you, the words flow and the story seems to tell itself, you know you're a writer. The publication, the readership, the book sales—those are all peripheral to that act of creating art.
And the greatest gift anybody can give a writer is what we're calling "muse time." That time doesn't have to be spent in your writer cave. It can be spent anywhere, as Ruth says below. Muse time is when our brains are busy creating–when we cut out the noise of everyday life, even for a few moments.
Some of our best ideas come to us in those small moments when we're waiting at the bus stop, or flipping through a magazine in the dentist's office.
So muse time can be anywhere, any time.
Here are excerpts from two of our posts this year that encourage you to allow to embrace your identity as a writer and get cozy with your muse. So take some time off from all the hustle and bustle, relax, and let the ideas flow.
Give yourself the gift of muse time this holiday season!
Signs Your Muse is With You
by Ruth Harris
"What The Subconscious is to every other man, in its creative aspect becomes, for writers, The Muse." ~ Ray Bradbury
The story you can't get out of your mind.
It's the one that wakes you up at night and intrudes when you really should be paying attention at that meeting or getting that boring report finished.
The chapter you're bogged down on and hate writing.
Pay attention. Is your subconscious sending up a warning and telling you you're on the wrong track? Do you need to go back and figure out where you've strayed?
The character who says or does something so amazing, awful or awesome that s/he surprises you.
Even though you created him or her, you're appalled, impressed and/or intimidated.
The dazzling plot twist you never saw coming.
Even though you yourself planted the trail of clues that made it inevitable (and obvious) but only in retrospect. Where did that come from? How or when did you do it? You were the pilot but your muse was the engine.
The "perfect" word pops into your mind from "out of nowhere."
Or the phrase you didn't plan gets you past the cliché and you realize that you are beginning to develop a style of your own.
The minor character waiting at the bus stop.
The guy with the green umbrella you stuck in without thinking, but who turns out to be exactly the culprit/lover/villain/hero/heroine you need 150 pages later.
When you throw away the outline.
Because what your characters say or do when you actually start to write about them are a thousand times better and more interesting than you ever imagined.
The dazzling idea that flashes through your mind so fast it almost disappears the moment it becomes conscious.
That's a whisper. Better write it down! You might think you'll remember, but you probably won't.
Like Hansel and Gretel's breadcrumbs, you mark a trail through the forest.
Not really thinking, you leave them as you write—the red-haired tap dancer who lives upstairs, the elegant, panelled room in an ordinary suburban tract house, the half-heard whisper at intermission in the theater. They're the unexpected inspirations that can come back later and help create a great story.
The days you are "in the zone."
When writing feels effortless and the words pour out as fast as you can get them down, you have lowered the gates and allowed your muse to range free.
You can read the entire post Writing and the Subconscious: Summoning the Muse.
Signs You're a Real Writer
By Anne R. Allen
I think pretty much every writer gets the "OMG I'm-not-a-real-writer, why-am-I-kidding-myself?" blues.
You know how it is. Rejections are pouring in. Your WIP has been stalled for weeks. And your BFF has refused to listen to one more word about the unfairness of the publishing industry.
So, after a sleepless, agonizing night, you decide it's all been an illusion. You're not a real writer.
Wrong.
If you write—and you're not a wooden puppet carved by an old Italian guy named Gepetto—you're a real writer. Most writers don't make a living at it. Not creative writers, anyway. Most famous literary writers teach. Only a handful of superstars can quit their day jobs.
Of course every one of us hopes to be a superstar someday, and nobody should give up the dream, but there's no point in going all either/or.
Think of it like this:
How many people like to swim?
How many of them are Michael Phelps?
Should everybody else give up swimming?
Nobody starts at the top. Every star was a clueless beginner once. Learning takes time. We have to spend years—maybe decades—taking classes, studying how-to books and blogs, joining critique groups, and learning the ins and outs of the publishing business. It's a process. Usually really long process.
So before you give in to the I'm-not-a-real writer-blues, remember,
You're a Real Writer If…
Your WIP is refusing to come to a satisfactory end and you kind of hate your protagonist right now.
You wake up in the middle of the night with the most brilliant idea for a book EVER, write it down, and in the morning it says "purple elf shoes."
The neglected Significant Other suggests you take up something less embarrassing, like making a full sized Elvis statue out of dryer lint.
Bookbub has rejected your book for the fourth time—for a freebie ad, for Pete's sake!
You get a Google Alert that one more pirate torrent site is offering your book free to morons who are likely to find they've downloaded malware.
You'd rather stay home and write than go to one more holiday party, so you fake "a cold coming on."
Welcome to the club!
For more on I'm-not-a-real-writer-syndrome, check out Anne's post When Can You Start Calling Yourself a Real Writer? 
Don't give up because you don't have an agent yet, or you're an indie whose sales are barely enough to pay your Internet provider bill, or your mother-in-law calls you a slacker who "sits around on your butt all day."
It just means you're a writer. Go write.  Give yourself some muse time.
by Anne (@annerallen) and Ruth (@RuthHarrisBooks), December 23, 2018
How about you, Scriveners? Do you make "muse time" for yourself during the holidays? When did you start calling yourself a writer? 
BOOKS OF THE WEEK
Ruth's NYT bestseller is absolutely FREE! Merry Christmas!!
Love And Money, sweeping in scope yet intimate in detail, is a story of family, secrets, murder, envy, and healing.
Originally published in hardcover by Random House.
"A SPECTACULAR, RICHLY PLOTTED NOVEL. Racing to a shocking climax, this glittering novel is first-class entertainment, a story of love and money, and how both are made, lost, and found again." ...New York Times
***
Googling Old Boyfriends: the Brand New Camilla Comedy-Mystery
Want a fun escape to a California beach town for the holidays?
Any of our blog readers who would like a FREE review copy of the ebook, contact Anne at annerallen.allen  @ gmail dot com. 
No review required, although you will win my undying gratitude if you review. I can send you a .mobi file for your Kindle or Kindle app, an .epub file for your Nook or other device, or a .pdf to read on your laptop. So far none of my review copies have netted a review, so the poor little book looks quite naked on Amazon. 🙁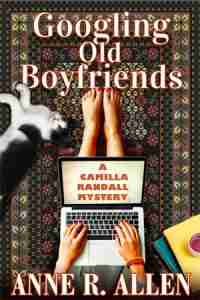 Available on Amazon. FREE in Kindle Unlimited.
The Camilla Randall mysteries are a laugh-out-loud mashup of crime fiction, rom-com, and satire. Morro Bay bookshop owner Camilla Randall is a magnet for murder, mayhem, and Mr. Wrong. But she always solves the case in her quirky, but oh-so-polite way. With some help from her cat, Buckingham.
In this stand-alone 7th episode, Camilla befriends socialite Mickie McCormack—a sexy, mysterious older woman who's going through a painful divorce. Mickie has been Googling her old boyfriends to reconnect and "remember who she used to be." Unfortunately every one of those boyfriends soon ends up dead.
OPPORTUNITY ALERTS
STORY QUARTERLY (the literary magazine of Rutgers University.) $15 ENTRY FEE. First prize $1,000 and publication. Shorts, short shorts, & novel excerpts up to 6,250 words .1) LITERARY FICTION CONTEST:  December 17, 2018-February 17, 2019. 2) CREATIVE NONFICTION CONTEST: November 9, 2018-January 12, 2019.
Bad Dream Horror/Humor Anthology.  NO Fee They're looking for original horror fiction with a strong sense of comedy. They discourage old tropes like vampires, zombies & werewolves. 1500-8000 words. Pays 6c a word plus royalties. Deadline Dec. 31.
BOULEVARD SHORT FICTION CONTEST FOR EMERGING WRITERS $16 ENTRY FEE., Prize $1,500 and publication For writers who have not yet published a book of fiction, poetry, or creative nonfiction with a nationally distributed press. Up to 8,000 words.  Deadline December 31.
DISQUIET LITERARY PRIZES $15 ENTRY FEE.  Fiction, Poetry, and Nonfiction categories. Up to 25 pages for prose 10 pages for poetry. The top  fiction winner will be published on Granta.com, the nonfiction winner in Ninthletter.com, and the poetry winner in The Common. Grand prize winner will receive a full scholarship including tuition, lodging, and a $1,000 travel stipend to Lisbon in 2019. Runners-up and other outstanding entrants will receive financial aid. Deadline January 10, 2019.
SEQUESTRUM EDITOR'S REPRINT AWARD $15 ENTRY FEE. $200 and publication in Sequestrum will be awarded to one previously published piece of fiction or nonfiction and one previously published piece of poetry. A minimum of one runner-up in each category will receive $25-$50 and publication. Maximum 12,000 words for prose and three poems. Deadline April 30, 2019. 
Don't let those published short stories stop working! Here are 25 Literary Magazines that will take reprints.
7 PUBLISHERS FOR MEMOIRS! And no, you don't need an agent. From the good folks at Authors Publish