Writing scams are like old-time snake-oil elixirs. Beware the smooth-talking charlatan.
by Anne R. Allen
A couple of months ago I wrote about some of the weird writing scams that have been showing up in my email inbox. A number of my online author friends have since told me they've been getting them too. So there seems to be some new master list of potentially gullible authors put out by the writer-scamming community
In that post I addressed the perennial problem of paid Amazon review scammers, and why it's even more stupid to buy Amazon reviews than ever.
But we need to be wary of any unsolicited writing, publishing, and marketing schemes. These days, I look at my email inbox the way I do my landline phone. It's not mine anymore. Mostly it belongs to spammers, scammers, and crooks. 90% of my landline calls are scammers (mostly robots), and it looks as if "Primary" email is headed that way too.
So here's a sampling of what's been showing up in writerly inboxes lately.
Pricey Radio Interviews
I had a couple of odd emails from a guy who claims to be famous, although all his Google mentions are on scam vanity press sites.
He'll give you a 10-minute radio interview for the bargain price of…$2000! He claims he was once on a well-known national radio show and he can get your interview broadcast there. But I can't find any evidence of these interviews.
Do. Not. Go. There.
Local talk radio is a great (free) place to promote a book to your neighbors—especially nonfiction and memoir. (And here's a post on how to be a good radio guest.) But unless you can get a sit-down with Terry Gross on NPR, a radio interview is probably not going to generate $2000 worth of book sales.
Always look at the bottom line. Don't spend more on advertising than you can make back in sales.
Dodgy Book Trailers
Every day I get emails from people wanting to make me a book trailer. Some will make them for as little as $50. Others charge a whopping $2000-$5000 (But they'll give a discount if I "call by midnight tonight!")
The expensive guys say I'll make that money back in a month from new sales of my book. (They always assume I only have one title.) Right. That would be the month when I prove the Tooth Fairy is real and discover a cure for the common cold.
And the $50 ones? I took a look at a sample. Thumpy music behind a photo of your book cover. Then your name in an all-purpose font against an ominous looking background. Then the title of your book. A few more thumps.
That's it.
Does this stuff sell books? I know advertising wisdom says video is how you sell stuff these days. And big publishers love those book trailers, so maybe they're onto something.
But here's the thing: your target audience is READERS. How many readers do you know who would prefer to watch a video that strings out one sentence so it lasts for 10 minutes…rather than read a book? Does anybody really enjoy watching glacially presented snippets of advertising copy accompanied by boinky electronic music?
I don't know those people.
And where do you show this trailer? On You Tube? Facebook? Instagram? Aside from all the social media friends you beg to watch it, who is going to notice?
In my experience, most people who watch videos on social media would prefer to see actual movement, not a series of stills. Preferably some jumping up and down done by baby goats in pajamas. If these guys can hire those baby goats, maybe it would be worth it. Otherwise, give it a pass unless you've got a lot of money to burn.
Fake Freelance Content Mills
I've also had emails from writers who have horror stories to report about writing scams by freelance content mills. Those things are at best slave labor, but I realize sometimes writers are so in need of money they'll grind out articles for a penny a word or less.
But content mills aren't as profitable for the owners as they used to be, so some are turning to scamming their own writers.
They aren't even providing low paying writing jobs. They're charging a fee for "membership" in…nothing. The job boards don't exist. What's worse, some scam sites will keep billing a writer's PayPal account for monthly dues after the writer has cancelled the membership. They end up having to close their PayPal accounts.
Be wary of any content boards with iffy sites, bad content, and "testimonials" rather than solid information.
I'm not going to name names here but there's a particular scam outfit that's been making news recently. It is either run by a troll farm or a very busy guy in his mom's basement. This "company" sends dozens of sock puppets to attack anybody who reports on their spammy shenanigans.
But one sadder but wiser writer named Tamara Gane reported them on Medium last month. She told how she paid for a "membership" in this organization—available by "invitation only." Her membership entitled her to see "job boards" with supposedly lucrative freelance writing jobs. But there were no job boards. Dozens of victims reported the same thing on Reddit, Absolute Write, and Writer Beware.
The only claims of making money through this company come from their army of sock puppets. The outfit claims to have a staff of a half-dozen or more employees, but the "employee" photos were apparently stolen from other people's Twitter profiles.
Look elsewhere for job listings. Plenty of free listings out there.
"Break into Hollywood" Writing Scams
Another scheme I ran into last month showed up in the inbox of a fellow Nightwriter. He got an email that started out: "With your deadline to sign up to commission your Book-to-Screen screenplay quickly approaching (it's this evening at 6 pm PT for phone orders)….
Danger, Will Robinson!
Anything that starts out with an immediate "deadline" in an unsolicited email is waving a red flag.
These people are asking an indie author to pay a huge amount of money to a screenwriter to write a screenplay based on a self-published book.
Then the author has…an expensive spec screenplay.
Everybody in the Greater Los Angeles Area has a spec screenplay. Or twelve.
Spec screenplays are way, way harder to sell than novels. This service may be legit, and the screenwriters may compose excellent scripts, but you're buying something you have about .00001% chance of selling. Save your money and take a screenwriting class and write the screenplay yourself.
Or buy Bookbub ads. After you're a bestseller, maybe a real Hollywood studio will approach you.
There's another "break into Hollywood" scam that involves paying a huge amount of money to some dodgy outfit to "show your book around" to Hollywood producers. They may not have started out as a criminal enterprise, but they have only managed to sell one or two screenplays out of thousands. And they keep those big bux. Ca-ching. Don't fall for this one either.
Outrageously Cheap Editing
I've heard from one company that offers to edit a book for $50. Yes. $50. For the whole book. The only way anybody could make money "editing" or even proofreading a book for $50 is if the editing consists of running it through a grammar and spell checker.
And guess what? You can do that for yourself for free! It's right there in your word processing program.
And remember that a spell checker isn't exactly foolproof–as this verse that periodically travels around the Internet shows:
Eye halve a spelling chequer
It came with my pea sea
It plainly marques four my revue
Miss steaks eye kin knot sea.
Editing is hard, painstaking work. It needs to be done by somebody with a vast range of grammar and storytelling skills. Proofreading is not something everybody can do, either. You need a human being with a good education, not a third world robot.
Don't fall for it.
Vanity Publishers Posing as Hybrid Presses or Publishing Service Providers.
Because of indie publishing, the old vanity presses are reinventing themselves to look like hybrid small publishers or publishing service providers.
Bookbaby his a post this week listing some of the red flags to watch for in self-publishing services.
For ratings of these companies, the Alliance of Independent Authors (Alli) has a rated list of publishing services . Always check thoroughly before you sign anything.
Unfortunately some of the old vanity presses got new life when Publisher's Weekly gave a couple of them legitimacy by listing them in their newest list of independent presses. Victoria Strauss wrote at Writer Beware about this disappointing move from Publisher's Weekly .
One of these vanity publishers has an ad that appears in my yahoo inbox every so often. It's been on my radar, because a friend with a well known literary agency worried when his agent submitted to them. I checked, and, wow, were those red flags waving.
How my friend's agent was taken in I can't imagine, but I assume this "publisher" has some gifted con artists onboard.
This outfit requires a payment up front, for which they've invented the coy term "contributory publishing." They pretend to be "hybrid" and "innovative," but their business plan is centuries old. Victoria Strauss at Writer Beware detailed their scammy ways.
The second is a notorious scammer who requires authors to buy 5000 copies of each their own books. Yeah. 5000. They claim that's what other publishers do.
They don't.
Real publishers do not require authors to buy anything. Or pay anything up front.
Publishing services do require payment, but they don't require contracts, ask for rights, or promise anything but a simple service, like formatting, printing, or distribution.
Some publishing services bill themselves as "hybrid" publishers because they may vet authors, provide free marketing and cover design or offer bookstore distribution. But vet these very carefully using the above links, and always Google the company with words like "complaints" and "scam."
Don't Offer Yourself up as Prey
Check my earlier reports on writing scams. Here's one on some of the most common writing scams. And here's part two.
And always check the SFWA's Writer Beware before spending your hard-earned money on any kind of publishing or marketing service.
There are a whole lot more people making money FROM authors these days than there are authors making money so be wary and educate yourself.
But don't get discouraged by all this. Just get savvy. You really can make money writing novels, even in this ultra-competitive market. Elizabeth S. Craig tells you how in this post.
But her success doesn't involve paying tons of money for overpriced gimmicks (or phony reviews.) It involves writing a whole lot of books and engaging with your readers.
If your email inbox, like mine, is filled with unsolicited emails from scammers, liars, and creeps, just unsubscribe, send to spam, log off the 'Net and write your next book.
What about you, scriveners? Have you run into any of these scams? What scams are you seeing these days? Any other rip-offs or scams to warn us about? Have you ever bought a book because of its book trailer?
by Anne R. Allen (@annerallen) June 3, 2018
BOOK OF THE WEEK
Only 99c on Amazon for a limited time
SHERWOOD, LTD: Camilla Mystery #2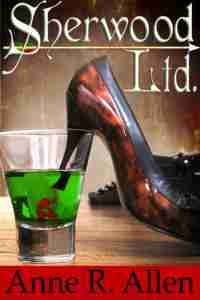 Suddenly-homeless American manners expert Camilla Randall becomes a 21st century Maid Marian—living rough near the real Sherwood Forest with a band of outlaw English erotica publishers—led by a charming, self-styled Robin Hood who unfortunately may intend to kill her.
When Camilla is invited to publish a book of her columns with UK publisher Peter Sherwood, she lands in a gritty criminal world—far from the Merrie Olde England she envisions. The staff are ex-cons and the erotica is kinky. Hungry and penniless, she camps in a Wendy House built from pallets of porn while battling an epic flood, a mendacious American Renfaire wench, and the mysterious killer who may be Peter himself.
Here's a great write up of Sherwood, Ltd from Debra Eve at the Later Bloomer
Available in ebook from:
All Amazons iTunes GooglePlay Scribd Inktera Kobo Nook Smashwords
Available in paper from:
***
OPPORTUNITY ALERTS
Owl Canyon Press Short Story Hackathon. FREE! Writers are invited to submit a short story consisting of 50 paragraphs. The contest provides the first and last paragraph. Prizes: $1000, 500, and $250. Twenty-four Finalists will be included in an anthology. Deadline: June 30, 2018.
Nowhere Magazine's Spring Contest. The literary travel magazine is looking for stories with a powerful sense of place. $20 fee. Fiction or nonfiction. 800-5000 words. Previously published work is okay. $1000 prize plus publication. Deadline July 1st.
ORISON BOOKS ANTHOLOGY$15 ENTRY FEE. They're looking for spiritual/literary poetry, fiction and essays for their next anthology. $500 cash prize as well as publication in The Orison Anthology. Submit up to three poems, one work of fiction or nonfiction up to 8,000 words. Deadline August 1, 2018
Have you been harassed online? PEN America has launched the Online Harassment Field Manual, a first-of-its-kind resource to equip and empower writers, journalists, and all those active online with practical tools and tactics to defend against hateful speech and trolling.
13 Imprints of Big 5 publishers who take unagented submissions. From the good people at Authors Publish Magazine.
48 Small Presses looking for children's books. Collated and vetted by Authors Publish magazine. (Great resource!)
UNO PRESS PUBLISHING LAB PRIZE For book-length fiction. Any genre. $18 ENTRY FEE. The University of New Orleans Press is looking for full-length fiction manuscripts, either novels or short story collections, for the fourth annual Publishing Lab Prize. The selected author will receive a $1,000 advance on royalties and a contract to publish their winning manuscript with UNO Press. Deadline August 15, 2018.