Writing Success happens, but you need to leave Middle Earth, Hobbitses
by Ruth Harris
Whether we write Space Opera or Women's Fiction, Romance or Thrillers, our job is fantasy. We make up characters, imagine lives we never led (Spy? Shifter? Wizard? Supermodel? Yarn shop owner? Billionaire? Serial killer?), go to places we've never travelled to like distant planets or space stations, and describe activities we've never engaged in.
We work hard to make our fantasies seem real to our readers and always understand the difference between the fantasy lives we create and our everyday lives that include the day job, laundry, the kids' soccer practice and hectic business travel schedules.
So far, so good, but there's an ooopsie factor and it's the common fantasies about publishing, the long-running starry-eyed fictions I've heard over and over. Here is where I might rain on your parade (tho I don't want to). What I do want to do is try to separate those fantasies from the realities you are more likely to experience when you take off those rose-colored glasses.
As Anne and I say over and over: We made the mistakes so you don't have to. We learned the hard way—so you don't have to.
Fantasy: "The end" is the end.
Reality: "The end" is the beginning.
In a recent email Anne wrote: "I just wrote 'the end' on the rough draft of the new Camilla book. Lots of work to do, but it feels good."
Anne's a pro—and a realist. As she makes clear, typing "the end" on a first draft is just the beginning. Still to come:
Fine tuning characters and character arcs.
Fixing plot holes.
Adding (or subtracting) red herrings if you're writing a mystery, foreshadowing if you're not, cliffhangers when needed.
Initiating a search and destroy mission for filter words.
Checking continuity (Does Susie suddenly become Ellen somewhere in the draft?). Here's where your style sheet is indispensable.
Grammar and spelling.
That crucial first chapter.
A killer ending.
A come-hither blurb.
An irresistible query if that's the direction you're taking.
An elevator pitch.
A cover.
A marketing plan.
OK? See what I mean. 😉
Fantasy: You know your book is a "sure thing."
Reality: You (probably) don't have a clue.
Which might explain why all too often the book you are sure is going to be a winner, isn't. And that includes creative stars like Woody Allen and Kurt Vonnegut.
As William Goldman famously said speaking of Hollywood but also applies to publishing: "No one knows anything." Least of all the creator.
Recently Dean Wesley Smith highlighted a new study of creativity and quoted from the summary of the study:
"One of the attributes of creative people says Prof. Dean Simonton—a University of California academic who's been researching creativity for over 40 years—is that they have an extraordinarily poor sense of whether the thing they're creating, inventing or making is any 'good' or not.
"In fact, Simonton thinks that it's virtually impossible for anyone involved in a creative project to know for sure whether they're making a masterpiece—or just a mess."
Bottom line: Don't ask the author. The creator is often the last to know.
Fantasy: Overnight Writing Success.
Reality: Depends on how you define overnight.
There's fantasy and then there's reality: most "successes" — even (or especially) the ones that are hyped as being "overnight" — come after long periods of effort, rejection, setbacks and disappointment. From Stephen King to John Grisham to JK Rowling, years and years of rejection after rejection set the foundation for success.
"Overnight" might just be measured in years or even decades but the fantasy lives on. A few prominent successes explain just how long "overnight" lasts.
"Overnight" is almost always the consequence of years of failure and frustration that come with the territory. When you're feeling frazzled, frustrated, and fed up, just remember that you're in excellent company and that your "overnight" success might be just around the corner.
Fantasy: You've got an A-list agent who "loves" you and your work.
Reality: Agents are people, too.
If you're a beginner or even a solid mid list writer, the odds of landing a powerful, big shot agent are slim. To none.
If you do get Mr or Ms Hot Shot Agent, prepare to be ignored. They have $$$$-making clients that come first, second, third in line way before you.
You think you're going to get a phone call returned? An email answered? LOL We're talking Answered Prayers here. You know…beware of getting what you want.
Or: every silver lining comes with a cloud.
On the other hand:
A solid mid-list writer of my acquaintance managed to get a Big Time A-list agent who "loved" his sexy thrillers and saw a big future for him. Mr. Mid-list dumped his solid, low-profile agent and small publisher, signed on with Big Time Agent and waited for the mega bucks to roll in. Big Time Agent set up an auction, sat by the phone, expecting the escalating bids.
But: crickets. No one offered. There was not one bid. None. Not. One. It's like giving a party only no one comes.
Big Time Agent did manage a modest deal but the publisher, who felt he had been rummaging in the reject bin, didn't support the book, and the agent was turned off by the lack of response. The writer, sadder but wiser, and ultimately not at all unhappy, continued his career as a stalwart of the mid-list.
The problem here is that agents (like editors and writers) are also prone to fantasy. They want to be excited, to be turned on, to be part of The Next Big Thing. But, despite their experience and deep knowledge of the business, they can also be wrong and, when they are, they lose interest. Fast.
Fantasy: You're a NYT bestseller, so you've made it.
Reality: Dumb and dumber.
My editor, K, was bright and savvy but also somewhat off-putting. A bit arrogant, a trifle narcissistic.
To show you how clueless I was, K and I were having lunch at Four Seasons (where else?) after my first hard cover novel, Decades, was a surprise (to me) success—a NYT bestseller, major paperback sale, first serial, and worldwide foreign and translation sales.
"Your next book should be about my affair," K told me over that lunch—he was married to wife #1 at the time—whereupon he proceeded to fill me in on the lurid details.
Did I take notes? Nope.
Did I write my next book about K's affair? Nope.
For one thing, Decades was about a married man having a hot affair (which might be one of the reasons K "loved it" in the first place) so I was burned out on the subject. For another, I had already started another book with a completely different theme that interested me.
What I realize in retrospect is that, even though I was now officially "successful," I didn't feel successful (does anyone?) and I wasn't confident in my creativity (is anyone?). Besides, I certainly had no long track record a publisher would feel confident about.
K did publish my second book but with no ads, no promo. It wasn't about him and his fab love life and he just wasn't interested. I realize now that K's story would have been different from the story I'd just written: different people, different settings, different outcomes, a completely different book.
I'd been handed a big opportunity and I'd naively turned it down.
Learn from my dumb, big mistake:
When your editor tells you what they want, give it to them. 😉
Ditto your readers: They "love" character X? Write another book with character X.
Get the stars out of your eyes. You're not "selling out" (although that never even crossed my mind). You're being realistic.
Call it Professional.
Fantasy: The next book will be easier.
Reality: Ha. Ha. Ha.
by Ruth Harris (@RuthHarrisBooks) June 25, 2017

What about you, scriveners? Have you fallen for any of these fantasies? What gave you the reality check you needed? How long after you write "the end" are you still working on revisions? 
And if you want to know what Anne is up to this week, check out her book blog, where she's talking about what makes writers keep writing in the face of rejection after rejection. It's the blog post that launched her blogging career. "You May Be a Bestseller on Tralfamadore!" 
***
BOOK OF THE WEEK
A Kiss at Kihali: sweet romance set against the backdrop of African animal rescue
A must-read for animal lovers.
FREE in Kindle Unlimited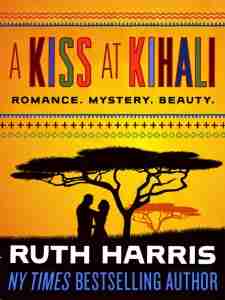 Beautiful and inspirational, A KISS AT KIHALI draws on the power of human-animal relationships, the heroic accomplishments of African animal orphanages, and the people, foreign and Kenyan, drawn to careers involving the care and conservation of wild animals. Filled with drama and danger that lead to a happy ending, A KISS AT KIHALI will appeal to readers who love tender romance and who have personally experienced the intense, mystical bond between humans and animals.
"A must-read for anyone who cares about animals and the environment, because what we do to them, we do to ourselves"… bestselling author Sibel Hodge
OPPORTUNITY ALERTS
The Golden Quill Awards. The theme is "Liberation." $500 first prize. Short fiction, poetry and personal essay categories. Up to 1500 words for prose, 40 lines for poetry. Entry fee $15. Deadline September 15, 2017. 
Cliché Story Contest! Yes, finally somebody WANTS clichés. STRINGYBARK DOG EAT DOG SHORT STORY CONTEST Write a story which contains a common cliché and is titled that cliché. (One cliché per story, please). Over $1000 in prizes, plus publication. International entries are most welcome. Deadline July 16, 2017. Max length, 1,500 words excluding the title. Entry Fee $12 (Aus.) Deadline July 16, 2017
The Insecure Writer's Support Group is putting out a new free anthology for writers. A Guide to Writing for Profit.  They're now open for submissions. 500-1000 words. Deadline  July 31.
WOVEN TALE PRESS COMPETITION 6,000 words maximum of literary fiction or creative nonfiction. First prize is a one-week writing retreat in the legendary Hamptons in New York. Seven nights and accommodations for two. Also, publication and a complimentary copy. $$ prizes for 2nd, 3rd, 4th prizes. Fee $20. Deadline July 31, 2017
Memoir writers! Here's a list of publishers who accept memoir submissions. Without an agent!
Boyds Mill Press accepts unagented submissions of children's book manuscripts. Highlights for Children owns the press.
20 Literary Journals that publish new writers. Compiled by the good folks at Authors Publish magazine.