Start your novel any way you want when you write your first draft, but keep your reader in mind when you edit.
by Anne R. Allen
There are as many ways to start your novel as there are writers, so be aware that these are not hard and fast rules. But newbies tend to fall into certain patterns when beginning a work of fiction. Those patterns can be less than enticing to the modern reader, who expects a story to start on page one.
Tips like these are more important when you're editing than when you're first trying to get your raw ideas down on the page, so don't worry about this stuff when you are facing a blank page.
Remember that the first draft of a novel is for the writer and the final draft is for the reader. In your first draft, you're telling yourself the story and getting to know your characters. So you may have many false starts and chunks of backstory. That's normal. Just don't leave them in the final copy.
When you edit, you can decide where the story really starts (Some writing teachers say the average student novel starts at chapter three.)
As for backstory–yes, you need it, but you can sneak bits of it into several chapters so it doesn't choke the flow of the narrative.
Another thing to remember is that a novel has to be about ONE person. (Or, if you're writing a saga–a series of persons with a thread of family or some other link holding them together.)
When you're writing your first draft, you may find a secondary character becomes dominant. There's nothing wrong with that. You can either let that happen and make the book about character #2, or tone that character down and give him his own book later. That's how many trilogies and series are born.
Here are some things that do exist in published novels, but the contemporary reader is probably not going to enjoy.
1) Faux Starts
These can include:
a) "It was all a dream"
The princess fights the dragon in a fierce blood-and-guts battle and, just as the beast moves in for the kill…a 12 year old girl wakes up in her Disney princess bedroom and we find out it was all a dream.
She then goes downstairs for breakfast and has a mundane conversation with Mom and Dad about school.
You've left your readers feeling cheated and they're not going to want to go on.
b) The genealogy moment
The mage casts a deadly spell on the evil tyrant who has held the land in perpetual winter for 1000 years, and just as he is about to speak the final word, a wraith wafts through the castle walls and offs the mage in a shower of ice crystals.
In chapter two, the great, great granddaughter of the mage wakes up in her Disney princess bedroom.
Again, you've set up the reader to expect one kind of story and given them another.
c) Dead man walking
As you start your novel, the pitiful homeless man clutches his meager possessions stuffed into the Disney princess pillowcase that is all he has left of his children and former middle-class life. We learn all about his tragic existence as a shadowy figure stalks him.
Cut to the police detective serving breakfast to her squabbling kids when she gets the call about the dead homeless guy with the pillowcase.
This is a classic opener for TV cop shows, but it doesn't work to start a novel, because readers will identify with the first character they meet in a book, and if you kill off that character immediately, readers will feel betrayed.
2) Nature Walks
I sometimes call this the MFA opener. People who have been taught in creative writing classes to bring all five senses into every single scene can fall into a habit of overwriting. Writing guru Larry Brooks, writing on Jane Friedman's blog last week called this the "most common entry-level mistake in the writing game."
What happens is the author puts so much energy into lovely words and lush images that the first page becomes a lyrical prose poem. We see every dewy leaf on the tree outside the window, hear every twittering bird song, smell the newly cut grass on the suburban lawn, taste the sweetness of the maple syrup and pancakes being served downstairs, feel the silky texture of the Disney Princess bedsheets.
But there's no story. Nobody is doing anything. In fact, there may be no people involved at all. Maybe the reader is supposed to identify with those songbirds, because they're the only sentient beings in the story so far.
There is a place for lush prose, but keep it to a minimum until you introduce a character or two and provide some source of tension.
3) Robinson Crusoes
Your protagonist is sitting on a plane, or driving a car or lying in bed on Disney Princess sheets…and musing about stuff. She's thinking about the dragon she just killed, or who she's going to meet at the mall, or recapping the catastrophe she's escaping from.
But nothing happens on the page. There is no interaction with other characters, so nothing happens.
The classic example of this is the "alarm clock" opener protagonist where you see the  protagonist waking up and getting dressed in the morning.
This is the chapter you cut when you're editing. It's throat clearing. Writing it helps you get to know your protagonist, but the reader wants a story. Stories usually require two or more people. If not, your main character has to be dealing with serious obstacles and maybe talking to a deflated volleyball like Tom Hanks on that desert island.
4) History Lessons 
This is the classic trap most new writers fall into. I know I did. We get into storyteller mode: "once upon a time, in a kingdom far, far away, there was a____ who for many years…."
Great for fairy tales. Not so much for modern novels. In a contemporary novel the reader wants to be in the story, not outside telling or hearing about it.
If this is sci-fi or fantasy, your job is tougher, because you have world-building to do, and there's going to be a huge amount of history to get across. But you don't have to do it on page one. Slip in the world-building on a "need-to-know" basis.
Do drop a few weighty markers, so we know if we're on an alien planet or fantasy world or suburban mall, but don't give us more than absolutely necessary.
Details should come later, once we know more about the characters and the story that's actually happening on the page.
If you're deliberately going for an archaic tone, you can use  the "once upon a time" type intro, but temper it for the modern audience. Have something happen in real time before the history lesson goes on too long.
5) Crowd Scenes
Lots of new writers are led astray by the rule that you should start a book "in media res" (literally, "in the middle of things".)
So they start the story in the middle of the battle between the Trolls and the Orcs and we see four different hand-to hand combats going on and gallons of spurting blood and we have no idea who to root for because all these people are so frenzied, and awful things are happening to every one of them and…who is this story about, anyway?
As I said above, every story needs ONE protagonist. Yes, books can be about groups, but one of them has to be the hero. (Or in the case of a saga, a series of heroes.) I'll be writing more on the protagonist/hero in another post.
Let us know who the protagonist is on page one unless you have some really compelling reason to hold back.
6) Reader-Feeder Conversations
Many writing teachers warn against starting a novel with dialogue. This isn't because starting with dialogue is intrinsically wrong.
But newbies tend to use dialogue for "As-you-know, Bob" passages like this:
"It's getting dark, Alice," said Bob with a shiver. "You may be my big sister, but I don't think you know where you're going. We could get lost in this dark, scary forest if we don't get back to our cozy suburban home before nightfall."
"We can't stop now, Bob," Alice said boldly. "As you know, we are looking for the lair of the evil Dragon of Amazonia and we must slay him before morning or he will destroy the entire Kingdom of Mall."
You hear conversations like this in plays and  TV scripts. It's not always the kind of rotten writing I've inflicted on you here 🙂 but it's not the way to hook a novel reader.
Of course, even Shakespeare used some reader-feeding in his dialogue.  When Duncan arrives at MacBeth's castle, the scene starts with Duncan't line, "This castle hath a pleasant seat…"  Banquo chimes in with seven more lines describing the setting. That was necessary because Shakespeare couldn't put an actual castle on stage, so he had to describe it in the dialogue.
But novelists don't have that problem. We can show our readers all the castles and dark scary forests we want. We don't need to convey conflict or setting via unrealistic conversations. So if you start with dialogue, make sure that what's being said needs to be given in dialogue and not narration.
Don't Kill Your Darlings: Save them for Later
If you follow these guidelines, you may end up cutting a lot of stuff you love from your first chapter. But your writing doesn't have to be wasted. Whenever I have to cut more than a sentence or two from a novel, I put it in an "outtakes" folder for use later in the series or maybe even a short story.
It can also help you write your series "bible" if you turn the book into a series.
by Anne R. Allen (@annerallen) April 23, 2017
What about you, scriveners? Do you end up having to cut a lot of your opening chapter in the final draft? What's your favorite way to start your novels? What kind of openers work for you as a reader? What kind of opener tells you this book is not for you? 
BOOK OF THE WEEK
Academic Body, a classic cozy by Anne's mom, the late Dr. Shirley S. Allen
Now only 99c!
"Move over Nick and Nora Charles, there's a new crime solving couple in town. We're not talking Manhattan, the Charles' turf, here, but the rarified world of academia as practiced in the northern wilds of Maine's Weaver College." …mystery author Sue McGinty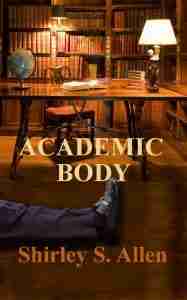 Retired theatrical director Paul Godwin longs for the life of a college professor, but can he woo his famous wife away from the New York stage to become part of his academic life in small-town Maine? Not easily, especially after the dean accuses him of having a fling with a student and then is found dead in circumstances that make Paul a prime suspect in the investigation.Paul's efforts to discover the real culprit provoke dangerous reprisals, but he must succeed to save his new career, his marriage–and perhaps his life.
Academic Body is only 99c or the equivalent at all the Amazons, Kobo, iTunes, and Nook. 
OPPORTUNITY ALERTS
Metamorphose Short Story Contest: $5 entry free. SF and Fantasy stories of 1,000 to 7,500 words. Winner from each category will be published in Metamorphose's Fall Anthology. Each finalist will also receive free professional edits on their submission. International submissions welcome. Deadline: April 30 Prize: $150 and publication in the anthology. Deadline April 30th
Tom Howard/John H. Reid Fiction & Essay Contest. $18 fee. $1500 First Prize. Up to 6000 words  12 cash prizes totaling $4,000 plus publication at their website. Deadline April 30
BACOPA CONTEST $3 ENTRY FEE. Categories: poetry, flash story, creative nonfiction, literary fiction. $400 prize given in each genre. Flash limited to 750 words. Creative nonfiction limited to 3,300 words. Literary fiction limited 8,000 words. For poetry, no word limit.  Deadline May 31, 2017.
Creative Nonfiction magazine seeks TRUE personal stories or profiles about people starting over after a failure or setback. Up to 4000 words. Paying market. $3  submission fee. Deadline June 19, 201
EMERALD THEATRE 10-MINUTE PLAY CONTEST $10 ENTRY FEE. Theme: "That's so gay." A character must say the words, "That's so gay." Two to four characters. No children's shows or musicals. Ten pages (10 minutes) max. Will be staged in strict "black box" style. $300 prize Deadline June 30, 2017.
KINDLE STORYTELLER PRIZE £20,000 prize. (Yes, you read that right.) Open to any author who publishes a book through KDP between February 20 and May 19 2017. Any genre, including fiction, nonfiction and collections of short stories – so long as they are more than 5,000 words and previously unpublished. Deadline May 19, 2017.
Haven Writers' Retreat. "Come find your voice in the woods of Montana with New York Times best-selling author, Laura Munson, and find out why over 400 people say that Haven Writing Retreats changed their lives. Offering special discounts for readers of this blog for both June retreats. June 7-11, and June 21-25
Boyds Mill Press accepts unagented submissions of children's book manuscripts. Highlights for Children owns the press.