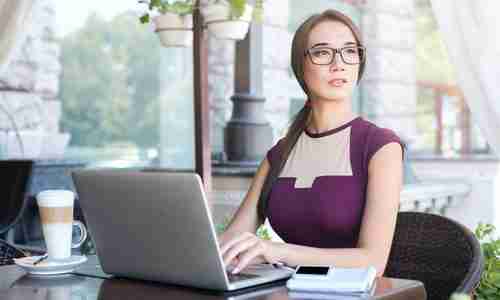 by Anne R. Allen
Social Media Executor? That may not be a term you're familiar with, but believe me, you need one.
That hit home for me this week after the tragic death of my friend, the kind, talented, funny author Barbara Silkstone. I hadn't heard from her for a month or two, so I went to check her Facebook page. But it had been gutted. All posts, photos, friends, etc. had been deleted. Nothing was there but her name, header and a link to her blog. And the link was dead. Her lovely website and blog had simply evaporated. Thunk.
I put a note on my own FB page asking if anybody had news of her. A FB friend posted a link to a page at the Austen writers' group. Barb had written a dozen or more Pride and Prejudice "variation" novels, and the Jane Austen fans kindly put up a memorial page for her.
They said she had died in mid-February. That meant she went shortly after our last phone conversation. I knew she'd been suffering from a spine injury. But she had seemed chipper and positive and had been looking forward to crab cakes for dinner. I'd been planning to phone her again soon. Instead, I found out she'd been gone for two months.
Only the Jane Austen fans knew.
But what about the fans of Barbara Silkstone's hilarious mysteries and other comic novels? They have no way of finding out about her. Will people still buy books from an author who doesn't seem to exist? Social media is so important to book sales these days.
None of this would have happened if Barbara had appointed a social media executor. I'm kicking myself for not volunteering to do it myself. I have written about this before, but I can see it's worthwhile to do an update.
So What is a Social Media Executor?
A social media executor can be any trusted friend or relative who's savvy about social media.
Make it clear to this person — it's best to put it in writing — what you want to happen to your social media and website/blog when you're gone. If you have a free blog, do you want your executor to keep it up and monitor it for comments and spam? (If you have a self-hosted blog or paid website you want preserved, that should be put into your will and communicated to your financial or digital executor.)
It's often best if your social media executor isn't also your financial executor. Appointing an online friend or fellow writer will take the burden off the family. Families have so much overwhelming stuff to deal with when there's a death, that social media can seem trivial. That may be what happened with Barbara Silkstone.
A social media executor can protect your social media accounts and notify online friends of your death.
They don't have to deal with anything financial.
Things like bank passwords — and book retailer information for indies — need to go to your financial or digital executor. (You'll need a digital executor if your heirs aren't computer-savvy.) More on all this in my post on What Happens to Your Blog when you Die?
Your social media executor should have all your usernames and passwords for your blog and social media sites like Facebook, Twitter, Instagram, LinkedIn, Tiktok, Pinterest. Goodreads, etc. as well as online gaming sites and forums. And remember to keep them updated.
You can appoint a social media executor informally without going through a lawyer.
How Do You Choose Which Social Media Accounts to Memorialize?
Google can help in choosing which social media accounts to keep. Search for your name. Which accounts come up first? Save those. Google is very slow to learn things, so if the top entry on your SERP (Search Engine Results Page) is Pinterest, it will be for years. If you delete the Pinterest account, then anybody searching for you will go to Pinterest and find you're not there. They probably won't do any more searching after that.
Goodreads is often high on the SERP. I'm not a big fan of Goodreads for social interaction, but it's good for an author to have a page there. It's like being in the Yellow Pages. So I'd suggest not deleting the account, but add the news of the death to the bio, then disable all comments and notifications.
Memorializing a Facebook Account
If you have a Facebook account, it's easy to memorialize a personal page — much easier than deleting it, as a matter of fact. FB provides an easy way to convert the page into a memorial page where people can post photos and condolences. Just contact FB with a link to a published obituary to provide proof of death.
This keeps hackers from memorializing random living people's pages, which they occasionally manage to do. It's not nice when all your friends and fans read that you've died, so of course hacker-trolls love to do it.
Facebook even allows you to name an executor in your profile. You can do it right now. Go to your "Settings" page, choose "Security" and "Legacy Contact." There you can name a social media executor to be your account's caretaker. You can also choose if you want this person to be able to download content from your page.
Taking down a FB page requires more: a copy of the death certificate, permission from the legal heir, and proof of identity.
If an author also has a Facebook business page, I suggest asking your executor to post a note about the author's passing, but leave the page up, with disabled comments. A Facebook author page usually rates high with Google and it's a way for readers to find out about your books, even after you're gone. But Facebook may not allow an inactive business page to stay up forever.
Instagram, since it's owned by Facebook, has a similar policy for memorializing. Fill out their "Request to memorialize" with proof of death, and they will memorialize an Instagram account.
Social Media Platforms Have Their Own Rules
I see that Twitter now routinely deletes inactive accounts, since if you're not there, you can't agree to updates and privacy statements. That will solve the problem in a relatively short time.
I don't know how Pinterest approaches memorials, but it's easy to post some memorial material on a page.
As far as Tiktok and the other trendier social media, I don't know their policies, but you can probably find them in their terms of service.
What About Blogs?
It's up to the heirs to decide if they want to continue to pay for a self-hosted blog or paid website. I think it's wise to keep it up for a few months.
But a free blog can live forever on the Internet. The best thing to do is memorialize it and leave comments open for a time for condolence comments. But this means your executor needs to closely monitor comments.
Be aware a memorial blog attracts disgusting troll comments and spam, so I suggest cutting off comments after the first month.
Some successful bloggers bequeath their blogs to a like-minded friend who can take it over in case of death or disability. I am so grateful to Ruth Harris and our webmaster Barb Drozdowich who took over this blog in the summer and fall of 2020 when I was suffering from a spine injury.
Whatever you decide, don't leave a blog untended. I've found old blogs of authors and even celebrities that are polluted with porn spam and filthy comments from sick trolls. Never underestimate the evil that bored, stupid people can perpetrate when they think they're anonymous.
But None of my Friends Has a Social Media Executor!
That's right. They probably don't. And that's not a good thing.
There are soon going to be more dead people on social media than live ones. I get notices telling me to wish "Happy Birthday" to dead friends every month. The notices leave me choked up and sad.
A company called Good Trust estimates there are over 30 million "ghosts" on Facebook. And they report "some 90 percent of people here in the U.S. have no plans whatsoever" as to "what happens to the digital stuff." These are people whose heirs have not memorialized their accounts or reported the death to FB.
Wouldn't you rather be memorialized than hang around as so much Internet trash?
Be the first one on your cyberblock! Get a social media executor today. You'll avoid some heartbreaking incidents like the moment I found Barbara Silkstone's gutted FB page.
UPDATE:
It turns out Barbara Silkstone did have a designated social media executor, but in her last days, when she was depressed and under the influence of heavy duty meds, she deleted all her social media herself. I apologize to her family for suggesting they had done it. My heart goes out to them all.
***
by Anne R. Allen (@annerallen) April 17, 2022
What about you, scriveners? Have you appointed a social media executor? Do you feel sad when Facebook tells you to wish a happy birthday to a dead friend? Do you run into blogs and social media pages that belonged to dead people but have not been memorialized? Are you planning to appoint a social media executor?
BOOK OF THE WEEK
THE LADY OF THE LAKEWOOD DINER
A comedy that pokes fun at the myth of a Golden Age, making parallels between the Grail legend and the self-mythologizing of the Baby Boomer Generation.
Someone has shot aging bad-girl rocker Morgan Le Fay and threatens to finish the job. Is it fans of her legendary dead rock-god husband, Merlin? Or is the secret buried in her childhood hometown of Avalon, Maine?
Morgan's childhood best friend Dodie, the no-nonsense owner of a dilapidated diner, may be the only one who knows the dark secret that can save Morgan's life. And both women may find that love really is better the second time around. Think Beaches meets Fried Green Tomatoes at the Whistle Stop Cafe.
"A page turning, easily readable, arrestingly honest novel which will keep you laughing at yourself. Who doesn't remember crashing on a mattress at a friend's apartment with the stereo blasting Iron Butterfly and no idea where you'll stay the next night? A cultural masterpiece for the discerning reader."…Kathleen Keena, author of Adolescent Depression, Outside/In
All Amazons Kobo Barnes & Noble
plus AppleBooks and GooglePlay
***
featured image–"Business woman" photo from Flickr