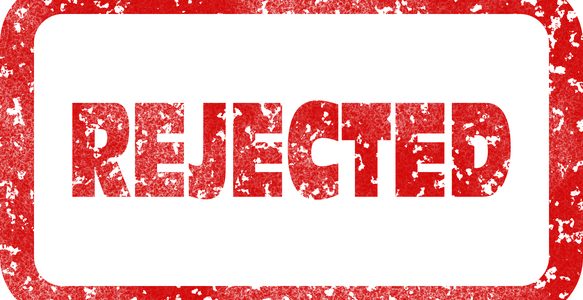 by Ruth Harris
Here are Some Pro Tips And Tricks To Absolutely, Positively Raise Your Anemic R-Score.
Are you embarrassed by your pathetic R-quotient?
Do other writers sneer at your R-score?
Has your pile of rejection letters stalled out?
Have your R-levels been diagnosed as too low?
Has too much time gone by since your last rejection?
If the answer to any of these questions is yes, you must take immediate action.
Here's some advice for those who feel they are missing out on one of the basic building blocks of a successful author's career: Rejection.
For those who feel they are not paying their dues.
For every writer who is not receiving an adequate, soul-satisfying number of rejections, try these pro tips to help you pump up your pathetic, wimpy R-score.
1)  Embrace the Jackalope.
From the gory, surgical details of a tummy tuck to the onslaught of grammar Nazis and an attack by vicious sabertoothed cave rats, you must heed the advice of everyone in your crit group.
By all means pay attention to advice from "experts" who know almost nada about your book or your genre.
For example — the James Bond fan who wants "more action" in your sweet, sensitive romance about disabled teenagers looking for love.
Or the James Patterson reader who wants shorter chapters in your elegant, carefully-considered literary deconstruction of Finnegan's Wake.
Be sure to give in to the devastating ego destroyers whose nasty tone and censorious delivery cause you to go to bed for a week and even contemplate suicide. They must know what they're talking about, don't they, these hit-and-run drive-by "authorities" who aim right for your confidence?
Heed the amateur shrinks who want to know "motivation" of every character including the guy behind the counter at Dunkin Donut who serves a Double Chocolate Donut instead of the Boston Kreme Donut your adorable but scared alien from another planet ordered.
The counter guy must be suffering trauma cuz he screwed up the order. Or is he enduring an unhealed childhood wound? Or did he just get fired from the rotten job at DD he needs to pay the rent?
And what about the adorable but scared alien? Where is his family? His parents or grandparents? Does he have siblings? If so, where are they? What happened to them? If not, why not?
To guarantee producing an unreadable mess, and sure fire instant rejection, be certain to pay attention to every comment and your dreams of infinite rejection will come true.
If, however, you'd like to get your head screwed on straight and your book in its best shape, check Anne's recent post warning about dangerous critiques.
2) Write the Best Horror-Thriller-Mystery Ever Created — and Send it to the Wrong Agent.
Your villain makes Hannibal Lecter look like a pussycat.
Your victims are so vulnerable, defenseless and forlorn they will make a stone weep.
The prose sparkles.
Your grammar is of such flawless perfection a revision of Strunk & White is being published at this moment to acknowledge your excellence.
The whole manuscript has been edited so scrupulously it contains not one single typo.
Your use of the Oxford comma and the activating hyphen are impeccable.
You've worked for years, neglected your spouse and children, let your dog go hungry and unwalked.
You're survived without food and sleep.
The time has come at last for submission.  Which lucky agent will get first look at the best horror/thriller/mystery ever composed in Word/Pages/Scrivener?
Still determined to bulk up your wimpy stack of rejection slips? The answer is obvious. What you want is an agent who specializes in — Ta Da! — Romance.
However:
If you might just conceivably be interested in getting the best horror/thriller/mystery ever written actually published, why not do some research first?
Find out which agent(s) specializes in your genre. That agent will be up on all the latest developments in the market you're trying to break into and will have close contacts with the editors who are looking for exactly what you write.
3) Cozy up to the Cliché for Guaranteed Rejection.
Oooooh, a hero dog!
Everyone loves dogs. One who's smart — or maybe a smart-ass. One who talks! Maybe even uses the f-word.
Wow! A talking dog! A dog who talks dirty!
You want to reach the widest readership possible. So you think of a plot in which the smart/smart-ass/trash-talking dog helps the hero/heroine solve the crime/get the job/meet Mr/Ms Right.
What could go wrong?
Nothing?
Everything?
Every agent and editor in town has been there, read that. He/she has slogged through talking-dog plots a thousand (at least) times.
Yawn. Fidget.
Rejection guaranteed.
More Ideas from Cliché-ville:
Start your book with the MC looking into the mirror & contemplating The Meaning Of Life.
Or the girl who wakes up to find bite marks on her throat & realizes — OMG! — her rich, handsome, brilliant boyfriend is a vampire.
And don't forget the where-am-I? opening: the guy/girl who opens the door to his house/condo/garage/office and steps in only to discover s/he's somewhere in space, lost out there in a strange, far-away galaxy.
Moral: Read, Read and Read.
Become familiar with the work of the bestselling writers in your genre. Study — and then analyze — your market. Figure out what's selling and what's not selling.
If the characters or plot have been done so many times they've reached cliché status, you must come up with the genius twist, the brilliant why-didn't-I-think-of-that angle?
4) Work the Phone.
Keep in contact.
Network.
Make the connection.
That's what phones/email/video chat are for, aren't they?
Call the agent you've just sent your manuscript to every morning and then again every afternoon. Be sure to track down his or her home phone/cell phone so you can reach out in the evening, too.
Don't forget dinnertime so you can interrupt the meal.
Then again later to wish him/her good night. And don't forget 3AM because you want to know is if s/he has read your book and give him/her an opportunity to tell you how wonderful it is and how your book is going to change the future of publishing.
Is that too much to expect? They're professionals, aren't they. Their living depends on their writers, doesn't it? Of course they want to hear from you. They're been on tenterhooks waiting for you to call. Of course they'll drop whatever they're doing to talk.
Of course they're going to reject you.
Alternate approach:
Hands off the phone! No matter how anxious you are, no matter how desperate you feel, stifle that impulse.
Go to the gym. Binge on ice cream — chocolate or pistachio, your choice. Watch reruns of Law And Order.
Do the laundry. Fold the laundry. Put the laundry away.
Do anything! Just stay away from the phone.
5) Nail the Setting —Then Sabotage It.
You've written a Victorian-era romantic suspense novel.
And researched until your notes are longer than the manuscript.
You've had to get new glasses — your eyesight has deteriorated because of the time you've spent on Google and in the library.
Every frill and furbelow on your heroine's dress is accurately described.
The descriptions of period architectural details from plinths to fascinated entablature would impress even Frank Lloyd Wright.
You've researched period hairstyles in such depth that your characters — literally — never have a hair out of place.
Then they open their mouths to speak.
"Been there, done that," says your elegant, gentleman of high birth.
"Whatever," shrugs the heiress he's courting.
Ooops.
You're into nails-on-a-blackboard territory.
You want an agent to shriek in horror? You're hoping an editor will cringe and reach for the smelling salts? You're on the hunt for rejection?
Congratulations!
You've just succeeded beyond your wildest dreams.
Watch your Language — and your Dialogue.
Just as fashion changes so does the way people speak. 1940's slang is different from 1960's slang and the way people talk today is different from the way they talked back in the 1950's.
Listen to what people say — and notice the way they say it. Vintage movies provide a guide to appropriate dialogue: whether your characters are soldiers in World War II, gangsters in the 1930's or ad executives in the 1950's (Mad Men, anyone?)
6) Be a Trendsetter.
Just because every grammar guru insists that subjects and verbs have to match doesn't mean that you have to be a slave to "the rules." You're much more imaginative than that! You're a creative person. You don't follow trends. You start them!
Just because professional writers heed the suggestions of proofreaders doesn't mean you have to.
So what if "Sue" becomes "Margaret" halfway through your manuscript? The editor will know who you mean. After all, "Sue" and "Margaret" have the same color hair, don't they?
Same thing with that tangle of it, its and it's and the muddled thicket of antecedents. You know exactly what you mean and who you're referring to. And, if you know, so will the reader.
Well, won't they? Isn't that their part of the job?
And just because Speed Kills, don't for one minute think that applies to you!
Go ahead. Send out that manuscript sans editing, cutting, revision, proofreading. You're different. Your first drafts are magic. Even your mother says so.
7) Adopt the Trademarks of the Lazy Writer.
Last of all, on your pilgrimage as you search for ever more rejection, be sure not to overlook the fallback habits of the lazy writer:
Exclamation points infestation.
Adverb excess.
Adjective overload.
Mind-numbing repetition of the same words and phrases.
Comma mistreatment and semicolon abuse.
Typo tolerance.
Chronological screw-ups: Your medieval knight pulls an iPhone out of his shining armor.
So, scriveners, if you find the experience provided by rejection essential to your journey to fame and fortune, now you know exactly what to do and how to do it to achieve your goal.
Go forth and fail!
As day follows night, the rejection you crave will be yours.
by Ruth Harris (@RuthHarrisBooks) February 27, 2022
***
What about you, scriveners? Have you ever self-sabotaged with any of these "tips" and got yourself some rejection? Did you know these things would bring automatic rejection? I sure didn't in my early query days.
BOOK OF THE WEEK
Husband Training School
Tougher than Harvard, more demanding than MIT, Husband Training School is the last hope of desperate wives everywhere.
Find it at Amazon, Kobo, Nook, iBooks, GooglePlay
Three wives at the end of their rope. They love their husbands but…
Will Trailer is baseball's MVP, but around the house? Not so much, according to JessieLynn Wessell, his gorgeous movie star wife.
Efficiency expert Howard Hopkins has just retired. Edna Hopkins married him for better and for worse—but not for 24-hours-a-day.
Gordo Canholme would procrastinate breathing if he could, but will he ever get the new baby's room ready. Tech exec Sissie Canholme, his very pregnant wife, isn't holding her breath.
When JessieLynn, Edna and Sissie enroll their husbands in the Husband Training School, former Marine Corps Drill Instructor Robin Aguirre, founder of the School, thinks she has seen—and heard—it all.
But has she?
"A charming read with a well-crafted, fast moving plot that is just plain good fun to read. If you like humor and real people, pick it up today." —Rabid Readers Review