Self-publishing isn't about the author. It's about pleasing the reader.
by Anne R. Allen
Easy self-publishing and the introduction of the e-reader brought seismic changes to the publishing world a decade ago. The "Kindle Revolution" propelled a bunch of smart authors from the slush pile to the top of Amazon's bestseller lists.
Suddenly writers had choices. Authors who had been bloodying their knuckles on the doors of New York publishing were finally free to seek readers on their own. They could have successful writing careers even though the 20-something NYC publishing gatekeepers from Brown and Wellesley didn't relate to their work.
From the introduction of the Kindle to the establishment of Amazon's own imprints, indie authors ruled on "The Zon." While the big publishers kept their ebook prices sky-high, indies could offer competitive books for under five dollars. It was gold rush time.
Of course not every new indie author succeeded, even back in those days. The ones who did mostly had a strong social media presence and a lot of books in the hopper. By publishing books in a series in quick succession, some savvy writers created a need and fulfilled it quickly. Authors like John Locke, Amanda Hocking and Hugh Howey made bestseller lists and big headlines by savvy rapport with readers and strong marketing skills. (Some of which, as in the case of John Locke, were not entirely ethical.)
However, the majority of successful "indies" were established authors who already had a readership from writing for traditional houses. Trad-pubbed midlist authors like Joe Konrath, Dee Dee Scott, and Dean Wesley Smith turned to indie publishing with great success. Their readers loved the cheap ebooks, and their popular blogs taught new writers about self-publishing and fueled the movement.
And that movement is still going strong. But success is more elusive these days — partly because of changes at the Zon — and also because some amateurs use Amazon as a place to play, not a place of business.
They forget they have a real job — to please readers.
Amazon is Not Grandma's Refrigerator Door
The "Kindle Revolution" also meant a lot of wannabe authors who had not yet acquired the skills to provide readers with a professional product were able to self-publish their amateur efforts.
Undeveloped writers started using Amazon like Grandma's refrigerator door — a spot to put up their fledgling attempts at art in the expectation of praise.
Unfortunately, this meant a lot of readers became skeptical of indie books.
And writers who published too soon were disappointed by minimal sales or lukewarm reviews.
Many of those authors are embarrassed by those books now. I often hear from them.
Here's their problem: it's hard to make those "practice books" go away. You may be able to substitute a more polished version of the text as an "update," but will the reader choose to download the update before reading the early version?
Having updated several books myself, I can tell you most do not.
You can also pay for a more professional cover. But Amazon often will only show the original cover (the one designed by your friend's kid in high school art class.) It will also live forever on Goodreads.
Plus it's your name on that thinly-disguised Harry Potter fanfiction. The one where a character very like your young self has an affair with Sneverus Sape.
You can unpublish it, but the listing will still be there under your name, and secondary sellers will claim to have it for sale. (Those sellers figure if somebody really wants it they'll go hunting for it.)
I've heard from authors who now have to use a pen name because of self-publishing that fanfic when they were fifteen.
Most of these authors wish they hadn't allowed their young selves to play with Kindle Direct Publishing as if it were a toy.
Amateurish, Cruel Competition Among Self-Publishing Authors
Another aspect of amateurism in some corners of the indie publishing world is competitive author behavior.
Some indies treat self-publishing as if it were some online game, where knocking out your fellow "players" gets you more points..
But the truth is the opposite is true. Pros know that banding together with other authors in your genre — rather than competing with them — is savvy marketing. My sales often increase ten-fold after a joint marketing event, anthology or boxed set (Do make sure the anthos and sets aren't scammy, though.)
But there's nothing savvy about competitive indie authors. They've jumped into an industry without having a clue how it works. And they don't want to learn.
They prefer to behave like children in a sandbox fighting over an insufficient number of toy trucks.
Self-Publishing isn't a Zero-Sum Game
The truth is, publishing isn't an either / or business. It's a "hop on the bandwagon" business.
Helen Fielding wrote a phenomenally popular book in the 1990s called Bridget Jones Diary. Readers didn't know they were hungry for funny romances until they read it, but then they wanted more. Agents advised their authors to write this "chick lit" the industry suddenly craved. This wasn't to compete with Helen Fielding, but to join her in this new, wildly popular genre.
The same thing happened when Gillian Flynn created a new kind of domestic thriller with her break-away hit Gone Girl. Did Flynn want to have the domestic-thriller-with-unreliable-narrator market cornered? Did she need to keep other authors from joining her in a new genre? Of course not..
When Paula Hawkins wrote the domestic-thriller-with-unreliable-narrator, Girl on the Train, she didn't get minions to one-star Gillian Flynn's book, or send death threats to her home. Instead, her publishers marketed her book to a similar audience with phenomenal success.
This is how professionals succeed — as colleagues, not squabbling children.
Protect Yourself from Competitive Indie Authors
I have heard from a number of self-publishing authors over the years who have been bullied and even had their careers and mental health harmed by fellow authors who consider them "competition."
The most common tool of the competitive crazies is the negative review swarm. They rustle up a bunch of minions — or pay an illegal review service — to attack a fellow author's books with dozens of scathing one-stars that say literate things like "I threw up." It's obvious to anybody reading them that these "reviewers" haven't read the book, but unfortunately some people don't read reviews. They only count the stars.
This kind of cruelty can tank a book. (Although not always. I got a "review swarm" early on that actually pushed my book to the bestseller list.) Sometimes the number of reviews — positive or negative — will push a book into the spotlight.
Still, you want to stay out of the path of these dangerous, unhinged people.
I heard from one victim only a few months ago. He's a thriller writer who has been relentlessly bullied by a "rival" author. This competitive crazy had not only directed minions to leave nasty one-star reviews on this author's books, but hacked the guy's social media to post insults all over his pages. He sent unrelenting poison pen messages, and even phoned the author with death threats.
It's a horror story I've heard way too many times over the years. One historical fiction author got so many scary emails and one-stars she unpublished her book and didn't even shop at Amazon for years.
Her story sparked my novel So Much for Buckingham, where Amazon review dramas lead to murder.
Stay Away from Dangerous Groups
You can't protect yourself completely. I sometimes get poison pen messages — mostly as blog comments or Facebook DMs. Usually, they're written by semi-literate teens or drunks who feel entitled to have a writing career without learning to write. They think by attacking me, they can make reality go away.
My most recent, offended by my post on amateur self-publishing called me a badly-behaved "Karen" who personally invented grammar to make her feel bad.
I've learned the best way to react is: send to spam, delete and block. Don't engage, no matter how strong the temptation. These people have no writing skills, but they sure have bullying skills.
The only way to stay safe is to stay off their radar.
Leave any group where crazies lurk. What might have been a welcoming author group turns into a cesspool with one or two sadistic members.
I've observed Goodreads is the home of most competitive author bullying. They also have an ever-escalating troll problem. The bullied thriller writer met his stalker in a GR writing group. I've witnessed horrific cruelty on the site, and experienced a bit myself.
Several years ago, an unhinged woman appeared in our Boomer Lit group and attacked me personally. I tried to ignore her, but the ageist insults were relentless. I never discovered if she'd written something she considered a "rival" of my Boomer Women collection.
Maybe she's simply one of those people whose life's goal is to be hated by as many people as possible.
The group had been helpful, but I needed to escape. I've since spent as little time on Goodreads as possible. For an alternative to Goodreads, Jane Friedman recommends Read this Twice.
Facebook groups aren't immune. I recently left one after seeing new members attacked by a gang of moronic trolls.
If you see bad behavior, get out. There will be another group. If you have connections you don't want to lose, send a DM to suggest forming an alternate group.
Crimes Against Readers
I should also mention the professional Amazon-gamers who use the site for perpetrating lucrative crimes against readers.
I'm not just talking about the aforementioned entitled children who push semi-literate drivel on unsuspecting customers
I'm talking about big-time criminal behavior. These people are not writers at all. But they know how to fool Amazon's algorithms, especially in the Kindle Unlimited program. where authors are paid according to pages read.
There were some big scandals a few years ago with book "stuffing" and other scams that played Amazon's Kindle Unlimited program by getting more pages "read" by promising a prize at the end of 1000s of pages of nonsense text.
Others use outright plagiarism. They lifted paragraphs and even chapters from bestselling authors, inserting them into mediocre books. Or they took popular M/F romances and changed a few pronouns to make them M/M or vice versa.
Some of these were crimes against Amazon, and others bilked authors, but they all cheated readers.
Respect Readers!
The one thing all these "players" have in common is disregard for readers.
A truly successful writer puts the reader first, no matter how they choose to publish. A book is just a collection of letters on paper or an electronic device without a reader. We need to remember to treat that reader with respect.
This is why we shouldn't play games with self-publishing. It isn't wise to play games with readers' money or their time.
We are nothing without them.
by Anne R Allen @annerallen June 6, 2021
***
What about you, scriveners? Did you ever Kindle a book before its time? Have you dealt with competitive crazies or self-publishing groups where trolls took over? Have you ever bought an indie book that turned out to be a juvenile effort by somebody who needed to take a few writing classes?
BOOK OF THE WEEK
A satire of the dark side of online reviews and the people who make a game of them…a game that can lead to murder.
Camilla and Ronzo see their reputations destroyed by online review trolls who specialize in character assassination, while Plantagenet Smith heads over to England, where he encounters a dead historical reenactor dressed as the Duke of Buckingham. Plant is promptly arrested for the murder. In jail, Plant meets the ghost of Richard III, and hears what it's like to live with character assassination "fake news" that has persisted for half a millennium.
"This wonderfully satiric comedy is a joy to read. On the surface, it's a frothy romance cum suspense story about a whacky writer, Camilla, whose life is threatened by trolls and who topples from one hilarious disaster into the next.
But underneath, it provides a perceptive insight into the mad world of modern publishing, the sub-culture of Internet lunatics and the mindset of cultists who can – and do – believe ten impossible things before breakfast.
The reader is left with the question: how much of the story, perish the thought, might be true? Tremendous fun, wittily satiric and highly recommended"…Nigel J. Robinson
So Much for Buckingham is available at:
All Amazons Kobo Nook Smashwords Googleplay Scribd
Available in paper from:
AmazonUS AmazonUK Barnes & Noble
Also in AUDIOBOOK!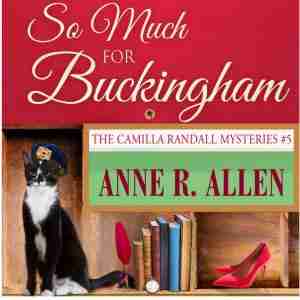 available at Audible and iTunes
.