Are you ready to publish?
by Anne R. Allen
If you've used the pandemic lockdown as a time to write that novel you always knew you had in you, congratulations! You've taken the depressing, horrific lemon that was 2020 and turned it into literary lemonade.
You deserve a great big "Congrats!" and several pats on the back. You are awesome.
But if you're thinking of publishing that novel now that you've finished it, you might want to hold off for a bit. Especially if you're hoping to make some money from it.
Even though you've typed that satisfying "the end" on that book, chances are good that it's not ready to publish. Or even to go to an editor.
Self-publishing has freed up a lot of writers and allowed them to express themselves without the restraints of corporate publishing. But just because you CAN publish that magnum opus with a minimum of fuss doesn't mean you should—yet.
The truth is it takes a long time to learn to write well. Even if you were an English major. If you've only written one novel or memoir, you're still in the learning phase. Keep writing and start something new. Write some short pieces and start sending them out to journals and contests. Work on your next book. Start a blog and learn to write for an online audience.
And read, read, read. Read books on craft and marketing as well as novels in your genre.
Then when you go back to that book, you'll have fresh eyes and new skills. I promise your work will improve because of them and you'll be relieved that you didn't publish too soon.
Signs You Aren't Ready to Publish
Here are some tell-tale signs that writers are still in the learning phase of their careers.
1) Wordiness
There's a reason why agents are wary of long books. New writers tend to take 100 words to say what seasoned writers can say in 10. If your prose is weighty with adjectives and adverbs, or clogged with details and repetitive scenes, you'll scare off readers as well.
2) Writerly Prose
This was a hard lesson for me to learn. It turns out those long, gorgeous descriptions that got so much praise from your English teacher and your college boyfriend can actually be a huge turn-off for the paying customer who's searching for some kind of story in there.
We need to learn to use description to help the reader get oriented in the scene, not to show off.
3) Episodic Storytelling
I admit my own guilt on this one too. I could never end my first novel, because it didn't actually have a plot. It was a series of related episodes—like a TV series. I will always be grateful to the agent who read my whole manuscript and told me I'd written a fine sitcom, but a novel needs one big, over-arching plot.
Learning to plot and pace a novel is way harder than it seems. Seasoned novelists make it seem effortless. You'll learn, too. It took me a longer time than most, but I got it eventually.
Critique groups often don't catch this problem, if each episode has a dramatic arc of its own.
4) A Hackneyed Opener
Beware overdone opening scenes. The most clichéd opener is the "alarm clock" scene—the one where your protagonist wakes up and gets ready for his day. Film teachers say, "78 % of all student films start with an alarm clock going off."
Why? Because it's an obvious place to start.
But obvious is not what we want. That's what makes something into a cliché—a whole lot of people have used a phrase or situation before you. So if your opener is similar to one you've seen in a ton of movies, and read in lots of books, you're probably going to want to change it. Try moving your story ahead a few scenes. Or behind. Do something new and different and creative.
5) Raw Personal Pain and/or Revenge Fantasies
It turns out that having a terrible childhood doesn't actually make a great story. Neither does surviving a life-threatening disease. That kind of experience needs a lot of processing before it can be worked into an entertaining book.
Writing about a traumatic event can be a wonderful release. But that cathartic prose will need a lot of work before it's readable for others.
Also, readers probably won't be enthralled by endless analysis of a guy just like your toxic ex, even if he gets hacked up by his ax-murdering trophy wife in the final scene. (Yes, I know that was fun to write.)
We need to be very careful when we're writing about real people. Ruth Harris wrote a great post on turning "real life" into fiction.
6) Semi-Fictionalized Religious or Political Rants
You have to be a seasoned, gifted writer to find a readership for political fiction. Carl Hiaasen manages to throw quite a bit of politics into his comic mysteries, and Chris Moore gets in some digs in his hilarious horror/fantasy tales. But if you aren't as funny as those guys, you might want to save the political writing for a letter to the editor.
And if you've written a novel just so you can send everybody who isn't exactly like you to Hell, your reader will want to send you there, too.
7) Dialogue Info-Dumps and Desultory Conversation
Another of my personal pitfalls. After 25 years in the theater, my brain's natural habitat was the script. It took me years to learn characters don't have to say all that stuff out loud. And "hello how are you fine and you nice weather" dialogue may be realistic, but it's snoozifying.
Readers don't care about "authenticity" if it doesn't further the plot.
For more on spiffing up your dialogue, here's Ruth's piece on 15 Keys to Writing Dialogue and my post, "Do Your Characters Talk Too Much."
8) Tom Swifties
Dialogue tags are hard for the beginning writer. "He said" and "she said" can seem boring and repetitive, even after we hear that the reader finds them invisible.
But the writer who strains to avoid the word "said" can rapidly slip into bad pun territory, as in the archetypal example: "'We must hurry,' exclaimed Tom Swiftly."
Bad dialogue tags may have crept into your consciousness at an early age from Nancy Drew and Hardy Boys books. They're great fun, but they were written by a stable of underpaid hacks and although the stories are classic, the prose is not.
These days, writers try to avoid dialogue tags altogether. Instead we use action to show who is speaking. So instead of saying "I'm not going without Fido," Tom said, doggedly," you can say, "I'm not going without Fido." Tom patted his dog's furry head.
9) Mary Sues
A Mary Sue is a character who's a stand-in for the writer's idealized self. She's beautiful. Everybody loves her. She always saves the day. She has no faults. Except she's boring and completely unbelievable.
The term "Mary Sue" was invented by readers of fanfiction, and she's a favorite of beginning writers. Sometimes the Mary Sue (or Gary Stu) is an attempt to create a "likeable" character. But in order to be liked, a character needs some flaws.
Here's my post on Mary Sues and Creating Likeable Characters.
10) Imprecise Word Usage
This is what snags a lot of newbie writers. And it doesn't help at all that those guys in Silicon Valley who invented the grammar check software are often dead wrong in their "corrections."
A professional writer needs to know the difference between similar words like aesthetic and ascetic, affect and effect, elicit and illicit, ensure and insure etc. Otherwise, they have to hire somebody who does know before they can publish that book.
11) Incorrect Spelling and Grammar
Do note: I'm not talking about dialogue here. You certainly don't want to make all your characters sound like English teachers. Anything goes in dialogue.
But it's good to be aware that the buying public expects a book to be written in standard English. (or whatever language used by your target demographic.) The average reader isn't your third-grade teacher and they won't give you a gold star just to boost your self-esteem. Even if you survived a childhood in an orphanage right out of Dickens, readers need that story to be written in standard, readable language.
Words are our tools. Think of it this way: would you try out for professional baseball if you didn't know how to hold a bat? Electronic spelling and grammar checks can only do so much. And they're often wrong. Buy a grammar book and a dictionary, or take an online course.
12) English Major Showing-Off
I know my early prose was full of annoying literary name dropping. It feels so clever to start every chapter with an epigraph from a literary icon.
But unless those quotes give insight into the chapter, that stuff will probably irritate rather than impress readers. Ditto oblique references to the Cavalier poets or Thomas Mann. People want to be entertained, not worship at our personal literary altars.
And yes, there's a quote from Richard III at the beginning of each section of my mystery So Much for Buckingham. But I figured since I present the ghost of Richard III as a character, I'd better let Shakespeare have his say. 🙂 If I annoyed any readers, I apologize.
***
If you're still doing any of these things, RELAX! Enjoy writing for its own sake a while longer. Read books on craft. Build inventory. You generally need to publish some short fiction and have at least two polished manuscripts in the hopper before you launch your novel-writing career.
And hey, you don't have to become a marketer just yet. Isn't that good news?
by Anne R. Allen (@annerallen) February 7m 2021
***
What about you, scriveners? Have you ever put a book out there that wasn't really ready to publish? Were you ready to be a published author when your first book launched? Did you do any of these things when you were learning to write? How did you overcome them?
BOOK OF THE WEEK
A satire of the dark side of online reviews and the people who make a game of them…a game that can lead to murder.
Camilla and Ronzo see their reputations destroyed by online review trolls who specialize in character assassination, while Plantagenet Smith heads over to England, where he encounters a dead historical reenactor dressed as the Duke of Buckingham. Plant is promptly arrested for the murder. In jail, Plant meets the ghost of Richard III, and hears what it's like to live with character assassination "fake news" that has persisted for half a millennium.
"This wonderfully satiric comedy is a joy to read. On the surface, it's a frothy romance cum suspense story about a whacky writer, Camilla, whose life is threatened by trolls and who topples from one hilarious disaster into the next.
But underneath, it provides a perceptive insight into the mad world of modern publishing, the sub-culture of Internet lunatics and the mindset of cultists who can – and do – believe ten impossible things before breakfast.
The reader is left with the question: how much of the story, perish the thought, might be true? Tremendous fun, wittily satiric and highly recommended"…Nigel J. Robinson
So Much for Buckingham is available at:
All Amazons Kobo Nook Smashwords Googleplay Scribd
Available in paper from:
AmazonUS AmazonUK Barnes & Noble
Also in AUDIOBOOK!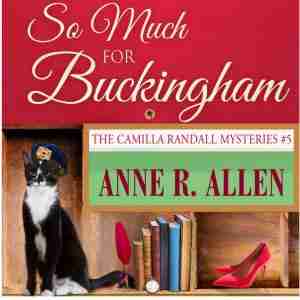 available at Audible and iTunes
Featured image: Young Cicero Reading. Vincenzo Foppa c. 1464