A romantic hero is great on Valentine's Day, but will ever-aftering be happy?
by Tara Sparling
Introduction:
We love our romantic heroes, both on the page and onscreen. But what would it be like to truly live with one in real life… during a pandemic?
It's Valentine's Day. And for the first time in forever, you're not single. In fact, even though you've always considered yourself quite, well, ordinary, both in terms of appearance and achievement, not only are you in a relationship, but you're in a passionate fever dream with… a classic Romantic Hero! The very man who has been centre stage of every romance novel, every costume drama, and every fairytale you've encountered since infancy.
True, some people said you moved in together too quickly. But you had no choice: it was either live together, or be prevented from seeing each other entirely. Just like the best romantic stories, the love between you and Romantic Hero encountered a terrible obstacle in the form of COVID-19: and just like the best romantic stories, you decided to completely ignore this obstacle, along with experience and good sense, and commit to each other forever.  
You wake up to the soft kiss of sunshine streaming in your window. You sit up and stretch, knowing that you are already fabulously coiffed and fully made-up, because a Romantic Hero is in love with you.
A movement catches your eye. Romantic Hero stands in the doorway, wearing a designer navy suit, a white open-necked shirt and no tie. He crosses the massive bedroom in just 7 long strides, reaches for you with his big strong arms and crushes you to his chest.
***
ROMANTIC HERO: Good morning, my everlasting love. Happy Valentine's Day.
YOU: What time is it? Did I oversleep? How long were you standing there?
ROMANTIC HERO: Only 43 minutes. And it's 7am. But you know I like to get up early, in order to watch you sleep.
YOU: Um, okay. Not creepy at all. Anyway, happy Valentine's Day to you too! And I know I keep doing this, but just to humour me, how much money did you make during those 43 minutes from your incredibly successful and yet extremely vague business dealings which have something to do with property in the Mediterranean, Middle East and odd rural corners of the north-western United States?
ROMANTIC HERO: 2.5 million dollars.
YOU: Lovely.
ROMANTIC HERO: I also spent the time I was watching you sleep, thinking about what we could have done to celebrate Valentine's Day, if it weren't for this infernal pandemic. But I still have something special planned for us.
YOU: Oh dear. You're not going to force me through hours of YouTube videos again today to show me all the places you would have brought me if we weren't in lockdown?
ROMANTIC HERO: I want to show you the world, my love.
YOU: Just so you know, I did backpack around quite a bit of it. Just because I didn't see the world in five-star luxury doesn't mean I haven't seen it.
ROMANTIC HERO: But I consider it my duty to introduce you to the finer things in life.
YOU: Okay. But I'm not sure that's coming across on YouTube. Videos of French patisserie and exclusive sushi from Tokyo don't quite tickle the tastebuds. Plus, I have to say that wearing a new designer evening dress to dinner at home every night is starting to get a bit annoying.
ROMANTIC HERO: But how else will you show off the wardrobe I bought you?
YOU: Exactly who am I showing off to, though? Apart from you, obviously. But I'm not sure that counts.
ROMANTIC HERO: That's true, I suppose. At least 86% of the pleasure I took from buying you things came from watching other people look at you in them.
YOU: Again, not creepy at all.
ROMANTIC HERO: You can talk. You loved watching me ruthlessly eviscerating rivals through my incredibly successful yet extremely vague business dealings which have something to do with property in the Mediterranean, Middle East and odd rural corners of the north-western United States.
YOU: I can't deny it.
ROMANTIC HERO: Not to mention how much you adored watching other people trying to pierce my enigmatic personality, even as you effortlessly and inexplicably understood my every mood and emotion, except for one.
YOU: Which was?
ROMANTIC HERO: [tilting your chin upwards so he can stare uncomfortably into your eyes] My love for you, of course, to which you were entirely blind.
YOU: That's true too. Although I kind of miss the mystery, to be honest.
ROMANTIC HERO: I am still the broken, unknowable moody soul you fell in love with, darling.
YOU: Not really. I mean you do spend hours every day telling me how much you love me. You haven't seen your family because of the pandemic, so all your old demons have been very quiet lately. Plus, it's hard to consider someone an enigma when you know precisely what time every day they move their bowels.
ROMANTIC HERO: That reminds me.
YOU: Yes, I was thinking that myself. I'll leave the bedroom shall I? The air freshener is under the sink.
ROMANTIC HERO: Thank you, my darling.
YOU: Hey, no worries.
***
You put on a dove grey satin wrap and fluffy mules, and make your way to the grand staircase of your double height penthouse apartment, descending the steps in a whisper of silken flight.
In the kitchen, the coffee maker is already on: you pour yourself a cup of ridiculously expensive designer caffeine hand-flown by hipster trust fund babies, and stare out the window at the breath-taking view of the vast rippling ocean beyond.
Time passes. You try not to think about how much time, in a futile effort to hang on to one last shred of mystery in a love affair consistently threatened by very ordinary biological functions.
***
ROMANTIC HERO: [coming up behind you and slinking his arms around your waist] Breath-taking, isn't it? But not as breath-taking as the view inside.
YOU: Don't you miss people? I mean, seeing other people, talking to them?
ROMANTIC HERO: [nuzzling your ear and making you squirm] Of course not. I only want you. I only need you. I have everything I could ever desire right here.
YOU: Right.
ROMANTIC HERO: [turning you around in order to direct his glittering black eyes right into your soul] Surely you don't miss your old life, my love?
YOU: I suppose I do a bit. I mean, I liked other people.
ROMANTIC HERO: The world is too full of dangers, my angel. Every time you leave my sight I panic. It's bad enough now that you insist on going out alone for a walk.
YOU: Everyone has to go out alone. It's called social distancing.
ROMANTIC HERO: I don't care. You're too precious to me. You need 24-hour security so that I can ensure you will never be attacked or killed.
YOU: Statistically, women are far more likely to get attacked or killed by their partner than a random stranger on the street, you know.
ROMANTIC HERO: Yes, but you forget my exes are murderous and jealous, and I have made many enemies as a billionaire ex-playboy.
YOU: I thought you were an aristocratic rake?
ROMANTIC HERO: That was last week. I'm being contemporary this week.
YOU: That's true. I forgot you sold a property to a tech start-up on Monday. What was it they invented again?
ROMANTIC HERO: Something to do with the internet. Who cares? It's where all the best vague success is these days.
YOU: That's true. [sighing] Wow, I miss work.
ROMANTIC HERO: Why? I remember how much you hated your job in something vaguely to do with administration or marketing.
YOU: Yes, but it was my job. It gave me independence.
ROMANTIC HERO: But you're still independent, my love. I specifically remember giving you some independence last week.
YOU: I suppose you're right. And the job wasn't going anywhere anyway.
ROMANTIC HERO: No, it certainly wasn't. Thank Christ. Because I could never have loved you if you were a successful career woman.
YOU: [bristling] What do you mean by that?
ROMANTIC HERO: [checking himself] Did I say that out loud? Sorry! What I meant to say was, that you could never have loved me if you were a successful career woman.
YOU: Yes I could!
ROMANTIC HERO: You mean to say you would have fallen in love at first sight with a moody, possessive billionaire if you hadn't been languishing in poverty and boredom?
YOU: I'm bored now, though.
ROMANTIC HERO: Maybe. But you're not poor, and I can pay anyone you like to exclusively entertain you online.
YOU: You know, I never thought I could get sick of that so quickly?
ROMANTIC HERO: Welcome to the 1%, my darling. Now, how are we going to celebrate Valentine's Day?
YOU: I don't know. I feel like doing something different.
ROMANTIC HERO: Anything you desire, my love.
YOU: I think I'd like something from my old life. You know. Before COVID. Before you?
ROMANTIC HERO: Such as?
YOU: So I was thinking we could get some fast food delivered. Like, fried chicken or something.
ROMANTIC HERO: [horrified] You can't be serious!
YOU: And we could be a bit scruffy. You know, not brush our hair or something. And wear old sweats. You know, cheap, washed out, comfortable ones. Not designer.
ROMANTIC HERO: You know I don't wear untailored clothing. [doubtfully] I could maybe tell François I don't need a shave today, despite my fiendishly quick-growing stubble?
YOU: And then we could watch an old movie. On the TV. Not a private screening. And maybe you could… ignore me a bit.
ROMANTIC HERO: I beg your pardon?
YOU: Like, maybe we could spend the evening not talking about our relationship, or our love for each other. Maybe we could have an argument about something trivial. Like the best way to stack the dishwasher.
ROMANTIC HERO: But you already know the best way. Get the maid to do it.
YOU: Sigh.
ROMANTIC HERO: And you know I can't ignore you, my love. Especially not now, when I feel like – like [swallowing with emotion] – like I'm losing you, somehow.
YOU: You're not losing me! I just want us to relax a bit, that's all!
***
Romantic hero abruptly runs his hands through his short hair which is still somehow always described in terms that would suit a longer style, his arms straining against the fabric of his well-cut jacket. He rips the jacket from his body in a temper and throws it onto an artfully placed sofa.
***
ROMANTIC HERO: It's like you're saying you don't love me!
YOU: But I'm not saying that at all.
***
Romantic Hero comes closer. Several more buttons have come undone in the front of his shirt. You see a glimpse of tantalising chest hair. You melt, and he pounces.
***
ROMANTIC HERO: [cradling your face in his hands, which is actually not even remotely as nice as it sounds] So you do love me, my angel?
YOU: I do, yeah.
ROMANTIC HERO: And you want to spend all your time with me, forever and ever, and do all the things I want to do?
YOU: I suppose so. I mean: yes, my love.
ROMANTIC HERO: [kissing you awkwardly all over your face] Thank Christ. Now, there's a very special place I want to show you on YouTube…….
THE END
by Tara Sparling (@TaraSparling) February 14, 2021
What about you, scriveners? Do you think the standard Romance hero would be a bit annoying for happy-ever-aftering? If you write romance, do you give your hero some quirks so he's not so "perfect"?
About Tara Sparling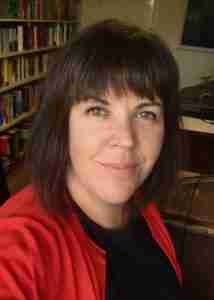 Tara Sparling writes fiction and screenplays, and lives in Ireland. Her award-winning blog explores bestselling book statistics and trends, and humour with a bookish angle, including literary genre and character stereotypes (just like this one). She has won blog awards for being new, being bookish and being funny, and her fiction has also been shortlisted in several national competitions. Besides her blog, she can be found hiding (poorly) behind @TaraSparling on Twitter.
***
Featured image: self portrait by Orest Kiprenski 1828