by Ruth Harris
My encounters with reader mail go back a long way. My first job as a very young editor at Bantam included slogging through the slush pile and answering reader mail. No internet or email those days. Everything was done the old fashioned way — by hand.
I've written before about my adventures in the slush pile.
Reader mail was an entirely different learning curve. Generic mail received a polite form letter thanking the sender for his/her interest. Letters from readers wanting to contact writers were forwarded to the writer's agent who would take it from there.
We received quite a bit of mail from prisoners whose return address included the name of the prison and the prisoner number. Without omnipresent TV and certainly no WIFI, reading was their main source of diversion. I responded via the usual form letter thanking them for their interest, and, when possible, answering specific questions.
There was occasionally a giddy side to reader mail.
Mrs. Myers Opines.
At a certain point a genre we'll refer to as Plantation Gothic was popular. Set on plantations (obviously) in the deep south, complete with Spanish moss, imposing manor houses, spoiled aristocrats, devoted, wise maids, and handsome, sinewy field hands, these stories focused on ominous goings on and, for those days, a bit of spicy sex.
Plantation Gothics were a reliable way for beginning writers to learn the craft and the business, and for mid-list writers to make a living. Authors who could write them quickly did well. That genre and its authors developed their fans — a certain Mrs. Myers most definitely not among them.
She expressed her displeasure in a hand-written screed accusing the author (everyone used pen names) of single-handedly destroying the moral fiber of the nation. She blamed him for short skirts, teen-age pregnancy, and the appalling spread of profanity.
Also, she objected to his disgusting language — citing examples, of course — and the lewd behavior of those snooty, immoral aristocrats and the field hands who could not control their base impulses the way decent, god-fearing people did. She accused him of doing Satan's work and informed him that, as a consequence, he would surely be condemned to burn in the hottest regions of hell for all eternity.
The author, enchanted by Mrs. Myers' feverish words, Xeroxed the letter and repurposed her epic into party invitations. We enjoyed an annual "Mrs. Myers party" for several years — or, most likely, until Plantation Gothic cooled down and went the way of the vintage nurse romances. ["Will beautiful nurse Nancy marry rich, handsome Doctor Elliott?"]
Uhhhh. What?
My revived interest in reader mail came about due to a recent communication from a dissatisfied reader who accused me of logical lapses in Park Avenue Blondes in a semi-coherent, oddly punctuated email. Fair enough, I guess.
Except that she was wrong about every alleged "lapse."
I answered politely pointing out her errors, and wondered if she would launch another attack but, so far, silence.
I wonder: what caused her to feel the need to inform me of mistakes I hadn't made? Was she confusing me with some other writer or Park Avenue Blondes with some other book? Was she off her meds? Maybe Covid lockdown was getting to her? Did she have Alzheimer's? A fight with her husband/kid/best friend and needed to unleash her anger at someone, anyone? Or was she hitting the booze, and was she drunk?
I don't know and never will, but I'm not the only writer on the receiving end of a reader's discontent. According to a friend who writes trad-pubbed historical romance, authors on her private FB group have been getting really nasty comments on their Facebook ad posts. Heavier drinking during Covid times was among the possible reasons cited.
Fabulous Food and Fake Passports.
Khaled Taleb author of bestselling spy thrillers, tells me: "Sometimes, I post pictures of food I cooked or cakes I've baked with my readers and they reciprocate by sharing their recipes with me.
"I've asked them for advice about many things from learning how to play a guitar to the idea of keeping a beard. I was surprised how many people share their thoughts with me.
"However, I did get a strange message from someone in Singapore who asked if I had contacts with fake passport makers since I was in this "line of business."
"Apparently if you write spy thrillers, you are expected to be in the know.
"I replied that my knowledge of the world of espionage lies strictly in the realm of fiction."
Comments from the Peanut Gallery.
A prominent romance writer recently received this gem:
"I have read a number of your books over the years and just finished Bestselling Romance Title. I just thought I'd mention that a few of your books, off and on, have annoyed me greatly. Your latest book, for example centered on Percival's need to protect Amanda. However, his opposition to her activities was so overdone, one felt like dropping him over the side of a cliff throughout much of the story. In my opinion, fewer arguments and more storyline would have made the book far more enjoyable to read."
This author was not enchanted.
Rotten Reviews and Drive-by Shootings.
There's the "fan" who sends you a link to a negative review on some obscure website.
Oh, yes! Thank you very much. Not.
Or "readers" who contact you with a sob story and ask for a free book.
Or money.
Because, of course, writers are rich and are always looking for something worthwhile to do with their overflowing bank accounts.
Sue Coletta contributed this doozy:
"In October a reader messaged me on Facebook. She's bought every book I've ever written, so of course I assumed this would be a pleasant conversation. Instead, she says, "I'm cleaning out my bookshelves and, as you know, I've bought all your books at signings over the years. So, I was wondering if you'd like to buy them back for half price. After all, they are YOUR books. And with the extra money I could buy your new one."
After the initial shock, I thought maybe she was having financial difficulty due to Covid, so I offered to give her Pretty Evil New England as a gift.
"Oh, no," she says. "You misunderstood. We're getting ready to head south to our Florida home and I'm just trying to reduce our clutter. Would you mind if I sold them on Facebook?"
I told her not to tag me. She wasn't getting the message, so I finally said, "Look. I am running a business. We are talking about my work, my products, my blood, sweat, and tears. If you want to sell the paperbacks I signed for you, go for it, but I am not going to help you do it."
I had to refrain from adding, "I would love to own a summer house and winter house, you spoiled bitch."
"But I refrained…barely."
️
️
️.
On the other hand, Debbie Burke tells a heartwarming reader email story:
It's about an email from a regular reader of The Kill Zone who emailed her after she wrote about designing a cover for an upcoming book. He wrote (paraphrasing): "I love your posts and have learned so much from them. So I hope you won't take offense but your new cover looks amateurish. I'd like to give you the attached cover I designed to say thanks for all you've taught me."
"His cover was stunning and I thanked him profusely. I figured he must design covers professionally and asked him for his prices b/c I wanted to redo the rest of my covers. Next thing I know, he sent me beautiful covers for all four books and refused to accept payment. He finally agreed to send me his novel to edit when he finishes it."
Such is the generosity of the writing fellowship I'm fortunate to be part of.
They Hate the Ending.
Anne told me that one reader of The Best Revenge let her know she was furious Camilla ended up marrying the rakish Jonathan instead of her best friend Plantagenet. The fact Plantagenet was gay didn't seem an impediment to her idea of marital bliss.
The ever-worldly French have a word(s) for it: mariage blanc, but the reader didn't mention this. So, whatevs.
And then, Anne continues, there are the people who give her medical advice. They've found some miraculous cure like standing on your head for 10 minutes a day that will solve all her medical issues. All very kind of course, but not terribly helpful.
They Hate the Beginning.
An author of mysteries with a paranormal touch emailed me to say that one reader wrote to complain that the opening chapter didn't "feel the same" as the rest of the book, and that the tone was different.
"The reader loved the rest of the book, but said I should "trust myself more next time" when writing the first chapter, and then gave me some tips on how to do that. (As far as I know the reader wasn't a writer or editor.)
"BUT here's the kicker: it wasn't really a first chapter. It was more of a prologue—and the point was to make the tone different from the rest of the book.
It's made clear in the opening chapter that an evil force momentarily takes over the protagonist. So I guess the reader's email was proof I'd achieved what I wanted to!"
What Book did they Read?
Someone once said that the book the writer writes isn't the book the reader reads.
Really?
Yep.
We've got mail to prove it. 🙂
by Ruth Harris (@RuthHarrisBooks) January 31, 2021
***
Of course we love to hear from readers. Even the offbeat stuff. It's great that email and social media allow us to communicate easily with fans. But this is the moment for writers to vent! Authors, do you get head-scratching emails from readers?  Had any fun communications lately? What was the most outrageous comment you got from a reader? Or the nicest? 
BOOK OF THE WEEK
Park Avenue Blondes
For fans of Nora Ephron—Women's Fiction Meets Cozy Mystery in the Big Apple.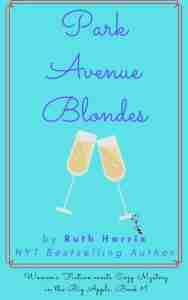 Available at Amazon, Kobo, GooglePlay, iBooks, and Nook
From a snooty charity gala to a blizzard at a Russian army barracks, fashion editor Blake Weston, and NYPD cop, Ralph Marino, her handsome, sexy husband, must work together to solve the murder of a Wall Street Midas.
But who did it?
Renay Porter, a Park Avenue Blonde with Walmart roots, says she wants a divorce from her super-rich husband, but wouldn't murder be easier — and more profitable?
Muffy Astor, a Park Avenue Blonde with a North Shore pedigree knows — and tells — everything about everyone. Or does she?
Cynthia Blair, a Park Avenue Blonde with oodles of money, knew her husband was a fortune hunter when she married him, but now she's stuck with him — and a Vuitton bag containing a blood-soaked shirt.
Can Blake's snark, brains, and pepper spray catch the killer? Or will she be the next victim? And what will Ralph say when she plays sleuth?
"A refreshing escape to the 1980s with two fun, smart and savvy globe-trotting women sleuths. Perfect entertainment!" —Anne R. Allen, author of the bestselling Camilla Randall Mysteries.
"This cozy mystery is a wry and witty romp through the NYC world of socialites, financiers, fashionistas, the publishing industry, and even a literary drug smuggler. A fun read!" —Debbie Burke, award-winning author of the Tawny Lindholm Thrillers with a Heart. 
***