Unexamined beliefs can keep a writer in a prison of your own making.
by Anne R. Allen
"Think outside the box" has become a mindless cliché these days. It's repeated so often that the meaning has pretty much disappeared.
But it's still excellent advice—if you know how to follow it. Unfortunately, most people are unaware they're inside boxes, so they have no idea what it means to think outside of one.
Discussing somebody's "box" can be like talking to a fish about water. The "box" is all there is.
Most of us are boxed in by beliefs that have been programed into our brains from day one by our culture, families, politics, and that 4th Grade teacher who told you if you kept reading comic books, you'd never amount to anything.
Shaming Creates Unexamined Beliefs
Shamers like the anti-comic book teacher are dangerous because you usually don't remember them. You may have forgotten your 4th Grade teacher's name.
All you know is you feel guilty when you read things you enjoy—plus you have a secret, persistent fear that you're never going to amount to anything.
Very often a belief you're sure "everybody knows" has come from a random shamer who once made you feel bad because of your lack of knowledge of a particular subject. Sometimes they're authority figures, but often they're just bullies or "know-it-alls."
It may very well be that the shamer was even more ignorant than you, or just plain wrong. But an authoritative tone made you accept the statement as fact. (Remember that the most ignorant people are usually the most confident. That's called the Dunning-Kruger effect.)
You've never questioned this "information" because it was the first information you got on a subject. Plus it was probably delivered in a emotionally memorable way.
"First Information" Becomes Unexamined "Truth"
The first thing you hear about a subject is filed in your brain as fact. Especially when coupled with an emotional experience. It's how the brain works.
You put your little hand in fire and got burned, so you learned that fire is hot. That fact becomes hardwired to your brain—part of your sense of self. You're a smart primate who knows fire is hot.
An authoritative person speaking in a demeaning tone can have the same effect as a burn. A shaming tone programs people to accept information as fact.
That's how cult leaders and radio bloviators control their minions.
False information imprisons victims in a box. Unless they're somehow shocked into questioning why they believe the misinformation, they can't escape.
I started reading about this after a bizarre incident working in a bookstore. The owner made me shelve the collected works of Emily Dickinson in the Romance section. She insisted Emily Dickinson wrote "girly trash."
Nothing I said could change her mind, in spite of the fact she "adored" Emily Dickinson.
I finally figured out some uneducated, sexist moron must have shamed my boss for loving Emily Dickinson when she was young. So she had created a false belief that became hardwired to her brain.
If first time you hear about Emily Dickinson, you're told she's a major American poet, that's what you'll believe unless something big happens to dislodge that belief.
But if the first time you hear about her, an authoritative person declares that Dickinson's work is "girly trash" you'll believe that.
This belief becomes a part of "who you are." You will defend it as if you're defending your own body—until that lightbulb goes on and you say, "why do I believe that?."
It's Tougher than We Thought to Change Minds
Researchers have discovered that when confronted with facts that negate their unexamined beliefs, most people will double down on those beliefs, rather than consider changing their minds.
So maybe there was a schoolmarmish know-it-all in your first critique group who told you in a withering tone that only terrible writers use the word "was." She may have trapped you into the mindset that "was" is a taboo word.
You now believe that "everybody knows" using the word "was" is the mark of a bad writer. And you will continue to pass on that misinformation.
Unless you finally ask yourself why you believe this odd pseudo-fact, your writing can't escape that "box" you're trapped in. (For more on the "was" police—who changed a handy editing tip to an ironclad "rule"— see my post "Should You Eliminate 'Was' from Your Writing.")
People-Pleasers are Easily Trapped by Shaming Statements
People who strive to please all of the people all of the time are especially susceptible to accepting bogus beliefs without examining them.
If you have "people-pleasing" issues, when somebody makes a disparaging remark, the thing that has been disparaged may become taboo for you, even after the unpleased person has left the picture.
I had a friend who inherited her parents' house and immediately had the drought-tolerant  tam junipers-and-rocks landscaping torn out. But she couldn't afford to replace it. The house sat unlandscaped for years. When she tried to refinance, she couldn't, because tearing out the landscaping had reduced the home's value.
I asked why she had been so eager to pull out the perfectly fine landscaping. She said "everybody knows tam junipers-and-rocks are awful."
Turned out she'd once dated a landscaper who complained about the one-time fad for tam junipers.
"They're so 1970s," she said.
A few dates with an arrogant guy who made his money by pushing new landscaping trends—and this woman turned her home into a slum.
She was a prisoner of her unexamined beliefs in the importance of the opinions of people like Mr. Bad Date.
Writers fall into this trap all the time. Because your 9th grade English teacher had an attack of the vapors any time somebody ended a sentence with a preposition, you feel compelled to twist your sentences into verbal pretzels to avoid displeasing that teacher, even though she's been dead for twenty-five years.
Perfectionism is the Bully that Keeps you Locked in that Box
People who are prone to perfectionism are likely to be trapped by this kind of shaming.
I once had a roommate who was the worst housekeeper ever. In fact, he got evicted from every place he ever lived because of the squalor. When I moved in with him, I thought the mess was temporary (we were both actors in the middle of Hell Week before the opening of a big musical.)
But I was handy with a vacuum cleaner and a mop, so as soon as I moved in, I tackled the worst of the mess. Not scrubbing all the corners, but I tidied things up and cleaned the high traffic areas, to make the house liveable.
I thought he'd be pleased, but when he came home, all he said was "you didn't move the couch! I can tell you just vacuumed under it without moving it. And the drapes are still filthy."
I later found out his mother was a meticulous housekeeper. Because he couldn't clean the house to his mother's standards, he couldn't clean it at all. The only thing he could do was criticize people who did.
He was paralyzed by his perfectionism and his unexamined beliefs about what "cleaning" meant.
Creativity Wounds Create Unexamined Beliefs.
Some people long to write, but can never put pen to paper because of what Grant Faulkner calls "Creativity Wounds." He said that when we "put our souls into the things we create, and the world rebuffs us, or is outright hostile, the pain is such that it might as well be a flesh wound. In fact, it sometimes might be better to have a flesh wound."
Those wounds create beliefs we never examine for fear of opening the wound.
I think a man I once knew had that kind of wound.  When I wrote a story loosely based on an anecdote he liked to tell about his family, he dropped me in fury. I asked a mutual friend why, since I thought the guy would be pleased I'd paid attention to his story.
He wasn't, the mutual friend said, because he'd wanted to write it himself.
I pointed out the man had never penned so much as a haiku in his life, so the thought he might want to write fiction had never crossed my mind.
"But he's always wanted to be a writer!" the mutual friend said.
The man died recently without ever writing a word.
I wondered what overly critical teacher or peer had wounded his young creative self. The pain had given him beliefs that stopped him from ever fulfilling his dream.
Writers have to be willing to write imperfect, sh**y first drafts, or they'll end up like my poor friend.
Allowing Yourself to Play Can Help Confront Unexamined Beliefs
My late friend probably had more unexamined beliefs than most people, but we all have them. I know I have many. But I used to have more. (Therapy helps.)
The first step to freeing yourself from them is acknowledging they exist. And they may have been caused by "Creativity Wounds" you need to examine, so be brave.
The next step is allowing yourself to play and have some fun. Put yourself back in the child-like state of mind you had before you were fed all those limiting beliefs.
This is why NaNoWriMo works for a lot of new writers. It forces them to put the stuff on paper in a playful way, joining in a national game. So those perfectionist pre-programmed beliefs are overridden.
NaNo wasn't around when I was flailing around with my early writing. And I'm not sure it would have helped, but it might have. One of my unexamined beliefs had to do with genre.
My parents were both literature professors, so I had unexamined beliefs about literary fiction being superior to genre fiction. This kept me writing and rewriting the same unpublishable literary novel for years.
Finally a friend I trusted pointed out that I was always reading mystery novels and funny women's fiction. Why didn't I write books like that?
Bam. I had to examine why I believed I had to write literary fiction. And realized I didn't.
When I finally let myself write a funny mystery, my writing flowed easily.
Some writers get stuck in the wrong genre for years because of unexamined beliefs in its superiority or their own lack of range.
Have You Chosen the Wrong Medium Because of Unexamined Beliefs?
Others might not actually want to write at all. Maybe their creativity would be better served in another medium entirely.
I was in a critique group with a man who struggled with every word, and descended into despair when he got less than glowing reactions to his long, conflict-free pages of description. Finally he dropped out of the group.
A couple of years later I ran into him at an art opening—his. He had become an accomplished painter. With all those tedious description passages, he'd been trying to paint with words. But it turned out all he needed was a brush.
He told me he'd always thought he "ought" to write and that painting was "just playing." But writing had become so painful, he'd decided he might as well play. That led to him becoming a painter who made a lot more money than most writers do.
Like me, he had decided to take the easy route and "have fun." And it turned out the easy path was also the way out of the box that trapped him.
Having fun and letting yourself play can be the key to unlocking that box and freeing your creativity from the beliefs you don't even realize are keeping you trapped inside.
by Anne R. Allen (@annerallen) October 20, 2019
What about you, scriveners? Do you think you may be trapped in a box? Have you discovered unexamined beliefs that kept you boxed in? What pushed you to examine those beliefs? Have you ever helped friends see the beliefs that were holding them back? Did NaNoWriMo help you get past your unexamined beliefs about writing?
BOOK OF THE WEEK
ONLY 99C/99p Countdown Sale!! 
HOW TO BE A WRITER IN THE E-AGE: A SELF-HELP GUIDE
co-authored with NYT 3-million-copy seller ,
only 99c/99P in the US and UK for five days
October 19-October 25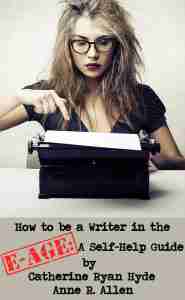 Friendly, down-to earth advice about how to navigate the treacherous waters of today's publishing world.  You'll see a lot of books out there about how to write, and a whole lot more that promise Kindle millions. But this book is different. It helps you establish a professional writing career in this time of rapid change—and get answers the questions so many writers are asking
OPPORTUNITY ALERTS
Sixfold Poetry and Story Contest. 2 prizes of $1,000 each and publication in Sixfold for a group of poems and a short story. Submit up to 5 poems (no more than 10 pages) or up to 20 pages of prose with a $5 entry fee by October 24.
The Tucson Festival of Books Prizes. 3 prizes of $1,000 each for poetry, fiction, and creative nonfiction. Winners can take part in a panel at the Tucson Festival of Books and attend a workshop on the University of Arizona campus in March 2020. Submit 5 poems, a short story, essay, or excerpt from a novel or memoir of up to 5,000 words. $20 fee. Deadline October 31.
The John Steinbeck Award. for short fiction. Fee $20 . Submit short fiction up to 5000 words. Prize $1000 plus publication in Reed Magazine. Deadline November 1.
DISQUIET LITERARY PRIZE $15 ENTRY FEE.  For writing in any genre, by a writer who has not yet published more than one book. 3 winners will be published in Granta.com (fiction), NinthLetter.com (nonfiction) or The Common (poetry). Grand prize winner gets a full scholarship, accommodations, and travel stipend to attend the tenth annual DISQUIET International Literary Program in Lisbon (June 21 – July 3, 2020.) Deadline January 3, 2020.
7 PUBLISHERS FOR MEMOIRS! You don't need an agent. From the good folks at Authors Publish