Writing a novel synopsis doesn't have to be a miserable chore.
by Anne R. Allen.
I have yet to meet a writer who enjoys writing a novel synopsis. Unfortunately, we all need to write them.
Yes, even self-publishers.
I sometimes see people in writing groups and forums who gloat when there's a discussion of how to write a synopsis. They say "Haha! I don't have to learn to write a novel synopsis because I plan to self-publish!"
Think again, indies. It's not just agents and publishers who will ask for a synopsis of your novel. Reviewers, bloggers, and bookstore owners usually want to see a short synopsis, too.
And that "product description" you need to write for online retailers? That one that will make or break your book sales?
That's essentially a novel synopsis without the ending.
Yeah, I know you didn't want to hear that.
I've been writing synopses for decades and still dread them. But not as much as I used to, since I learned a couple of keys to simplifying the process.
First: Always Check Individual Website Guidelines.
The basics of a novel synopsis are standard: Write in the third person, present tense, and give the bare bones of your story including the ending. 
Format it like a manuscript: 1″ margins, use TNR or other standard font, and indent the first line of each paragraph.
Generally, if it's a one-pager, you can single space. if it's any longer, double space.
But whether  you're querying agents, publishers, or reviewers, you want to be sure to check the individual websites to see exactly what kind of synopsis each one requires. The specifics may vary even between different agents in the same agency.
Two decades ago, the typical novel synopsis for a literary agent or publisher was a 400-500 word, single spaced one-pager.
But these days, many agents prefer a shorter one of about 250 words (one page, double-spaced.)
A few old-school small publishers still ask for hefty multi-page tomes. Sometimes they'll ask for a multi-page outline, which is not the same as a synopsis. An outline is a chapter-by-chapter summary of events. Bo-ring. Luckily not many publishers ask for outlines of novels these days.
I've heard a number of agents say they don't even pay much attention to a novel synopsis. They mostly read it to make sure that highlander zombie vampires from a galaxy far, far away don't suddenly appear in chapter 25 of your cozy mystery.
And they want to know if there's an actual, satisfying ending.
But some agents and editors read a synopsis carefully. I know reviewers do. And as a reader, I always read the product description of a book before buying. So you do want that synopsis to be polished and enticing.
I know. Yikes. It's like taking your baby and squashing it into a horrible little box that hides all its beauty and uniqueness and sparkle. But…
Hack #1: Start by Writing Your Pitch
You'll find it much easier to write a synopsis if you start with an "elevator pitch" first.
That's right: work on a short version first. Imagine you're pitching your book to a film producer. Get all the sizzle you can into those few words.
Then expand from there. But write the good part first. What makes your book unique and exciting?
Write that down.
Now write your pitch. So what's a pitch? It's a sentence or two that sums up the core of your story. I've got some suggestions on how to write it below.
Once you've got that pitch down, you can expand it to a 250 word synopsis.
This is a hack I learned from my friend Catherine Ryan Hyde, who has sold 3 million books on Amazon in the past five years, and is the author of the iconic novel Pay It Forward. Here's what she says in our book, How to Be a Writer in the E-Age: A Self-Help Guide
"You were worried about boiling 104,000 words down to 250. Weren't you? Now you're not boiling down…you get to expand it! You've got some elbow room, now! Boy howdy! You get to fill up a whole damn page!"
Try it. I'm not pretending it's going to be easy, but Catherine's method makes it less painful.
3 Formulas to Help You Write That Pitch
1) Try a simple fill-in-the-blanks with this template
When______happens to_____, he/she must_____or face_____.
"When the adopted son of Kansas farmer discovers he's a strange visitor from a another planet who can leap tall buildings at a single bound, he must save the world, one clueless girl reporter at a time. He's thwarted by an assortment of megalomaniacs armed with green rocks. But he must use his freakish powers to fight for truth, justice and the American way, or see his adopted planet destroyed like his native planet Krypton."
2) Or try Kathy Carmichael's clever "pitch generator".
It's been around for a long time, but it's still fun, and amazingly useful.
Here's her generator's pitch for The Wizard of Oz.
The Wizard of Oz is a 54,000-word fantasy novel set in the magical land of Oz. Dorothy Gale is a Kansas farm girl (what is it about Kansas?) who believes a legendary wizard can help her get home. She wants to return to Kansas to be with her Auntie Em, but can't because her transportation vehicle is sitting on a dead witch, she's being attacked by nasty flying monkeys, and her companions are cowardly, heartless, and brainless.
3) Or you can use the late Miss Snark's famous "Hook me up" formula
X is the main guy; he wants to do_____.
Y is the bad guy; he wants to do_____. 
They meet at Z and all L breaks loose.
If they don't resolve Q, then R starts and if they do it's L squared.
What a Novel Synopsis Needs
Now you're ready to expand that pitch into a synopsis.  So you get to add stuff. But not too much.
Here's what you want to get in there:
Sizzle. What makes your story unique
Setting
Main conflict of the primary story arc
Protagonist's goal
Antagonist
The stakes
Tone: the synopsis should echo the tone of the book. (For tips on tone, see below.)
What a Novel Synopsis Doesn't Need
A list of events. "This happens and then this and then this and then this" will snoozify any reader.
Statement of theme. I know you're tempted to explain that this is all a metaphor showing man's inhumanity to man and the evils of a consumerist culture, but resist. You're just telling the story here.
Advertising copy. Self-praise is really tacky in a synopsis.
Subplots: keep to the main storyline.
Secondary characters. Only mention the essential characters.
How to convey the tone of your book.

1) You can make it funny:

"When the romantic adventures of a southern belle are interrupted by an icky war PLUS her goody-two-shoes-BFF steals her boyfriend, Scarlett whips up a fabulous outfit in order to seduce Mr. Wrong, who in the end, doesn't give a damn." 
2) Or punch it up by emphasizing high-stakes conflict:
"With his life in constant danger from the monstrous carnivore Snowbell, young Stuart must fight for his life, and prove once and for all whether he is a man or a mouse."
3) Or go for the thrills by emphasizing the most dangerous scene:
"Marked for death along with his companions, a toy rabbit must learn to cry real tears in order to save himself from being thrown into a burning pit by the boy loves."
Hack #2: Don't Wait Until You've Finished the Book.
That's right. I'm telling you to write a synopsis while you're still working on your rough draft. Write one after the first third. Try another when you hit two-thirds. And another after you've written "the end."
If you're a pantser, these three documents will probably be wildly different.
THEN: after your editor or beta readers have had their way with the manuscript and you've suffered through bunch of rewrites, try writing that final synopsis.
It may bear absolutely no resemblance to your initial effort, but it will be easier to write because you started early.
I promise.
Yes, we all hate writing the dreaded novel synopsis, but these few words are as important as any you'll ever write. So sit down and write a pitch, build on it and see what happens.
by Anne R. Allen (@annerallen) July 1, 2018
What about you, scriveners? Do you dread writing a synopsis? I'd love for readers to try the pitch generator and put your pitches in the comments.
And Anne also has a new post on her book blog. As part of her poison series, she talks about the serial poisoner who was just arrested in Germany for the poisoning of 23 of his co-workers. Why do you think he might have done it? 
BOOK OF THE WEEK
No Place Like Home: Camilla Randall Comedy-Mystery #4
(But it can be read as a stand-alone)
SALE! 99c on All the Amazons until July 13th
Wealthy Doria Windsor is suddenly homeless and accused of a murder she didn't commit. But Camilla, with the help of a brave trio of homeless people, the adorable Mr. X, and a little dog named Toto, is determined to unmask the real killer and discover the dark secrets of Doria's deceased "financial wizard" husband before Doria is killed herself.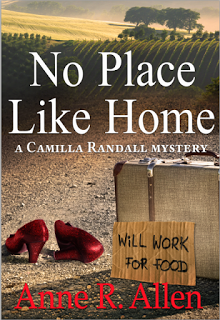 "A warp-speed, lighthearted comedy-mystery"…Abigail Padgett
"A fun, charming novel about the rich and less so" …Karen Doering
"A cross of dry British humor and American wackiness, and it all adds up to a fun read." …Deborah Bayles.
"It's comedy about a dark topic – homelessness – and it succeeds without ever descending into tasteless insensitivity, or tipping over into sentimentality."…Lucinda Elliot
And NO PLACE LIKE HOME IS ALSO  AN AUDIOBOOK!!
Narrated by award-winner C. S. Perryess and Anne R. Allen (as Camilla)
Nearly 8 hours of hilarious entertainment!Only $1.99 if you buy the Kindle ebook
OPPORTUNITY ALERTS
ARTS AND LETTERS UNCLASSIFIABLES CONTEST Have a piece that doesn't fit in a genre? Or it's not quite poetry OR prose? This the contest for you! $8 ENTRY FEE. This contest is for unclassifiable works: works that blur, bend, blend, erase, or obliterate genre and other labels. Works of up to 5,000 words considered. $500 prize. Deadline July 31, 2018. 
Masters Review Summer Short Story Award for New Writers. $20 FEE. The winning story will be awarded publication and $3000! Second and third place stories will be awarded publication and $300 and $200 respectively, plus review by some big name NY agencies. Up to 7000 words. Deadline July 31.
ORISON BOOKS ANTHOLOGY $15 ENTRY FEE. They're looking for spiritual/literary poetry, fiction and essays for their next anthology.  $500 cash prize as well as publication in The Orison Anthology. Submit up to three poems, one work of fiction or nonfiction up to 8,000 words. Deadline August 1, 2018
UNO PRESS PUBLISHING LAB PRIZE For book-length fiction. Any genre. $18 ENTRY FEE. The University of New Orleans Press is looking for full-length fiction manuscripts, either novels or short story collections, for the fourth annual Publishing Lab Prize. The selected author will receive a $1,000 advance on royalties and a contract to publish their winning manuscript with UNO Press. Deadline August 15, 2018. 
Stories That Need to be Told Contest from Tulip Tree press. $20 entry fee.. $1,000 prize for a poem, a short story, or an essay that "tells a story." Also publication in the anthology, Stories That Need to Be Told. Up to 10,000 words. Categories: Passion, Depth, Humor, Love. Deadline August 26.
WOW! WOMEN ON WRITING SUMMER FLASH FICTION CONTEST $10 ENTRY FEE.  Short fiction, any genre : 250 and 750 words. First Place: $400, publication, interview, and $25 Amazon Gift Certificate. Many other prizes. Deadline August 31. 
Glimmer Train Fiction Open. $3000 prize for a short story. Second prize $1000. Entry fee $21. Any subject or theme. From 3000 to 20,000 words Deadline August 31