Everybody listens to podcasts, but do they sell books? 
by Allison Tait
Podcasts. It seems as though everyone is talking about them, listening to them and starting one. But should you?
Australian author Allison Tait is the co-host of the popular So You Want To Be A Writer podcast. She's a multi-genre writer with 25+ years experience across multiple facets of writing and publishing.
She's also written the bestselling middle-grade epic adventure series The Mapmaker Chronicles, recently published in the US.
In this post, Allison gives us the ins and outs, and pros and cons of starting your own podcast, as well as tips for securing interviews on other people's podcasts.
Mostly, though, she looks at the big question: will a podcast help you sell books?
5 things you need to know before you start a podcast
A podcast takes time – a lot of time
Consistency is everything
A podcast is a marathon, not a sprint
Never forget who you're talking to
Building an audience takes time – a lot of time
How to get started
The number one piece of advice that writers always give when asked for their number one piece of advice is: read. It might make you roll your eyes, but it often amazes me how many aspiring authors I know who don't actually read books. If you don't know what else is out there, how can you ever hope to know if what you're doing is up to scratch, on target or individual enough to stand out in a crowded market?
The same is true of podcasting.
The best thing to do if you're considering starting a podcast is to listen to a whole bunch of podcasts. (Here are 20 to get you started.)
What kind of podcast will you do?
Elizabeth Gilbert's Magic Lessons focuses on creativity. The Creative Penn has an indie publishing slant. So You Want To Be A Writer is aimed squarely at aspiring writers. The Taylor Stevens Show is very much an author podcast, focusing on writing craft and publishing.
When you're considering the direction of your podcast it helps to keep one important question in the back of your mind:
Why are you doing this podcast?
If your only answer to that is 'to sell more books' and you plan to only discuss your own books on the podcast, you might want to reconsider at this point. A successful podcast is one that people will subscribe to so that they never miss an episode.
How many people (apart from your mum) will sign up to listen to you talk only about your books?
Answer: not many (hi mum!).
So you need to look beyond 'sell more books' as a good reason to start a podcast.
What format will your podcasts take?
When you begin a podcast, it's like creating any other kind of content – consistency is key. By consistency, I don't simply mean the frequency with which the podcast will come out (though this is important.) You also need to think about the format of your show.
Regular listeners like to know what to expect with your podcast. If you talk about fishing one week, and then rant about the government the next, they will quickly lose interest.  Unless there is a common thread that runs through each show.
The easiest way to create this feeling of familiarity is to follow a similar format each episode. With "So You Want To Be A Writer", Valerie and I keep to a general outline: We catch up with each other, then discuss news and information from the world of writing. Valerie shares her 'word of the week' (an absolute highlight as regular listeners will know.) After that have a competition or giveaway, there's an author interview, and then we wrap up.
It's not set in stone, but it sets a rhythm for the podcast. That means we know what we need every week to make each segment work.
So how do you decide what format works best?
It depends on your goals for your podcast.
Maybe you want to connect with other authors and build a network? Then consider interviewing other authors for your show.
Maybe you want to show off your expertise in a particular area (psychology, archaeology, change management, etc) that relates to your books? Think about how you can use the podcast to do that. Will you choose to riff on a single related topic each week?
Perhaps your expertise is all in writing? How can you format your show to do that in a sustainable way.
But there is one more piece of the podcast pie to think about before you ever pick up a mic. Both the kind of podcast you'll do, and the format it will take, are governed by just one question…
Who is the audience for your podcasts?
Who do you want to talk to?
I know what you're going to say here: d-oh, readers. As bloggers will know however (and I've been blogging for eight years, so I know…), readers don't always walk around with READER emblazoned on their t-shirts.
They can be tricky to identify and even trickier to corral.
Which is not to say that a podcast can't help you lure them in. With SYWTBAW, the emphasis is definitely on writing. But that's not to say that I am not using examples from my own writing life all the time to illustrate points. Given that I am writing new books all the time, this gives me a lot of opportunities to let people know what I'm doing.
And I know that listeners have gone out and bought The Mapmaker Chronicles series, in the US, in Australia and in the UK, after hearing me discuss it on the podcast.
How do I know this?
Because they tell me. They tweet shelfies of the books when they buy them, or review the books on Goodreads. They join my Facebook page and leave comments on my blog.
Podcasting is one of the most intimate, direct and effective ways of building community that I have experienced, perhaps because listeners feel they know you. After nearly 200 episodes of my voice in their ears, they probably do.
So think about who it is that you're hoping to reach, and then talk to them, not at them.
How to start your podcast
At the bare minimum, starting a podcast requires a computer with a built-in microphone and internet access. But, as with most things, the more you put in, the more you get out of it.
With a podcast, audio quality is key. Val and I record our podcast via Skype (because we are based in different cities) and use audio hijack to capture the audio in multiple tracks to make editing easier. You might like to use Audacity, Adobe Audition, or even Garageband.
We use Microsoft Lifechat USB headset mics to keep background noise to a minimum. You might prefer a standing mic with a pop filter, and there are many different options of different quality and price point.
Despite our best precautions, editing, and volume stabilisation, every once in a while our audio can be irregular – and listeners don't hold back in letting us know.
So it's worth investing in a good-quality microphone, considering how you're going to manage external interviews if you plan to have them, and whether or not you plan to edit the audio yourself or get someone else to do it (you can find services on Fiverr and Upwork.) Ask for recommendations.
Other technical considerations include finding a podcast host (outside of your website hosting) – check out LibSyn and PodBean for starters – deciding if you want intro/outro music and, of course, naming your podcast and creating some cover artwork.
Costs for podcasting can range from 'not much' to 'heaps', depending on how much you outsource, but the biggest cost for any podcaster will be time.
Do you have time for this?
On average, the SYWTBAW podcast takes at least three hours a week for me. That includes recording the actual podcast, sourcing topics, sourcing guests, recording interviews, and promoting the podcast via social media.
You will note here that I didn't mention editing, creating artwork, uploading the podcast to the aggregator, transcribing interviews, producing show notes or any other of the sundry backend details that go with producing a podcast. This is because my co-host Valerie Khoo is founder and director of the Australian Writers' Centre and it is her team that takes our recordings and turns them into a polished podcast.
Which is fortunate, because, frankly, I don't know that I would have time to commit to a podcast without their amazing and excellent help.
So if you are considering starting a podcast, you must factor in a lot of time.
There is, however, another way.
Be on someone else's podcast
As you can see from the above, a weekly podcast is a hungry beast, requiring a lot of content. For the most part, Valerie and I seek out our own author interviews, in line with our interests or topics we really want to explore. Which is not to say that we do not read the multiple press releases that come our way regarding new books, and consider those authors for our show.
At the end of the day, however, our duty is to our audience and we're looking for guests who can add something different or interesting to our broad topic of writing.
So, if you're interested in being a guest on a podcast – any podcast – you must pitch yourself to the hosts of the show. To do this, think about what you can add to the topic they're discussing.  This is not just about you selling books, it's about you adding value to someone else's product – a show they've put a lot of time and effort into building.
With us, everyone we interview has written a book. So given we've now done around 200 episodes, we've covered a lot of territory.
What will you bring to our community if we interview you?
The best way to find that out is to listen to some earlier episodes. Find out how we interview, what we talk about before and afterwards, and pitch us in the sweet spot that says 'look what I can share with your audience'.
Then, be ready to be interviewed. Remember that good quality audio is key and ask your podcast hosts the best way for you to help them achieve that. We prefer to interview via Skype with a headset mic as it helps to stabilize the sound, but other podcast hosts may have different requirements.
And finally, the biggie. Do people buy books because they listen to podcasts?
I know this is what you came for and I've made you wait a very long time to get here, haven't I?
I'll try to make it worth your while. Will a podcast help you sell books?
The answer, in my experience, is yes.
Via a straw poll on my Facebook page, I asked our podcast community two things: why they listen to the podcast, and have they ever bought a book as a result.
Of the 62 responses I got (only a small fraction of our listeners, but time was of the essence) 66 per cent had bought books (mine and/or guest authors) as a direct result of listening to the podcast. Another 10 per cent had borrowed books from the library after hearing about them on SYWTBAW.
The main reason respondents gave for listening to the podcast can be summed up in one word: community.
Writing is a lonely business and the podcast allows aspiring authors to feel that they are not alone as they put in the hard yards of creating a manuscript.
Community. It is a lovely word and, while it takes a lot of work, a lovely feeling to have created something that provides pleasure, information, and a sense of belonging to so many people.
***
by Allison Tait (@altait) September 10, 2017
What about you, scriveners? Have you ever recorded a podcast? Were your sales affected? Do you listen to podcasts? What podcasts do you find most compelling?
You can find out more about Allison Tait and the So You Want To Be A Writer podcast (and community) here.
BOOKS OF THE WEEK
MG Fantasy Series by Allison Tait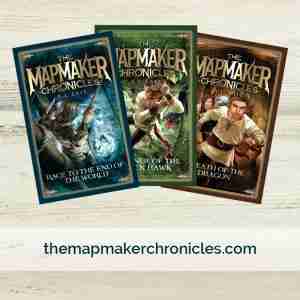 "Mystery, monsters, murder and mayhem all feature in this action-packed adventure that will appeal to boys and girls alike." Kids' Book Review
OPPORTUNITY ALERTS
The Golden Quill Awards. The theme is "Liberation." $500 first prize. Short fiction, poetry and personal essay categories. Up to 1500 words for prose, 40 lines for poetry. Entry fee $15. Deadline September 15, 2017. 
REAL SIMPLE good read essay contest $3,000 prize! There is no entry fee, and the word limit is 1,500 words. Limit one essay per person (US only.) Deadline September 18, 2017 
CONSEQUENCE MAGAZINE WOMEN WRITING WAR AWARD $10 ENTRY FEE. The contests are open to women and those identifying as women. Entries must capture the nuances of the cultures and consequences of war; the topic is not limited to military matters, but includes social, political, and cultural subjects. Prize is $250 and publication. Deadline October 1, 2017.
WRITERS AT WORK FLASH FICTION CONTEST $10 ENTRY FEE. Prize is $300 and publication on the website. Submit a flash fiction piece up to 1,000 words. Deadline October 15, 2017.
Writer's Digest Popular Fiction Awards.  Write Romance, Thriller, Crime, Horror, Science-Fiction, and Young Adult? Short fiction: 4,000 words or less. $20 fee. Grand prize $2500. Deadline October 16th, 2017
Looking for editors, designers, marketers? Writers Boon.com is a FREE discounted marketplace for writers where editors, designers, course providers, book marketers and you get a 15% discount or more on their services. Writers Boon also helps you pump up the buzz like a pro with 3 unique and powerful book discoverability tools that get you out there. 
20 Literary Journals that publish new writers. Compiled by the good folks at Authors Publish magazine.
7 Publishers that take unagented memoir. from Authors Publish.