Novel genre isn't always obvious, even to the author.
While we're writing, (especially during NaNoWriMo) we just let the inspiration pull us along. But there comes a point where we have to decide where our work fits in the great bookish ecosystem – its genre and the age of its audience. Writing coach and novelist Roz Morris outlines how to find the best fit.
Roz Morris has published nearly a dozen novels and achieved sales of more than 4 million copies – and nobody saw her name because she was a ghostwriter.
She is now proudly publishing as herself with two acclaimed literary novels, My Memories of a Future Life and Lifeform Three (longlisted for the World Fantasy Award and finalist in the People's Book Prize).
Roz has also been a writing coach, editor and mentor for more than 20 years with award-winning authors among her clients. She has a book series for writers, Nail Your Novel (and a blog also called "Nail Your Novel", and she teaches creative writing masterclasses for The Guardian newspaper in London. Find her books here .
Where does My Book Fit on the Shelf? 
by Roz Morris
Here's a typical question I get from writers.
I'm not sure which category my story would fit into. I had originally intended it to be for 9-13-year-olds (my protagonist is 13), but realised I was dumbing down my language in an attempt to suit the reading level. So I decided to write without thinking about age groups or categories. But now I'm close to the end, I still don't know how to categorise it. Is it young adult? Literary? Teen? Paranormal? Even, is it adult?
There are many factors to consider here, so let's tackle them one at a time.
Pre-Teen (MG), YA or New Adult?
Age of protagonist
In adult fiction, protagonists can be any age. But when you write for non-adult genres, readers are more fussy. They usually like the main character to be like them but a little bit  older – they want the sense of testing a slightly more adventurous world, but not one that's so ahead of their development that they can't connect with it.
On the other hand, a 13-year-old main character doesn't mean you're writing a book for 13-year-olds. You might easily have a child or teenage point of view in a book for adults (Henry James's What Maisie Knew; Toby Litt's Deadkidsongs; Michael Frayn's Spies).
Language
Certainly if you're writing for children, the language has to be appropriate for their age. Indeed, some publishers have series that are specially aimed at reluctant readers – the stories are shorter, the typesetting is bigger and the language is crafted for simplicity. If you enjoy writing this way, that might be a market to consider.
But is it natural for you to write that way? If you feel hamstrung and frustrated by the idea of simplifying your style, this might be a sign that you won't keep it up for the whole book. But if it does suit you, you won't feel like you're dumbing down. And children's fiction doesn't have to be sparely written; there's plenty that's crafted with lush language – Sally Gardner's historical fantasy fairytale I Coriander; Jeanette Winterson's Tanglewreck.
The best way to tell if you're a good fit for an age group's style? Read some recent popular releases. Make sure they're recent, too – publishers frequently change their minds about market requirements. Many titles that have become children's classics wouldn't be published for the first time today.
Emotional Development and Interests
But age ranges aren't just about language or the age of the protagonist. The real difference is the emotional development and interests of the audience.
This is the true distinction; pre-teens are interested in different things from teenagers and YA, and books for adults are different again.
So to work out your age range, identify the most significant trials the characters go through and the way you've used them in the story. Are you exploring the trials of a particular time of life, or are you looking at humanity in a wider sense?
Stories for pre-teens will be more adventure based, or perhaps about hauntings and mysteries, or friendships and good/bad people. Stories for teens might include any of those elements, but they will be more specifically about the trials of that very turbulent time of life. You could even take a story event (eg a sea voyage) and make entirely different books out of it, depending on the age you write it for.
Take Geraldine McCaughrean's White Darkness, which is about an expedition to the Antarctic with a mad, exciting uncle. If it was written for pre-teens, the biggest issues would probably be the survival situation. But the most compelling trials in White Darkness are emotional, about maturing in outlook – disillusionment with a family member, learning who you are, dealing with relationships. Really, it's a story of growing up, not of polar exploration. That's what makes it a teen book.
New Adult
There's also another age category – new adult. This covers the next phase of life after YA – 18 to 25. Literary agent Carly Watters describes NA as a phase of 'firsts' –  starting university, getting a job, living independently and so on. Both YA and NA stories tend to be  intense and passionate, with high stakes and strong desires. Because that's what life is like in those years.
But again, it's not quite as clear cut. There are novels whose characters are in the new adult phase of life but the novels aren't new adult. The difference is the level of sophistication and their emotional focus – both YA and NA are narrated from a perspective that fits with the protagonist's age (indeed, they're usually first person). Their general preoccupation is with learning to handle this phase of life and how new and mind-blowing it is.
But you might write novels that deal with NA-age characters in an NA type of scenario… that aren't for the NA audience. Examples are Barbara Vine's A Fatal Inversion – a psychological thriller about a group of students who spend a summer in ramshackle house.
Donna Tartt's The Secret History is a whydunit about a group of students who commit murder. Both these novels have more complexity and nuance than NA titles. Although the characters' behaviour and emotions are raw because they're young and inexperienced, the novels are about human behaviour at any age.
Is My Novel Genre or Literary?
Literary or paranormal?
And so to the second half of my writer's question. Oh my, you've come to the right place! My debut novel, My Memories of a Future Life, has paranormal ingredients – regression by hypnosis to other lives – but it isn't paranormal.
This is because the paranormal elements are not my main focus.
My curiosities in the story are despair, hope, how we live, how people heal themselves and each other. I'm using ideas of reincarnation to create unusual pressures in the lives of my characters, but reincarnation is not my subject. My subject is the people and how these experiences are the making of them. Indeed, the paranormal element might even be psychological – I leave that to the reader to decide.
This approach would probably annoy a fan of paranormal fiction.
Paranormal fans want to lose themselves in a world where the paranormal definitely exists and provides the main entertainment and intrigue. Of course, they also want well-drawn characters with compelling arcs, good writing, and innovative twists. I'm not talking about writing to a formula. But they want the paranormal ingredients to be true and real in the world of the story. That's what they enjoy.
Historical or Paranormal?
Here's another example. I recently edited a novel set in a time of historical conflict, but it's literary, not historical. Why? The emphasis is more on the themes and the people than on the historical period; the period is merely a set of circumstances that give the characters their challenges.
Let's consider science fiction. The Time Machine by HG Wells is definitely science fiction – the writer's chief curiosity is worlds and societies. What about Audrey Niffenegger's Time Traveller's Wife? I'd say that's not science fiction at all; more of a literary, fable-type romance.
Recently, Damien Walter wrote about how we need a new term for novels like The Time Traveller's Wife – stories that are mostly rooted in our real world but have a single fantastic idea or a slight adjustment to our usual laws of physics.
He called it 'transrealism'. I don't think it's yet on any bookseller's genre lists, but it emphasises how these stories are on a limb of their own – they don't fit with traditional science fiction or fantasy – or even magical realism – but they're also distinct from straightforward contemporary fiction. The piece on Transrealism is here.
Can a Novel be Literary as well as Genre?
As we can see, the boundaries are not always clear. In a sense, all writers are on a spectrum – between genres, and in terms of literary qualities. Ray Bradbury's novels are generally science fiction and transrealism – but they are also metaphors that unwrap the human condition.
Or take Thomas Harris's first Hannibal novel, Red Dragon. It ticks all the boxes for a serial killer thriller (with bizarre and disturbing murders, characters in physical and mental jeopardy) – but the murderer is drawn with a sensitivity and sophistication that pulls it into literary territory.
Just when you thought it was clear.
Am I limiting my audience by pigeonholing myself?
Aha. The age-old question. Most of us hope our books will be enjoyed by everyone. But few books are. One person's Marmite is another person's unspeakable slime. As we see from the arguments above, a paranormal fan does not like the same things that a psychological fiction fan likes. And this is why we figure out our genre – to find the people whose tastes are a match for ours.
Which are you?
So if you're still puzzled, how do you tell which category and age group you belong in? By reading good examples. Some genres will be close together – thriller and suspense and spy novel and crime all need a high level of danger, a relentless pace, innovative surprises and tension.
Some genres are developing their own sub-niches – novels about the armed forces by former soldiers; Nordic noir; cyber-anything. Read, read, read to find out where your particular flavour fits.
To sort out where you are on the literary/genre scale, read books in the genre AND literary or contemporary fiction that uses elements of that genre. Look particularly at the ending. For instance, your story might feature a murder. Is your aim to discover the murderer and bring them to justice? (You might be crime, whodunit, cosy mystery.)
Or are you more interested in, for instance, examining the fallout among a family? You might do both, of course, but the genre novel will have definite requirements for the ending, whereas the literary novel can be more open. It might not provide answers; instead, it might send the reader away with questions.
What about age groups? Where do you naturally fit? You fit where your interests are. If you're wavering between children's, teen or adult, read books for different age groups. Which treatments and approach pushed your buttons, gave you the most satisfaction? The odds are, that's what you'll strive to write.
by Roz Morris (@Roz_Morris) November 13, 2016
***
What about you, scriveners? Do you have trouble categorizing novel genre? Were you unsure of how to categorize your work when you started out? (I sure was!) Do you have any questions for Roz? 
For more on pinpointing genre, check out Ruth Harris's post, KNOW YOUR GENRE
BOOK OF THE WEEK
There's more in-depth discussion of plot and genre in Writing Plots With Drama, Depth & Heart, Nail Your Novel 3.
What keeps a reader curious? It's the story. You might have a dazzling prose voice and plausible characters, but if they don't do anything, the reader is likely to lose interest.
So where do you find story ideas? How do you make them into a captivating read?
What's your personal vision? Do you know what genre you are best suited to write? What is literary fiction and how do you write that? How will you give your book depth without seeming preachy or bringing the plot to a standstill?
What are the hidden structural patterns that ply the reader's emotions, regardless of your genre or style? How can you use them with originality? How should you begin and end? What should go in the middle? Where should you play your best twists – and what should they be? How can you write each scene so it holds the reader's curiosity?
If you want to write a story that breaks with convention but still keeps readers riveted, how do you do it?
Whatever type of novel you want to write, this book will show you, in down-to-earth tutorials, games and brainstorming exercises.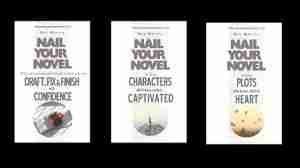 OPPORTUNITY ALERTS
Payton James Freeman Contest for Creative Nonfiction. FREE $500 prize and publication in The Rumpus plus public reading at Drake University. Up to 3500 words. Theme is CHANGE AND CHANGES. Deadline November 21.
Mid-American Review Story and Poetry Contests. $10 fee $1000 prize each contest. Prestigious. Story up to 6000 words. Up to 3 poems for poetry contest. Deadline November 30.
AUSTIN CHRONICLE SHORT STORY CONTEST FREE $1500 in prizes. 2500 words or less. Deadline December 11.
GEMINI MAGAZINE POETRY OPEN $5 ENTRY FEE.  Grand prize $1,000. Second $100. Hon. mention $25.  Publication in the March issue of Gemini. Open to any form of poetry. Poems must be unpublished, but work displayed on personal blogs is eligible. Deadline January 3, 2017
Write Vignettes? Vine Leaves Journal is looking for vignettes as well as poetry, artwork and photography. Paying Market. Publishes twice a year. Submission fee $5. 
LitMag pays up to $1000 for short stories! $250 for poetry and short-shorts. They don't consider work that's previously been published either in print or online (including personal blogs.)
Grey Matter Press is looking for exceptional dark, speculative fiction for anthologies. Stories may be 3000-10,000 words.
MYSTERY AUTHORS! Here's a list of 15 small presses that specialize in mysteries and do not require an agent for submissions. It's compiled by Authors Publish Newsletter.
ROMANCE AUTHORS! A list of 31 small presses that specialize in romance and do not require an agent for submissions. Also compiled by the Authors Publish Newsletter.
25 PUBLISHERS YOU CAN SUBMIT TO WITHOUT AN AGENT. These are respected, mostly independent publishing houses–vetted by the great people at Authors Publish. Do check out their newsletter
The Wanderer: A Paying Market for poetry, book reviews and more: The Wanderer is a new monthly literary magazine.