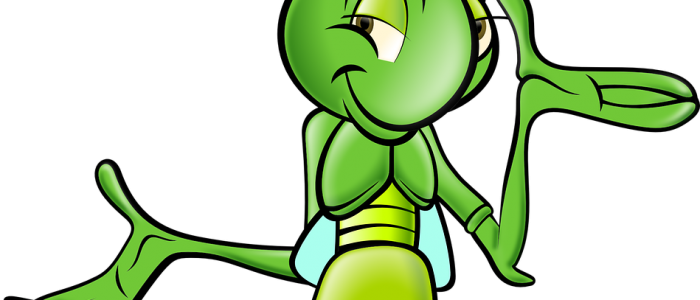 Is your author blog getting crickets?
by Anne R. Allen
You finally did it! You started your author blog. And put up your first post..and the second and third and fourth…
Now…you've got crickets.
Nobody's reading your deathless prose.
Sigh.
Don't give in to despair. It takes a while to build a readership. Usually a long while.
And please don't go off and try to follow all those rules for monetized blogs, as I wrote earlier this month. Monetized blogs have a different purpose from author blogs. They are all about the hard sell. An author blog is about making friends. So be yourself and be patient.
Plus there are some easy fixes that can bring in more readers.
I've been where you are. For the first six months I blogged, my followers consisted of my mom and my critique group (and I'm pretty sure they lied about actually reading it 🙂 )
When I was reformatting the blog for WordPress a few months ago, I found my journal entry from my blog's first anniversary in 2010. I was totally jazzed that day because I was up to 36 followers. A year later, I had nearly 1000. Things snowballed from there.
So what happened in that second year?
I learned some new skills and I learned to do stuff like:
1) Visit and Comment on Other Author Blogs
This is the part of blogging that most beginning bloggers skip. Thing is, nobody can follow you if they don't know you're there. You have to get out and meet the people who read blogs. Commenting on other, bigger blogs is the best way to that. Here's my post on how to comment on a blog.
You also want to comment on small blogs like your own in order to network. The people you meet on your "way up" may be the most important people you meet in your writing career. I know people who met their agents, publishers and editors when they were all "baby bloggers" beginning their careers.
Don't consider your blog socializing time to be "frittering" or time wasting. Your networking will bring big rewards. By visiting and commenting on other blogs, I was invited to submit to several anthologies that jumpstarted my career and got it going again after my first publisher went under.
2) Write Guest Blog Posts
Guest blogging is probably the most effective way to raise  your Internet profile quickly. I talked about how to be a blog guest back in May.
To recap that post: Once you've visited and commented on some blogs, look to see if they accept guest bloggers. If they do, they'll probably have a page with "guest post guidelines". Check them out. If you think you fit what they're looking for, send a query.
You query a blogger the same way you query any other professional in the industry. Be respectful, concise, and don't lie. Suggest a few topics you think might fit with the blogger's topic and tone.
If they accept you, make sure to follow all the guidelines make the deadlines. Once you go live, make sure you respond to any comments you get, promote the post on social media and be sure to thank your host.
My blog went from about 10 readers a week to 100s with one guest post. If you can get accepted by a major blogger, this can be the single biggest break in your career.
But don't limit your guest posts to major blogs, which are hard to break into. Guest posting for other authors in your genre can do a huge amount to bring interested readers to your blog.
3) Learn Blogging Do's and Don'ts 
Yes, you can blog about almost anything, but it turns out there are some tricks to choosing and presenting your content. Unfortunately nobody tells authors what they are. I learned by trial and error. Lots of error.  Here's some of the stuff I learned about author blogs:
Do put your name in the header. I did that by accident, but it turns out it was one of my better accidents. Authors are blogging for name recognition, so your name needs to be there to be recognized. If you've got a cutesy title now, just add your name. Change "Scribblings and Mutterings" to "Wendy Writer's Scribblings and Mutterings." Problem solved!
Don't use an author blog as a personal journal of your emotional ups and downs. You want your blog to express your your professional self, not your sweatpants-and-bunny-slippers self. Especially if you don't have a gift for humor. Remember everything you say is "in public" and the Internet is forever.
Do make sure it's interesting to somebody other than your family and that cricket. A great piece on Medium by Ayodeji Awosika this week summed up how to do that: write to entertain, educate or inspire.
Don't start one more "how to write" blog, because we've got gazillions of them, and they don't attract non-writing readers. Yeah, do as I say, not as I do. 🙂 I did avoid this with my new book blog.  It's okay to touch on the subject of writing. Just don't make it your main focus.
Do write stuff of that's of interest to readers you want to attract. Check the "also boughts" for your books (or books like yours) and find hobbies or other things that might interest your readers. Writing about your setting, research, time period, genre, etc, are all good choices. (Tip: Interviewing other authors in your genre is a great way to reach your potential readers!)
Don't post fiction exclusively. Fiction doesn't usually do as well as nonfic on a blog, so mix it up. If you want to post fiction or poetry, try it every fourth post or so. See how your readers respond. And don't compose a fiction WIP on your blog. Your rational self will thank you later. First drafts are sh**ty by nature. There's a reason we have editors. And some publishers will consider a blogged piece to be "published" so you may not be able to sell first rights.
Do be quirky and break a few rules. If your blog isn't like anybody else's, this is a GOOD thing. The best author blog out there may be Chuck Wendig's (warning: colorful language). Try being interactive with your reader the way Chuck is with his flash fiction contests and writing prompts. Try running some contests for bad first lines or zombie haiku or whatever. Be creative!
Don't start a bunch of blogs whenever you want to write on a different subject. One blog is plenty. It has lots of pages. Use one page for fiction and one for nonfiction and another for stories about your pet gerbil. If you start out with a fantasy blog and decide to write historical romance instead, you can change everything: header, theme, photos. Just keep the url.
4) Learn to Write Web Content
Unfortunately most of the info you find on writing Web content comes from marketers and tech people, not creative writers, and their stuff can be so riddled with jargon it might as well be written in Klingon.
So I'll try some people-speak here: learning to write for the Web is mostly unlearning. I had to unlearn a whole lot of what I was taught about writing prose back in the 20th century.
Use topic sentences and avoid cutting to a new paragraph until there's a new topic.
Make every word count.
Don't put a title on a serious essay that looks like a cheap tabloid headline.
Avoid repetition.
Don't break up a short essay with subheaders
Never offer an outline instead of an essay.
Substantiate your information with footnotes.
Unfortunately, the majority of people don't read on the Internet; they skim.
So throw out the rules you learned in school and use:
short paragraphs
subheaders
sentence fragments
bulleted lists
lots of white space
hyperlinks
keywords
I'll be writing more specifically about some of these skills in later posts. Subheaders are especially important.
5) Post Regularly
When I started out, I'd only post when I thought of it. Or when I needed a break from my WIP. Sometimes I'd post two or three times in a week. Sometimes I'd skip a couple of weeks altogether.
Why did it matter? That cricket probably wasn't watching the calendar all that closely, right?
Turns out it does matter. If people think, "It's Sunday morning. I'll go see if Anne has a post up"–and I DO, they'll start coming by every Sunday. If I don't, they won't.
This doesn't mean you have to write them at the same time every week. And certainly not every day. I still believe in Slow Blogging. Write posts when you have something to say and don't feel you have to fill the Interwebz with blather.
I write my posts when I feel inspired, then format them and have them ready to go.  You can program them to go live whenever you tell them to.
6) Write Grabby Blog Headers Search Engines Can Understand
Robots do not understand subtlety, nuance, humor, or irony. Alas.
But if the search engine robots don't get our headers, nobody gets to read our posts.
In a recent blogpost on blogging mistakes, Jane Friedman reminded us: "Google and other search engines don't understand metaphorical or clever headlines, so vague headlines can hurt the potential for your content in search."
So we now have to write for robots, not people. Annoying, but true.
We also want headers that make clickable Tweets that will snag a reader in the endless stream of content they can choose from.
So how do we do that?
a) Don't be Generic.
"An Interview with…" Isn't going to grab people unless it's "AN INTERVIEW WITH TRUMP AND PUTIN TALKING ABOUT THEIR THREESOME WITH MARINE LE PEN" or something else involving trending news.
So try something more like  "[Hot Topic]: [Author X] gives 10 Tips on [Hot Topic]" or "What [Author X] Can Tell New Writers about [Commonly Googled Writing Problem]
b) Make it Tweetable.  
That means avoiding enigmatic, one-word headers. I remember the title of an article in the London Review of Books that exemplified the one-word header that doesn't work well in the age of Twitter. The article was called "Ghosting." It turned out to be about ghostwriting for Julian Assange, a fascinating subject.
But you wouldn't know from the title. I figured everybody would think it was about the new remake of Ghostbusters, or dumping your girlfriend by not responding to texts, so I didn't bother to retweet it. You don't want that to happen to your posts.
c) Promise a quick read 
Everybody's in hurry online.
In a March 2014 piece in the Web Writer Spotlight, Jillian Mullin wrote:
"Generally, an average web user only spends 10 to 30 seconds reading Internet content. People rarely read web pages word-per-word. Instead, they scan the page for related keywords, bullet points, subtitles, and quotes."
One of the best ways to let people know you've got a quick, easy-scan piece is with a numbered "listicle". "The 10 Best Ghostwritten Books" or "5 Signs Your Computer is Possessed."
d) Offer solid, helpful information that's YOU oriented, not ME oriented 
ME oriented: "I'm Making a Living Writing Now" or "Another Sleepless Night in My New Apartment."
YOU oriented: "How to Become a Ghostwriter" or "5 Simple Snacks to Serve at Your Next Exorcism,"
e) Ask a question that stirs curiosity and self-interest
Try appealing to greed: "Do You Want to Make REAL Money as a Writer?"
Or paranoia—sorry, but it works: "Is Your Cubicle Haunted?" or "Who or WHAT is Flushing Your Toilet in the Middle of the Night?"
f) Use keywords in your header
What are keywords? They're the words that most effectively let the public (and the search engines) know what your post is about. Like this one is about 1) blogging  2) Web content 3) authors
So let's say you're blogging about how you think your new house may be haunted by the ghost of an elderly lady who died there.
"Mildred Biggins Walks at Night," appeals to your storyteller's instinct, but doesn't tell us much.
"10 Signs Your House is Haunted: A Real-Life Encounter with a Ghost" will get the haunted house buffs flocking to your post.
That's because "haunted house" and "ghost" are your keywords.
In other words, just tell us what it's about. It's amazing how often that's the secret to all this tech stuff. Just say what you mean, mean what you say, and the robots will find you.
Coming up
In August I'll have more tips for getting more traffic on your author blog.
This week on my book blog, I continue my poison series with a post on the beautiful but deadly Moonflower.
What about you, scriveners? Do you have an author blog yet? Have you had trouble getting traffic? Have you tried any of these techniques?
by Anne R. Allen (@annerallen) July 17, 2016
This blog is not monetized. The only payment we get is from the sale of our books. Do check out Anne's book page. 
*****
BOOK OF THE WEEK
99c for the ebook at Amazon for a limited time! 
THE LADY OF THE LAKEWOOD DINER
A comedy that pokes fun at the myth of a Golden Age, making parallels between the Grail legend and the self-mythologizing of the Baby Boomer Generation.
Someone has shot aging bad-girl rocker Morgan Le Fay and threatens to finish the job. Is it fans of her legendary dead rock-god husband, Merlin? Or is the secret buried in her childhood hometown of Avalon, Maine?
Morgan's childhood best friend Dodie, the no-nonsense owner of a dilapidated diner, may be the only one who knows the dark secret that can save Morgan's life. And both women may find that love really is better the second time around.
"A page turning, easily readable, arrestingly honest novel which will keep you laughing at yourself. Who doesn't remember crashing on a mattress at a friend's apartment with the stereo blasting Iron Butterfly and no idea where you'll stay the next night? A cultural masterpiece for the discerning reader."…Kathleen Keena, author of Adolescent Depression, Outside/In
Available in ebook from:
All Amazons iTunes  Kobo Barnes & Noble
OPPORTUNITY ALERTS
Reedsy Live Chats FREE! Want to get advice from professionals on cover design, writing, and book marketing? Reedsy hosts chats every two weeks on Wednesday at 3pm EST (New York) — that's 8pm BST (London), or noon PST (Los Angeles). They run for 30-40 minutes, depending on the number of questions. They touch on a variety of subjects, depending on the professional hosting them.
THE SUNDAY TIMES SHORT STORY AWARD NO ENTRY FEE Any story under 6,000 words. Five shortlisted runners-up get £1,000. First prize worth  £30,000. The Society of Authors is the sponsor. Author must have previous publications in the UK or Eire. Deadline September 29, 2016.
Bartleby Snopes Dialogue-Only Story Contest. $10 FEE for unlimited entries. Write a story under 2000 words, using only dialogue–no tags. No other restrictions. Prize: minimum of $300, more with more entries. All fees go into the prize pot.  Deadline September 15th.
Call for anthology submissions! Wising Up Press is accepting submissions of poetry, fiction and creative nonfiction for their "Kindness of Strangers" anthology. Prose: 5,000 words or fewer. Poets may submit up to five poems. They accept simultaneous submissions and previously published work. Deadline Sept. 1st
MYSTERY AUTHORS! Here's a list of 15 small presses that specialize in mysteries and do not require an agent for submissions. It's compiled by Authors Publish Newsletter.
ROMANCE AUTHORS! Here's a list of 31 small presses that specialize in romance and do not require an agent for submissions. Also compiled by the Authors Publish Newsletter.
25 PUBLISHERS YOU CAN SUBMIT TO WITHOUT AN AGENT. These are respected, mostly independent publishing houses–vetted by the great people at Authors Publish. Do check out their newsletter.