Children's voices can be difficult to get right.
 by Gail Aldwin
For writers who want to improve their practice in using children's voices in their work, one of the best places to start is by reading authors who use young narrators in their fiction. By reading like a writer, it's possible to not only get inside the head of the character but also identify the strategies and techniques authors use in developing children's voices.
In this post, I refer to a number of contemporary novels where authors have excelled in creating authentic children's voices in fiction and how this influenced the development for my seven-year-old narrator in This Much Huxley Knows.
Style of Narration
Where a range of vocabulary and figurative language is required, hindsight narration may be employed. This is where a considerable timeframe has elapsed between the events in the story and the narrator telling them. In The Sea by John Banville, Max returns as an adult to the location of family holidays and looks back on a friendship he developed with the twins Chloe and Myles until their untimely drowning which he describes:
'I do not know what I was thinking, I do not remember thinking anything. There are times like that, not frequent enough, when the mind just empties. They were far out now, the two of them, so far as to be pale dots between pale sky and paler sea, and then one of the dots disappeared. After that it was all over very quickly, I mean what we could see of it. A splash, a little white water whiter than that all around, then nothing, the indifferent world closing'.
This example shows an added benefit of hindsight narration where the narrator is able to reflect and comment on the earlier experiences. In terms of This Much Huxley Knows, it was always my intention to record his day-to-day life and observations as he experienced them. This meant my vocabulary choices and ways of expression related directly to the life experiences of my young narrator.
When Huxley looks out from the school grounds, he sees children as 'midgets against the stripe of field beyond the fence and the huge grey sky that drops from heaven like a roller blind'. The imagery reflects the age and stage of development of my young narrator and the language he would have used. This can be limiting for a writer, but also provides the boundaries for creating a young voice.
Use of Present Tense Helps Create Authentic Children's Voices.
Many novels with young narrators use first person, present tense. This style of narration supports the freshness of a child's viewpoint and it allows authors to capture the impetuosity of children and the urgency of a child's emotional needs.
James Woods writes in How Fiction Works 'the common idea is that there is a contrast between reliable narration (third person omniscience) and unreliable narration (the unreliable first-person narrator who knows less about himself than the reader eventually does).'
Owing to a child's lack of experience, I suggest it's possible that all child narration contains an element of unreliability. That is, they can only interpret events within the context of their own life experience which is necessarily limited.
Messing Around with Language
Children are playful and so it is no surprise that their language reflects a sense of fun. In Christopher Wakling's What I Did, the six-year-old narrator gets in a muddle when copying the talk of adults.
Billy transcribes figures of speech in his own humorous way: it's a different cuttlefish and drives him to destruction. In This Much Huxley Knows, I took this idea one step further. Huxley is a lonely boy who thinks telling jokes will help him to make friends. His idea of humour involves corrupting words so we have chicken car-crash for chicken carcass, new-moan-ear for pneumonia and breaks-it for the notorious Brexit referendum. Sometimes this brings a smile to the faces around him, at other times, he's simply annoying.
Also included in What I Did are conventional jokes. Billy says, 'And I even know some jokes. Would you like to hear them? Okay: What goes ha, ha bonk? Easy: a man a laughing his head off…' In Huxley's case, he's too busy making up his own jokes to repeat the humour of others.
Another trick with language which creates a unique and childlike voice, is the habit of dropping definite articles. This most notably occurs in Emma Donoghue's novel Room where everyday items are given status as proper nouns. Five-year-old Jack's language development is in keeping with his limited and unique environment, the eleven foot by eleven foot space he is imprisoned with his mother.  His toy car is called Jeep, a piece of carpet is Rug and so on. By changing these common nouns into proper nouns with the removal of the definite article 'the' attention is focused on Jack's isolated upbringing and how he treats objects as friends.
In This Much Huxley Knows, there are also occasions when words are dropped. He says next thing and soon as to catapult the reader into his next revelation. There is an urgency to his language that means normal grammar rules are not always followed.
Onomatopoeia and Repetition
Found frequently in poetry, onomatopoeia is a feature of language used by young children where a word also reflects the sound it makes, such as zip, hiss, snap. This is used many times in novels with child characters and is also incorporated into This Much Huxley Knows. My young narrator whaps a coin onto the table, his feet plonk as he walks up the stairs, fireworks hiss.  Novels with children also use repeated words for emphasis and to highlight the onomatopoeic quality of the language. When Huxley uses a rude word, he says it three times piss-piss-piss to squeeze every bit of naughtiness from the repetition.
Holding an Adult Reader's Interest
In using the techniques and strategies I've outlined to capture the voices of young children, there is a need to  avoid irritating the adult reader. Some of the word play may cause a reader to disengage from the novel while they work out the meaning and relevance of the language.
The trick to maintaining a reader's attention is by using these techniques sparingly. I had incorporated many corrupted words into Huxley's voice (I loved the playfulness) but found I had to cut the number by at least half. I kept the corrupted words that worked the best – the ones that made me laugh – in the hope they'd make others laugh, too.
Another point to mention is that while I've discussed child narrators, many of these strategies can be used to capture the speech of young child characters where the story is told from another viewpoint. Dialogue can be enlivened with idiosyncratic language use and it's worth playing around to see if this works.
I hope you've enjoyed this romp through children's language and are able to draw from this in your own writing.
by Gail Aldwin (@GailAldwin) July 11, 2021
***
What about you, scriveners? Have you tried to write in authentic children's voices? Have you ever made up malapropisms like Gail's to create children's voices? (I think hers are hilarious!) What do you think best captures the sound of children's voices?
Gail Aldwin
Gail Aldwin is a novelist, poet and scriptwriter. Her debut coming-of-age novel The String Games was a finalist in The People's Book Prize and the DLF Writing Prize 2020. Following a stint as a university lecturer, Gail's children's picture book Pandemonium was published. Gail loves to appear at national and international literary and fringe festivals. When she's not gallivanting around the place, Gail writes at her home overlooking water meadows in Dorset.
Twitter:              https://twitter.com/gailaldwin
Facebook:        https://www.facebook.com/gailaldwinwriter/
Blog:                https://gailaldwin.com
BOOK OF THE WEEK
Launches this week!
THIS MUCH HUXLEY KNOWS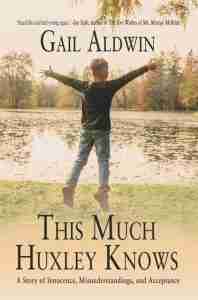 About This Much Huxley Knows. I'm seven years old and I've never had a best mate. Trouble is, no one gets my jokes. And Breaks-it isn't helping. Ha! You get it, don't you? Brexit means everyone's falling out and breaking up.
Huxley is growing up in the suburbs of London at a time of community tensions. To make matters worse, a gang of youths is targeting isolated residents. When Leonard, an elderly newcomer chats
featured image by Anatoliy Samara licensed through Wikimedia Commons