by Anne R. Allen
One of the things that will get you an automatic rejection from most agents—and a swift toss to the DNF pile from a lot of readers—is an unsympathetic character. Especially an unsympathetic protagonist. Personally, I have to admit if there's nobody in a story I care about, I'm out of there after ten pages or so.
But what do we mean by a "sympathetic character?" What makes us care?
The truth is the protagonists of our most popular books, plays and films are often people we wouldn't like to hang out with in real life. Some are pretty toxic.
From "wily" Odysseus to Don Quixote, to Heathcliff, Becky Sharpe, Scarlett O'Hara, Dexter Morgan, Walter White, Lisbeth Salander, and the "Girl on the Train," we are fascinated by morally ambiguous characters who make bad choices.
But don't these successful works negate the dictum that a protagonist must be sympathetic? Nobody wants these people as their BFF.
The Unsympathetic Character vs. Likeable Character
Here's the thing: there's a difference between likeable and sympathetic. Sidekicks can be likeable because they're friendly and fun, but protagonists need to be something more.
A protagonist needs to do or say stuff that makes us feel sympathy and care what happens to them. That can be with resilience, kindness, intelligence or wit. We also need to trust they're going to be strong enough to make good companions on our journey through the story.
They shouldn't be overtly evil, and they should never kick a puppy or abuse a horse, but they don't have to be perfect or consistently fun and jolly.
Sympathy Comes from Presentation
A lot of reader interest and sympathy comes from how the author first presents the character.
In the Sopranos TV series, we meet Tony when he's talking to his shrink about his panic attacks, not when he's getting somebody whacked.
We first see Walter White as a downtrodden teacher who desperately needs money for his wife's cancer treatments, not when he's dissolving a rival meth dealer's body in acid.
Jeff Lindsay presents Dexter as a killer, but he's a killer possessed by a "Dark Passenger" he can't control. And he's a killer of bad guys. Guys readers want to be dead.
We don't like these characters exactly, but we feel sympathy for them in these situations. I think that's the key.
Sympathy vs. Pity
On the other hand, we have to be careful not to make our protagonist a victim. Even though Walter White is unable to care for his sick wife; Lisbeth Salander has been horribly abused; and Dexter has the most traumatic childhood imaginable, we don't see these characters as pathetic.
They have strength, resilience and/or humor that draws us to them and makes us want to see how they fight their way out of a bad situation.
That means the writer has to tread a fine line. We want readers to feel sympathy, but not pity. If your protagonist seems weak and pitiable, readers won't engage. A hero/heroine needs to either act or say something funny, not simply whimper.
Protagonists need to do something to help themselves—or at least do something the reader finds emotionally engaging—or the story falls flat.
A Perfect Mary Sue Can be an Unsympathetic Character, Too.
You don't want your characters to be terrible human beings, but on the other hand you don't want them to be perfect. A hero needs a "tragic flaw" or two.  What Aristotle called Hamartia.
In fact, perfection can be more annoying to a reader than moral turpitude. Star Trek fanfiction gave us the term "Mary Sue" to mean the character that's just too perfect. She's a stand-in for the author's idealized self. Here's my post on why we don't like her: "Say 'Bye Felicia to Mary Sue."
Mary Sue kicks every ass, solves every case, and saves every day. No dragon is too powerful for her to slay—and absolutely no hero is too hot or high up the food chain to fall madly in love with her.
Mary Sue can be either gender—although the male version is sometimes called "Gary Stu."
A Gary Stu is the middle-aged academic who has hot, quirky young art students throwing themselves into his pale, unbuffed arms. Or he's the dorky teen who's flunking 10th grade math, but somehow manages to figure out how to save the world from the asteroid when nobody else has a clue.
And the reader isn't likely to find them sympathetic.
Sympathetic Characters and Unsympathetic Behavior
We also don't want our protagonists to go over a certain line.
For most readers, characters can get away with certain things, but not others, depending on circumstances. (And genre: see below.) I've seen authors take their characters so far over to the dark side that I'm no longer interested in the story. But the very actions that turn readers off can seem heroic in other circumstances.
Our sympathy depends on the motivation for the character's behavior.
The truth is that reckless behavior is often exactly what makes a character heroic. Running toward danger is what heroes do. But their motives need to be something we can relate to.
If a character jumps into a raging river to save a puppy, he's sympathetic. If he jumps into the same raging river to show off what a macho man he is, not so much.
In the same way, if a neglected, abused spouse goes out looking for affection in all the wrong places, we can feel sympathy for her. But if her spouse is faithful and loving and she only picks up guys in dive bars because she's bored, the reader doesn't care much when she's the serial killer's next victim.
So the same behavior can make a character unsympathetic or sympathetic depending on how the author frames it.
Who Defines an Unsympathetic Character?
In pretty much every critique group or workshop, there's somebody who tells you your character "wouldn't" do something. Or they say "nobody" would make such a bad choice. This can be infuriating because they're claiming to know more about your character than you do.
But what they're really saying is the character isn't sufficiently like themselves.
Recently I heard from a young gay man who was told by a critique group of older straight people that nobody "would" do what his (young gay) character did.
I told him these people weren't telling him anything about his writing. They were telling him about themselves.
They were also telling him they aren't his audience.
One of my comic mysteries got a review that said, "she slept with a man who can't pay his bills! I stopped reading."
Yes, I thought, if you believe women should only sleep with men who have money, this book is not for you. The reviewer was saying more about herself than she was about my book. (As reviewers and critiquers often do.) A reader looking for a book in the "Billionaire Romance" genre is not going to enjoy my satiric mysteries, so she was doing readers a service.
What this all means is the label "unsympathetic" depends a whole lot on who is doing the labeling.
Genre Matters.
It also depends on genre.
Romance readers want a heroine they can identify with closely. She needs to be smart, empathetic, and self-respecting.
But a thriller reader mostly wants a main character who's tough, resilient, and ready to fight.
Comedy, however, depends on characters who bumble cluelessly into hilarious adventures. How long would I Love Lucy have been on the air if Lucy always made good choices? Would anybody have been interested in Bridget Jones' diet diary if she'd actually lost weight? And would the Hitchhiker's Guide to the Galaxy have become a timeless classic if Arthur Dent had been a swashbuckling hero instead of a befuddled Englishman searching the galaxy for a nice cup of tea?
Mysteries, too, often have less than admirable protagonists. Blame Arthur Conan Doyle. Sherlock was a model of smug, anti-social behavior. The genre continued with a parade of quirky, unsociable sleuths from the laughably vain Hercule Poirot, to nosy Miss Marple, cynical Sam Spade, brutal Mike Hammer, and trigger-tempered V.I. Warshowski.
None of the above characters would cut it in a Romance novel.
Then there's literary fiction. Literary readers will accept a seriously flawed protagonist as long as the writing is compelling. Some famous literary characters are way more than "flawed." Nabokov's Humbert Humbert comes to mind. And I remember slogging through John Fowles The Magus identifying with no one. Then there's American Psycho. Not my personal cup of tea.
But I'm not everybody.
These are recognized works of art. Their protagonists are certainly not what people would call "sympathetic." But the authors wrote strongly enough that readers connected with their stories. (If you write characters like these, make sure you're writing for a literary audience.)
The Redeemability Factor
In a great blogpost from about a decade ago, then-literary agent Nathan Bransford wrote about what can make the difference between the sympathetic and unsympathetic character. He said it has to do with whether that character can be redeemed.
Nathan says, "Redeemability involves more than just actions…[characters] have to be brave or brilliant or hilarious or charismatic or strong or all of the above. The redeemability meter often dips below zero when a character does something that's wrong and there is not sufficient explanation for their actions. They weren't misguided or deluded or well-intentioned-but-astray…They just went and did it, and the reader concludes: they're just evil."
Although sympathetic/unsympathetic labels have a good deal to do with who is doing the labelling, there are some basic rules here. If your character is just plain evil, chances are the reader is not going to want to hang around. There must be a chance for the character to improve if his circumstances change.
But s/he must have some underlying good qualities from the beginning. If your protagonist is whiney, abusive, or selfish, you're probably not going to have the reader's sympathy no matter what the genre.
by Anne R. Allen (@annerallen) May 2, 2021
What about you, scriveners? Do you worry about whether your protagonist is sympathetic? Do you stop reading a book if there's an unsympathetic character? What makes a character sympathetic for you? Does your opinion change by genre? 
BOOK OF THE WEEK
Googling Old Boyfriends: the Latest Camilla Comedy-Mystery
Want a fun escape to a California beach town?
"If you love comic mysteries that read like watching a movie in your head, you'll have no trouble losing yourself in "Googling Old Boyfriends." The prose is sharp, the humor dead on, and the solution unexpected with a romantic postscript."…book blogger Debra Eve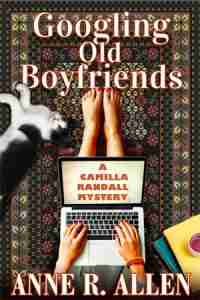 Also
Kobo, Apple, Nook, and GooglePlay
and
The Camilla Randall mysteries are a laugh-out-loud mashup of crime fiction, rom-com, and satire. Morro Bay bookshop owner Camilla Randall is a magnet for murder, mayhem, and Mr. Wrong. But she always solves the case in her quirky, but oh-so-polite way. With some help from her cat, Buckingham.
In this stand-alone 7th episode, Camilla befriends socialite Mickie McCormack—a sexy, mysterious older woman who's going through a painful divorce. Mickie has been Googling her old boyfriends to reconnect and "remember who she used to be." Unfortunately every one of those boyfriends soon ends up dead.
"I whizzed though this page-turner in 48 hrs., scratching my head every step of the way yet stubbornly determined to solve. A fun read by a talented writer who grabs your attention and refuses to let go!" Bonnie Classen
***
featured image "Son of Man" by Rene Magritte