by Ruth Harris
A term used in scoring tennis, "unforced errors" are not caused by the actions of the player's opponent, but they're the responsibility of the player him/herself. S/he is caught wrong-footed, out of balance, unable to return the serve, incapable of making the winning shot.
The concept of unforced errors can also be usefully applied to writers. Unforced errors are the self-inflicted harm we do to ourselves.
To be specific—
1. Premature publication.
OK, get your mind out of the gutter. 😉
By premature publication, I mean releasing a book before it's ready.
It's finished! It's wonderful! Everyone's gonna love it! The author is drunk and giddy with excitement.
Uh, really?
Best to calm down and cool your jets. We know you're thrilled and we know why. But. Give reality and sobriety a chance to sink in.
Has anyone beside you read it? Your roommate? Significant other? Beta readers? Crit group? Or, ahem, your editor?
I know a writer whose mom who was a math teacher. She wasn't much of a reader and certainly no literary critic, but she was a whizz at spotting repeated words and circled each repetition in red. The manuscript looked as if it had developed a case of chicken pox. The writer, lost in a daze of gauzy fantasies, experienced a sudden shock and got busy rethinking and rewriting.
Comments and reactions from unbiased readers (even math whizz Moms) can help ground you and introduce a healthy sense of perspective before you unleash your latest, greatest on the reading public.
Does saggy middle have to be tightened?
A meh character who needs a spine?
Your first chapter lacking important essentials?
An ending that fizzles out?
Over worked and underperforming adjectives?
Adverb infestation?
Sometimes the necessary tweaks — word changes, reworked sentences — can be made easily and those tweaks can make a significant difference.
Other issues — plot problems, weak first chapter — will take a bit more time and thought but are essential to address before your book becomes a mess of unforced errors.
2. Hype and BS Lead to Embarrassing Unforced Errors.
The query letter states that the author is the next Stephen King/ John Grisham/ Nora Roberts.
Wow! Fabulous! Terrific! Sign 'em up!
Really?
Agents and editors have heard it before. And way more than just once.
They've also been told that This Masterpiece is a—
"Sure fire bestseller."
"A million-copy bestseller."
"The next Fifty Shades of Grey." (Would that be Fifty-one Shades of Grey?)
"Guaranteed to break sales records."
"Better than LeCarré/JK Rowling."
"Headed for the NYT/Amazon/USAT bestseller list."
Yes, writers need ego and, yes, writers need confidence.
But hype and BS don't sell books. Never have and never will.
Period.
Please — stop with the oversell. It doesn't work. Not for editors. Not for agents. Or readers.
Except maybe for an auto insurance pitch or the My Pillow guy.
But for writers?
Not so much.
3. Crushed by cliché.
Here are a few ways to start a book that will guarantee rejection.
Character looks in mirror and describes what s/he looks like.
Character looks in mirror/zones out in chemistry class/faces death and thinks Deep Thoughts.
Story begins with a thrilling/romantic/scary scene. Turns out to be the character's dream. Ugh! No!
Also no: lengthy descriptions of setting — a ranch, a castle, a dingy motel, a Nineteenth Century estate in England, a tea plantation in Ceylon pre WWII. We do not need to see every stain on the carpet, each damask-upholstered Louis-the-quelque-chose chair, or the exotic plumage of a rare bird found only in wherever-we-are. A few well-chosen details will do the job.
Death is another go-nowhere way to begin a book. Dead men (or women) don't tell tales, they don't wear plaid and they also don't give the reader anyone to root for. Readers want to meet the main character, the person with whom they are going to identify.
Just in case you think I'm kidding, here's a spectacularly unforgettable use of the clichéd waking-up scene from real life dating back to the days when I was an editor:
The manuscript began with a character waking up (always a no-no) in need of relief. He goes to the bathroom and the reader (that was me) was treated (subjected?) to a lengthy description of his urine stream, the sight and sound of said stream splish-splashing into the bowl, while sharing his Profound Thoughts And Dazzling Insights About Life With A Capital L.
This scene went on for pages. And pages.
I am not, repeat not, kidding.
I know you're way smarter than to start a first chapter like this, but I thought I'd spell out what editors encounter in the course of their careers.
What? Editors jaded?
Ya think?
4. The usual suspects.
I know. I know. You're sick of hearing it.
And I wish I didn't have to repeat it yet again, but some unforced errors are like cockroaches — where there's one, you can bet there are more. Editors encounter them them again and again. These annoying telltales indicate a writer who hasn't taken the time or put in the effort to learn the basics of the craft.
Crisp dialogue? Snappy banter? Are you sure?
Is there enough white space on the page? Or do you turn the page and see dense paragraphs that present themselves like a heavy weight on the story?
Can you wield cliffhangers effectively? Do you know how to end a scene or a chapter so that the reader will feel compelled to turn the page to find out what happens next?
Does the story screech to a halt with info dumps? Has you learned how to add necessary backstory skillfully here and there in small nibbles where relevant?
Are the settings compelling? Do they add depth and dimension to the story? Or is a rose just a rose?
Do your characters come alive in living, breathing three dimension? Or do they just robotically push the plot from one point to the next?
Study Your 10 Favorite Books
If you're not sure or even suspect you could improve, a good way to clarify what you're aiming for is to make a list of 10 books you really love — the ones that carried you away, the ones that made you stay up way too late to read "just one more chapter."
Now that you know the story and characters, reread the books as if they are textbooks and you are a student. The goal is to get down deep in the weeds to find out exactly what makes the books you absolutely love tick.
Be specific.
Pay close attention to the way the author handles the conventional tropes of romance/suspense/fantasy, the ones you found so compelling on your first reading.
Study the details of breathtaking plot twists, the character's daunting setbacks and his/her unexpected solutions to the challenges s/he encounters.
Notice the exact word choices the author uses to describe fights, kisses and betrayals.
Make notes or underline specifics of dialogue, narrative and description.
Pay attention to details like the length of paragraphs, ie how many sentences. How long are they? And, while we're at it, don't forget that James Patterson made his millions by writing short chapters.
Note the first — and last — sentence of chapters.
Because writers learn by reading, your "school for one" will pay long-lasting dividends.
5. Doomscrolling, writer style.
Count on it: There's always someone who wants to make you feel bad about yourself. 
A critical parent. "You only got an A? Why didn't you work harder and get an A+?"
A Nelly-no-no roommate quick with a put-down. You write horror? Nelly-no-no has an opinion about that: "Only idiots read horror." Meaning, of course, that only idiots write horror.
A jealous friend. "I just loved John Le Carré's latest!" s/he enthuses as you gift him/her a copy of your new book.
An envious writer buddy who tells you all about his/her great wonderful fabulous five-star reviews but never says one word about the lucrative, prestigious fiction prize you just won.
Anne goes into chapter and verse about "friends" and family who want to cut you down to whatever size they feel is necessary.
But believe it or not, sometimes that person is you.
You check your reviews/email (at least) once a day. You're looking for a five-star review. An acceptance from the agent you're sure is The One. We're talking compulsion here even though you do know — don't you? — that every writer gets one-star reviews and you certainly know that rejections far outnumber acceptances.
And you do know, don't you?, that one bad review or yet another rejection can ruin a day. Or a week. Yet you keep checking your reviews/email like an addict keeps looking for the next fix.
You compare yourself to other writers. Writer X sells more — a lot more — books than you do. Your book page has fewer reviews. Your backlist is puny compared to Writer Y. Still, you can't help yourself. You keep playing the comparison game and you keep losing.
You chase hot trends. Gothic suspense is riding the top of the charts and every writer in your Twitter/Facebook/Insta feed agrees that Gothic Suspense is on fire. Even though you've never read Gothic suspense and your usual genre is adrenaline-soaked action adventure, you decide to write a Gothic suspense. So you go for it.
But guess what? Your version of Rebecca is a bust. You wasted your time and energy for little reward.
What's wrong with us? Why can't we just stop?
Why do we seek out things that threaten us?
The short answer is that searching for danger is the way our brains are hard wired. Back when we were living in caves, threats might mean poisonous roots and berries, the presence of hungry sabre-toothed tigers prowling the neighborhood or the blood-thirsty tribe practicing human sacrifice living in the cave next door.
Mary McNaughton-Cassill, professor of clinical psychology at the University of Texas at San Antonio, explains: "That's why we seem predisposed to pay more attention to negative than positive things. We're scanning for danger."
Because we need to protect ourselves and our families, she adds, "There's this sense that we have to be watching all the time."
Once we understand the primitive roots of our addiction to danger, we possess the ability to break that destructive cycle. We can take a break, take a walk, play with the dog or even contribute to domestic tranquillity and unload the dishwasher.
Then, when we go back to our computer, we'll be able to remind ourselves to stay away from those 21st Century versions of poisonous berries, sabre-toothed tigers and that blood-thirsty tribe living in the cave next door.
Because, unlike those amateur manuscripts that start with a long look in the mirror (or the toilet bowl), sometimes we're the ones who need to take a long look in the mirror.
Or, to quote Mr. Shakespeare, "The fault, dear Brutus, is not in the stars, but in ourselves."
by Ruth Harris (@RuthHarrisBooks) June 28, 2020
What about you, scriveners? Have you ever sabotaged yourself with unforced errors? Have you been guilty of any of these five mistakes? How did you learn to get out of your own way and find success?  
If you want to know what Anne's been up to, over on her book blog, she's talking to The Manners Doctor about how to deal with negative, unpleasant visitors to your social media pages. "What is Free Speech? Ask the Manners Doctor." 
BOOK OF THE WEEK
DECADES (Park Avenue Series, Book #1)
Available at  All the Amazons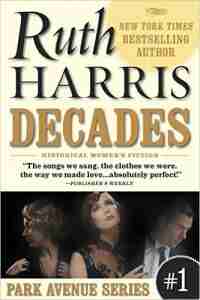 THREE WOMEN. THREE DECADES.
"The songs we sang, the clothes we wore, the way we made love. DECADES will have three generations of American women reliving their love lives and recognizing ruefully and with wry affection just what changes have overtaken them. The characterizations are good and the period atmosphere absolutely perfect." —Publisher's Weekly
"Evokes the feelings of what it was like to grow up female in the innocence of the 40's, the movie-formed dreams of the 50's, the disillusion of the 60's. It's all here—the songs, the headlines, the national preoccupations, even the underwear."  — New York magazine
OPPORTUNITY ALERTS
Los Angeles Review Contest for short stories, flash, poetry and creative nonfiction Four prizes of $1,000 each and publication in Los Angeles Review.  Submit up to three poems of no more than 50 lines each, a short story or essay of up to 2,500 words, or a piece of flash fiction of up to 500 words with a $20 entry fee. Deadline: July 14.
The Golden Quill Award. Theme: The Unexpected. Fiction, Creative Nonfiction, and Memoir up to 1000 words. Poems up to 40 lines. Prize determined by number of entries. $10 Entry Fee. Deadline August 1.
100 Word Blurb Competition NO FEE! $500 prize for the most compelling blurb. Deadline September 1.
The IWSG Anthology 2020. Genre: SciFi. Theme: Dark Matter. Word Count 4500-6000. Previously unpublished fiction. No entry fee. Deadline September 2. The IWSG admins will create a shortlist of the best stories. The shortlist will then be sent to their official judges.
Ink and Insights Novel contest. ALL entries get written critiques from 4 judges. 2 Categories—Apprentice Novel and Master Novel.  Master Novel winners also reviewed by agents.  $45 Fee until May 31. $50 until June 30.
12 PUBLISHERS FOR MEMOIRS! You don't need an agent. From the good folks at Authors Publish