Collective grief is loud and unrelenting. But there are ways to tune it out.
by Anne R. Allen
There are a lot of jokes out there right now like the cartoon in The New Yorker showing a young woman saying something like "I couldn't decide whether to work on my novel or my screenplay, so instead I ate three bags of chips, then lay on the floor screaming."
A whole lot of writers are feeling the same pain.
I had a meltdown myself last Sunday night after spending the weekend on my tax prep. It involved a glitchy TV remote, a number of obscenities, and a bag of peanut M&Ms.
I've been self-quarantined since February 8th when I came down with a respiratory virus that may or may not have been Covid-19. At the time, there was only one test in the entire county, which–needless to say–did not have my name on it. Now they have more, but not enough. The good news is Stanford has developed a new test that tells you if you had the virus after you've recovered. Governor Newsom says this will be available in California very soon, so I may be able to find out if I had it.
At the time I was going through it, I was sure that when I was over the fever, brain fog, and insane coughing, I'd jump back into my WIP and zoom that thing back on the road.
It hasn't happened.
We're Experiencing Collective Grief
I'm hearing from an amazing number of writers who are having the same experience.
Many echo mystery author Tony Piazza, who wrote on Facebook last Sunday, "I'm not writing at the moment. Writers need a certain state of mind before tackling a novel, and with what is going on, I'm not there yet."
The only other time I couldn't get into that "certain state of mind" for writing was right after my mom died. I simply could not write fiction. I could cobble together some blogposts, but not much else.
Now I realize that's because I'm now in the same situation. I'm grieving.
We're all grieving.
In an article in the Harvard Business Review, grief expert David Kessler said, "We're feeling a number of different griefs. The loss of normalcy; the fear of economic toll; the loss of connection. This is hitting us and we're grieving. Collectively."
It is not normal. As Chuck Wendig blogged this week, "you should not be expected to simply go about your day as if, gosh, I'll be so productive now. I can do so many things! THIS IS ALL PERFECTLY FINE, you say through clenched and cracking teeth, eyes twitching and wet with tears."
To me, the grief and anxiety are like the jackhammers that are battering the street outside my window. It's a loud, persistent pain that's almost impossible to shut out of my consciousness.
Wednesday morning, listening to those jackhammers while trying to process the ever-worsening news and deluge of misinformation, I was reminded of the Edna St. Vincent Millay line in her sonnet 113: "I spend/ Loud days that have no meaning and no end."
But there will be an end, and we can find meaning, in spite of the jack-hammering.
The Importance of Focus
Rachel Thompson, of Bad Redhead Media, tells us it helps to work on focus. This makes sense. What overwhelms us about the current state of the world is the enormous, terrifying reality of it all. Focus allows us to step away from our collective grief and look at one small thing at a time.
Some of her suggestions are:
Limit Internet time.
Schedule writing time. Since I live and work at home, I've done this for decades, but I know new writers often don't. They don't feel their writing "deserves" to be a priority. It does. Especially now.
Make lists. Lists make order of chaos. They help you tackle obstacles in small chunks.
In other words, focus so intently on one thing, you can tune out the collective grief and pain. So write something. Anything. A lot of us can't face the WIP, but you can write something short. An essay, a journal entry, a poem.
Help Your Readers
Frances Caballo, of Social Media Just for Writers, tells us to turn our attention to our readers, and do things that will help them.
Some of her suggestions are:
Reduce the prices of your books or make some of them free. Lots of people are stuck at home with no money to spare. They'll remember your kindness.
Remind people that novels are a great escape from the current chaos.
Spread hopeful news on social media.
I think these are terrific. I see indie authors making their books free, which is wonderful. (I'm with a small press, so that's not up to me, but I do have some 99c books right now: see below.)
Adjust your Expectations
Becca Puglisi, at Writers Helping Writers, reminds us that expecting yourself to be able to write at the same pace as you did three months ago is self-defeating. Give yourself credit for whatever you can accomplish.
A lot of us have an urge to pretend the world is not in chaos. We tell ourselves that if we do exactly what we would have done before the plague, all will be well.
It won't. It will be worse. So let up on yourself.
Becca says "Recognize that you're not going to be as prolific or efficient as usual, and be ok with that."
Rachel, Becca, and Frances have lots of great ideas, so do read their complete posts.
Avoid Panic-Mongering and Negativity
Rachel Thompson's advice to limit Internet time is key. We must tune out the collective grief to focus on our own well-being.
We're all hungry for news about the pandemic. And since official news briefings can be less than straightforward, we're scrolling through social media looking for up-to-date information.
But too much of what we see is likely to incite anger and panic. Plus all the conflicting news makes us feel helpless.
Panic, rage and helplessness are not good for our immune systems or our muses.
But here's something you can do: if you don't know if something is true, DON'T share it. Nothing is helped by inducing panic in your friends and followers.
Don't share anything on social media of dubious origin, no matter how alarming.
If it's not a vetted article from a well-known news source, and there's no link back to the website, check Snopes. This week I saw two bogus articles circulating on social media that claim to be from 1) "John Hopkins Hospital" (It's actually Johns Hopkins) and 2) Stanford Medical Center—and they're both bogus articles, full of misinformation.
No, Listerine doesn't have twice the alcohol content as vodka; Sacramento has not banned the sale of wine, and weed does not cure COVID-19. 🙂
Even if you think some article making the rounds may be true, ask yourself why you're sharing it. Is it going to induce panic? Can we do anything about it? Is spreading the rumor going to make matters worse?
Then don't share it.
If social media contacts are indulging in panic-mongering, negativity, or paranoid rants–or if they're telling you this is all a hoax–mute them. I've had to do this. FB says they won't know they're muted, and it sure helps my mental health.
Don't Mass-Forward Anything in Facebook Messenger!
Frances Caballo's advice to share hopeful messages is great. But DON'T mass-forward them if they come to you via Facebook Messenger.
And don't open them! The last thing you need is a computer virus to go along with with corona.
Facebook Messenger is scam central right now. The mass-forwarded stuff is full of malware and viruses.
Yes, even the video of a basket of kittens with the message that the sender values your friendship and please send this to all your friends who need cheering up.
They're not going to feel so cheery when their computer is hijacked with malware or their identity is stolen.
So do not mass-forward anything in Messenger and don't click on anything mass-forwarded to you. Whether it's misinformation about how holding your breath will cure the virus, or just an adorable video of baby goats, it's potentially dangerous.
Any content that asks you to forward it to all your friends and relations is suspect.
No, you won't have bad luck if you "break the chain."
But you will lose a lot of friends.
Facebook Messages are not for playtime. They are for important communication. Most of us have phones that ding every time we're sent this dangerous nonsense.
Here's the thing: Most of the workforce are working from home. Every ding from Messenger takes us from work and it's money out of our pockets, even if it's not virus-riddled.
If you find a video or photo you want to share with your followers, put it on your page. You can tag the people you especially want to see it. ("Tag" means you put their name in your post and wait until the little blue version of their name comes up, then click on it so the name is blue in your post.)
Talk on the Phone
Call somebody. Call, not text. How long has it been since you've had a real conversation with a distant loved one or an old friend? I've had great conversations with a cousin I haven't seen in over a decade, a number of old friends, and my sister, whom I see several times a year, but don't chat with on the phone anymore.
Phone calls are fun. They're much more fun if you have a landline phone with a nice 20th century rounded handset, but any kind of talk is good.
Who knows? You may start talking about a long ago incident that will spark a new story or poem.
Read
Yeah, it seems so obvious, why say it? Well, because even I forget sometimes. Sunday night when the remote went out, and changing the batteries didn't work, I finally picked up my book—a wonderful Anne Tyler family drama, A Spool of Blue Thread. It was better than the Netflix series I was going to watch anyway.
Plus reading is a more active activity for your brain than simply watching a video. So it's more likely to give you a sense of satisfaction. Plus I find if it's a mediocre book, it inspires me to write because I can do better, and if it's a great book, it gives me something to aspire to.
If you're sheltering alone and you crave the sound of the human voice, try audiobooks. Or just turn on the radio while you read. I find that listening to our local NPR station can calm my mood immediately.
And it keeps me off the Internet.
I know some people find they have no ability to concentrate on something as long and complex as a novel right now. The Atlantic's daily newsletter suggests "turning to poetry to nurse your shrinking attention span back to life." Try some short ones, like Edna St. Vincent Millay's sonnets I linked to above.
Go Through Your Archives
Okay, the weight of collective grief keeps your brain from being able to face the WIP. The novel or memoir may require deeper contemplation than you can handle right now.
But you might be able to write other stuff.
So why not take this time to through some of your older work? Go mining for gold in those old files!
That clever story you never finished.
The half-written novel that never went anywhere but has great characters and a fabulous opening chapter.
A sick novel you could never quite fix
A flash fiction piece you always meant to submit to some magazine and never got around to.
There's that flabby story that never quite worked.
And how about that journal from 5 years ago where you jotted down tons of great ideas, but never had time to get back to?
Maybe you can polish up the finished work and send it out. How about taking that one fabulous chapter and turning it into a short story? Or write a new story about the old characters. Or flip through that journal and start a whole new work with some of those great ideas you came up with.
And that sick novel? Ruth Harris has just the tools you need to revive it in her post on How to Rescue an Endangered Book.
Or how about turning that out of date vampire horror tale into a hopeful story? This week KM Weiland wrote about the power of hopeful stories.
Maybe you can turn that flabby story into a poem. Yes, a poem. Even if you don't write poetry. It's National Poetry Month! Be brave. (It will tighten your prose.)
Journal
Nothing inspiring in the old journal? Starting a new journal can also be a great way to keep yourself writing.
If you're like me you probably have some gorgeous blank-page journals people have given you that you feel are too pretty to write in.
This is the time to use one.
Meditate
Meditation, deep breathing, or self-hypnosis can help your body release some of those stress hormones and hit the reset button.
When you send your overwrought brain on a little vacation, it will work much better.
Here's a guided imagery file from hypnotherapist Gila Zak C.Ht. She's offering it free to help people through this tough time. She has an amazingly soothing voice. The link is courtesy of my insurance agent, Elizabeth Kunemoto, who knows this stuff keeps down our medical bills. 🙂
Practice Gratitude
I know that "Count your Blessings" sounds trite and sappy, but the truth is, it works. Make yourself write down 10 things you're grateful for when you start to slide into the old Slough of Despond. Or better yet, do it every day. You'll feel better.
A neighbor who's a recent widow reminded me of this in an email after she saw a couple of people being interviewed about how their spouses were getting on their nerves. The widow said "I'd give anything to be able to look at my husband after 10 days in isolation and think, 'You're bugging the crap out of me right now!'"
I can be wildly grateful that nobody's jack-hammering my street today. (Replacing gas lines is apparently a slow, tedious—and very noisy—job.)
I have a home, noisy as it is, enough food to eat, and I'm not out of toilet paper yet. All of which makes me grateful
Gratitude. It's good medicine.
Commit Random Acts of Kindness
You can brighten some one's day with small things that can make a huge difference.
A lot of you have time to write reviews now. Write them. They're helpful to readers as well as authors.
Plus a simple wave or genuine smile can do so much in this time of grumpy, suspicious scowls.
Send a donation to your local Food Bank, even though they haven't sent you a request for money. (They're too busy!)
Or offer to pick up a few things at your farmer's market for a quarantined neighbor. Or slip a bag of peanut M&Ms in their order from the drug store (Thanks, Neal!)
Thank a grocery clerk, double-tip a food delivery worker. Give a big smile and thank you to the cleaning crews who are risking their lives and working their butts off to keep us safe.
Do a nice thing. It will brighten your day too.
***
by Anne R. Allen (@annerallen) April 5, 2020
How are you holding up, scriveners? Are you writing away at your WIP in blissful solitude? Or are you unable to write because of large noisy families at home? Are you solitary in a perfect writing environment, but so overcome with collective grief you can't write? Tell us how you're coping with the pandemic.
BOOKS OF THE WEEK
All my books are FREE to read on Scribd for 30 Days! Scribd is giving us all FREE ACCESS because of the Coronapocalypse.
SALE Only $.99 at all the Amazons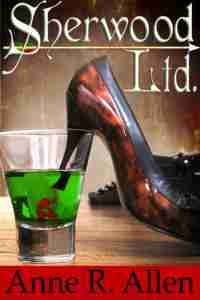 SHERWOOD, LTD: Camilla Mystery #2
Suddenly-homeless American manners expert Camilla Randall becomes a 21st century Maid Marian—living rough near the real Sherwood Forest with a band of outlaw English erotica publishers—led by a charming, self-styled Robin Hood who unfortunately may intend to kill her.
When Camilla is invited to publish a book of her columns with UK publisher Peter Sherwood, she lands in a gritty criminal world—far from the Merrie Olde England she envisions. The staff are ex-cons and the erotica is kinky. Hungry and penniless, she camps in a Wendy House built from pallets of porn while battling an epic flood, a mendacious American Renfaire wench, and the mysterious killer who may be Peter himself.
Here's a great write-up of Sherwood, Ltd from Debra Eve at the Later Bloomer
Available in ebook from:
All Amazons GooglePlay Scribd Kobo Nook Smashwords
Available in paper from:

GHOSTWRITERS IN THE SKY: Camilla Mystery #1
Only 99c everywhere!
Murder and mayhem (and a bogus agent) at a California writers' conference.
After her celebrity ex-husband's ironic joke about her "kinky sex habits" is misquoted in a tabloid, New York etiquette columnist Camilla Randall's life unravels in bad late night TV jokes.
Nearly broke and down to her last Hermes scarf, she accepts an invitation to a Z-list Writers' Conference in the wine-and-cowboy town of Santa Ynez, California, where, unfortunately, a cross-dressing dominatrix named Marva plies her trade by impersonating Camilla. When a ghostwriter's plot to blackmail celebrities with faked evidence leads to murder, Camilla must team up with Marva to stop the killer from striking again.
Available in e-book at:
All Amazons GooglePlay Kobo Scribd Nook
Available in paper at:
OPPORTUNITY ALERTS
CRAFT Short Fiction prize. Up to 5000 words. All genres. 1st prize $2000 plus publication. 2nd and 3rd prizes $500 and $300. $20 Fee. Deadline April 30th.
Tom Howard/John H. Reid Fiction & Essay Contest: $20 Fee. 6000 words max. two $3000 first prizes for best fiction and essay. 10 Hon Mentions $200 each. Deadline April 30th.
AAR Elizabeth Jolley Short Story Prize Unpublished short stories: 2,000–5,000 words. 1st prize $6,000, 2nd $4,000, 3rd, $2,500. $15 fee students, $25 others. Deadline May 1st.
THE STRINGYBARK TALES WITH A TWIST AWARD $14 ENTRY FEE. 1,500 words. Must have a twist at the end of the tale! 1st prize A$350 2nd prize A$250, 3rd prize A$125 cash. Winners will be published by Stringybark. Deadline May 13, 2020.
RAYMOND CARVER SHORT STORY CONTEST$17 ENTRY FEE. Literary fiction up to 10K words. Prizes: $2,000, $500, $250, and two $125. Winning stories will be read by three literary agents. Winners announced August 1. Deadline May 15, 2020.LITERARY TAXIDERMY SHORT STORY COMPETITION$10 ENTRY FEE. Prize $500 as well as publication. Write an original story of up to 2,500 words in any genre. The catch: We provide your opening and closing lines chosen from a classic work of literature. You provide the rest. Deadline June 4, 2020.
12 PUBLISHERS FOR MEMOIRS! You don't need an agent. From the good folks at Authors Publish
***
featured image: William Blake, Albion, 1793