An agent pitch session can feel like pitching in the World Series.
by Linda Maye Adams
When I did my first agent pitch session with my then co-writer, I was so nervous I thought my clothes would break out in wrinkles!
You can read a lot about how to do the elevator pitch but no one tells you how to manage the session itself. There are things you can do to help your nerves. There are also things you should never do.
But first, what the heck is a pitch?
It's a query letter, except that you are talking it in person to the agent.
Is it going to give you an extra advantage?  If you're new to writing, probably not. Your story still has to be what the agent wants to buy. When co-writer and I pitched, the agent loved talking to us and still rejected the manuscript.
But it was that meeting that made us volunteer to run the pitches. We knew we could do better.
Before the Conference
Practice, Practice, Practice
Your biggest issue is probably not going to be the pitch itself but nervousness. That'll cause you to sabotage yourself when you try to talk to the agent.
During an agent pitch session, we lost one of the writers!  He was so nervous, he'd retreated to a corner to hide. I had to coax him to go over to the agent. I'm not sure how well he did.
The key is practice. When I was in the Army, we always did training every Wednesday. We kept going to the same topics because it was important to practice those skills. Under the pressure of battle with nerves and emotions running high, practice was essential so that we didn't have to think about what to do.
Start practicing by doing the following:
1. In your everyday life, smile at someone and say hi.
Most writers are introverts. Some are shy. So this just gets you out of that and thinking about someone else. Makes them feel good and when you see their face brighten, it makes you see those interactions differently.
2. Ask questions at seminars and conferences.
If you attend a local seminar or go to a work conference, go up and tell the speaker that you enjoyed the speech.
I did this at a work conference a few months ago. One of the speakers had a book, so I bought it and asked for an autograph. This is something I've had to work on myself because I'm not always comfortable.
This is a professional organization that helps you practice public speaking in a safe environment.  You'll probably be nervous and terrified during your first speech but everyone's going to say "Good job," because you stepped up.
Toastmasters offers opportunities not only for prepared speeches, but also impromptu ones like Table Topics.  In a Table Topic, you're given a topic in the meeting and you have until you reach the podium to come up with a one to two minute speech. Talk about pressure!
Research the Agents
Most conferences will probably give you one or two sessions with agents. To prepare:
1. Do they accept your genre?
If the agent doesn't, don't waste his time pitching a book they cannot take.
One year, the conference didn't have a lot of agents who represented fiction. Some of the writers were desperate to get any foot in the door, so they booked pitches anyway.
I'm sure the writers thought that the agent would be so engaged by the pitch that they would take the story anyway. Instead, the agents complained to the committee.
2. Look for interviews.
You can get a lot of good information from interviews with agents that have been posted online. The agents are likely to talk about the types of books they take within a genre so you can customize your pitch session.
They also may talk about their background. That's gold to get a personal topic that you can relate to.  If the agent says that she knits and you knit, you can talk knitting shop.
Just don't forget why you're there in the first place. One writer was so chatty that she never got to the pitch when time was called.
3. Volunteer.
If you're still working on your book and aren't ready to pitch it,  volunteer to help with the pitch sessions. That's what I did.
I was so nervous during the first one that I thought running the sessions would help me get over it.  I'd see the agents in a less-stressful situation, and I could chat with them without having the pressure of being "on."
As it turned out, I got to practice my elevator pitch like a Table Topic. All the agents asked what I was working on and I told them. In that setting, it didn't matter if the agent represented my genre or not.
Agent Pitch Session Do's and Don'ts
1. Don't pitch an unfinished novel.
If you're a new writer, don't pitch an unfinished novel. The agent's never going to take it because many writers never finish that book.
One writer used to send out his first three chapters to agents to see if there was interest before he continued with the book. He'd get requests for fulls and wasn't able to follow up. You want that completed manuscript so if the agent is interested, you can send it to him.
2. Don't try to game the system.
The conference committee will be fair and give everyone a chance at getting the same number of pitch sessions. But there's always that one writer who wants to game the conference and get more. That's not fair to the other writers who followed the rules.
One writer tried to crash our pitch room.  He saw an agent sitting at the table and demanded that he see her since she was alone. But she was on break and we zealously guarded the agents' breaks.
We told him no.  He then said he was in the next pitch and wanted to stay in the room. We thought he was just trying to see if he could sneak past us, so we told him to return to the waiting area.  It turned out he did lie to us; he didn't have another pitch session.
We reported him to the conference committee.  Since they wanted to maintain their good reputation with the agents, that writer was banned from the next conference.
3. Don't stalk the agent in the bathroom.
Please, no. This is creepy. This just marks you as desperate.
Besides, do you really want to be associated with going to the bathroom?
Time for the Do's
1. DO show up early.
One of the things that amazed me was that some writers did not monitor the time. At every conference, we'd get one who'd show up an hour late. Be aware this could be your nerves sabotaging you.  Take control of them so you don't miss your session.
2. DO dress professionally.
First impressions count. You don't have to wear a three-piece suit but do make sure what you're wearing is appropriate for the conference, fitted properly, and clean. Kevin J. Anderson talks about how he was dressed in a faded t-shirt for a black-tie award ceremony.
To show you the impact your clothes could have….One of the agents was in her twenties and looked like a teenager.  She was dressed in shorts and a skimpy top.  Every time she left the pitch area and returned, I stopped her because looked like a writer!
3. DO be flexible.
Conferences have a lot of moving parts. Things always go wrong. Sometimes the writers never see it, and sometimes it affects them directly.
We had two agents from the same agency coming in for pitch sessions.  One didn't show.  The other agent discovered she had quit!
What do we do?  We had an entire day's of writers without a pitch session and all the slots were filled.
The other agent told us he would take them all.
While we ran the pitch session, he ran his own.  The volunteers and writers had to work with him so everyone could get seen.  One of the writers ending her session even went out to get him lunch.  And it worked!  Every writer for that agency got a pitch session.
It can be quite an adventure doing an agent pitch session for the first time.  Controlling your nervousness is essential. When you're calm, you can have a good time and get the chance to put your story in front of the agent.
by Linda Maye Adams (@LindaMayeAdams) September 8, 2019
***
What about you, scriveners?  What are your agent pitch session experiences?  How did you overcome your nerves?  Do you have any additional tips for the rest of us? 
For more on this subject, see Ruth's post The Art and Craft of the Elevator Pitch and Anne's post "Hooks, Loglines, and Pitches: What Every Writer Needs to Know.
***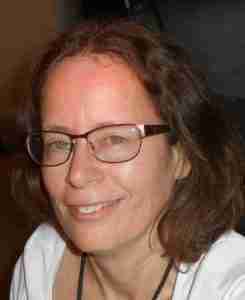 Linda Maye Adams was probably the least likely person to be in the Army—even the Army thought so!  She was an enlisted soldier and served for twelve years and was one of the women who deployed to Desert Storm.
But she'd much prefer her adventures to be in books.  She is the author of the military-based GALCOM Universe series, including the novel Crying Planet, featured in the 2018 Military Science Fiction StoryBundle.  Find out more about Linda Maye Adams on her website .
BOOK OF THE WEEK
Recruited for her ability to see ghosts, Hope Delgado's first mission into space may be her last.  Alien ghosts infest a planet, threatening to destroy it.
But can Hope communicate with alien ghosts?
She faces distrust from the S.C. Kanjgun's skipper and his crew.  Her only friend: The ghost of the dead first skipper.
With the odds stacked against Hope, if she fails, a planet dies.
A riveting space adventure that takes you on a rollercoaster ride.
Find The Crying Planet at Linda's Books2Read Page (which is very cool.) 
***
And Anne has some nice news. Her book, The Author Blog: Easy Blogging for Busy Authors has been named one of the Best Blogging Books of all Time!
"The Author Blog: Easy Blogging for Busy Authors", made it to BookAuthority's Best Blogging Books of All Time:
BookAuthority collects and ranks the best books in the world, and this is kinda cool.
The book is available on Amazon.
OPPORTUNITY ALERTS
ROMANCE WRITERS! Avon Books (a Big 5 imprint) is accepting unagented submissions for a short time.  All subgenres of adult romance fiction are welcome, with one mandate: "HEA (happily ever after) or HFN (happy for now) conclusions are required." Send manuscript, a three-to-five-page synopsis and 100-word author bio via the HarperCollins website  by September 15.
Red Hen Press book award  Cash plus publication. A prize of $1,000 and publication by Red Hen Press is given annually for a short story collection or a novel. And Cai Emmons will judge. Book of at least 150 pages $25 entry fee. Deadline September 30
Sixfold Poetry and Story Contest. 2 prizes of $1,000 each and publication in Sixfold for a group of poems and a short story. Submit up to 5 poems (no more than 10 pages) or up to 20 pages of prose with a $5 entry fee by October 24.
The Tucson Festival of Books Prizes. 3 prizes of $1,000 each for poetry, fiction, and creative nonfiction. Winners can take part in a panel at the Tucson Festival of Books and attend a workshop on the University of Arizona campus in March 2020. Submit 5 poems, a short story, essay, or excerpt from a novel or memoir of up to 5,000 words. $20 fee. Deadline October 31.
7 PUBLISHERS FOR MEMOIRS! You don't need an agent. From the good folks at Authors Publish
***
Featured image: Kyle Hendricks in Game 7 of the 2016 World Series via Wikipedia