By William L. Hahn
There are only two mistakes you can make with world-building in your genre fiction tale. Believing you can't do it is the first, and the second is betting that you don't have to.
As a lifelong fan of epic fantasy (and a history teacher here in the Alleged Real World) it's fair to say I'm addicted to world-building. I'm that geek from your middle school class who had already read The Silmarillion! And whenever I've come away from a book thinking something between "meh" and "dear Lord, how awful", it's too often because the world was so poorly built. We've all read them, in every genre.
And that's what you fear, isn't it? That you'll somehow screw it up? Which leads directly to the second mistake. Nobody drives to where they need to go by refusing to take the wheel. World-building is utterly mandatory for any work of fiction—even for autobiography and memoir—and refusal to recognize that is only going to steer your car closer to the cliff.
So, hands at ten and two, people, grab the wheel: here are six quick lessons about world-building to keep your britches between the ditches. And thus endeth the transportation metaphors, one hopes.
These ideas are drawn from my web series on Sneaky World-Building, in which I use outside examples and recommend writing exercises to clarify your cleverness. Here, just the highlights.
The Why: Because Readers Are Illogical and Impatient
Readers plunk down cold hard cash every day to read fiction books. You're hoping they spend some on yours. Why do they do it? Not to learn about the life they're already living, the world they're in now, that's for sure. To escape, to be taken—by you—elsewhere-or-when.
And here's the thing—
Readers want to be in this other world, but they have no intention of learning about it.
Ridiculous, right? Readers are unreasonable! But face it, they have numerous alternatives in video and audio, all much easier than reading. These days, the only place you hear about someone curling up before the fire for hours with a good book is in a book. Probably written by one of us…
They're not your students. They won't sit there and memorize stuff for the quiz on Friday.
Picture instead the pushy American tourist, fresh off the boat and ready to enjoy himself. Just like the reader, he's paid his money, and now he wants to be entertained, dazzled, getting all the feels. But brochures, background material, history lessons? Absolutely not. You have to think like a tour guide. Entice, tease, gently point the way. Show them the world.
And you can't take forever, either. Readers, like tourists, tend to assume things are the same in your tale as they were "back home". (Which is dumb, because they're insisting you give them escape.) But the default setting is "real world" and if you don't warn them, they'll assume it.
To Sum Up, We've Got a Problem with World-Building
If you don't explain what's different or special about your world, readers will complain when they realize their default setting was wrong, and blame it on your poor writing.
If you do explain it right away, the readers' energy starts to burn out—I call it the Patience Horizon—and there will come an hour when they're "out of gas", put your book down and never pick it back up again. And blame it on your poor writing.
Like I said, ungrateful wretches. But what good is a righteous snit going to do you when your sequel comes out and no one buys?
Did you just feel a chill? I felt a chill.
But be of good cheer. You must build the world for the reader, and you can.
You just have to be sneaky.
The What: But, But, I Found Out All This Stuff!
One of the biggest problems an author has with world-building is finding what to cut out. If you've written a fantasy, or horror, or murder mystery, you are without question the world's leading authority on that particular world. Some of it overlaps with the Alleged Real one, but depending on the genre maybe not much. There's so much more, like the existence of monsters or immortals, or future-tech, gods, time-travel. Even in literary fiction there's a world to be explored, usually inside the minds of the main characters.
And you've learned more about those things than anyone else alive. Tons of stuff! It's great, it warms your cockles just to think of it. In short, you love your world and everything you've learned about it.
But does the reader need to know? All of it?
I offer a few quick writing exercises on my site to help get at this point. Make a quick list of five or ten things about your world that are not the same as "here and now": those would be to the left of this figure. Now, think about whether they are all north of the red line. Does the reader really need to know these things? Or are you just in love with them because you found them out?
This can be painful but remember, love never leads you wrong. There are blog posts, story seeds, flash fiction ideas, and of course, the next tale to put these ideas in (the ones that lie south of the red line). Delete nothing. Just Cut and Move.
Realizing there are things you know about your world, but don't have to tell the reader, is the first and maybe the hardest step in world-building.
The How, When and Where: Art of Camouflage
The next three tips are so closely related you could tackle them in any order. But if you've learned that first lesson, how to hold back on some of what you know, you'll be in great shape for this.
World-building belongs in your tale:
How– as it pertains to the character or plot. This is the art of linking history, detailed knowledge, customs and habits exactly where your world differs from ours, not simply dumping an encyclopedia of All Things My Place before their tiring eyes. If the reader would go off the rails without that info, it needs to be there before "the next thing" happens.
When– you can give just a little bit. Study the action to determine exactly what the reader needs to know first, then second, and so on. After ruthlessly cutting out some of what you know ("But I loooove it!"), you also must decide which information makes the starting team (and comes in earlier). Realize, though, the strength of this idea- putting in just the precise idea, notion, or hint of something different about your world setting not only entices the reader instead of boring them, it also conveys the notion that you, the author, know what you're about. In my opinion, interest and trust are the primary ingredients in the Suspension of Disbelief.
Where– the world-building stands in the midst of something else that's happening. Action scenes can add drama to a passage of memory, the way magic works can be shown in the consequences a mage suffers casting a difficult spell in combat. Try to always have something else going on.
The Two-Sentence Rule
In the writing exercises, I recommend steps to prioritize your list of must-show world building items and help find their proper place in your tale. World-building is not a substitute for "B", as when you know "A" and "C" but can't quite figure what to put between them.
In fact, I recommend the Two-Sentence Rule, which is so cool and useful I made it up.
In brief, one sentence of overt world-building, you can probably get away with. But at two full sentences or more, not directly connected to what's happening or what one of your characters is feeling? Then your tale is headed into danger.
The Who: THEY Need to Know Too!
If you've been nodding your head while reading this, it could be sleepiness: I recommend caffeine. But if you've been nodding in agreement, that's great and I bet you could see where the last lesson takes you. Many writers, in my opinion, have a good sense of who should be doing the talking, or thinking, when it's time to slip some world-building past the readers' unsuspecting eyes.
It would not be worth mentioning if it weren't so crucial. The true omniscient third-person voice is a rarity these days (I think it's one of the hardest): most genre fiction writers realize the tremendous advantages inherent in selecting a more personal point of view. First and second person speak for themselves (Genius! I kill myself), but the sympathetic third person–-the one so many tales are written in today—confronts you with a choice as author. Which of your characters should be the vehicle you use to bring your world to the reader?
The main character will often be the right answer. But always? What about some part of world-building that he or she should stay unaware of, some secret plan of the enemy or a fact that reveals whodunit.
On the other hand, I've read plenty of tales where the author changed point of view too often, "head-hopping" through the entire cast as if from a sense of duty, and giving us a two-sentence flash of how everybody's feeling. Worshiping at the altar of Tell, instead of having one person scan the room and pick up on the signs that give us the same knowledge.
For Your Consideration: The Man Who Knew Too Little
Ponder the advantages of an ignorant narrator. When you tell the tale from the eyes of the newcomer, the alien, that Doctor Watson-type who sees it but somehow never gets it, then the reader has a companion. The ignorance of your character can create empathy, and even a kind of competition as the reader figures things out better than your vehicle. And people who don't know things create more natural situations for folks to tell them without ringing the alarm bell (Warning! Author Teaching Something! Abandon Book! All Eyes Abandon Book, This is Not a Drill!).
You can even get into the head of your antagonist. Whatever he or she is thinking, wanting, planning, the reader will (hopefully) start to pull against that. But you can also consider the sidekick, best friend, an authority figure or facilitator as useful mouthpieces for that little jot of world-view. I've had great success with "one shot" narrators, who take a chapter of my book and encounter a major character through new eyes. Sometimes they're more successful than I planned. I've written one or two short stories I never thought I would, because readers said "wow, I can't wait to see him again!"
Pushing Back the Patience Horizon
That's one sign of a reader who is invested in your world, and thus of your success in telling the tale. They want to know more, they actually nudge you back toward its corners to bring them additional details. Congratulations, you've found another member of your tribe, the kind of reader we all treasure, who will run out to the Patience Horizon and hold up that sun from setting with both hands.
And they'll insist, you never taught them a solitary thing. You little sneak!
by William L. Hahn (@Alaetar) March 24, 2019
What about you, scriveners?
Did you finish your first draft only to discover a three-paragraph discussion of family history between the boy pleading "Marry me" and the girl scoffing "Never"? How did your hero's walk in the woods somehow become a tangled discussion of the various poison-bearing flora and fauna he came so close to encountering? Did you let a distant cousin spill the murderer's secret in conversation, because "it was her turn to speak"? Let us know about your world-building tragedies and triumphs.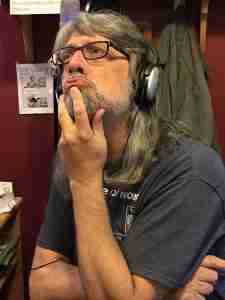 William L. Hahn serves as Chronicler for the Tales of the Lands of Hope, an epic fantasy setting with a lifetime of adventure in it. You can start to experience the Lands alongside an ignorant narrator (of sorts) in Judgement's Tale, or embark on a separate adventure years later and leagues away with the Shards of Light series, beginning with The Ring and the Flag.
Will has recently turned his hand, or mouth, to narrating his own tales and gives DIY advice about audiobooks, world-building, Classics You've Never Read and other writerly topics on his website. Check out the two-minute video describing his life!
Will lives and works from his home in Delaware, together with a wife more lovely than he can describe, a daughter more miraculous than she knows, and cats more numerous than you would readily believe.
BOOK OF THE WEEK
For twenty centuries the Lands of Hope prospered from their Heroes' peace, but suffer now from their absence. Chaos slowly grows in the central kingdom of the Lands of Hope known as the Percentalion. Worse yet, the liche Wolga Vrule plots escape from his extra-worldly prison to unleash a tide of undeath, and enlists the Earth Demon Kog, who ruled the Percentalion millennia ago, as an uneasy ally.
On the western coast of the Lands of Hope, Solemn Judgement comes ashore, having journeyed with his father for two years across a vast ocean. Solemn steps onto these Lands both a stranger and an orphan, driven to complete the lore his father died to give him. Will he discover Wolga Vrule's plan in time to prevent the return of Despair?
OPPORTUNITY ALERTS
Wergle Flomp humor poetry contest. No FEE. up to 250 lines. 1st prize $1000, 2nd prize $250. Deadline April 1, 2019
Gemini Magazine short story contest $10 FEE. Win $5000 and publication. ANY subject, style, genre or length. Stories must be unpublished, but work on personal blogs is okay. Deadline April 1.
SEQUESTRUM EDITOR'S REPRINT AWARD  Fee: $15.  Prize: $200 and publication in Sequestrum for one previously published piece of fiction or nonfiction and one previously published piece of poetry. A minimum of one runner-up in each category will receive $25-$50 and publication. Maximum 12,000 words for prose and three poems. Deadline: April 30, 2019. 
Booksie First Chapter Contest. Prize $1000 plus a review and boost of your content of choice. Send the first chapter of a novel. (You don't need to have finished it) Entry fee $7.95. Deadline June 14th.
5 Literary Magazines that Pay. Open to submissions in March.
Don't let those published short stories stop working! Here are 25 Literary Magazines that will take reprints.
7 PUBLISHERS FOR MEMOIRS! You don't need an agent. From the good folks at Authors Publish
***
Featured image: Days of Creation–The Third Day by Edward Burne-Jones