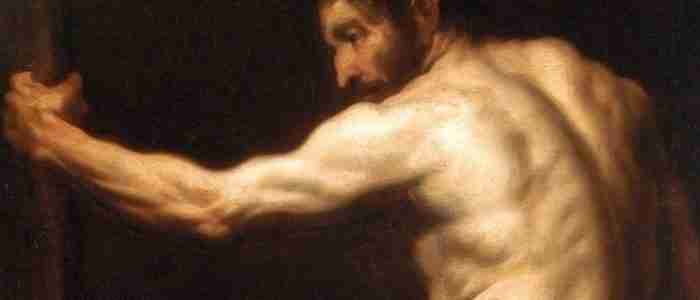 Stronger writing comes from choosing power words.
by Kathy Steinemann
Wrong word or strong word?
Muscle up, wordsters.
Weak writing alienates readers. They won't settle for wussy, so why should you?
One path to stronger writing is to pump up the power of single words. This post provides examples that will help you muscle-ize your narrative.
If you see an idea that looks interesting, feel free to grab it for a story prompt.
Let's review a sentence that relies on weak words.
The guy walked through the water.
Do you see the scene? The "guy" could be a swimmer at the recreation center, a plumber in a flooded basement, or __________.
Rewrites of the sentence convey specific images without affecting word count
The swimmer paddled through the waves.
Michael Phelps waded through the pool.
The plumber splashed through the basement.
The soldier marched through the puddles.
Tiger plowed through the water trap.
Do you pass the smell test?
Not the smell you work up during your creative calisthenics.
But maybe your writing stinks.
Let's visit Warren. Although he isn't smelly, he smells something unusual.
Warren's nostrils filled with an unusual smell.
Is that smell pleasant? Unpleasant? Nauseating?
Without relying on adjectives or increasing word count, we can provide readers with a sentence that leaves no doubt.
Warren's nostrils were assaulted by a stench.
Hmm. Passive voice. Can we change that?
A stench assaulted Warren's nostrils.
The stench, the most important part of the word picture, appears as an active assailant—and we have two fewer words.
More unpleasant smells: effluvium, fetor, fumes, funk, malodor, mephitis, miasma, odor, pit-pong, pong, reek, stink
Let's assume that the smell is pleasant.
An aroma delighted Warren's nostrils.
A fragrance soothed Warren's nostrils.
More pleasant smells: ambrosia, angel-breath, balm, bouquet, musk, perfume, redolence, scent, sweetness
And speaking of the smell test:
What will people visualize when they read the following sentence?
Warren hated working in the noisome environment of the factory.
Will readers hear a noisy factory—or will they smell something foul?
Noisome means putrid or stinky, not noisy. Many people won't understand that. They read the nois root of the word and think noise. Recent statistics reveal that the average American adult reads at a 7th to 8th grade level. Other English-speaking countries also demonstrate poor literacy levels.
That leads us to …
Tip #1 for stronger writing:
If your writing is meant for a mass market, rely on simpler words than you would for a literary audience.
What does that word mean?
Flammable or inflammable?
If two people are compatible, they enjoy a harmonious relationship. If they're incompatible, they don't.
When conditions can be changed, they're alterable. If they can't be changed, they're inalterable.
If an object catches fire easily, it's flammable. So common sense dictates that if the object is fireproof, it should be inflammable.
Wrong.
English throws a strong left hook and knocks us back a step.
Flammable and inflammable both mean combustible, or easily set on fire.
Anxious or eager?
Tom had screwed up. Again. Would the boss find out?
Shelly could hardly wait for her lunch rendezvous with the boss.
Anxious: nervous, uneasy, worried
Eager: enthusiastic, keen, willing
Tom is anxious, while Shelly is eager.
People often say they're anxious to do something. I used to until somebody gobsmacked me and explained the error of my ways.
So now, when I'm waiting for my first cup of coffee in the morning, I realize I'm eager for that mellow flavor, not anxious.
By the way, if you're not British, you might misinterpret the definition of gobsmack.
Gob: mouth
Smack: punch
However, gobsmack doesn't mean to punch in the mouth. In fact, it means to astonish or astound. Perhaps it's a word best avoided, along with flammable and inflammable.
Childish or childlike?
Geraldine's fiancé throws a hissy fit whenever he doesn't get what he wants.
Monique believes everything everyone tells her.
Childish: juvenile, immature, irresponsible
Childlike: naive, simple, trusting
Geraldine's fiancé is childish, but Monique is childlike.
Some sources suggest that these two words can be interchanged, although it's probably best to equate childish with immaturity, and childlike with the trusting qualities exhibited by children.
Dispirited or dispiriting?
John's face twisted into a dispirited frown. He sighed.
John's face twisted into a dispiriting frown. I cringed.
Dispirited: dejected, disconsolate, disheartened
Dispiriting: demoralizing, depressing, upsetting
Note that the -ed ending (past participle of the verb dispirit) indicates the quality of the frown itself and the way it affects the person who is frowning, whereas the -ing form (present participle) indicates how the frown affects others.
Entomology or etymology?
The etymologist thumbed through his notes about entomology.
What do we have here: an insect lover scanning his notes about word origins, or a word lover checking his notes about insects?
Entomology: the study of insects
Etymology: the study of word origins
Better get that one right. You don't want bugs crawling over the page when you're researching the etymology of a word.
Frightening or frightful?
The teenagers sat around the campfire while they exchanged ghost stories.
The teenagers sat around the campfire while they discussed their awful hike.
Frightening: scary, terrifying, causing fear or anxiety
Frightful: awful, horrific, unpleasant, shocking
So the ghost stories are frightening, but the hike was frightful.
Insensitive or insensate?
"You lout," said Sara as her brother teased her about her weight gain.
Grandpa is in a coma.
Insensitive: indifferent, oblivious, tactless
Insensate: comatose, knocked out, unconscious
Sara's brother is insensitive but Grandpa is insensate.
Pained or painful?
The doctor winced while he relayed the devastating news of Grandpa's death.
Grandpa experienced several agonizing infections before he lapsed into a coma.
Pained: affected with pain, especially mental pain
Painful: aching, sore, uncomfortable
The doctor has a pained expression, but Grandpa's infections were painful.
Peak, peek, or pique?
It took four hours for the mountain climbers to reach the summit.
The cat burglar spied through the curtains.
The book aroused my interest.
I was annoyed when the telemarketer phoned during dinner.
Peak (noun): the pointed top of a mountain
Peek (verb): to spy, look furtively
Pique (verb 1): to stimulate interest or curiosity
Pique (verb 2): to feel resentful or irritated
The climbers reached the mountain peak, and the cat burglar peeked through the curtains. The book piqued my interest, but I was piqued when the telemarketer called while I was eating.
Don't pique your editor by typing peak or peek when you mean pique.
Transparent or translucent?
Four murders in as many days. Detective Sharpson ducked under the yellow police tape and plodded toward the latest victim. Through the plastic sheet wrapped around the corpse, he could make out seven X-shaped gashes.
Teresa heard the bathroom door open. All she could distinguish through the shower curtain were the indistinct features of a man holding what looked like a knife. She held her breath. Was this the Seven-X Serial Killer?
Transparent: clear, see-through
Translucent: semiopaque, semitransparent
The plastic is transparent, but the shower curtain is translucent.
Wave or waive?
A fifth police tape floated in the breeze, evidence of Detective Sharpson's failure, taunting his inadequacy. He waved the reporters away.
The alleged Seven-X Serial Killer declined his right to a lawyer.
Wave: to flutter, flap; to move the hand back and forth
Waive: to give up a right or claim
I see wave and waive confused so often in writing that I want to wave a dictionary in the face of each offender. I don't get mad enough to commit murder, because if I did, I'd have to waive my right to a lawyer.
Willful or willing?
The stubborn toddler stamped her foot and said, "No, no, no. No broccoli, Mummy."
All the students volunteered for hall duty, knowing it would save them from a boring lecture in class.
Willful: headstrong, obstinate, stubborn
Willing: eager, enthusiastic, keen
The toddler is willful. The students, however, are willing.
Can you guess what the second tip will be?
Tip #2 for stronger writing:
Unsure of a word? Double-check its meaning. That's why we have dictionaries. And Google.
Contronyms: the bane of creative muscle.
Contronyms are words with opposite meanings. Even in context, they may muddle the intent of narrative.
Dust (verb): to remove dust; to cover with dust
Enjoin (verb): to order; to forbid
Fast (adjective): moving swiftly; immovable
Overlook (verb): to monitor; to ignore
Ravel (verb): to tangle; to untangle
Resign (verb): to quit; to sign up again
Sanction (verb): to approve; to boycott
Screen (verb): to conceal; to broadcast
Seed (verb): to plant seeds; to remove seeds
You should be proficient at guessing the tips by now.
Tip #3 for stronger writing:
Avoid contronyms unless context is clear or you intend to mislead readers.
Do you detect anything unusual in the following mini lists?
By the time you reach the end of this section, you should be able to figure out tip #4.
Stuff (noun): belongings, equipment, gear, instruments, medical equipment, packages, paraphernalia, personal effects, possessions, tools
Things (noun 1): circumstances, events, incidents, occurrences, phenomena, proceedings
Things (noun 2): articles, elements, impedimenta, items, objects, obstacles, pieces, units
Everyone (pronoun): the audience, the citizens, the class, the crew, the crowd, the electorate, the participants
Talk (verb): argue, babble, chat, chatter, confer, converse, debate, deliberate, discuss, gossip, natter
Walk (verb): amble, creep, edge, hike, limp, march, pace, paddle, promenade, saunter, slog, splash, stride, stroll, waddle, wade
Water (noun): bay, brook, cove, creek, inlet, lake, lagoon, loch, ocean, pond, pool, puddle, river, rivulet, sea, stream, tarn
Person (noun): man, woman, child, teenager, toddler, doctor, nurse, gardener, retiree, scientist
Guy (noun): boss, man, doctor, chef, CEO, truck driver, flight attendant, hacker, plumber, server, supervisor, swimmer, weight lifter, writer, hockey coach
Gal (noun): boss, woman, doctor, chef, CEO, truck driver, flight attendant, hacker, plumber, server, supervisor, swimmer, weight lifter, writer, hockey coach
Did you notice that the Guy and Gal word lists contain almost identical suggestions? Women can be just about anything nowadays except sperm donors—but who knows what future technology might bring. Story prompt?
And that takes us to the final tip …
Tip #4 for stronger writing:
Whenever possible—excluding dialogue—be specific.
P.S.
You'll encounter many rules during your writing journey.
"Do this." "Never do this."
"Said is invisible." "Said is boring."
"Adverbs are bad, bad, bad." "Repetition is even worse."
Writing is communication. You have a story. You need an intelligible way to tell that story. Writing "rules" are mere guidelines. If you encounter a rule that begins with never, do not, or always, approach with suspicion.
Learn the rules, and decide when it's safe to bend or ignore them.
by Kathy Steinemann (@KathySteinemann) September 9, 2018
What about you, scriveners? Do you use power words in your writing? Are you running off to check your WIP for weak words? Any questions for Kathy?
About Kathy Steinemann
Kathy Steinemann is a bird-loving grandma who has enjoyed a passionate affair with words for as long as she can remember, especially when the words are frightening, futuristic, or funny. She is fond of speculative fiction, and rarely misses a day at her favorite pastime—writing.
Her popular books, The Writer's Lexicon and The Writer's Lexicon Volume II, have helped writers all over the world to hone their craft.
Kathy's website: KathySteinemann.com.
OPPORTUNITY ALERTS
Writers Digest Popular Fiction Award. Up to 4000 words. Fee: $25. 6 Categories: Romance, Thriller, Crime, Horror, Sci-Fi/Fantasy, Young Adult. Prize $2500 and publication by Writer's Digest. Deadline September 14.
TOM HOWARD/MARGARET REID POETRY CONTEST $12 FEE.  Prizes: $1,500 for a poem in any style or genre, and a $1,500 prize for a rhyming poem. $100 each for 10 Honorable Mentions. Top 12 entries will be published online.  250 lines per poem.  Deadline: September 30.
NEW LETTERS PUBLICATION AWARD IN FICTION Up  to  8,000 words. This year's topic is CHILDREN.  Entrants get a one-year subscription to New Letters.  $750 prize and publication. $20 ENTRY FEE. Deadline October 28, 2018.
THE GALLEY BEGGAR PRESS SHORT STORY PRIZE Up to 6,000 words. £1,000 prize. Or one year's editorial support for a writing project. £150, £50 and free book prizes as well. 70 free entries available to those on low-incomes. £10 ENTRY FEE. Deadline September 30, 2018.  
SERVICESCAPE SHORT STORY AWARD NO ENTRY FEE. They're looking for any genre of short fiction. Maximum 5,000 words. Prize is $1000 in addition to publication in SERVICESCAPE. Deadline November 30, 2018.
13 Imprints of Big 5 publishers who take unagented submissions. From the good people at Authors Publish Magazine.
48 Small Presses looking for children's books. Also collated and vetted by Authors Publish magazine.