Facebook ads work to reach the elusive niche reader
by Barbara Morgenroth
Eight years ago when I began a second career as an indie author after many years in traditional publishing as well as television, my middle grade book, Impossible Charlie, was the only new book in its category.
Total book visibility!
By the time 2016 rolled around, things changed with the avalanche of indie books being published. Most books and authors are now inundated under hundreds of thousands of other books and authors.
The lament became one word: "discoverability".
Up sprang book bloggers and book tours and promo sites, the Holy Grail being Bookbub. But the choices of who they accept are as mysterious as Amazon's algorithms.
Authors grasped at any lifeline they could find and were largely disappointed.
I tried everything, changing covers, titles and blurbs. I got reviews, toured, and did everything everyone said worked. But…they didn't.
Why?
My potential readers weren't at Amazon. They were somewhere else.
Like Facebook.
It turns out Facebook ads work.
Pros—
There are about a billion people on Facebook.
Facebook targeting to reach your audience is precise.
You don't have to rely on anyone and (unlike Bookbub) Facebook is not going to reject you.
Cons—
There is a learning curve.
It can be expensive—although when compared to some of the Bookbub fees—it's a bargain.
You need patience, and you'll have to do some work.
I've been advertising on Facebook for some months and my mailing list has increased by a factor of 6, going from a very small audience to quite a substantial one. This is good. It was easy. I've made back my investment. Win!
Starting Out
The mechanics of creating a Facebook ad are detailed at Facebook. The Facebook advertising guru is bestselling novelist Mark Dawson.
He offers three free videos at his site.
Watch them.  Follow the advice.
When you have that knowledge firmly in place, your work really begins.
Ask Yourself Questions
There are questions you need to answer. Have a notebook handy and start taking notes.
What books are like yours?
Who writes books like yours?
What are the interests of your audience?
If you write thrillers, you probably know exactly who are the top thriller authors. Is it James Patterson for you? Write it down.
If you write romances, maybe it's Debbie Macomber.
Think of ten traditionally published authors who write what you write. Write it down. Can't think of them?  Go to  Yasiv.com and search. Check on Amazon for similar books. Write down the results. (Yasiv.com is a fascinating tool. I'd never tried it before. And don't forget Barb Drozdowich's tip to check the also-boughts on your published books… Anne)
Whatever your category, do that.
Type those authors into the interests category when creating your Facebook ad, and use the audience that already exists for books like yours.
What if No Book is Like Yours?
Wait! What if you're such an outlier there is no traditionally published author who does what you do?
That's my situation. I have a thirteen book series in equestrian fiction, Bittersweet Farm, and there isn't one famous author I can identify with.
I had to create my own niche.
Remember when I told you to think of interests your potential audience has?
I have a four-book coming-of-age series titled Bad Apple. It's not really Young Adult–it's in a little bit of a gray area. I looked for books like The Outsiders by S.E. Hinton, finding a few that were close, but you want to be targeting about 250,000 people and S.E. Hinton didn't bring me anywhere near that.
In my book, the main characters are musicians and have a band. I thought about current performers who are similar. After searching, I came up with a few and added them to the list. Facebook will try to help you by making suggestions. Use their help.
I thought of every element in the series and wrote the words down.
Facebook advertising is for everyone, every market, not just books. Every time you like a page or a post, Facebook remembers. (Creepy, I know, but so helpful now.)
Now that you have done your homework and know who your audience is, you want to ask what else would they like?
What Non-Book Things Does Your Reader Like?
Is your book is about musicians? Then what kind of instruments do they play? Gibson guitars? Pleyel pianos? Investigate.
Maybe your book is a romance about a clothes horse—so does she wear Jimmy Choo shoes? The brands of trendy clothing items might help. Make a list.
If you've written about a spy, do they use a Walther or a Sig Sauer pistol? What do they drive? What do they drink? These are interests you can target.
You've researched and now have your audience up to about 250,000 people according to Facebook.  Maybe it's too one-author, maybe you had to rely on other interests but you got it done.
As a piece of advice, don't target Kindle readers, it's too broad.
Follow the best advice from Facebook and Mark Dawson—or someone as smart—and create your ad.
Use an eye-catching image that's easily understood.
Keep the pitch succinct. Mine are usually under 25 words. I think of it as a billboard on the highway. The driver is going past at 65 mph and they have to get it at speed. They're not going to read a paragraph. What they'll do if it's too long is forget about it. Next!
Grab them. Make them want to click.
Patience Pays Off
If you turn on your ad and expect instant results, that's not going to happen. It takes about a week for Facebook's algorithm to learn your audience. The more people who click, the smarter it gets.
Be patient. If after two weeks, you have disappointing results, ask why your ad isn't intriguing the thousands of people who it's been served to. It's probably not Facebook, I'm sorry to say, it may be something about your ad, the graphics, or the book.
Try again. Keep trying.
Use all your creativity to find your audience.
You can do it. Facebook will help.
by Barbara Morgenroth @barbmorgenroth July 24, 2016
What about you, Scriveners? Have you tried Facebook ads? Do you know where you're most likely to find your audience? Do let us know in the comments if you've found one place that's especially welcoming for a particular genre. 
This week Anne continues her poison series with a post on the much-mythologized plant, mandrake. And she's visiting the Insecure Writer's Group with a post on Do Authors Need a Blog?
Barbara sold her first novel to Atheneum when she was 24 and never looked back.
Eight books later, she moved on to television where she became one of the youngest head writers in the history of daytime television.
She is also the recipient of a Writers Guild of America Best Writing Award for her work on One Life to Live.
Barbara has written romantic comedies, mysteries, Young Adult and equestrian fiction.
BOOK OF THE WEEK
It's on SALE!!
Not Low Maintenance
by Barbara Morgenroth
Only 99c on Amazon for a limited time!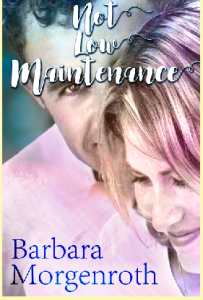 Viva Miller can find the perfect match for anyone.
For herself, not so much.
After catering a much talked about Blood and Guts hunt breakfast, Viva is slapped with a defamation of character lawsuit by her ex-boyfriend, David Resnick. She can't afford to be taken to court especially not when the opposing lawyer, Joel Bernstein, is the hottest (in every definition of the word) attorney on the east coast.
The return of vile David into her life, fully reinforces Viva's decision to swear off men, but that an unlikely outcome if Joel has anything to do with it.
Can a food stylist turned expert matchmaker find love with the man who is trying to sue her for everything she's worth?
What happens when David turns up dead and Viva is the prime suspect?
OPPORTUNITY ALERTS
Please note: I try to vet all the contests and opportunities I list here, but I may miss something, so always read the fine print, especially when it comes to copyright. Don't enter a contest that takes rights for non-winning submissions, or asks for ALL rights, rather than first rights. More on this at Writer Beware.…Anne
THE SUNDAY TIMES SHORT STORY AWARD NO ENTRY FEE Any story under 6,000 words. Five shortlisted runners-up get £1,000. First prize worth  £30,000. The Society of Authors is the sponsor. Author must have previous publications in the UK or Eire. Deadline September 29, 2016.
Bartleby Snopes Dialogue-Only Story Contest. $10 FEE for unlimited entries. Write a story under 2000 words, using only dialogue–no tags. No other restrictions. Prize: minimum of $300, more with more entries. All fees go into the prize pot.  Deadline September 15th.
Call for anthology submissions! Wising Up Press is accepting submissions of poetry, fiction and creative nonfiction for their "Kindness of Strangers" anthology. Prose: 5,000 words or fewer. Poets may submit up to five poems. They accept simultaneous submissions and previously published work. Deadline Sept. 1st
MYSTERY AUTHORS! We found a list of 15 small presses that specialize in mysteries and do not require an agent for submissions. It's compiled by Authors Publish Newsletter.
ROMANCE AUTHORS! Here's a list of 31 small presses that specialize in romance and do not require an agent for submissions. Also compiled by the Authors Publish Newsletter.
25 PUBLISHERS YOU CAN SUBMIT TO WITHOUT AN AGENT. These are respected, mostly independent publishing houses–vetted by the great people at Authors Publish. Do check out their newsletter.