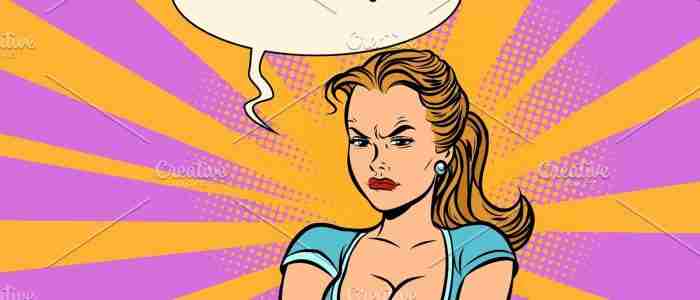 by Anne R. Allen
This week I saw links to a couple of threads on social media about reader pet peeves. Then Buzzfeed weighed in, listing some of the biggest complaints from fiction readers. Some peeves are predictable but others are kind of surprising.
I do some of this stuff myself, so I was grateful to be enlightened. 
Too many gastrointestinal references.
It seems readers don't like it when, at the revelation of every new plot twist, the protagonist's stomach gets filled with butterflies, then clenches, and afterward feels like it got punched.
Fear affects other parts of the body, too. We need to remember that. 🙂
Dialect spelled phonetically.
I'm 100% with the readers on this. I remember trying to decipher dialogue in Treasure Island when I was a kid. It was decades later, on a trip to England, that I finally found out that "summat" meant "something." Even now, if I see something written in dialect, I skim until they get back to the story.
If you've heard the dialect before, you can kind of understand the phonetics, but if you've never heard it, the whole scene is gobbledygook.
An author can show dialect with a few well-chosen words or phrases and no funny spelling.  For example, if you want to convey that somebody speaks with a Boston accent, it's wicked easy to have him to bang a U-ey and head for Southie for a grinder without the author making him "pahk the cah." 🙂
"Panties" is on the list of reader pet peeves. Who knew?
Apparently a whole lot of readers (as well as editors) hate the word "panties." Readers ask that if you're a Brit, call them knickers. (And "pants" means trousers to Yanks, so don't go there.) If you're a Yank, just call them underwear. Or of course, a thong if that's what's going on.
Unless you're talking about a three-year old. But "undies" will do too.
Too much thinking during dialogue.
This one was mentioned in a couple of lists of reader pet peeves.
"Is it raining?" Bob said.
Martha looked at Bob and thought about how it rained all that summer after their parents were killed in that freak car crash on I-95 when a twenty-five car pile-up was caused by a confused bull moose who tried to take somebody's AMC Gremlin to the prom…."
Put the backstory somewhere else. Readers say they just want to know if it's raining.
The secret McGyver.
You're more than half-way through the book, and their vintage Gremlin has gone kaput in the middle of the Maine woods while the heroine and Bob are speeding to Boston in pursuit of the villainous mastermind who's planning to set off a paint bomb that will drench Fenway Park in Yankee blue.
Suddenly she mentions she majored in auto mechanics at the local community college, and for her, fixing the car with duct tape, Double Bubble and six Butterfinger wrappers is easy-peasy.
If your character has a superpower, let us know before she has to whip it out to save the day.
Characters giving flattering descriptions of themselves.
Readers are totally over the old "looking in the mirror and taking a flattering personal inventory" trope. It might be at the top of the list of the reader pet peeves. As one reader pointed out, real people "look in the mirror and — usually — think 'God, I look like crap.'"
They also don't believe most people muse about their "lush, wavy auburn hair, thick eyelashes and full lips" when they're on their way to a crime scene.
And it seems high on the peeve list (for women, anyway) to read details about every female character's body. One reader pointed out that everybody has nipples, so they don't have to be mentioned every time a woman enters the room.
The truth is authors don't have to say all that much about a protagonist's looks. You can say more about the looks of secondary and walk-on characters–so we can tell them apart. But you don't have to give a long, detailed description of the protagonist. All Jane Austen told us about Elizabeth Bennet was that she had "fine eyes." But I'll bet every reader of Pride and Prejudice has a clear mental picture of Ms. Bennet.
Give your reader's imagination some room.
So long, Mister Mxyzptlk.
Sci Fi and fantasy readers say they're tired of characters with names they can't pronounce. Especially ones with numbers or symbols in them. Give your readers a break.
And hey, what if somebody wants to make your book into a film? Don't you want Adam Driver to be able to pronounce his own name?
Awkward, insecure protagonists who are sexually irresistible.
He or she feels utterly unattractive and dorkified around the opposite sex (or whichever sex they prefer.) But the hottest person in the room is always drawn to them and immediately falls in love.
For some reason, readers don't feel that's altogether believable.
Chuckling, chortling, sneering, and hissing dialogue
It's true what your creative writing teacher told you about dialogue tags. "He said/she said" is invisible. But when the characters sneer, hiss, chuckle and chortle their dialogue instead of saying it, readers say they get taken out of the story.
And you can't sneer words. Try it sometime.
Readers also think it's kind of self-serving when the author has the character chuckle and chortle hysterically at a joke that isn't all that funny. Which of course the author wrote.
When an author overuses a word or phrase, especially if it's weird.
Just because the protagonist feels dorkified around Mr. Perfect shouldn't drive the author to discuss dorkification every time Mr. Perfect walks his undorkified self into the room.
We all have favorite words and crutches. That's why we have editors.
Historical characters with modern sensibilities
Or who use contemporary slang. When Anne Boleyn tells Henry she's hella mad because he's objectifying her, being inappropriate, and not respecting her boundaries, the reader wants to chop off her head, too.
Characters who never resist an offer of sex
I was surprised to read this, but yeah, I understand. Although I think a bit of promiscuity can be excused when it's part of a behavior pattern. My character Camilla tends to fall into bed with Mr. Wrong more often than is wise, but that's part of her persona.
However, if all your characters have trouble keeping their pants/panties/underwear on, it might be time to cool them down a bit.
Ordinary characters who live like one-percenters
Call this the Carrie Bradshaw syndrome. These are the people with low-level jobs who can somehow afford to take exotic vacations, have a closet full of designer leather goods, and live in elegant apartments in Manhattan. Unless their parents are crazy-rich, this is unlikely. And if her parents actually are one-percenters, disclose it.
Ditto all the YA characters who get into Ivy League schools. And their parents can afford to send them.
Typos, word misuse, and grammar slip-ups.
Yeah. Readers notice this stuff. They don't care if correcting grammar mistakes offends your muse. Or that you expect them to understand you're making art, so you can't be bothered with little details like getting the words right.
Surprise! Readers aren't being judgmental or trying to stifle your prodigious artistic gifts. They simply can't enjoy the story if they have to wade through typos, misspellings, and grammar glitches.
The reader is paying the same money for your "artistic" book as they are for a polished, well-edited one. Be respectful of them.
"As you know, Bob" -ism.
This is when authors want to get in some backstory, so they put it in dialogue.
"As you know, brother Bob, our parents were killed in a car crash on the I-95, caused by a bull moose who mistook a Gremlin for a hot female. Our parents, Lucille and Doug, loved the Red Sox, so we go up to Fenway Park every year to honor their memory. But now an evil mastermind is planning to paint bomb Fenway, and we must reach Boston in time to warn the mayor."
Yeah. Bob knows that. And the reader has been taken completely out of the story.
Info-dumping in dialogue is not a good idea. You're writing a novel, so you can tell the reader stuff. You don't have to put information in dialogue the way you do in a play or film script. (And yes, it's telling, but storytelling requires quite a bit of telling. See my post on Why Show Not Tell Can Be Bad Advice.)
Several readers also complained about characters who use each other's names too often. This poses a dilemma for the author, I realize. If we have several speakers in a conversation, we want to let the reader know who is being addressed.
But instead of saying "As you know, Bob," it's  better to say "She turned to Bob and said…"
It was all a dream…
Bob Newhart dropped the mic on this trope back in 1990. If you must include dream sequences—and yes, I do occasionally—make sure they are short and exist to further the plot, not fool the reader.
I'm not advising any writer not to follow the muse when creating a story. But when you're revising and editing that story, always keep your reader in mind. Then your work won't end up on some list of reader pet peeves.
***
By Anne R. Allen (@annerallen) March 14, 2021
What about you, scriveners? Do you find yourself falling into any of these patterns the readers complain about? What are your own reader pet peeves? 
BOOK OF THE WEEK
Celebrate St. Patrick's Day with a FREE book that's never been free before (and may never be again.)
FREE for 5 days only!! 
HOW TO BE A WRITER IN THE E-AGE: A SELF-HELP GUIDE
co-authored with NYT 3-million-copy seller
March 13th to March 17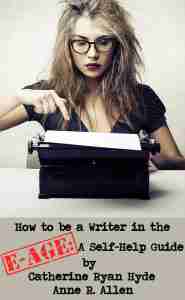 Friendly, down-to earth advice about how to navigate the treacherous waters of today's publishing world.  You'll see a lot of books out there about how to write, and a whole lot more that promise Kindle millions. But this book is different. It helps you establish a professional writing career in this time of rapid change—and answers the questions so many writers are asking.