by Kathy Steinemann
'Tis the season to be thankful. November and December bring with them many opportunities to express gratitude: Veterans Day, World Kindness Day, Thanksgiving, Hanukkah, Christmas, and more.
Ziad K. Abdelnour said, "Learn to appreciate what you have, before time makes you appreciate what you had."
Let's consider a few things we can be thankful for in this historic year.
We're alive, unlike more than 1.5 million people worldwide who have died from COVID-19. If you have lost a loved one due to the pandemic, my deepest condolences — but you can still be thankful for the time you had with them.
We possess the technology to read this post. Many folks don't enjoy this advantage.
We have Zoom, Skype, Facetime, and similar chat services that allow many people to work at home, take online courses, and keep in touch with others.
Many of us are reading more, because we're staying close to home.
Most people who read this post have access to nutritious food, clean water, and a warm bed.
We're practicing a more family-centric way of life as we worry that we might lose those we value the most.
Publishing a book is easier than ever.
You, dear writer, have the capacity to express your gratitude in words. This post provides ideas for phrasing, but it doesn't stop there. You'll also find suggestions for showing your thanks via gestures and small gifts.
The Words
If you search through your favorite thesauruses and online resources, you'll locate a mere handful of replacements for thank you. Those replacements are sprinkled throughout this section. Edit them to produce suitable phrasing for the friend, relative, acquaintance, reader — or stranger — you wish to thank.
A million thanks wouldn't be enough to express my overwhelming [appreciation, gratitude].
Cheers! Here's to you for your [assistance, consideration, help, kind-heartedness, selflessness, thoughtfulness, understanding].
Have I ever told you how much I [admire, appreciate, respect, value] you?
I appreciate [all your help, what you did, you, your gesture, your gift, your thoughtfulness].
I commend you for your [assistance, consideration, help, kind-heartedness, thoughtfulness, understanding].
I owe you [a debt of gratitude, big time, one].
I'm eternally grateful for [your gift, your ideas, your support].
I'm thankful for [all you do, your assistance, your smile].
Much [appreciated, obliged].
My gratitude [could never be expressed by mere words, is boundless].
Of all the people I have in my life to be grateful for, you're at the top of my list.
Thank you. I'm forever [beholden to you (dated, but would suit a writer of historical fiction), in your debt, indebted to you].
Thanks for always being there when I need [advice, assurance, a friend, guidance, help, inspiration, a nudge, a pep talk].
Thanks for your support and advice. You're irreplaceable.
Thanks so much. You never [fail to amaze me, let me down].
Thanks! You're incredibly [considerate, kind, thoughtful].
Warm greetings of appreciation and gratitude.
Well done! You went above and beyond.
What would I ever do without you?
Words can't express how much I [appreciate, respect, value] you and your friendship.
You make the world a [better, happier, nicer]
You saved [the day, the project, my life].
You shouldn't have, but I'm so glad you did.
You're [amazing, irreplaceable, one of a kind, the best kind of friend].
You're [an angel, a blessing, a dear, a gem, a lifesaver, the best].
You're at the top of my list of reasons for [being happy, being successful, living].
You've [gratified, impressed, inspired, moved, touched] me beyond words.
Your [generosity, kindness, thoughtfulness] [made my day, will always be remembered, will never be forgotten].
Are You Still Stuck for Words?
All of the following are anonymous quotes. Massage them to produce a note of thanks, being careful not to take credit for someone else's words.
For example:
Someone once said, "It's not happiness that brings us gratitude. It's gratitude that brings us happiness." I want you to know I'm one of the happiest people in the world right now.
Try a similar approach with these.
All my lifetime through, I'll be thanking heaven for a special friend like you.
It is not happy people who are thankful. It is thankful people who are happy.
It's not where you are in life, it's who you have by your side that matters.
No duty is more urgent than that of returning thanks.
Sometimes the best way to appreciate something [someone] is to be without it [him, her, them] for a while.
Thank you for always being there for me even when I'm a pain in the rear.
Thank you for always giving me the extra push I need.
Thank you for being an important part of my story.
Thank you for being the reason I smile.
Thank you for brightening my world.
Thank you for making so many ordinary moments extraordinary.
Thank you for touching my life in ways you never know. My riches do not lie in material wealth but in having a friend like you.
Thanks for tolerating my idiosyncrasies and crazy habits.
You put the "you" in thank you!
An Alternate Approach
Similar to the previous section, leverage a quote from a known source (with appropriate attribution).
For instance:
"Alfred North Whitehead said, 'No one who achieves success does so without the help of others.' You're so much more than an 'other' on my journey to success.
More quotes:
"I awoke this morning with devout thanksgiving for my friends …" ~ Ralph Waldo Emerson
"I can no other answer make but thanks, and thanks, and ever thanks." ~ William Shakespeare
"Joy is the simplest form of gratitude."~ Karl Barth
"Kindness is a language which the deaf can hear and the blind can see." ~ Mark Twain
"No one is useless in this world who lightens the burden of another." ~ Charles Dickens
"The root of joy is gratefulness." ~ David Steindl-Rast
"When eating fruit, remember the one who planted the tree." ~ Vietnamese Proverb
Express Your Appreciation in Another Language
Danke schön, muchas gracias, or merci beaucoup demonstrate your extra effort to thank a multilingual recipient of your gratitude.
Need more options? Translate.Google.com can help you with many languages. Take care, however, to keep your message simple. Apps are notorious for sloppy translations.
Another useful site, Dict.cc, provides a plethora of phrases for dozens of languages.
Gestures of Gratitude
Express gratitude in other ways as well:
Nothing speaks louder than a happy expression to let people know you appreciate them.
Send an encouraging email.
Crochet, knit, sew, or build a small gift.
Give away a plant you raised from a seed or cutting.
Make a list of the things you like about a person and send it to them. Add humor if appropriate.
Express your gratitude on social media.
Volunteer to walk a pet.
Telephone or text.
Send a video of you reciting a poem written especially for the recipient of your thanks.
Volunteer to do a chore like weed the garden, mow the lawn, or shovel the driveway.
Self-Serving Gestures
Send an autographed copy of your book with a personalized greeting that makes it obvious you've spent time composing your thoughts
or
show your appreciation with small gifts that have been personalized with your author photo, book cover(s), and/or website URL. For example:
apron
bookmarks
calendar
coffee mug
face mask
fridge magnet
jigsaw puzzle
key tag
mousepad
notepad
pen
set of coasters
socks
tote bag
towels
T-shirt
water bottle
wine glasses
More Gifts and Gestures
Tailor these to the recipient, taking care not to get so personal that you seem like a stalker.
Send a live plant from a local flower shop.
Pay for the person's library card for one year.
Give a gift certificate from a local (book)store.
Send a gift certificate from an online retailer.
Donate in the person's name to their favorite charity.
Arrange to have a takeout meal delivered to their door.
Follow their social media feed(s); like and comment.
Gift a membership to an online streaming service.
Send a series of anonymous thank-you notes.
Send a lottery ticket.
Find free online resources for the recipient's hobbies and interests, and email or direct message them.
Create a scrapbook of memorable moments.
The Best Gifts and Gestures
John D. Rockefeller Jr. said, "Think of giving not as a duty but as a privilege." Practice that privilege whenever you can, and you'll feel happier as a result. We could all use some happiness this year, right?
Pay for the beverage of the person in line behind you at the drive-through.
Deliver a meal and a bottle of water to a street person. If the weather in your area warrants it, consider accompanying the meal with socks, gloves, and a warm head covering.
Donate to an organization that delivers toys to needy children.
Contribute groceries or money to the local food bank.
Volunteer at a homeless shelter.
Donate books to an animal shelter's fundraising event.
Send an anonymous gift to a person who has gone out of their way to help people or animals.
Set up a Facetime, Skype, or Zoom session with a shut-in, and chat with or read to them.
Send an anonymous note of encouragement to a fellow writer, a teacher, a healthcare worker, or an essential services worker.
And You?
What are you thankful for in this chaotic year? How did you or will you show your gratitude?
by Kathy Steineman (@KathySteinemann) December 6, 2020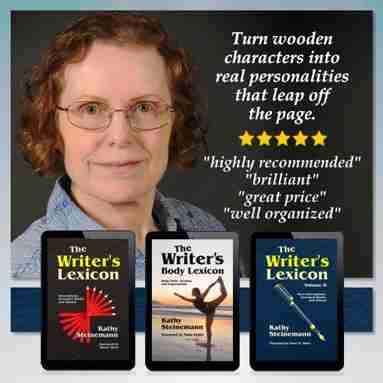 Kathy Steinemann, Grandma Birdie to her grandkids, loves words — especially when the words are frightening or futuristic or funny.
As a child, she scribbled prose and poetry, and won public-speaking and writing awards. As an adult, she worked as a small-town paper editor, and taught a couple of college courses. She has won or placed in multiple short fiction contests.
If you were to follow her around for a day, you might see her wince when a character on TV says "lay" instead of "lie" or when a social media post confuses "your" with "you're." And please don't get her started on gratuitous apostrophes in pluralized words.
Her popular books in The Writer's Lexicon series are touted by writers as "phenomenal," a "secret weapon," and "better than a thesaurus."
You'll find her at KathySteinemann.com, Facebook, Twitter, and Pinterest.