by Anne R. Allen
I'm not sure anything stings as much as that first bad review. You're riding high in triumph. You finished the project that may have taken decades to complete. Then you survived the crushing editing/ querying/ rejections/ revising/ editing again process. But now you're finally a published author.
Yay!
Whether the publisher is yourself or the Random Penguin House, the feeling is the same. It's your baby and you just gave birth. You are experiencing a moment of bliss.
And then…splat.
That review. Somebody hates your baby. They really hate it. You are a talentless hack and a worthless defiler of language. They say you should never write another word and suggest you take up underwater basket-weaving or making throw pillows out of dryer lint.
And it hurts like #$&@.
Last week I got a note from a new writer who has had fantastic response to his first book. The book has blurbs from A-list celebrities and it was recently named to a "ten best" list in his genre.
He's had a triumphant debut any author would kill for.
But last week he got that thing. That first bad review. Not entirely bad, but pedantic and condescending. The author was devastated.
He wrote asking me if he should he rewrite the book to fix the "problems" the reviewer had pointed out. The Spanish version was about to go to press. Should he halt the launch? How could he fix all these things the reviewer had complained about?
Here's What I Told the Author After his First Bad Review.
Congratulations! You know who gets bad reviews? Every published author who ever lived.
Now you're official.
Reviews like this are rarely about the book and mostly about the reviewer. The guy's in a cranky mood. The book didn't elevate him to the spiritual Narnia he craved, so it's a bad book.
Funny–just yesterday I decided to skim the 99 reviews on my boxed set of the first 3 Camilla comedies. Some were scathing.
One said "these books set the Women's Movement back 200 years!"
The next one said "These are so Politically Correct I wanted to throw up."
Another said "this book was so long and disjointed I had no idea what was going on." (Um, that's because it's three different books?)
And there's the one that just said, "horibble."
What do these reviews say about my books?
Nothing.
Zip, zilch, nada.
Did I learn anything? Yeah. A lot of people do not get irony or satire. Others skim so fast they don't even know what book they're reading. And some people are not as smart as others.
And you know what? I'm not writing for those people.
Yeah, you got hit by a stray projectile and it hurts. But it's just a projectile. All about the thrower, not the target.
Don't change anything in your book. Your book is out there and it can hold its own.
I know it's early in the afternoon, but a nice bottle of bubbly might be nice to celebrate getting your first bad review.
Chocolate is good too.
And here's another tip that's guaranteed to make you feel better:
Read Amazon Reviews of Classics and Bestsellers
This is one of the best ways to cheer yourself up when you're celebrating your first bad review. It might even work better than chocolate.
Just put a classic or bestselling title into the search window on Amazon and read the one and two star reviews.
The Great Gatsby by F. Scott Fitzgerald
Bad writing, long run on pompous sentences, totally boring characters and very little plot don't add up to a classic in my opinion. Mostly it's plot, what little there is, involves some rich full of themselves people trying to score some booze and looking for a party during prohibition.
Moby Dick by Herman Melville
"This is a book that seems great until you read it. There's nothing brilliant or profound that I found."
Pride and Prejudice by Jane Austen
I much preferred the version with zombies.
Brideshead Revisited by Evelyn Waugh
"After reading the entire novel, I was left with the reaction of "So what?" I also determined that Evelyn Waugh was extremely arrogant and filled with exaggerated, unwarranted self-worth."
A Farewell to Arms by Ernest Hemingway
"Ponderous, constant use of unintelligible slang, endless useless conversations. I tried slogging through this mess, but finally gave up and sought better books."
Of Human Bondage by Somerset Maugham
"Phillip Carey is such an ignorant character that I could not finish the book. I gave him chance after chance to grow a brain but he failed me every time. I do not associate with people like this in real life, so why would I do so in fiction."
Catch-22 by Joseph Heller
"Labored through 8 chapters before finally giving up. Completely uninteresting, poorly written, and absurd."
Sons and Lovers by D. H. Lawrence
"I have not read this book yet; but am not looking forward to it"
The Grapes of Wrath by John Steinbeck
"What an utterly terrible novel. Racist, sexist, poorly written, and absolute trash moralism. Steinbeck has as much command of adjective as a fifth grader, and his understanding of the subject this book focuses on, labor economics, is about that of a fourth grader."
The Shining by Stephen King
"This book was not scary at all. A lot of the scares were repetitive and childish."
Harry Potter and the Sorcerer's Stone by J.K. Rowling
"It's witchcraft!"
The Goldfinch by Donna Tartt
"I did not like this book at all. All the drug, booze, swearing was just too much for me to overlook. Perhaps there is an element of society that lives this kind of life, but I really didn't enjoy reading about it."
Where the Crawdads Sing by Delia Owens
I did not find this story believable, and the characters were awkward and flat It just dragged on with no spark.
As I Lay Dying by William Faulkner
I've read more interesting cereal boxes.
***
Yup. All authors get awful reviews. Lots of them. You will too, so buckle up.
There Will Be Worse Reviews
You think you can't get any review more devastating than that first one. But buckle up. You need to be prepared. In the age of the Internet, the customer review is one of the places that people feel they can vent their anger at the world.
There's the reviewer who saw you in person and has to mention your weight or your hair loss. Or that you're a lot older than your author photo. There's the one who saw you're a Facebook friend of their ex's new squeeze, so you're a target of bitter revenge. Then there's one who decides you're a Nazi or an antifa spy.
I heard from one author whose ex-mother in-law leaves sock puppet reviews on all her books calling her nasty names and accusing her of all sorts of nefarious deeds.
Sometimes Amazon will remove those, if you make a request through Author Central showing how they break their TOS, but usually they won't.
Yeah. Stuff happens. We live in a world where people can be utterly heinous on the Internet without consequences.
We have to build callouses on our souls, or we won't survive in this business.
Yeah, but…What if the Reviewer is Right?
You want to believe, but there's that niggly little thought that won't go away: what if that reviewer is right?
Okay, first you have to define "right." Art isn't a mathematical problem. There can be many right answers.
Multi-million seller Catherine Ryan Hyde addressed this in our book How to be a Writer in the E-Age:
"One of the biggest breakthroughs I ever had was when I learned to stop saying, "Is it good or is it bad?" and switched to, "What is the market for this? Who would like this kind of work?"
Dealing with the opinions of others is, in my estimation, the hardest part of being a writer. But there's a question you can ask yourself at times such as these, and the answer will tell you everything you need to know. The catch is that you have to ask it on a deep level and answer honestly.
The question is, "Do I agree?"
When you can answer that question honestly, a great deal of initial confusion will fall away. When you base changes—or the refusal to make changes—on that answer, you will be honoring your reader, your work and yourself." …Catherine Ryan Hyde
You made a whole lot of artistic choices when you wrote your book. Did you feel good about those choices? Then don't second-guess yourself.
Stand by your muse and ignore your first bad review. And all the bad reviews that come after!
***
by Anne R. Allen (@annerallen) June 21, 2020
What about you, scriveners? Have you had your first bad review? Or a critique that was unnecessarily harsh and unhelpful? What was your most ridiculous review? This would be a good place to share it. We can all use the laughs.
BOOK OF THE WEEK
THE FIRST THREE CAMILLA RANDALL MYSTERIES
Some escapist comedies for pandemic-ing
Snarky, delicious fun! The Camilla Randall mysteries are a laugh-out-loud mashup of romantic comedy, crime fiction, and satire: Dorothy Parker meets Dorothy L. Sayers. Perennially down-and-out socialite Camilla Randall is a magnet for murder, mayhem and Mr. Wrong, but she always solves the mystery in her quirky, but oh-so-polite way. Usually with more than a little help from her gay best friend, Plantagenet Smith.
Only 99c at Amazon stores world wide. That's 33c a book.
Ghostwriters in the Sky, Sherwood, Ltd. and The Best Revenge in one convenient boxed set.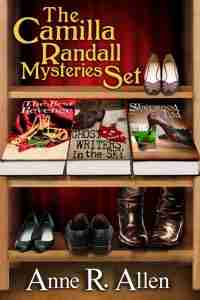 Ghostwriters In The Sky: When a young writer is found dead in her gay best friend's bed at a writer's conference in California wine country, Camilla must enlist the help of a cross-dressing dominatrix to clear Plant's name. Unfortunately, she suspects the hot LA cop who has stolen her heart may be the murderer.
In Sherwood Ltd. a homeless Camilla lands in Robin Hood country, where some not-so-merry men may be trying to kill her, and of course Camilla once again ends up in the most improbable, but always believable, circumstances.
The Best Revenge is a prequel to the series, and takes us back to Camilla Randall's teen years, when she first meets Plantagenet Smith—and is accused of murder herself!
Available from Apple, plus
All Amazons Kobo Smashwords GooglePlay Nook Scribd
OPPORTUNITY ALERTS
Los Angeles Review Contest for short stories, flash, poetry and creative nonfiction Four prizes of $1,000 each and publication in Los Angeles Review. Submit up to three poems of no more than 50 lines each, a short story or essay of up to 2,500 words, or a piece of flash fiction of up to 500 words with a $20 entry fee. Deadline: July 14.
The Golden Quill Award. Theme: The Unexpected. Fiction, Creative Nonfiction, and Memoir up to 1000 words. Poems up to 40 lines. Prize determined by number of entries. $10 Entry Fee. Deadline August 1.
100 Word Blurb Competition NO FEE! $500 prize for the most compelling blurb. Deadline September 1.
The IWSG Anthology 2020. Genre: SciFi. Theme: Dark Matter. Word Count 4500-6000. Previously unpublished fiction. No entry fee. Deadline September 2. The IWSG admins will create a shortlist of the best stories. The shortlist will then be sent to our official judges.
Ink and Insights Novel contest. ALL entries get written critiques from 4 judges. 2 Categories—Apprentice Novel and Master Novel. Master Novel winners also reviewed by agents. $45 Fee until May 31. $50 until June 30.
12 PUBLISHERS FOR MEMOIRS! You don't need an agent. From the good folks at Authors Publish
***
Featured Image: John Everett Millais (1829-1896) "A Wife"