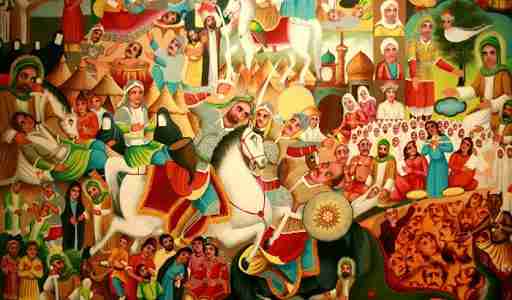 by Anne R. Allen
One of my personal writing issues is I tend to pack my books and stories with way too many characters. If a fascinating person walks into one of my stories, I feel it would be rude not to let them join the party. I suppose my inner Manners Doctor takes over. 🙂
This drives my editors batty. They think confusing the reader is worse than being rude to fictional people. And of course they're right. They usually tell me I need to consolidate minor characters or eliminate them altogether. Someone even told me there's a "rule" that a novel should have seven characters or less.
I've always been annoyed by all this. But this week I saw a thread in a readers' Facebook group that helped me see the reader's point of view.
Someone had put up a post saying they hate "when there are a million characters in books and it's hard to keep track."
A long thread ensued. Seems a whole lot of readers agreed with her. Many said they have to take notes to tell characters apart. Others brought up a number of books that have "too many" characters. George R.R. Martin got several mentions, and big sagas like The Thorn Birds and Peyton Place. British mysteries and 19th century novels were the biggest culprits. Especially the Russians, who not only have too many characters, but each character has too many names.
Strangely, most of the readers said they liked those books anyway, even though they have to take notes to keep the characters straight.
So I don't think the problem is too many characters as much as it is too many confusing characters.
In the drive to make books more readable, we have made books less complex and less populated. That can be a good thing when you're writing spare, literary stories, but there are readers out here who still love to get lost in a big family saga, complex mystery, or epic fantasy. By definition, these books need lots of characters.
So how do you keep your readers from getting confused by all those people?
1) Make Characters Vivid When You Introduce Them
Let us see characters when you introduce them. (And don't introduce them all at once!)
Two men arrived to take Lulu to the mysterious meeting
The taller man offered her his hand, which was adorned with a large spider tattoo."I'm Stanislaus," he said. His handshake was firm, but not too squeezy.
"And I'm Hamish." The other man offered his hand too. Hamish couldn't have been more than 5'5" and had a head of unruly red hair that would make Bozo the clown jealous.
Whenever a spider tattoo or Bozo red hair appear in the action, the reader will remember them.
How not to introduce them:
Stanislaus was six foot three, with brown eyes and hair. Tattoo of a spider on his right hand. When he was seven years old, his Aunt Hilda died of a spider bite. One early spring morning, Aunt Hilda took the old GMC pick-up to town to buy ingredients for her beebleberry cobbler, and one of the spiders who had been nesting in the engine all winter….
In other words, don't give us backstory that will take us out of the main storyline or a police-report description of height, weight, and eye color. Just give a memorable couple of things to identify the character, introduced as part of the action.
Also, don't wait until Chapter Ten to mention what a character looks like. As one reader said in the same Facebook group, "When a book does not adequately describe a character, you just fill in the blanks. But later you actually get a description and you want to shout, 'Wrong! You had your chance and now you are wrong.' "
2) Don't Name "Spear Carriers"
Incidental characters don't need names. If Stanislaus and Hamish drive Lucy to the mysterious meeting and never reappear, they only need to be called "the driver and his henchperson." They don't need names, and we don't need to know anything about them.
Ditto the pizza delivery guy, the teller at the bank, or the barista at the coffee shop. If their only job in the book is to deliver pizza, cash that iffy check, or make a heart in the foam of the hero's latte, and they never re-enter the story, they don't need names. Even if the guy delivers pizza four or five times, if he doesn't do anything relevant to the story—he's a no-name pizza guy.
Unless, of course you want pizza guy to be a suspect in a murder investigation. Then you've got to give him a name and backstory, and get people wondering why he always delivers an anchovy pizza instead of what people ordered.
But each named character should be essential to the plot, and each should have a personal motivation in the story.
3) Don't Give Your Characters Unpronounceable Names
Several readers in the Facebook group complained bitterly about characters whose names they couldn't pronounce. Being able to hear names in your head helps you remember them.
Except for Mr. Mister Mxyzptlk in the Superman comics, I don't think many unpronounceable characters have captured the public's imagination. (I cringe for that poor child of Elon Musk and Grimes, saddled with an unpronounceable name that looks like one of those super strong passwords you never can remember.) My prediction is that as soon as he's old enough, he'll change his name to Jack.
You can use weird made-up names—who can forget Zaphod Beeblebrox? But because that name can be pronounced, I can remember him three decades after I read the Hitchhiker's Guide to the Galaxy.
So be as inventive as you like. Just make the name pronounceable.
4) Make Sure the Name fits the Character.
I remember reading a book where I never could remember the villain's name. It was Larry, but that name so much didn't fit the character that I couldn't attach it to him.
Zaphod Beeblebrox is such a perfect name for Douglas Adams' character that you can't imagine him having any other. What else would you call a narcissistic, two-headed, intergalactic con man who's somehow become president of the Universe?
The hero—of sorts—of the Hitchiker's Guide, is Arthur Dent. Also perfectly named. He's a very ordinary Englishman padding around in carpet slippers, always looking for a real cup of tea. If he were named Hydrophilius Durdorvian, not only would we confuse him with the aliens around Beeblebrox, but there would be no story.
Arthur Dent's ordinariness is the very essence of the tale. We'll never forget his name
5) Don't Give Too Many Characters Similar Names
This got the most complaints. Two characters whose names start with the same letter is the number one pet peeve of these readers. We learned not to do this this in creative writing 101, but there are a number of things that push us to break the rule.
I sure did when I had two characters named Morgan and Merlin in my Grail Saga novel, The Lady of the Lakewood Diner. There was no way I could change the names of Merlin and Morgan le Fay when I wanted my story to echo the Grail Legend. But I think I made the characters vivid enough that no reader has confused them.
So if you have two sisters named Betti Ball and Bobbi Ball, you need to make sure they are wildly different from each other. Or you might want to rethink, unless the similarity of names is of vital importance to the plot.
The biggest problem the readers complained about was characters who are rivals for a heroine's hand who are unmemorable because of similar names. If they're George and Garry, or Jack and John, or Sam and Stan, readers are going to be gritting their teeth—or just stop reading.
Of course, sometimes you want to make characters interchangeable. I solved the problem of Camilla's interchangeable employees named Jen: she always simply calls them "the Jens."
6) Avoid Predictable Names, Too
You also want to avoid overused and clichéd names. I read three books in a row last winter who all had a love interest named Jack. I kept confusing them. I'd think, "Wait! he can't do that. He's a park ranger." But then I'd remember that no, Jack the park ranger was in the last book. This was the Jack who owned a limousine company—or was he the detective who's a Gulf War veteran with PTSD?
Picking generic names from the British Isles often indicates lazy writing. Ask yourself if the names can be more diverse. Could Dick, Jane, and Sally be Dietrich, Josefina, and Soraya? A diverse cast of characters is easier to remember.
A great way to find interesting names is reading baby-naming sites for different countries.
7) Consider Listing a Cast of Characters at the Beginning of the Book.
This was a common practice back in the days of big family sagas. And some authors still do it. I think it helps a lot. All the major characters are listed in the front matter so the reader can flip back to check who's who if things get too complicated.
I think it's a practice worth reviving.
8) And Yes, Cut Unnecessary Characters When You Can
I hate doing this. I feel every character I've written to be essential to the story. But I usually can find some to eliminate or consolidate if I'm pressured. If the character is really wonderful, I may take out her whole subplot and write her a story (or book) of her own. I did that with Regina, the fat princess in Food of Love. She was originally a character in The Lady of the Lakewood Diner.
It helps to reread the whole manuscript, looking for characters to cut
Could the heroine's love interest can have 2 brothers instead of 5?
Does the scene where Mr. Hot Boss's old friend shows up at the office dressed as a pirate actually further the plot? Could you sneak in that backstory about how Mr. Hot Boss played Buttercup in his prep school production of H. M. S. Pinafore in another way?
If two of the heroine's friends expose dark secrets about Mr. Wonderful at different times in the story, could they be consolidated into one nosy, gossipy friend?
I know it's hard, but if you're hearing from beta readers or critiquers that your cast of characters is getting unwieldy, go through the manuscript asking yourself: could somebody else serve this function?
But I like a book with a big, juicy plot and lots of characters, so just keep tabs on them, and I think you'll survive the "too many characters" police.
by Anne R. Allen (@annerallen) May 17, 2020
What about you, scriveners? Do you have a habit of putting too many characters in your novels? Or are you keeping under the limit of seven? Have you had readers complain that your names are too cliched or too weird? How do you solve the problem of too many characters?
BOOK OF THE WEEK
THE LADY OF THE LAKEWOOD DINER
A comedy that pokes fun at the myth of a Golden Age, making parallels between the Grail legend and the self-mythologizing of the Baby Boomer Generation.
Someone has shot aging bad-girl rocker Morgan Le Fay and threatens to finish the job. Is it fans of her legendary dead rock-god husband, Merlin? Or is the secret buried in her childhood hometown of Avalon, Maine?
Morgan's childhood best friend Dodie, the no-nonsense owner of a dilapidated diner, may be the only one who knows the dark secret that can save Morgan's life. And both women may find that love really is better the second time around. Think Beaches meets Fried Green Tomatoes at the Whistle Stop Cafe.
"A page turning, easily readable, arrestingly honest novel which will keep you laughing at yourself. Who doesn't remember crashing on a mattress at a friend's apartment with the stereo blasting Iron Butterfly and no idea where you'll stay the next night? A cultural masterpiece for the discerning reader."…Kathleen Keena, author of Adolescent Depression, Outside/In
Ebook only $3.99
All Amazons Kobo Barnes & Noble
plus AppleBooks and GooglePlay
OPPORTUNITY ALERTS
The Golden Quill Award. Theme: The Unexpected. Fiction, Creative Nonfiction, and Memoir up to 1000 words. Poems up to 40 lines. Prize determined by number of entries. $10 Entry Fee. Deadline August 1.
100 Word Blurb Competition NO FEE! $500 prize for the most compelling blurb. Deadline September 1.
LITERARY TAXIDERMY SHORT STORY COMPETITION$10 ENTRY FEE. Prize $500 as well as publication. Write an original story of up to 2,500 words in any genre. The catch: We provide your opening and closing lines from a classic work of literature. You provide the rest. Deadline June 4, 2020.
12 PUBLISHERS FOR MEMOIRS! You don't need an agent. From the good folks at Authors Publish
***
featured image by Ahmad Khalii