Lurking predators are always coming up with new publishing scams.
by Anne R. Allen
I read a quote recently from an indie author who said he felt sorry for new writers who fall for scammy vanity publishers — because they obviously have no writer friends to clue them in.
It is true that networking with other authors is the best way to stay safe from scammers in this business. You can usually get by with a little help from your friends.
Unfortunately, the latest batch of scams are calculated to turn friends' faces and familiar names into weapons to use against you.
Here are some of the nasty ways they're trying to con you.
1) Riding the Coattails of Publishing Influencers
If you Google "Anne R. Allen," about halfway down the SERP (Search Engine Results Page)  — before a link to this blog — is an ad for a notorious vanity publisher. They've obviously used my name as a keyword for their ads.
Flattering, maybe, but also hella creepy.
And recently I saw a link to a "best websites for indie authors" list, and went to check it out.  The first few links were to well known publishing blogs like Writer Unboxed, Nathan Bransford, and Jane Friedman. But sandwiched in between the real influencers were links to vanity presses. In other words, the "Best Websites" list was simply a con to steer newbies to scammy vanity presses. Most of the vanity sites on the list are owned or spawned by Author Solutions.
This clever ploy was designed to make the scammers look legit. Plus putting trusted names in there got real influencers to share the list — and put the vanity press names in front of their sizable readerships.
Always check out a publisher with Writer Beware, and ask your writer friends what they've heard about it.
2) Vanity Publishers Posing as Big Five Publishers.
Never underestimate the chutzpa of publishing scammers.
One of the Philippines companies that broke off from the Author Solutions scam machine has been posing as "Hachette US" and may be masquerading as other members of the Big Five.
Pretending to be these real major publishing companies, the scammers offer writers freelance jobs that don't exist.
Hachette has put up this alert on its Facebook page.
"Scam Alert – We have recently become aware that some people are receiving fraudulent messages from a scam artist posing as Hachette HR using a fake email address. The impersonator has been sending fake employment letters using Hachette's company name and logo to trick people into believing that they are interviewing and hiring job candidates or contracting freelance work on Hachette's behalf. This is a scam. If you receive any such email, we encourage you to report the phishing attempt to your email provider and the FBI's Internet Crime Complaint Center.
3) Fraudster Marketing Companies that Use Names of Respected Publishing Professionals.
Mass-spamming the general public with press releases or tweets is worth absolutely nothing. But companies are charging $1000s a month to do just that. Spam is worthless for selling books.
And these people don't hesitate to use fraud to sell their "services."
One scammer has been masquerading as a branch of the famous Donald Maass Literary Agency.
Here's what Mr. Maass had to say:
"Writer friends, we'd like to alert you to an outfit called Techbooks Media in Wyoming, which has been using the name of a highly respected agent at my company to solicit writers for expensive "marketing" services and offering a contract of "representation" by a Literary Agent. If you should receive such a solicitation, be aware it is not from Jennifer Jackson of the Donald Maass Literary Agency based in New York. Our agents are members of AAR, Inc. and do not solicit or charge up-front fees."
For more on this see Victoria Strauss's February 7th post, The Impersonation Game.
4) Boxed Sets That Promise USA Today Bestseller Status
I warned people about boxed set scams last year, because there were some that devolved into toxic cults, but there are new scammers in town, and charities have been ripped off as well as authors.
One particular scammer put together boxed sets that were supposed to benefit a charity rather than pay royalties to the authors. Authors were lured by the chance to do good, plus the promise their investment would get them USA Today bestseller status.
So in exchange for the hefty buy-in fee, the author wasn't going to make any money, but would get bragging rights, plus benefit a charity.
But for each set, with some highly irregular accounting, the scammer claimed the sets made no money. Nothing for the charity, no bestseller status, nothing — except what they got to line their own pockets.
Be very wary of these boxed sets that promise the moon. People who game the system are likely to game you, too.
Real multi-author boxed sets can be fantastic for raising visibility, and they usually make a nice profit. But don't join just to game the system. They're best when authors ourselves get together and pool money for design and publicity.
When it's done by a for-profit company who promises bestseller status, there's a major chance it's a scam.
5) Goodreads Print Book Giveaways
I think it's time to label these a scam. They were once a good way to get reviews, but way too many book re-sellers are gaming Goodreads giveaways to get free inventory.
After paying the Goodreads fee, plus postage, authors not only don't get reviews, but they see their signed books for sale online.
One bookseller in the Midwest apparently stocks much of her store with Goodreads giveaway books.
I'm not going to use any names, because this bookseller is not only a crook but a sadistic bully. (Scammers are often sociopaths: you can't have much empathy if you feed on peoples' dreams for a living.)
Whenever an author complains — no matter how politely — about seeing review copies for sale with no review, this scammy bookseller will then give the author a one-star, four-word insulting review, and post it on all retailers across the Web. This sweetheart also threatens to ruin the authors' careers by reporting them as scammers to Amazon.
Unfortunately the crook has many clones. And nobody at Goodreads cares.
Of course there are still good, honest people who ask for Goodreads giveaway books and write lovely, thoughtful reviews. But they are becoming scarce.
Goodreads simply has no policing and nobody to complain to when scammers use the site to commit fraud. The chances of getting a review from a Goodreads giveaway are slim, and that narrow chance is not worth gambling your career and well-being.
To give out review copies, try Booksprout, Hidden Gems, NetGalley or BookFunnel.
Goodreads doesn't have enough moderation, and it has devolved into a site that's toxic for authors and reviewers alike.
6) Magazines that Charge for Interviews
In 2018 I talked about being solicited for bogus pay-to-play radio interviews. Now you can pay for ridiculously overpriced magazine interviews, too.
Any interview that costs the interviewee money isn't worth the price of the paper it's printed on. And some of these are printed on pretty cheap paper.
You may hear from these publications in an unsolicited email (i.e. spam) from somebody who pretends to have "stumbled across" your book and feels it has potential but needs more marketing.
Most of these new print "magazines" are more like advertising circulars, although the price of a print interview can run into the thousands.
And now the once-respectable Publishers Weekly is getting in on the game.,  They're selling interviews for their monthly advertising supplement "BookLife" for $1200-$2500. Thing is, the authors think they're buying a spot in the real Publishers Weekly, and the fact it will appear in"BookLife" instead is only mentioned in the fine print.
Most of these magazines have no circulation at all—except to other authors. Otherwise, they're just left in a "free-take one" pile at a book fair.
7) Book Fair Placement and Fair Publicity Packages
Paying some company big bux to have your book displayed at big book fairs is money down the toilet. Your book will be lost among thousands of others and the company may not even bother to display it. David Gaughran warned about these book fair scams in a blogpost back in September, and Victoria Strauss mentioned them just this week.
Publishing industry "fairs" or "expos" are mostly a waste of time for individual writers. These are industry conferences where the bigwigs schmooze and booze. This is where the Random Penguins talk to Mr. Bertlesman and Mr. Hachette, not to lowly indie authors.
To them, you're not on the lowest rung of the ladder. You're not on the ladder at all.
Unless you're a high-profile author with your own publishing company, or a star author a Big Five company is promoting this year, you have no reason to be there.
The money you spend for travel, hotels, and a spot in a booth will not do your career any good unless you happen to bump into the head of Simon and Schuster in an elevator, which gets stopped between floors and he has a panic attack and you talk him down so he owes you and takes your book to look at as a polite gesture.
But he probably won't read it anyway. 🙂
8) High Priced "Assisted Self-Publishing" Companies that are Simply Printers.
According to Writer Beware's Victoria Strauss, teen writers are being lured into one of these companies with "young writer" contests where the prize is a "publishing package."
Unfortunately, there are some "self-publishing assistants" who simply print the books through POD, but don't publish them. They provide no distribution or marketing. Nobody can buy the books on Amazon or any online or brick and mortar retailer unless the author sells them as a secondary seller. The brokenhearted teens find their "prize" is a few cartons of books to sell out of their parents' car trunks.
Print books are not the primary source of income for most indie authors. Ebooks are. And most ebooks are sold on Amazon. If your book isn't available to Amazon readers, it's not likely to make back the cost of production. (Especially when the costs are ridiculously inflated.)
9) Rights Grabs from "Free" Contests
This isn't really new, but I've heard of several contests recently that, in the fine print, say they have the right to use any piece that's sent to them. That is, not just the winners, but any story you submit becomes their property.
Yeah. You didn't really enter a contest. You just gave away your work for free to an outfit that will probably publish it uncredited or sell it to a college essay mill.
So it helps to read that fine print.
Unfortunately, sometimes there's not even any fine print.  Writer Beware has reported one contest that posted NO rules or rights policies. Later, the site posted all the stories that had been sent in as entries—with no compensation or even notice to the authors.
And sometimes even very big name publications can include rights grabs. Here's another warning from Writer Beware: Rights Grabs by the Sunday Times Audible Short Story Award.
So be very wary of free contests, even when they're sponsored by well-known organizations. If there's something iffy in the fine print, or no fine print, stay away.
10)  Screenplay Scams
Some dodgy marketing companies are offering the "Hollywood option" — making your book into a screenplay.
Paying somebody to write a screenplay based on your book "on spec"— that is, without a contract with an actual filmmaker — is absurd. This service costs around $15,000 and does absolutely nothing to get your book made into a film.
Every restaurant server and parking lot attendant in Southern California has a screenplay.  Having somebody write one for you doesn't give you any more chances than these folks have in selling it to a studio.
You're better off trying to get a job for a caterer who is working a party where you might bump into Reese Witherspoon or Oprah so you can slip them your novel and they'll put it on their book club list. Films are made from bestselling novels, not unknown ones.
Some More Help in Spotting Scams
Keep in mind that any self-publishing or marketing plan that focuses on print books only is very likely a scam. Scammers figure that anybody who doesn't know that self-publishers' income comes mainly from ebooks is a newbie and ripe for scamming. See my post on the mistake that makes you most vulnerable to new publishing scams.
Also, beware anything that comes to you in an unsolicited email or a Facebook ad.
And remember that any unknown person who piles on generic praise for "your book" (especially when you've published many) is very likely a scammer. Especially if they say they "stumbled on" your book.  Always ask where they got their copy.  If they hem and haw, they're waving a big red flag.
A lot of the old scams are still out there, so check my warnings from 2019 and 2018. Also some earlier warnings about predators and scammers.  If you need more clarity on self-publishing companies vs vanity presses, check out my post on How to Tell Legitimate Publishers from the Bad Guys.
For more reports on recent scams, read Victoria Strauss's look back at 2019 scams. Victoria is an amazing industry watchdog who looks out for us all. Always check her Writer Beware site before signing on any dotted lines. Marketing guru David Gaughran also keeps an eye out for bad guys. We should all be grateful to both of them for helping to keep us safe.
Update March 10, 2020
Watch out for a new scam publicity company called "Author Capital." Today I heard from mega-selling author Catherine Ryan Hyde, who had been approached by somebody from Author Capital who tried to sell her bogus book promotions. They were so clueless they didn't even know she's a superstar (author of Pay it Forward) who's sold over 3 million books for her current publisher, Lake Union.
These people called her at 7:00 AM to tell her she wasn't selling enough, but they could help her career if she just gave them a bunch of money to show her book at book fairs. (Book fair scams are very big with vanity publisher Author Solutions and all their progeny.)
by Anne R. Allen (@annerallen) February 16, 2020
What about you, scriveners? Have you run into these new publishing scams? Have you met up with any old ones? What do you think are the most dangerous publishing scams? 
BOOK OF THE WEEK
No Place Like Home: Camilla Randall Comedy-Mystery #4
Wealthy Doria Windsor is suddenly homeless and accused of a murder she didn't commit. But Camilla, with the help of a brave trio of homeless people, the adorable Mr. X, and a little dog named Toto, is determined to unmask the real killer and discover the dark secrets of Doria's deceased "financial wizard" husband before Doria is killed herself.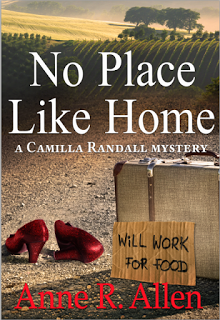 "A warp-speed, lighthearted comedy-mystery"…Abigail Padgett
"A fun, charming novel about the rich and less so" …Karen Doering
"A cross of dry British humor and American wackiness, and it all adds up to a fun read." …Deborah Bayles.
"It's comedy about a dark topic – homelessness – and it succeeds without ever descending into tasteless insensitivity, or tipping over into sentimentality."…Lucinda Elliot
And NO PLACE LIKE HOME IS ALSO  AN AUDIOBOOK!!
Narrated by award-winner C. S. Perryess and Anne R. Allen (as Camilla)
Nearly 8 hours of hilarious entertainment!Only $1.99 if you buy the Kindle ebook
OPPORTUNITY ALERTS
RUBERY BOOK PRIZE ENTRY FEE £37 or $60. No publication date restriction. Accepts fiction and nonfiction. The Rubery Book Prize is an international book award organization offering one grand "Book of the Year" prize, which includes £1,500 as well as publishing consideration from a top London literary agency. Smaller prizes are also awarded for finalists. Deadline March 31st
Wergle Flomp Humorous Poetry Contest. NO FEE. 1st prize is $1000 plus a subscription to Duotrope. 250 lines, max. 10 Honorable mentions get $100 each. Deadline April 1st.
AAR Elizabeth Jolley Short Story Prize  Unpublished short stories: 2,000–5,000 words. 1st prize $6,000, 2nd $4,000, 3rd, $2,500. $15 fee students, $25 others. Deadline May 1st.
12 PUBLISHERS FOR MEMOIRS! You don't need an agent. From the good folks at Authors Publish