New Book Marketing: how today's author launches a book.
By Melodie Campbell
New Book!!  Gak – I have a new book coming out January 29.  The Goddaughter Does Vegas is number 6 in an award-winning series (Derringer and Arthur Ellis – yay!)  Because of that, I do have some expectation of sales from previous readers of the series (bless your totally wacky hearts.)  But still, I have to get the message to them and to potential new readers, that there is a new book coming out, in this very noisy marketplace that scares the pants off me.
Full disclosure:  I am a professional marketing director and professor of marketing, newly retired. (I teach Crafting a Novel exclusively now.)  So I've had many years to think about the process of promotion, and study the effects.
When I was a marketing director, some of us kicked around this saying: We know that half the advertising dollars we spend are wasted.  Trouble is, we don't know WHICH half.
I liken this to promotion time.  You can spend a pantload of time promoting your books, to the point that you don't have time to write any new ones.  So how do you make best use of precious time?  What works and what doesn't?
This post is about what has worked for me.  But it also illustrates what is done behind the scenes, by my publisher.
But Publishers Don't DO Anything Anymore to Promote Your Books, Right?  WRONG.
Writing a book is fun.  Sure, it's a lot of work.  But most writers admit it's a lot more fun writing a book than marketing it.  I'm fortunate to be with Orca Book Publishers, a medium-large Canadian publishing house.  They do a lot of house promotion of my books.  I regularly hear people complain that publishers don't do anything anymore to promote your books.  That's simply not true.  Here, I've broken down what they do, and below that, what I do.
WHAT ORCA DOES
1. First, they pay me an advance:
Believe me, that rocks.  I get what would be called a 'very nice advance' for my books.  I get paid in three stages:  one third at contract signing.  One third at manuscript acceptance.  And one third when the book hits the shelves.  They also pay for all the costs associated with cover design, editing, production, distribution, etc.  To replace these services at professional rates would cost me thousands of dollars.
2. Catalogues:
Usually, there is a fall season and a spring season for book buying.  Each new book is given a full page in the Orca Book Publisher's catalogue, when it comes out. This catalogue goes to all potential bookstore buyers, big chains, library systems, etc.
3. Info sheets:
Orca creates info sheets (very much like the catalogue promotion page) for each new book.
4. Sales staff:
Orca sales people meet with the buyers at the major chains prior to book launch.  I was surprised to hear that a great percentage of my sales are pre-launch.  The publisher can judge 'interest' not long after the ARC (advanced reading copy) comes out, and the initial pre-launch reviews come in.  Sometimes this can instruct Orca to print more books than the original plan.
In addition, Orca sales people go to Canadian and American national library association trade shows, provincial and state library conferences, book fairs including Frankfurt, and other places to promote our books.
5. Reviews:
Orca submits my books for review to important places like Library Journal, Booklist, Ellery Queen Mystery Magazine, Canadian Mystery Reviews, etc.  In addition, they target industry mags that also review for school audiences.  (My books are adult, but crime capers like mine are popular in high schools, I'm told.  This matters. Teen fans might become adult readers of my books in the future.)
6. Distribution:
Orca gets my print books onto physical shelves I can't reach on my own.  Library systems are major buyers of my books.  Chapters/Indigo, Barnes & Noble, Walmart – I would not be able to reach these large retail outlets on my own.  Also, I'm in Canada.  My publisher has international rights to my books, and most of my sales are outside of Canada.  They have tapped several markets I couldn't.
7. Launch:
Orca creates posters for my book launch, provides me with bookmarks, and pays for modest refreshments.
To recap:  I know I'm fortunate, particularly from the point of view of distribution.  If I self-published (and I have self-published my fantasy backlist) I could produce info sheets and bookmarks quite easily.  But I simply could not reach large bookstore chains and an international audience to the extent that Orca can.  And yes, Orca does have expectations for me, with respect to promotion.
WHAT I DO
1. Website and blog:
I maintain an author website/blog.  Check out how I've done this, with the blog as my homepage, a main page for all my books (with links) and additional pages for series info, press, and photos. melodiecampbell.com
I post to the blog once a week and have been doing this since 2011.  Since I write mainly humorous crime books, my posts are mostly humor.  I'm a former comedy writer (stand-up and newspaper humor columnist.)  I average 1500-2000 hits a post.  Readers are from all over the world.
I have no idea if these people read my books.  Damn, I hope they do, because this is a lot of work!  I maintain the site myself.  It's time-consuming, and the kick is, I'm terrified to stop, because it might affect sales.  Bottom line:  The blog is linked on Goodreads and Amazon. People who wish to, can hear from me once a week.  It keeps me in touch with readers.
2. Sleuthsayers:
I've had over 75 blog posts on Sleuthsayers now.  Sleuthsayers is a well-visited and long-running blog that features award-winning crime writers.  I'm on every 4th Saturday of the month.  It keeps me in touch with an audience I would otherwise have trouble reaching.
I work hard to make sure my posts are not blatant book promotion (in fact, most of my posts are comedy.)  However, I do provide a link to a book or my website at the bottom of each post.  If readers like my posts, they can find a link to discover my books easily.  It's their choice
3. Guest Blogposts like this one.
I seek out and respond to invitations to 'guest' on other author blogs, and I reciprocate.  Meeting Anne as I did five years ago (*waves from Canada*) demonstrates exactly what it's all about.  My books are humorous to the point of being called madcap comedies.  I know that's the sort of audience that would also like Anne's books.  When we appear on each other's blogsites, we may reach new readers – exactly the sort of people who might like our books too.  In fact, I know this works.  At least three of my readers have told me they now look forward to Anne's new releases.
But be careful here.  There is little point to appearing on another blog if their audience isn't your audience. Find out before you approach the author.  I am astounded by the number of people who ask to go on my blog, who have never read a single book of mine.  These people without exception don't write humorous books.  My audience isn't their audience. Don't waste my time or yours.
4. Facebook and Twitter:
I've had social media pages since my first novel came out.  I definitely use these to promote my books BUT – I am careful not to spam.  Here are my rules for posting:
Post when you have news.  And that would be:
Cover reveal time
When you learn the launch date for Amazon and in-store availability
When you know the in-person launch date
The week before both launch dates
The day of each launch date
If you receive good reviews from Booklist, Library Journal, PW or EQMM
If your publisher puts one of your books on sale
Possibly, if your book is connected to a holiday. (The Goddaughter's Revenge is set during Halloween time and there is a masquerade party in the final chapter.  This year, I posted this book as a Halloween read.)
I do NOT spam readers over and over with the same content.  I do not post every time a reader leaves a review on Amazon.  No one wants that.  The trick is to post when you have NEWS. Everyone will forgive that.
Note: I also promote my blog posts on Facebook and Twitter.  Not relentlessly; just once a week, when a new blog post goes up.  My friends and fans often retweet and share these posts.  I do the same for them.
5. Public Appearances:
Last year, I was a guest of honor at the Women Killing It crime festival in Canada.  In addition, I was on the Bouchercon 2017 committee, participating in many events and a panel that rocked (due to great international fellow panelists!)  As well, I appeared 24 times at libraries and other venues.  Two a month, on average.  I get around (I can hear Anne singing from here.)  I look for opportunities to reach the public.
6. Radio:
Each time a new book comes out, I appear on a Sirius XM radio talk show.  (Man, I like radio. I look so much better on radio.) How did I get this gig?  Well that's how the whole networking thing works (story to follow.)
WHAT I DON'T DO
1. I no longer do Facebook launch parties. 
This was a 'thing' about four years ago.  (A thing I never quite got, to be honest.) I think we are all weary of virtual launch obligations.
2. I'm not on Instagram.
Maybe I will be in the near future.  It's simply a choice I've made because these things can be such a time-suck.  I am well-established on Facebook and Twitter, and work my pants off to keep up with those.
3. I no longer have a newsletter.
This is because of the Canadian spam laws that came into effect in 2014.  It is now illegal to send a promotional email (or newsletter) to someone who has not signed up for it.  You must be able to prove that they signed up.  You cannot even send an email to someone asking them to sign up for it.  The fine for one offense is huge – $10,000.  Many of us long-time writers dropped our email lists with the new law.
That's one reason I don't do the newsletter anymore.  I keep in touch with readers through my blog instead. The other reason is that I HATE receiving newsletters myself.  In the glory days before 2014, dozens (okay, hundreds) of people signed me up for their author newsletters without my consent.  I really resented having to delete so many unsolicited emails every day.  I invoke the Golden Rule here.  Do you like receiving author newsletters?  Let your response guide you. (I'll be writing more about newsletters in December…Anne) 
THAT NETWORKING STORY:
Years ago – late fall of 2013 – I did one of my typical presentations at a large retired elementary teacher association meeting.  (I do a half standup, half research presentation on the History of Humour.  I'm a prof at Sheridan College, and did original research in humor.)  Great audience, about 100 people. Sold some books there, but not enough to be noteworthy.
What WAS noteworthy:  not long after that, I got a call from a journalist at The Toronto Sun (big newspaper – metro Toronto has a population of 6 million.)  Apparently, an audience member from the teacher presentation had a relative at The Sun, and told her they should interview me.  So they did.  The article appeared in January 2014, and The Sun called me Canada's "Queen of Comedy."  I will forever be grateful for retired teachers.
A week passed.  Then I got a call from Terry Mercury, producer at Sirius XM Radio.  He had seen the Sun article, and asked if I'd like to come on the show.
And that's how networking works.  Get out there.  Take every opportunity to meet the public.  It only takes one person to pass your name on.
Final note:
I had the honour of sharing the stage with Peter James last year.  He's a top-selling thriller writer in England (over 20 million sold).  What surprised me is he flew to Canada, and appeared at two bookstores (one in downtown Toronto, and one in the west end.)  Linwood Barclay interviewed him downtown.  I interviewed him in the west end bookstore.  It was standing room only at my gig – and that meant maybe 40 people.
We had a blast.
Peter was at first shocked by my wild humor, and then met me line per line.  My point is: here is a guy who sells a million copies a title.  And he still makes the trip to Canada to meet a total of 80 people in two bookstores.
Here's the thing: those 80 people all became new fans.  Peter James taught me a lesson I won't forget: You're never too big to meet your audience.
by Melodie Campbell @MelodieCampbell, November 11, 2018
Featured photo by Jaredd Craig.
What about you, scriveners? How do you plan a book launch? Did you think traditional publishers did it all? Did nothing? Do you have any questions for Melodie? 
For more great advice from Melodie, check out her post on How to Write Funny Novels…and Why You Shouldn't.  How to Give a Book Reading, and Top 10 Peeves of Creative Writing Teachers
Melodie Campbell
Ellery Queen Mystery Magazine called her "the Canadian literary heir to Donald Westlake." The Toronto Sun called her Canada's "Queen of Comedy." And Library Journal compared her to Janet Evanovich.
No surprise, then, that Melodie Campbell got her start writing stand-up. In 1999, she opened the Canadian Humour Conference.  Melodie has won ten awards, including the Derringer and Arthur Ellis, and is the past Executive Director of Crime Writers of Canada.
You can find her website at MelodieCampbell.com
BOOK OF THE WEEK
Shortlisted for the 2018 Ontario Library Association Golden Oak Award!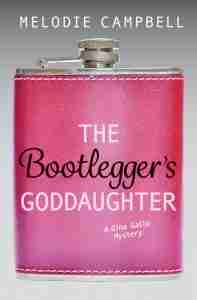 Gina Gallo is a mob goddaughter who doesn't want to be one.  Her inept mob family never gets it right. When a bootlegging operation threatens to jeopardize her Christmas wedding, Gina is once again drawn into the family business, with hilarious consequences. Another madcap adventure for the lovable Gallo family that proves the rule 'Why should things go right when they can go wrong?'
"The Bootlegger's Goddaughter is a miniature gem, the work of an author at the absolute top of her game."  Don Grave, Canadian Mystery Reviews
Book 5 in the multi-award-winning Goddaughter series is available at Barnes&Noble, Chapters/Indigo, and all the usual suspects.
OPPORTUNITY ALERTS
WOW! WOMEN ON WRITING FALL FLASH FICTION CONTEST $10 ENTRY FEE; CRITIQUE OPTION FOR AN ADDITIONAL $10. Deadline November 30, 2018. The honorable guest judge this season is Literary Agent Heather Flaherty with The Bent Agency. Short fiction of any genre: 250 – 750 words. Reprints and multiple submissions okay. Limit: 300 entries. First Place: $400, publication, interview, and $25 Amazon Gift Certificate. Many great 2nd, 3rd, 4th place prizes. Top 10 stories to be published in Women On Writing ezine. Deadline November 30.
SERVICESCAPE SHORT STORY AWARD NO ENTRY FEE. They're looking for any genre of short fiction. Maximum 5,000 words. Prize is $1000 in addition to publication in SERVICESCAPE. Deadline November 30.
Columbia College Literary Review Editors' Prize contest. FREE! They're looking for creative nonfiction or fiction. Up to 5000 words. Prize: $100 and publication in the 2018 edition of CCLR. Deadline December 1.
Bad Dream Horror/Humor Anthology.  They're looking for original horror fiction with a strong sense of comedy. They discourage old tropes like vampires, zombies & werewolves. 1500-8000 words. Pays 6c a word plus royalties. Deadline Dec. 31st.
DISQUIET LITERARY PRIZES $15 ENTRY FEE.  Fiction, Poetry, and Nonfiction categories. Up to 25 pages for prose 10 pages for poetry. The top  fiction winner will be published on Granta.com, the nonfiction winner in Ninthletter.com, and the poetry winner in The Common. Grand prize winner will receive a full scholarship including tuition, lodging, and a $1,000 travel stipend to Lisbon in 2019. Runners-up and other outstanding entrants will receive financial aid. Deadline January 10, 2019.
Don't let those published short stories stop working! Here are 25 Literary Magazines that will take reprints.