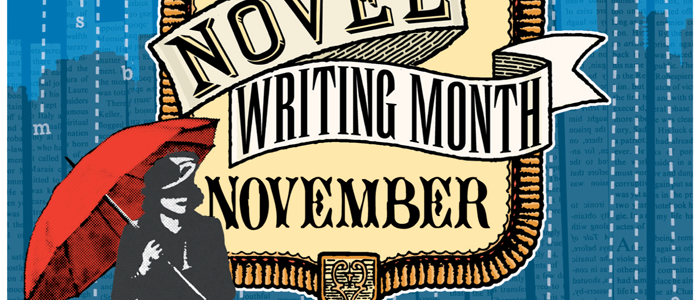 by Anne R. Allen
Okay, I'll confess: I have never been tempted to join in NaNoWriMo. That doesn't mean I don't admire the heck out of people who can do it.
Charles Dickens wrote A Christmas Carol in a little over month. You can't argue with that kind of success.
But some writers prefer to spend more time writing the first draft and less time fixing it later, so NaNoWriMo doesn't work  for them.
Others don't respond well to the "boot camp" mentality needed to participate in NaNoWriMo. It can even do them physical or psychological harm.
So What Exactly is NaNoWriMo?
For the uninitiated, NaNoWriMo stands for "National Novel Writing Month." The "nation" of the title was originally the USA, but NaNo is now a worldwide event with over 600 regions on six continents.
NaNoWriMo was started in 1999 by a young San Franciscan named Chris Baty—and 21 of his verbally ambitious friends. It challenges you to write a complete novel in a month. That month is November.
And it's why so many of your online writer friends disappeared from groups and forums on November 1st.
Anybody who finishes 50,000 words by midnight November 30th is a winner. There's no prize but a badge for your blog. Completion of your novel is its own reward.
"Winning" NaNoWriMo doesn't help you get an agent or publisher. In fact, when you send out a novel that started in NaNoWriMo, don't mention it in your query. Agents see so many unedited, sucky-first-draft NaNo novels in their slush piles every December, the phrase can be the kiss of death.
However, hundreds of NaNoWriMo novels actually have been successfully published after they've been edited and polished. Sara Gruen's Water for Elephants, Erin Morgenstern's The Night Circus, Hugh Howey's Wool, and Rainbow Rowell's Fangirl all started as NaNo projects.
To enter, people needed to register at NaNoWriMo's site  before November first in order to have their word count verified at the end of the month. It doesn't cost a thing.
Why Join in NaNoWriMo?
NaNo can benefit a lot of writers:
Perfectionists who need to silence their inner critics.
People-Pleasers who have been rewriting the first chapter of their novels for years, trying to please every beta reader and critique group who've read it.
Wannabes who have always thought they "had a novel in them" but never could get around to it.
Writers who have a bunch of half-written novels in their files, but never seem to be able to finish them.
Extroverts who tend to "talk out" their story ideas in bars and coffee shops but never sit down at the keyboard.
People who thrive on group energy.
Writers who love to have an excuse to stay out of the holiday-saturated marketplace and maybe even skip that Thanksgiving dinner with your political-ranting Uncle Jake.
The process of forcing out the words allows many writers to knock down the walls of self-criticism they've built in their heads and get to the heart of their stories.
These writers find NaNoWriMo an exciting, liberating experience.
But NaNo Doesn't Work for Everybody.
Some people can't deal with the push-yourself-beyond-your-limits mentality necessary to "win" NaNo.
Others prefer writing the first draft to editing.
Some have physical disabilities that make it hard to keep at the same task for long periods of time.
Professional writers may have other writing obligations like magazine articles, blogs, and columns to write as well as marketing duties, so they can't devote a whole month to one writing project.
Many have family and job obligations that make it impossible to reserve that much time in one month. Especially right before the holidays.
Most of those are true of me.
Why NaNoWriMo Can Be Dangerous for Some Writers
I'm not alone in my lack of a personal desire to join NaNoWriMo. Fonda Lee, whose Jade City came out from Orbit on November 7th, wrote about about his NaNo "failures" on Chuck Wendig's blog .
Fonda said: "I have what feels like a dirty secret: I write slowly. You know how some writers do word sprints where they shoot for a thousand words an hour, or aim for twenty thousand words in a weekend? I'm not that person."
The post resonated with me. I have quite a bit of self-discipline, but I tend to go catatonic when I'm pushed beyond my limits.
In my daily life, I'm already pushing myself about as far as my limits go, and if I push beyond them, I don't have bursts of insight, I have bouts of suicidal despair.
Studies show there's a physiological explanation for this. Recent scientific research shows that if you use the part of your brain devoted to intense analytical thought for too long, it can trigger depression, which afflicts the same part of the brain.
The Andrews and Thomson Brain Research
Researchers Paul W. Andrews, and J. Anderson Thomson Jr. showed there's a link between the kind of deep thought needed to think through something complex, like plotting a novel, and the "rumination" that is a classic symptom of depression.
It's as if you get stuck in a dark part of the brain and can't get out.
This has happened to me, with dangerous results. Depression and anxiety run in my family, as does suicide, so I don't take chances with my mental health anymore. I know that no matter how much I love being "on a roll" with my writing, I need to take regular breaks to go outside, listen to music, socialize, or do anything that will take me out of that "deep thought" part of my brain.
If you have tendency to depression or anxiety, and you are feeling your mood sinking during NaNoWriMo, take a breather.
Just because you have talent for deep imaginative thought doesn't mean it's a good idea to do it for long stretches at a time.
The Highly Sensitive Writer vs. a Boot Camp Mentality
Why does a lot of intense brain activity have a bad effect on me, but can be exhilarating for other people?
I'm one of those people that psychologist Dr. Elaine Aron called "Highly Sensitive Persons."
Yes, this is a real thing. It's a biological difference that occurs in about 15% of the general population. But the percentage of writers who are HSPs is probably higher.
HSPs have heightened senses. We see more, hear more, and experience things more intensely than other people. We're more likely to have allergies and food sensitivities.
We also  hear dog whistles and other ultrasonics and are overwhelmed by intense smells, tastes, and loud sounds. (A neighbor kid loved to torture me when I was a kid by blowing a dog whistle in my ear.  He refused to believe I could hear it.)
HSPs often have to withdraw into a safe, darkened place to meditate and "reset" our senses after we've become overstimulated.
HSPs are Sentinels, not Warriors
Some people will say HSPs like me are just wimps. But that's because those people's senses don't work the way HSP senses do. That's like a non-hearing person telling hearing people they're wimps because they run out of a building when the fire alarm goes off.
HSPs don't need to be fixed or medicated, and we're not better or worse than other people. We're just different.
HSPs are the canaries in life's coal mines. The human race has always needed us, because we sensed danger before the rest of the tribe. We are meant to be shamans and sentinels, not warriors.
And a lot of us find we're pretty good writers. HSPs tend to have vivid imaginations, and with more empathy than most people, we can "get into the heads" of many different characters.
But boot camps are for warriors, so they don't work for a lot of us. That level of intensity can make us crash, like a computer with too many tabs open.
If you think you might be an HSP, here's a quiz from Dr. Elaine Aron.
If You're Not Enjoying NaNoWriMo, There's Nothing Wrong with You
I'm not saying that all HSPs will slip into depression if they immerse themselves in NaNoWriMo. Some people—sensitive or not—find the structure of something like NaNo helps them do their best work.
They're more likely to sit down and spill what's in their imaginations onto the page if they have a deadline or some other outside incentive to get it done.
But if you're an HSP participating in NaNoWriMo, do take frequent breaks and drink lots of water. (Showers and baths often provide a soothing way to calm down, too.)
And if you find NaNo is making you miserable–whether or not you're an HSP—or you're really unhappy with what's coming out on the page, don't despair. You haven't failed. Listen to what Fonda Lee says:
"You can take your time, build your skills, and write toward your singular vision slowly and in stages. If NaNoWriMo works for you, fabulous. If it doesn't, fabulous. Like me, you can stink at it year after year and still end up with a bunch of books to your name. Don't confuse speed for progress."
Slow Writers are Good Writers, Too.
Remember NaNo is essentially a game. Most NaNo books take many months to edit and revise, so the bottom line number of hours needed to complete your book is probably equal whether you "win" NaNo or not.
There's nothing wrong with composing your first draft slowly. I wrote about being a slow writer last year and found my words resonated with a lot of writers.
Many successful writers do not write fast. It took Tolkien 15 years to write the Lord of the Rings trilogy. And even in the digital age, many writers don't churn out novels at lightning speed. Michael Chabon took 5 years to write Telegraph Avenue, and Donna Tartt and Jeffrey Eugenides take about 10 years each to produce a novel. Plus everybody knows George R. R. Martin writes slowly. Fans complain, but he's not exactly a failure.
So if you don't fit in with the NaNoWriMo crowd, don't despair. You're in good company.
***
by Anne R. Allen (@annerallen) November 12, 2017
What about you scriveners? Have you attempted NaNoWriMo? Did you "win"? What motivated you to enter? Do you find a"boot camp" mentality works for you? Are you a Highly Sensitive Person? Do you enjoy the first draft part of the writing process more than the editing part?
BOOK OF THE WEEK
The first book in the Camilla comedy-mystery series
Ever wanted to kill off a snarky critique workshop leader who stomps on new writers' dreams? Yeah, me too. And I did it in this book. 
The always-polite Camilla Randall meets murder, mayhem and Mr. Wrong at a dodgy writers' conference in the California wine-and-cowboy town of Santa Ynez. 
And it's only 99c or the equivalent all the Amazons internationally.
also iTunes,  Kobo, Inktera, Scribd and NOOK.
Also available at Google Play.
It's also in paper at Amazon , Barnes and Noble and Walmart
"Beneath the froth, Allen's mordant satire of the US publishing establishment – and the media's madness – is spot on. Highly recommended and great fun!" Dr. John Yeoman.
OPPORTUNITY ALERTS
Nowhere Magazine Travel Writing Contest. $1000 prize and publication.  They're looking for Fiction or Nonfiction with a powerful sense of place. 800-5000 words. And previously published work is okay. Entry fee $20 Deadline January 1, 2018 
EVERYTHING CHANGE CLIMATE FICTION CONTEST  NO ENTRY FEE. Submit one piece of fiction up to 5,000 words using the impact of climate change. The winning story will receive a $1000 prize, and nine finalists will receive $50 prizes. Selected work will be published in an anthology by the Imagination and Climate Futures Initiative at Arizona State University. Deadline February 28, 2018.
Virginia Woolf Prize for short fiction. $3500 first prize, $1000 second prize. 3000-8000 words.  Also winners get a read from the Sobel Weber Literary Agency. Plus publication in LitMag. Fee $20, Deadline December 15th. 
The  LDM Literary Bookmark Contest. Write a 250 word story and you can win $1000 to $100 and the chance to participate in a "Literary Death Match". Entry fee $15 ($20 for two) Judged by Roxane Gay. Deadline November 20th.
Writer's Digest Short-Short Story Award; Up to 1500 words. $3000 first prize, plus entry to the annual WD Conference. Other money prizes. $25 entry fee. Deadline November 15, 2017.
10 Major book publishers that read unagented manuscripts. and 20 Literary Journals that publish new writers.  Both lists compiled by the good folks at Authors Publish magazine.
Angry Robot the SciFi publisher is taking unagented SciFi and Fantasy novels for a limited time. The want completed novels between 70K-130K words. Guidelines and submission forms are here. Submissions open 1st November, close 31st December 2017