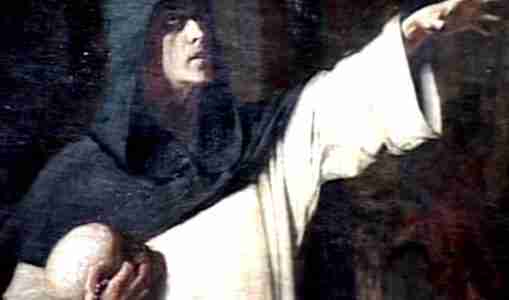 Cults are as dangerous now as in Savonarola's day
by Anne R. Allen
Over the years I've written  quite a bit about the dangers of author-on-author cyberbullying.
A few years ago, a group I called  "Mean Girls-meets-Lord of the Flies" terrorized authors on Goodreads and Amazon. A lot of us left Goodreads and never went back.
The ringleaders were mostly unsuccessfully self-published authors who harassed established stars as well as newbie writers. They criticized successful authors for their "greed" in charging money for their work and gamed Goodreads for free hard-copy books, which they'd give bogus one-star "reviews," then sell unread on ebay.
Newbie authors who didn't know the group's unwritten "rules" were punished with sadistic glee.
They attacked victims with swarms of one-star "reviews" on Goodreads and Amazon that contained character assassination lies, personal attacks, rape threats, and even death threats — what I call "weaponized" reviews.
They swarmed buy pages, Goodreads entries, and blog comments to intimidate, control, and defame whistleblowers or wayward members.
I got death threats from this group myself for the crime of witnessing their rape threats against a naive teenager before the dozens of perpetrators had the sense to delete the incriminating evidence.
Their shenanigans inspired my comic novel So Much for Buckingham, where both reviewers and authors suffer from the dark side of online reviews. I even copied some of their threats word for word — which made for some hilarious comic scenes.
But when you're the target, they're anything but funny.
I think the group could have been called a cult. It ticked a lot of the boxes on the following list — a condensed version of a list by Michael D. Langone, Ph.D. at the International Cultic Studies Journal
Signs a Group has become a Cult
‪Discourages and punishes dissent.
‪Dictates how members should think, act, and feel.
‪Claims a special, elite, exalted status.
‪Us-versus-them "victim" mentality.
‪Not accountable to authorities.
‪Belief that the end justifies the means.
‪Shame and/or guilt used to control members.
‪Mandatory subservience to the leader or group.
‪Preoccupied with bringing in new members.
Obsessed with money.
‪Members devote inordinate amounts of time and energy to the group.
‪Members punished for socializing with unsanctioned persons.
‪Threats of terrible consequences if members leave.
Online cults may not be as deadly as the ones who followed Savonarola, Jim Jones, or Charles Manson, but their mindset is the same.
The cult that attacked me finally disappeared when Goodreads admins booted the ringleaders off the site. As with most cults, remove the head and the body dies.
But new cults spring up all the time. I hear complaints about them weekly.
Members of these cults are not all sociopaths, but the cult leaders manage to stifle their natural capacity for empathy. The Milgram experiment in the 1960s proved that perfectly ordinary people will commit atrocities when ordered to do so by an authority in an unfamiliar environment. Social media is young. Newbies are easily seduced.
Education is the key to stopping this. Which is why I'm writing this post.
Weaponizing book reviews is a bad idea. It diminishes the credibility of real reviews and honest reviewers as well as giving cults and criminals the power to destroy careers.
Shady Agent/Publisher Cliques
When an agent or small press is having financial difficulties, they usually try to cover it up and put on a happy face until things improve. Sometimes it's a temporary cash flow problem and things end up fine.
But when authors aren't paid long-term, they want to tell the world and save other authors from their fate.
Unfortunately, these days, the deadbeats can get their minions to attack whistleblowers. They threaten to ruin authors' careers with bogus reviews and cyberbullying if they spill the beans.
It's so easy to weaponize Amazon reviews that this behavior has become commonplace. Amazon has trouble keeping up with complaints, and often the perpetrators know how to keep their  attack "reviews" within the Amazon guidelines.
I've heard from several writers who have been threatened with one-star reviews and other retaliation if they blow the whistle on scammy agents or dodgy publishers.
Tragically, the people who carry out the threats are fellow authors who have been brainwashed and/or threatened by the agent or publisher to carry out this sociopathic behavior.
One author got a rubber check from her agent for many thousands of dollars in royalties. The agent refused to make it good and threatened the author with an attack of social media smears and swarms of one star reviews.
Her fellow authors who would participate in this kind of "swarming" are engaging in cult behavior. They may not be the Manson Family, but it's a matter of degree, not a difference in mindset.
How do we fight this?
Never attack a fellow author with a bogus review. And stay away from anybody who asks you to engage in trollish behavior.
You have your very own personal brain. Use it.
Cultish Book Promotion Groups
Getting together with other authors in your genre for promotions, anthologies, and boxed sets can pay off, big time.
But some marketing and joint promotion groups have turned cultish, vicious and greedy. They're often pyramid schemes.
Or they're based on a "trick" that doesn't work anymore.
Any marketing that involves gaming the system, especially the Amazon system, will probably work for a short time. But then it won't. Amazon will change its algorithms or otherwise thwart the gamers.
If authors have paid money to join in the game, they're going to be unhappy campers.
In these days of organized cyberbullying, things can get ugly very fast when an unhappy camper speaks out.
Tara Sparling described what happens next in her viral "Indie Gold Rush" post:
"Authors who draw attention to failings or scams are getting trashed on social media, their books downvoted and one-starred, often by other defrauded clients who are afraid that the pyramid scheme they're in will topple before they get anything out of it. The level of vitriol in some of these Facebook groups and comment threads, when someone dares to expose such things, is horrifying."
This isn't new.
Predators always counter truth-telling by attacking their victims' characters.
But the use of  online bullying and harassment gives them a potent weapon to silence their victims.
"Troll Army" cyber-attacks are the current M.O. of militant Neo-Nazis. It's a form of terrorism—as an unsuspecting Jewish mom in Montana found out when she became the target of terrorism by a Nazi "troll army." 
Don't be a terrorist, or do the bidding of one. And don't count on tricks and schemes to market your book. You could lose more than your shirt.
Neo-Apartheid Fanatics.
A powerful campus cult fights diversity in literature.
Although they love (and demand) diversity in films, they forbid it in novels. They call diversity in print greedy "cultural appropriation."
The BBC reported in May that YA author Andy Horowitz  was told not to include a black character in his new book because it's "inappropriate" for authors  of one race, sexual orientation, or physical ability to acknowledge the existence of any others.
I'm not talking about minority spokespeople who ask for sensitivity and removal of harmful stereotypes.
This cult demands total apartheid.
You can watch Glee on TV, but if you write that stuff in a novel you can be a target of personal-attack reviews and other cyberbullying.
The Guardian ran a piece last year by a woman who walked out of a writers' conference because a speaker advocated diversity in literature. This cultist insists only one character should be allowed in a novel: the author. Anything other than than narcissistic monologuing is "exploiting the stories of others."
This isn't new. Catherine Ryan Hyde was targeted by a similar cult after her nomination for a Lambda award for Jumpstart the World, a YA novel about a teen who falls in love with a trans character. The cult attacked her with bogus "reviews," booed her at the awards, and vandalized her Wikipedia page.
They said she'd "exploited" the trans community by creating a sympathetic, believable trans character—while not being trans herself. (The protesters weren't trans, either, but cults are above rules—see #5 above.)
These people seem to have no idea how the creative mind works. They believe novels are Xeroxed from life. Imagination is verboten.
Unless you're a screenwriter.
So I think what these people really hate is books.
It's "Fahrenheit 451" time. Scary stuff.
The Problem with Online Cults
These people are terrifying because they work in mindless swarms, like locusts.
As a commenter said in a discussion of this on The Passive Voice :
"if you get on the radar of the peeps who do outrage as a hobby, the risk is way too high. You can get effectively shunned. Ruined. Power of the webs."
And author and illustrator Shoo Raynor on the committee of the writers and illustrators' group at the Society of Authors in the UK said that the issue is coming up "every meeting" and there are "lots and lots of horror stories."
The power of anonymous cyberbullying combined with cultish ends-justify-the-means behavior has morphed from "Mean Girls" high school antics to cyber-warfare.
The latest example of this kind of "censorship by troll" has been happening in YA Twitter. A reviewer disliked a YA fantasy book that showed the evils of racism because some of the characters were racist.  So she started a huge campaign to get the publisher to withdraw the book because they believe nobody should be allowed to acknowledge racism exists. Pure Fascism.
Fascist cults on the lunatic left fuel the irrational rage of fascist cults on the rabid right and vice versa. 
Creatives (and democracy) are in danger of being annihilated in the crossfire.
Can we Fight the Cults?
Right now the cultist bullies are winning.
In the Kindleboards recently I saw this post
"I'm so afraid of my career being damaged by people hating me or not trusting me because now my name will be associated with [this group]. I'm having a panic attack and I don't know where else to go. There's no way out. [They'll] rip me to shreds. I don't care about the money I've invested; I just want to get out. I'm so scared."
The replies are like this:
"Speaking from experience… you have 2 options:
1. Put your head down, do *exactly* what you are told, when you are told and ride it out until contracts expire.
or
2: Walk away (just say real life commitments mean you can't continue…) and say goodbye to the money. You will still need to keep your head down and don't mention [their] name anywhere or followers will attack you and your books. This is what I did. Be aware it will isolate you from friends (if any are still involved …) and you will have to watch what you post anywhere for months in case you inadvertently offend [the cult leader] and an attack is launched."
Are All Book Promotion Groups Dangerous? 
No. But do your homework! I'd join another group promotion or boxed set if it was the right one. But I don't recommend joining one if it involves gaming the system–or if there's a huge upfront fee.
As Kristen Lamb says,
"Often there will be some trick, a few writers make a LOT of money, the "expert" then picks up this trick and sells it and the fact he/she can cite real success stories adds validity to what is being sold. But here's the deal. If this "trick" is being packaged? Odds are it is obsolete already. Someone is trying to make a buck off a ship that already sailed."
I've had big successes with some group promotions, although others have fizzled. I don't think I'd join one if I didn't know the organizer well.
And I would never pay a big upfront fee without knowing exactly where the money was going. If all members don't get copies of the receipts, that's a big red flag. If there's a contract involved, read it very carefully and make sure there's a way out.
What about Agents & Publishers?
Many of the biggest-name "indies" have agents. Agents can get you into the Amazon imprints, which are the sweet spot in today's publishing world. The agents I know  personally are hardworking, honest, and a huge help their clients' careers.
But bogus agents are out there, so it's really important to do your homework.
The same is true of small presses.
Google the name with the word "complaints." Check Writer Beware, Absolute Write, and the Kindleboards. (Although people in forums are not always truthful and you can run into some fanatics and cult members, so read between the lines.)
If I heard an agent or publisher had asked clients to blackball someone who "badmouthed" them, I would run very fast in the other direction. Even if it feels like abandoning your dreams.
Authors can be way too meek with agents and publishers. We have the alternative of self-publishing, so we can walk away.
It's best to run any contract by a lawyer before you sign.
What Can Authors Do about Publishing Cults?
Remember that cults usually end badly. If you see the people around you in a group showing any of the symptoms listed above, run.
If you've been the victim of a swarm of bogus reviews, try to remember that readers are pretty smart. Sometimes a "bad" review can actually help sales. Check out my post on why we shouldn't obsess about reviews.
And if you witness this kind of bullying, REPORT ABUSE. Amazon is much more likely to pay attention to a customer complaint than one from the author.
Don't be a locust. If anybody asks you to bully or terrorize a fellow author, even if it's "just" with an Amazon review or a Tweet, DON'T!
The next victim could be you.
***
What about you, scriveners? Have you ever been the victim of an online cult? How did you deal with it? Have you ever found yourself in a cultish group? And was it hard to escape? 
by Anne R. Allen (@annerallen) July 16th, 2017
BOOK OF THE WEEK
This week So Much for Buckingham is only 99c at Amazon for the ebook!
A satire of the dark side of online reviews and the people who make a game of them…a game that can lead to murder.
Camilla and Ronzo see their reputations destroyed by online review trolls who specialize in character assassination, while Plantagenet Smith heads over to England, where he encounters a dead historical reenactor dressed as the Duke of Buckingham.  Plant is promptly arrested for the murder.
In jail, Plant meets the ghost of Richard III, and hears what it's like to live with character assassination "fake news" that has persisted for half a millennium.
"This wonderfully satiric comedy is a joy to read. On the surface, it's a frothy romance cum suspense story about a whacky writer, Camilla, whose life is threatened by trolls and who topples from one hilarious disaster into the next.
But underneath, it provides a perceptive insight into the mad world of modern publishing, the sub-culture of Internet lunatics and the mindset of cultists who can – and do – believe ten impossible things before breakfast.
The reader is left with the question: how much of the story, perish the thought, might be true? Tremendous fun, wittily satiric and highly recommended"…Nigel J. Robinson
So Much for Buckingham is only 99c this week at all the Amazons,
Also available at
Kobo, Nook Smashwords, iTunes, Inkterra, Google Play, 24Symbols and Scribd.
And in paperback it is available at
 Amazon, Amazon UK , and Barnes and Noble
Also in AUDIOBOOK! (see, we're on trend here!)
available at Audible and iTunes
OPPORTUNITY ALERTS
The Golden Quill Awards. The theme is "Liberation." $500 first prize. Short fiction, poetry and personal essay categories. Up to 1500 words for prose, 40 lines for poetry. Entry fee $15. Deadline September 15. 
Literary Death Match 250-Word Bookmark Contest judged by Roxane Gay. $1,000 1st prize. Fee $15.  $100 for the two runners-up. All finalists will be invited to read at LDM events near where they live. Deadline September 8.
University of New Orleans Press Lab Prize. A prize of $1,000 and publication of your book-length manuscript by UNO Press for a short story collection or a novel. The Publishing Laboratory at the University of New Orleans, will promote the selected manuscript.  $18 entry fee. Deadline August 15.
Writer's Digest Popular Fiction Awards.  Write Romance, Thriller, Crime, Horror, Science-Fiction, and Young Adult? Short fiction: 4,000 words or less. $20 fee. Grand prize $2500. Deadline October 16th.
20 Literary Journals that publish new writers. Compiled by the good folks at Authors Publish magazine.
25 Publishers who accept unagented submissions for Young Adult books.  Also from Authors Publish, a great resource.
Aesthetica  Creative Writing Award Two prizes of £1,000 each and publication in Aesthetica. Winners get a consultation with literary agency Redhammer Management. Up to 40 lines of poetry ($15 fee), 2000 words for short fiction ($24 fee.) Deadline August 31.