Book length memoir is a hard sell, but short essays can be a goldmine.
Memoir is the most popular genre at any writers' conference, and the most common genre in any agent's slush pile.
Unfortunately, it's the hardest to write well—and the least likely to be successful if you're an unknown newbie writer.
That's because book-length memoir isn't likely to become a bestseller unless people already know who you are.
So how do you get people to know you? You could become a reality TV star, run for political office, or be related to somebody who marries into the British royal family of course, but not everybody has that option. 😉
You can also work to get yourself known through social media, which I recommend for all memoirists. Start a blog, podcast, or vlog on the subject or setting of your memoir and put some serious effort into promoting it through social media (also known as "building platform.") Here are some tips on getting an audience for your blog.
It also helps to publish short memoir pieces and personal essays in traditional venues. If you've been working on that memoir a while, you probably have the material mostly written in the form of a book length memoir.
With a few tweaks, your excerpts can become publishable personal essays.
And the good news is, those short pieces can pay very well. Look at the fantastic success of anthologies like the Chicken Soup series. And if you get into an anthology along with some well-known authors, you'll establish a fanbase that would take years to garner with a solo book release. Check out last week's post on anthologies.
So today we've invited award-winning author and editor Paul Alan Fahey to tell us how to expand a scene from your memoir (or directly from your life) into a flash memoir piece or personal essay to submit to these popular–and lucrative–anthologies.
Paul is the editor of the award-winning memoir anthology The Other Man. Plus he launched his anthology Equality last week with Vine Leaves Press. He's also the author of the very useful how-to, The Short and the Long of It, one of our featured Books of the Week…Anne
Writing Memoir that Sells: How to Write Short Memoirs and Personal Essays
by Paul Alan Fahey
Editors and publishers today are looking for YOUR short memoir. Short memoir, also called flash memoir, is a snapshot of your life experience told in first person in a few hundred words, and often with a discernible beginning, middle, and end.
Some literary magazines and anthologies accept short memoir up to one thousand words and sometimes even longer.
Remember to check the writer's guidelines before submitting as lit magazines and journals vary in terms of the accepted word count and how they define the genre.
 Two examples come readily to mind. Chicken Soup for the Soul, accepts short autobiographical pieces on a specific topic of 1200 words or less.
Brevity, a great little online journal that blurs the line between memoir and essay, prints work up to 750 words or less.
Trust me, there's no need to write that long drawn out story of your life. Not in today's writer's market. Over the years, I've published several short pieces in print and online zines. And many as reprints. If I can do it, so can you.
In terms of available online resources for short memoir, be sure to take a look at New Pages, that great one-stop shop for writers that features monthly calls for short memoir, nonfiction, and creative nonfiction.
Duotrope, offers subscribers a sophisticated search feature to help you find the perfect home for your piece from hundreds of listed markets (subscriptions cost $5 a month.)
From Scene to Short Memoir
In the fall of 2015, I had an idea for a nonfiction anthology on the topic of equality. I contacted several top writers, including our own Anne R. Allen, and asked them to respond to the question: What do you think about when you think of Equality?
Almost immediately, twenty-four writers signed on to the project, and within a month, I had a 40-page proposal that I shopped around to various publishing houses.
Vine Leaves Press in Melbourne, Australia, loved the idea of my book and gave me the green light to proceed, and on Sunday, January 15, 2017, Martin Luther King Jr's birthday, Equality: What Do You Think About When You Think of Equality? became a living, breathing, beautiful reality.
Normally when I edit an anthology I like to contribute something of my own to the collection and Equality was no exception. I immediately began searching through my files, hard copies stored away in boxes and desk drawers, as well as my computer for something related to equality.
It took a while but I found a short hospital scene I'd written several years ago, a piece set during the early days of the AIDS crisis about my close friend George Hansen. The scene was a tad over 250 words.
***
Here's a short excerpt:
Santa Cruz 1985
I bent down and kissed George on the forehead.
"Be careful," he said.
I understood what he meant. It was 1985 for God's sake, and yet we understood nothing about treating and curing a disease that was killing most of our friends.
I looked at my watch. "I'll be back tomorrow." It was a long drive into the city, and I'd be late for my doctoral class if I didn't hurry.
George gave me his signature wave—Carol Channing in Hello Dolly—and I noticed the brown splotches on his hands. I walked away, but he called me back. He wanted to know if he'd live to see the end of Dynasty.
"Of course," I told him. "Even longer."
To be honest, I wasn't sure he'd make it to the season finale.
***
This short scene wasn't much to work with, but I thought I might be able to build a short piece around it.
Hmm. In order to do so, I had to return to one of the most painful times in my life. Anyone who lived through those early days of the AIDS crisis can imagine my reluctance to finish the piece.
In order to think more clearly about what I wanted to say, what I wanted to write, I had to dig deeper. What was I feeling and thinking at the time and how did it relate to equality? After several days of thinking, procrastinating, thinking again, and scribbling away, I came up with a logline I wanted to explore further.
Start with a Logline
A logline or throughline is a simple sentence that summarizes the primary elements of your memoir in an engaging way. This isn't a synopsis or a statement of the whole story but its spine. Before proceeding, I needed something to hold on to and guide me through the writing.
Think of a logline as an anchor for your story and a guidepost to return to when you veer too far off track. (For more information and examples of loglines, see Anne's wonderful post on "Hooks Loglines and Pitches: What Every Writer Needs to Know," my previous post on crafting novellas, "Why Novellas are Hot and How To Write One, or my writing text, The Short and Long of It: Expand, Adapt, and Publish Your Short Fiction,
Here's my logline for the proposed short memoir:
When a middle-aged man acts as a liaison between his friend dying of AIDS and the hospital staff, he soon discovers he's part of the problem and not part of the solution.
Next, the Theme
What was the core or the moral center of the memoir that expressed my worldview as a writer? When I think about theme, I often turn to favorite songs, books, films, and familiar quotations; these are treasure troves of universal themes.
At the time, my partner, Bob, now my husband, and I were dealing with two life-threatening illnesses: my mother's diagnosis of ovarian cancer and our friend's battle with AIDS. Two ill winds that blew into our otherwise safe and secure seaside haven. The theme of my flash memoir became the opening lyrics to the song, "Ill Wind," made famous by the incomparable Billie Holiday.
"Blow, ill wind, blow away
Let me rest today
You're blowin' me no good
No good."
I used both logline and theme to expand my initial scene into a 600-word short memoir titled, "What I Remember." I posted my piece on Medium, a great website for self-publishing and receiving feedback from readers. Here's an excerpt from the memoir:
***
I remember meeting mother's oncologist holding a bag of fluids in the corridor outside George's room. I asked him why he was there. "We're going to give chemo a whirl," he said, moving quickly past me.
I remember wheeling George out onto the hospital patio, telling him again what the team of doctors had just told him. That his illness was terminal. That it was AIDS. That there was nothing further they could do. I almost expected them to add, "Get used to it."
I remember kissing him on the forehead before I left for class. His hand pressed against my chest. "Be careful. You don't want to get this."
I remember some things but not others. Freud would have had a field day with me.
I remember a bright sunny morning in June. Saying goodbye. The chapel filled with friends; my mother who was recuperating from her last round of chemo; and the nurses who had displayed such compassion in treating their patient, while the doctors and surgeons, and specialists, were nowhere to be seen.
I remember most of what I'm writing in fragments, at a remove, at a distance, as if I were writing in third person about someone else's life.
Sometimes I wonder if I was really there.
***
In the memoir note that I summarized the previous hospital scene in a short, four sentence paragraph, while attempting to keep the focus on the team of doctors and their obvious distain for me and my close friend.
"What I Remember" received over 250 viewings by Medium.com readers with about as many reads and recommendations. Good, right? Maybe. But I wasn't satisfied. The literary device of repetition in the words "I remember" made the piece seem clunky and choppy to me. I'd also cheated myself and the reader and hadn't done what I'd set out to do, mainly to anchor the piece more fully in the surreal aspect of those times while exploring my feelings of inequality.
I had to dig much deeper. In the short memoir, I'd hit my logline and theme, but then I danced away as quickly as I could from the pain and emotions I felt at the time. When I adapted and expanded the short memoir into a longer, personal essay, I had to do better.
How to Expand a Short Memoir to Personal Essay
Most definitions of personal essay often seem vague and confusing to me. My friend and mentor, writer and editor, Victoria Zackheim, says it best. "Open your heart, and reveal the truth. That is personal essay."
And that's exactly what I had to do.
In order to expand "What I Remember," I first looked for the three-act structure in the memoir: a discernible beginning, middle, and end. (In something this short, an act might be a paragraph or even a sentence.) Then I marked those sections for expansion.
I referred to my logline and theme and used both as literary frameworks to jog my memory about the time period and my interaction with the team of doctors who cared for George. Quite a tall order since I'd subconsciously locked away most of those painful memories.
I asked Bob what he remembered and discovered many incidents of blatant discrimination by the team of doctors that I'd forgotten. By the time I sat down to write the essay, the piece had two main themes: ill wind and inequality, and both were front and center in my mind as I wrote the essay.
Here's an excerpt from my personal essay, "Less Than" that clocked in at about 1900 words, more than three times the length of my short memoir:
***
There was so much about the disease we didn't know, including how one contracted it, treated it, or cured it. In the 1980s, AIDS was a death sentence.
Through it all, the nurses who cared for George were compassionate. The doctors? Not so much. Most of them related impersonally to their patient and at a remove—physically as well as emotionally, and with an air of self-righteousness edged with contempt for us.
Bob and I felt they were punishing us for George's illness, that we were the cause of their aggravation and the ones responsible for bringing this challenging problem into their midst—an illness that obviously couldn't be solved with doses of medication or surgery.
We worried that they were subconsciously taking out their frustrations through a blatant discrimination against our friend. Remember that the CDC had originally called AIDS the 4H disease since the syndrome appeared to affect heroin users, homosexuals, hemophiliacs, and Haitians exclusively.
Subconscious attitudes or not, the doctors were mirroring what we were reading in the newspapers and hearing on the evening news: that gays were responsible for the spread of AIDS. For a time, the disease was even termed the Gay-Related Immune Deficiency Syndrome (GRIDS).
***
So dust off those difficult to publish book-length stories of your life languishing in desk drawers or growing mold in your computer files and make them pay their way.
One polished scene at a time.
Remember these are short, stand-alone pieces with a beginning, middle and end.
Don't forget to write that logline beforehand, think about the larger picture in terms of theme, and find the three-act structure lurking in the scene. Then send these short slices of your life out into the world, establish yourself as a published writer, and make some money for your hard work.
by Paul Alan Fahey (@paulfahey12) January 22, 2017
***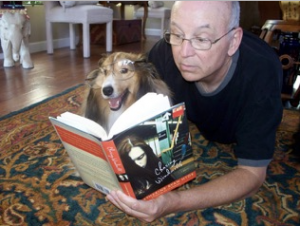 Paul Alan Fahey is the author of the 2016 Rainbow Award Winner, The Short and Long Of It: Expand, Adapt, and Publish Your Short Fiction, and the Lovers and Liars gay wartime romance series. He is the editor of the 2013 Rainbow Award-winning anthology, The Other Man: 21 Writers Speak Candidly About Sex, Love, Infidelity, & Moving On. For eight years Paul was editor-in-chief of Mindprints, A Literary Journal, an award-winning forum for writers and artists with disabilities. Paul lives on the California Central Coast with his husband, Robert Franks, and a gaggle of shelties.
 Author Website, Facebook, Twitter, Linked-In
What about you, scriveners? Have you tried your hand at memoir? Have you published a book length memoir, or kept to shorter pieces? Did you find the shorter pieces easier to publish? 
For more on writing memoir, see Anne's piece HOW TO WRITE A PUBLISHABLE MEMOIR and Ruth's interview with memoirist Michael Harris on THE STORY THAT TOOK 50 YEARS TO WRITE.
BOOKS OF THE WEEK
The Short and Long Of It:
Expand, Adapt, and Publish Your Short Fiction
by Paul Alan Fahey
Do you write short fiction but long to s-t-r-e-t-c-h those tight little 55ers, flash pieces, and short stories into longer, publishable work? Do you have binders full of short pieces with characters you'd love to flesh out? Are you dying to tell the rest of these stories?
If so, The Short and Long of It is for you!
Award-winning short fiction writer Paul Alan Fahey shows you how to expand and adapt your brief creations into longer, more satisfying stories, plays, novellas, and novels pitch perfect for publication in the e-age.
JMS Books in Paperback and Ebook Amazon: Paperback and Ebook B and N: Paperback and Ebook.
 EQUALITY
What do you think about when you think of equality?
In the tradition of Dr. Martin Luther King's Stride Toward Freedom and Malala Yousafzai's, I Am Malala, Equality: What Do You Think About When You Think of Equality presents thought-provoking and compelling personal essays that probe a concept professed to be the very foundation of our democracy—a concept that may even be more vital today than in the past.
Contributors include Barbara Abercrombie, Anne R. Allen, Christopher Bram, 'Nathan Burgoine, Rob Byrnes, David Congalton, Larry Duplechan, Eldonna Edwards, Jewelle Gomez, Lisa Horan, Catherine Ryan Hyde, Barbara Jacksha, Michael McMahon, Jeff Mann, Michael Nava, Dennis Palumbo, Anne Perry, Felice Picano, Mara Purl, Susan Reynolds, Jeffrey Ricker, Michael Rupured, Baxter Clare Trautman, and Victoria Zackheim.
Available in paper and ebook from
Available in ebook or paperback at Amazon , iTunes, Kobo, Nook, and Vine Leaves Press
***
OPPORTUNITY ALERTS
C.G. JUNG SOCIETY OF ST. LOUIS ESSAY CONTEST $10 ENTRY FEE. Theme: Memories, Dreams, and Sensualities. They are looking for personal essays that add something unique to the conversation about Jungian ideas. Winners will have the opportunity to read their essays at our conference, Jung in the Heartland: Memories, Dreams Sensualities, October 2017. Winning essays published on the website. 1st Prize: $1,000. 2nd Prize: $500. 3rd Prize: $250. 3,500 words. Deadline: May 1, 2017.
Iowa Review Awards. $20 Fee. Three prizes of $1,500 each and publication in Iowa Review  for works of poetry, fiction, and creative nonfiction. Joyelle McSweeney will judge in poetry, Amelia Gray will judge in fiction, and Charles D'Ambrosio will judge in creative nonfiction. Submit up to 10 pages of poetry or up to 25 pages of prose. Deadline January 31st.
LitMag pays up to $1000 for short stories! $250 for poetry and short-shorts. No reprints. They don't consider work that's previously been published either in print or online (including personal blogs.)
Write non-fiction? Impakter Magazine is looking for non-fiction articles and interviews (1000-3000 words max) in 4 verticals: Culture, Society, Style, Philanthropy. Articles about politics are also welcome but need to meet the magazine's standard of high-quality content.  The magazine publishes daily (except week-end) and each piece attracts 10-40,000 viewers (in majority college-educated millennials). No submission fee.
ROMANCE AUTHORS! And a list of 31 small presses that specialize in romance and do not require an agent for submissions. Also compiled by the Authors Publish Newsletter.
25 PUBLISHERS YOU CAN SUBMIT TO WITHOUT AN AGENT. These are respected, mostly independent publishing houses–vetted by the great people at Authors Publish. Do check out their newsletter
The Wanderer: A Paying Market for poetry, book reviews and more: The Wanderer is a new monthly literary magazine.